Mac Rumors powered by MacRumors_p2


Review: Ten One Design's Clever 'Blockhead' Allows MacBook and iPad Chargers to Fit Behind Furniture
Created by Ten One Design, the Blockhead is a simple plug designed to rotate the orientation of the MacBook or iPad Power Adapter so it rests flush against a wall or power strip when it's plugged in.

There are, occasionally, some products that are so simple and intuitive that you look at them and wonder why they didn't already exist -- the Blockhead is one of those products. Made from blue plastic, the Blockhead replaces the snap-in plug portion of the official chargers for Apple's lineup of MacBooks and iPads.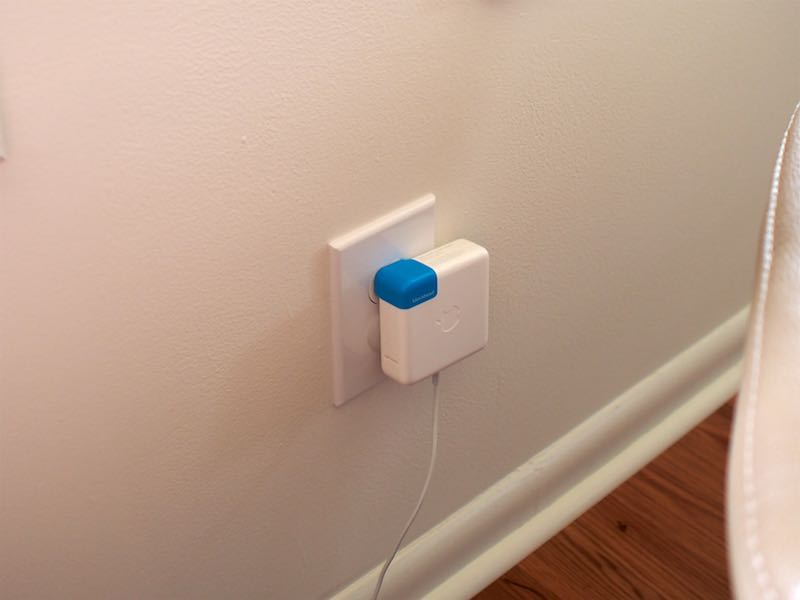 There's not a lot to say about the design of the Blockhead. It's similar to the official AC wall adapter that can be snapped out of a MacBook or iPad Power Adapter, but its plugs are oriented in a different direction. Made of an attractive blue ABS plastic instead of white plastic, the Blockhead is otherwise functionally identical to Apple's own power adapter bits.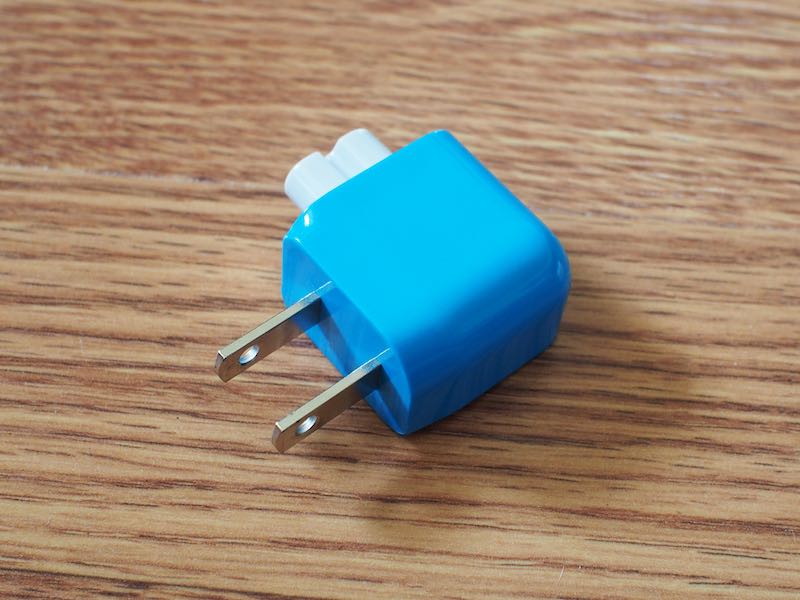 The Blockhead, which is UL-approved, fits flush into the Power Adapter, but the fit isn't quite as exact as the original adapter it replaces. The Blockhead sticks out slightly on the backside, but this is only noticeable when holding it and it doesn't affect the functionality of the accessory. It works in the United States and Canada and fits in any socket able to accommodate a NEMA 1-15 plug with two parallel blades.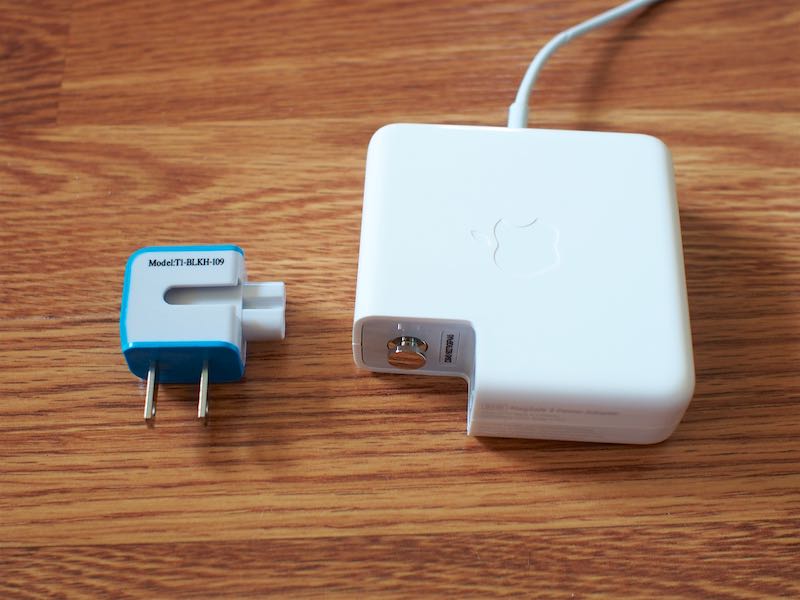 When plugged into an outlet, a Power Adapter with the Blockhead measures in at 1.2 inches thick, compared to the 3.8 inches a Power Adapter takes up with the standard Apple hardware installed. Two Blockheads can also be used side-by-side in a single two-socket outlet, with one positioned upside down and one positioned right side up.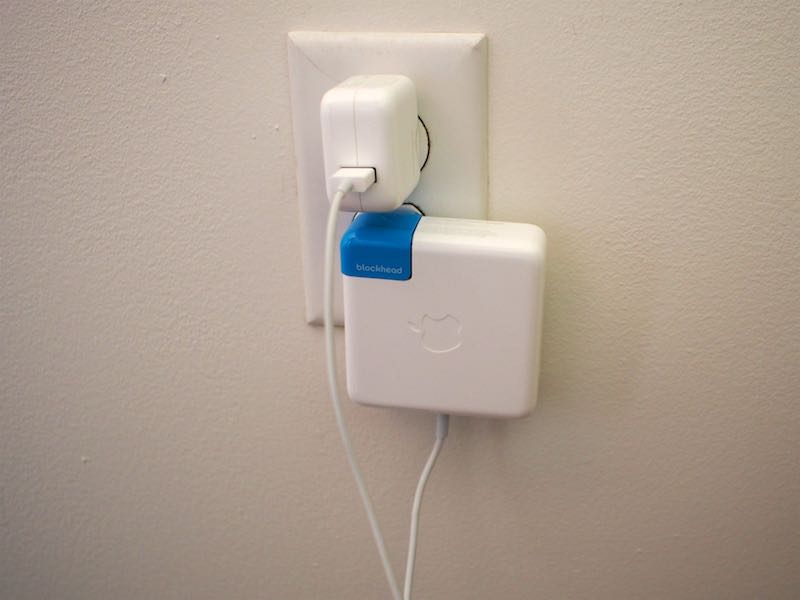 The Blockhead fits into outlets in a more logical way, and something I noticed was a tighter fit in outlets that have become looser over time. Even in an outlet where orientation wasn't an issue, I was less likely to accidentally pull the Power Adapter out of the wall with the Blockhead attached, and I was also less likely to accidentally bump into it.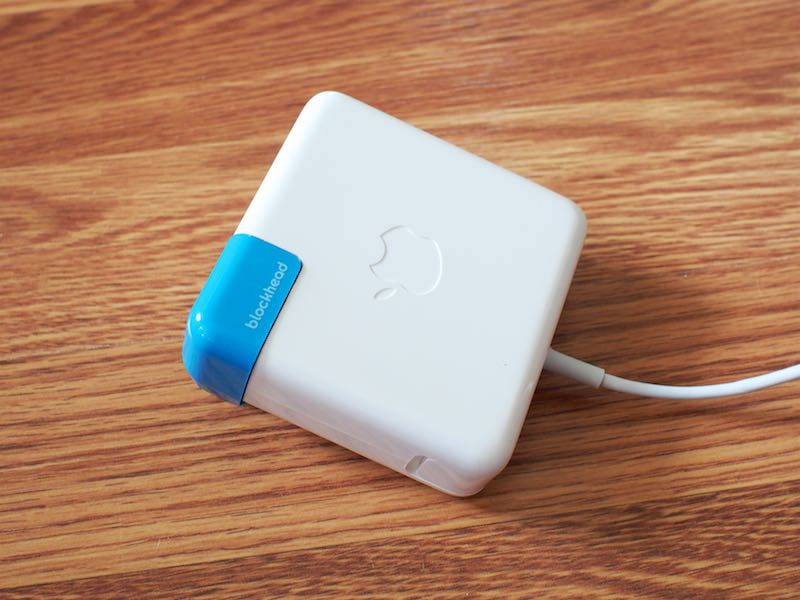 According to Ten One, the design of the Blockhead can protect against cord stress because it puts less tension on the plug, which makes sense because it changes the positioning of the cord to be closer to the ground. I've never damaged my cord near the Power Adapter because of stress, but I imagine this has the potential to be useful to some people who have run into trouble.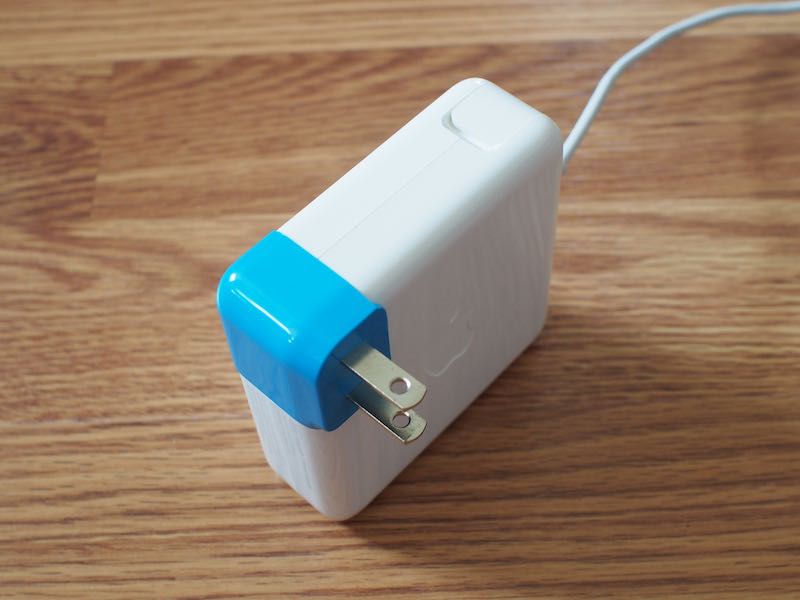 One clear negative to the Blockhead is non-retractable plugs. With the standard Apple adapter, the plugs can be folded inwards to make it more convenient for travel, but the Blockhead doesn't work that way. It's a small inconvenience, but an inconvenience nonetheless.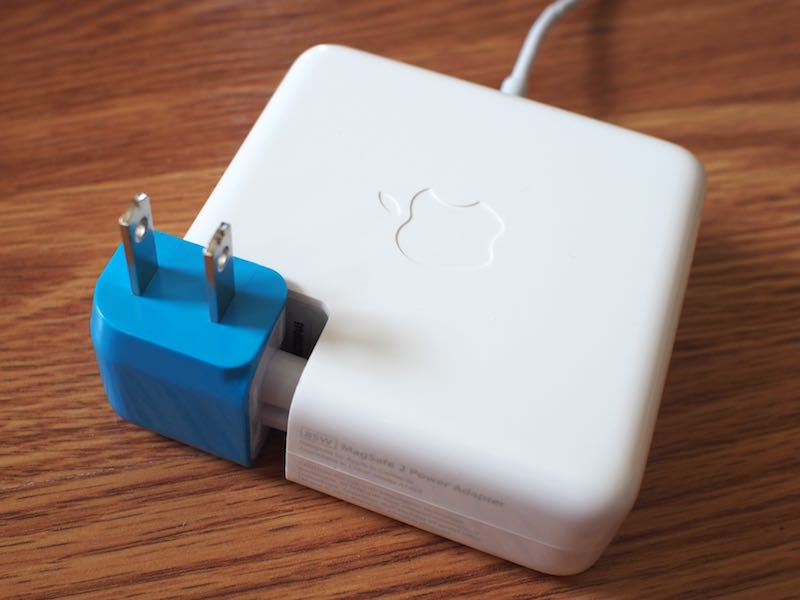 The Blockhead works with all MacBook chargers designed for the Retina MacBook, MacBook Air, and MacBook Pro, along with 10 and 12-watt chargers designed for the iPad. It fit well in each of the 13 and 15-inch Retina MacBook Pro and iPad Pro/iPad Air chargers I tested it with.

During the month and a half that I tested the Blockhead, I had no problems with heat, durability, or design, and ran into no issues that would prevent me from recommending it to anyone who wants to orient their MacBook or iPad charger in another direction when charging.


Bottom Line

If you have an outlet located behind furniture or in an area where a MacBook charger that sticks out of the wall is inconvenient, the Blockhead is well worth the purchase price. It's $19.99, which sounds expensive for a piece of plastic, but it definitely improves the functionality of Apple's Power Adapters for those who need it.

After using the Blockhead, I find myself wondering why Apple designs the Power Adapters to stick out from the wall. I prefer the look of a Power Adapter that sits flush with the wall, even in situations where my outlet isn't blocked by furniture. It's a cleaner design that makes more sense than a sideways-facing Power Adapter. Of course, it's not symmetrical with the power outlet, which is one reason why the Apple design is superior, and it may not fit as well into a power strip.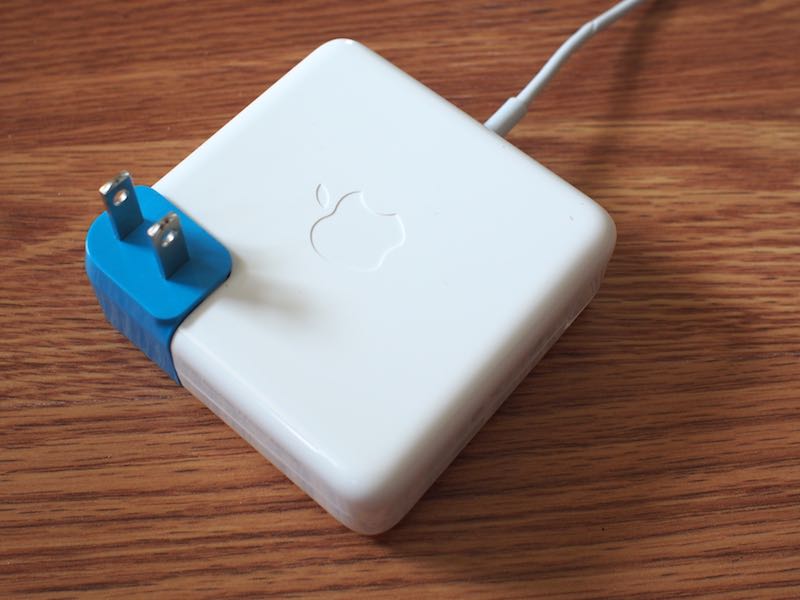 The flat positioning of a Power Adapter equipped with the Blockhead has prevented me from accidentally pulling the adapter out of the wall by tugging on it or knocking it out accidentally when walking by, something that came in handy even when I didn't need to fit my Power Adapter in a tight space. It was also more stable in outlets that are somewhat loose due to the weight distribution.

Given that most people use their MacBooks and Power Adapters for several years, $19.99 is a small price to pay for additional convenience.

Pros:



Weight distribution makes it fit better in loose outlets


Allows the Power Adapter to fit in tighter spaces


Prevents Power Adapter from being knocked out of an outlet


Saves space


Better aesthetic appeal than standard adapter


Cons:


Prongs are not collapsible for portability


Fit is not as flush as standard Apple adapter piece


How to Buy

The Blockhead can be purchased from the Ten One Design website for $19.95. Two Blockheads are also available for a discounted price of $34.94 At the current time, the Blockhead is only certified for use in the U.S. and Canada, but Ten One is exploring a potential expansion to additional countries.

Note: Ten One Design provided a Blockhead to MacRumors free of charge for the purposes of this review. No other compensation was received.


Discuss this article in our forums



MacRumors Giveaway: Win a USB-C Hub From Plugable
For this week's giveaway, we've teamed up with Plugable to give MacRumors readers a chance to win a thin, light USB-C hub that's perfect for when you need a small hub while on the go.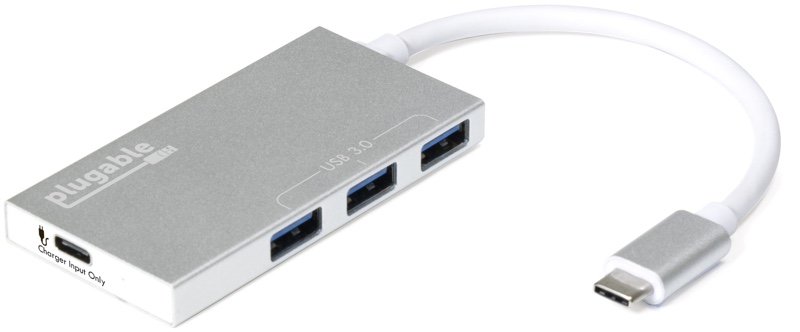 The Plugable USBC-HUB3P can deliver power to a MacBook from the MacBook's included charger while also providing three USB ports that can be used with a range of accessories. It's made from a lightweight silver aluminum that matches well with Apple's aesthetic, and it is able to work with both 2015 and 2016 Retina MacBook models. Other USB-C systems, like the Chromebook Pixel 2, are also supported.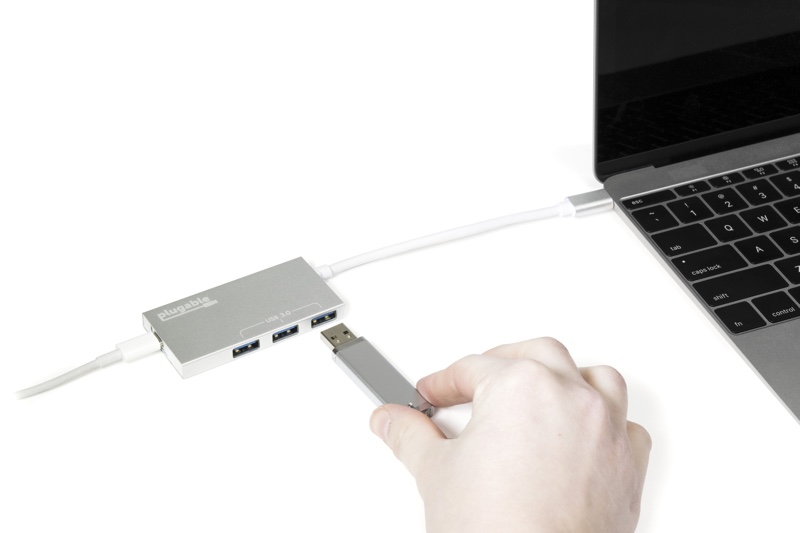 Measuring in at 9.5 inches long, the USBC-HUB3P fits neatly into a purse or backpack. We gave it a try and while it isn't the most rugged USB-C hub we've seen, it's a good option for travel. With USB 3.0 support, it offers transfer rates of up to 5Gb/s, and it ships with an included 6-inch USB-C cable to plug into the MacBook.




Apple sells its own Digital AV Multiport Adapter for the MacBook, but it's priced at $79.99. For those who don't need an HDMI port or want more USB-A ports, Plugable's solution is more affordably priced at $32 and is available from Amazon.

Plugable is offering 50 of its hubs to MacRumors readers. To enter to win, use the Rafflecopter widget below and enter an email address. Email addresses will be used solely for contact purposes to reach the winner and send the prize.

You can earn additional entries by subscribing to our weekly newsletter, subscribing to our YouTube channel, following us on Twitter, or visiting the MacRumorsFacebook page. Due to the complexities of international laws regarding giveaways, only U.S. residents who are 18 years of age or older are eligible to enter.



a Rafflecopter giveaway

The contest will run from today (June 24) at 11:00 a.m. Pacific Time through 11:00 a.m. Pacific Time on July 1. The winners will be chosen randomly on July 1 and will be contacted by email. The winners have 48 hours to respond and provide a shipping address before new winners are chosen.


Discuss this article in our forums



Apple Releases Safari 10 Developer Beta for OS X Yosemite and El Capitan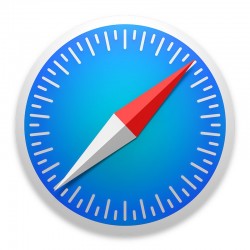 Apple today released a developer beta of Safari 10 for OS X Yosemite and OS X El Capitan users, allowing those who don't yet wish to install macOS Sierra to test out the upcoming Safari update.

The Safari 10 beta for Yosemite and El Capitan can be downloaded from the Apple Developer Center.

Safari 10 for Yosemite and El Capitan does not include all of the same features available in macOS Sierra, like Apple Pay on the web and Picture in Picture support, but a limited number of Safari 10 functions are available, as listed below:

- New Bookmarks sidebar, including double-click to focus in on a folder
- Redesigned Bookmarks and History views
- Site-specific zoom
- Improved AutoFill from your Contacts card
- Reader improvements
- HTML5 and legacy Plug-ins
- Allow reopening of recently closed tabs
- Back closing spawned tabs
- Improved ranking of Frequently Visited Sites
- Web Inspector Timelines Tab
- Debugging using Web Inspector

With OS X El Capitan, Safari 10 supports Safari Extensions and the development of Safari App Extensions, allowing developers to start creating extensions that will eventually be sold through the Mac App Store. Also unique to El Capitan is Spotlight suggestions for Top Hits.

Safari 10 is currently limited to developers, but will be available to public beta testers as part of macOS Sierra this July. The web browser will see an official public release this fall.


Discuss this article in our forums



Apple Hires Sage Bionetworks President Stephen Friend for Health-Related Projects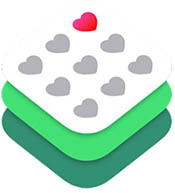 Sage Bionetworks president and co-founder Stephen Friend is joining Apple to work on health related projects, according to a press release Sage Bionetworks shared this morning (via Business Insider). Though not specified in the press release, Friend will likely be joining Apple to work on its CareKit and ResearchKit projects.

Friend connected with Apple through ResearchKit, which Sage has been involved in since before ResearchKit launched in 2015.

Sage Bionetworks designed and launched two of the first ResearchKit studies, including the mPower study on Parkinson's Disease and the Share the Journey study for breast cancer survivors. The company also developed and launched Bridge Server, software that provides back-end data collection and distribution for mobile health apps, which is used by other ResearchKit participants.
As stated by Dr. Friend, "Even though it has been exciting to watch a shift in how researchers work together and in how patients track their own disease, most exciting is how well Sage is now positioned to continue this quest to change how research is done and how people manage their health."
Prior to co-founding Sage Bionetworks, where he will stay on as chairman of the board, Friend, a noted cancer researcher, led oncology research at Merck & Co and served on the faculty at Harvard Medical School.

Since launching in 2015, ResearchKit studies have been conducted in many countries around the world, including Australia, Austria, China, Germany, Hong Kong, Ireland, Japan, Netherlands, Switzerland, the UK and the US, and have covered issues like asthma, postpartum depression, and cardiovascular disease.

Following the success of its ResearchKit platform, Apple has expanded its healthcare efforts with the April launch of CareKit. While ResearchKit is designed to help researchers collect information from thousands of patients at one time to study diseases, CareKit allows developers to build apps that will let doctors better interface with patients.


Discuss this article in our forums



Apple's Fifth Retail Store in Hong Kong Opens on June 30
Apple has announced that its fifth retail store in Hong Kong opens on Thursday, June 30 at 10:00 a.m. local time. The store will be located inside the New Town Plaza shopping mall at 18 Sha Tin Centre Street.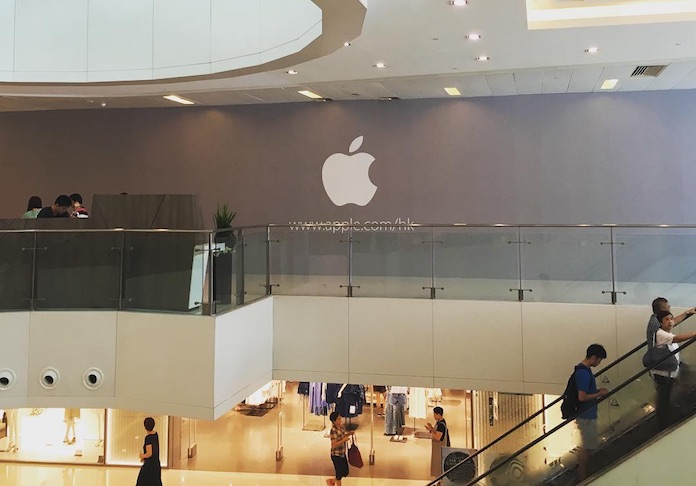 The store will be open seven days a week between 10:00 a.m. and 10:00 p.m. local time, providing customers in the northern Sha Tin District with access to the Genius Bar and other traditional store services.

As noted in our Apple Stores roundup, construction of the store is nearly completed. Apple Store, New Town Plaza will be the company's 46th retail store in Greater China and 484th retail store overall.

Apple's other Hong Kong locations include Canton Road, Causeway Bay, Festival Walk, and IFC Mall, the last of which expanded into a third floor in late 2015.


Discuss this article in our forums



Apple Releases Safari Technology Preview 7 With Bug Fixes and Feature Tweaks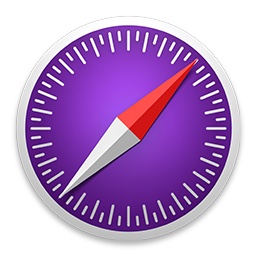 Apple today released a new update for Safari Technology Preview, the experimental browser Apple first introduced on March 30, 2016. Apple designed the Safari Technology Preview to test features that may be introduced into the release version of Safari.

Safari Technology Preview release 7 includes bug fixes and updates for JavaScript, CSS, Web APIs, Web Inspector, Media, and Rendering.

The Safari Technology Preview update is available through the Software Update mechanism in the Mac App Store to anyone who has downloaded the browser. Full release notes for the update are available on the Safari Technology Preview website.

Apple's goal with Safari Technology Preview is to gather feedback from developers and users on its browser development process. Safari Technology Preview can be run side-by-side with the existing Safari browser and while aimed at developers, it does not require a developer account to download.


Discuss this article in our forums



Apple Seeds Third OS X 10.11.6 El Capitan Beta to Developers and Public Beta Testers
Apple today seeded the third beta of an upcoming OS X 10.11.6 El Capitan update to developers and public beta testers for testing purposes, two weeks after releasing the second OS X 10.11.6 beta and more than a month after the public release of OS X 10.11.5. OS X 10.11.6 has been in testing since May 23.

The OS X 10.11.6 update can be downloaded through the Apple Developer Center or the Software Update mechanism in the Mac App Store.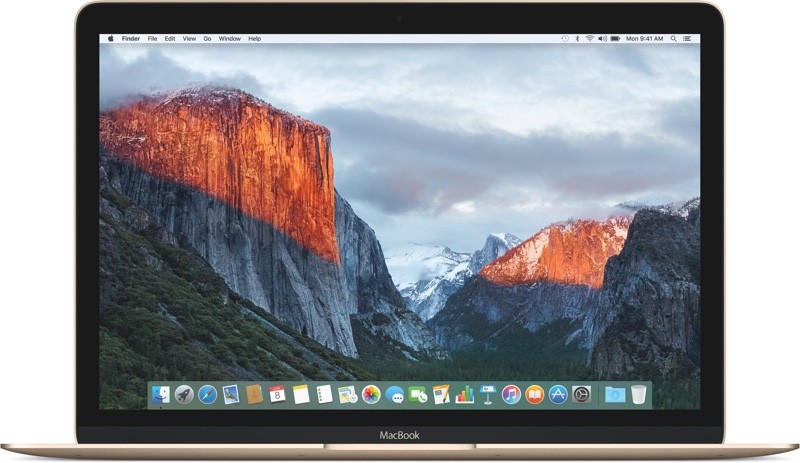 OS X 10.11.6, like OS X 10.11.5 and the El Capitan updates that came before it, focuses mainly on performance improvements and bug fixes rather than outward-facing changes. According to Apple's release notes, the update improves the stability, compatibility, and security of Macs.

No obvious changes or bug fixes were found in the first two betas, but we'll update this post should anything new be discovered in the third beta. Apple has also started testing macOS Sierra, the next-generation Mac operating system set to be released this fall.


Discuss this article in our forums



Adobe Launches Creative Cloud Update With New Features for Photoshop CC, Premiere Pro CC, and More
Adobe today announced the launch of its latest Creative Cloud updates, bringing new tools and more "Adobe Magic" to a range of apps including Photoshop CC, After Effects CC, Premiere Pro CC, Illustrator CC, and more.

There are several new features available in Photoshop CC, including Content-Aware Crop, Face-Aware Liquify, and Match Font, plus a new workspace for selections and masking. Content-Aware Crop intelligently fills in the open areas when a canvas is expanded or rotated beyond the original image size, allowing for more options when editing an image to get the perfect crop or angle.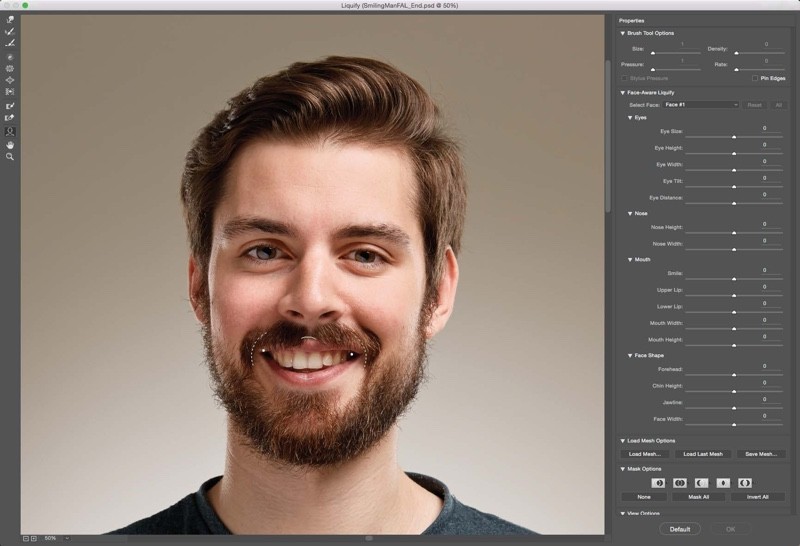 Face-Aware Liquify automatically recognizes the different elements of a face when using the liquify tool, giving users direct control over facial features like eyes, nose, and mouth for making quick artistic changes. Match Font, the final major new feature in Photoshop CC, analyzes an image to determine what font was used, bringing it up in Photoshop if it's already installed and locating it in TypeKit if it isn't previously owned.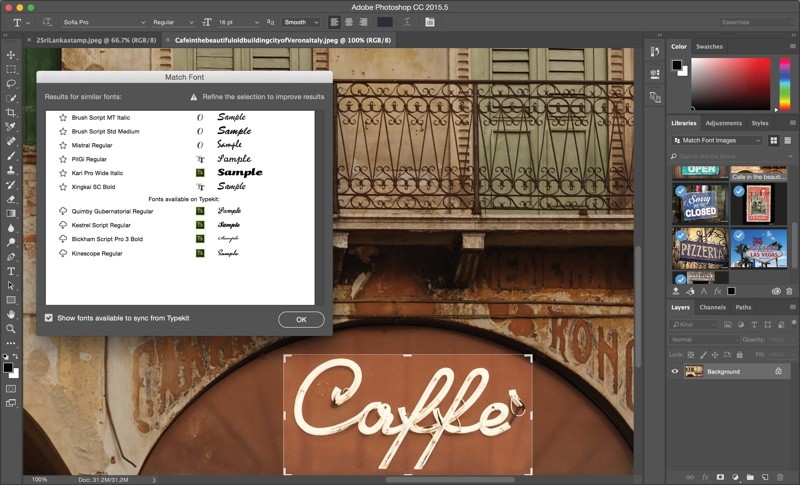 Adobe Premiere CC includes new workflows for editing immersive VR and 360 video experiences with a "field of view" mode for working with spherical stitched video. It offers options for dynamically switching between monoscopic, stereoscopic, and anaglyph frame layouts, and there's a new workflow for editing while video and audio are still importing in the background.

After Effects CC features a new audio and video preview engine for smoother playback for cached frames plus new GPU-accelerated Gaussian Blur and Lumetri Color effects for faster rendering, while Animate CC includes enhanced brushes and improved web publishing and Illustrator CC features fast export of assets and artboards.

Adobe Stock is now able to integrate with Creative Cloud applications through a new One-Click Workflow that allows users to choose an image or video from the Adobe Stock website and open it in an app with a single click. There's also a one-click licensing feature to purchase images directly within Photoshop, Illustrator, and InDesign.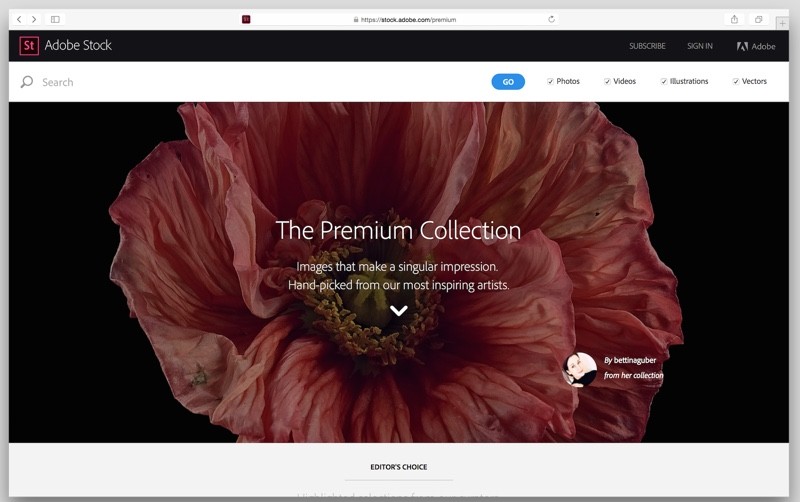 Adobe is debuting a Premium Collection for Adobe Stock, featuring close to 100,000 high-quality images from artists and photographers, and beginning in July, Creative Cloud customers will be able to upload their own images to Adobe Stock.

Across all of Adobe's Creative Cloud, there are new read-only libraries so Creative Cloud Libraries can be shared with team members for viewing purposes without giving all users the option of changing or deleting content, and all nearly apps have gained dozens of minor tweaks, bug fixes, and feature improvements.
"We have two key goals with this release: saving our customers time and helping them jumpstart their creative engines," said Bryan Lamkin, executive vice president and general manager, Digital Media at Adobe. "Every creative project starts with a blank page and ends with a vision coming to life. Today's release of Creative Cloud will help make that journey as fast and productive as possible. From deeper integration of Adobe Stock into the CC experience, to amazing new features like Content-Aware Crop in Adobe Photoshop, this release will expedite the creative process for millions of our customers."
Some of these features were previously announced by Adobe on the Adobe blog and at the National Association of Broadcasters (NAB) show, but they're launching as part of today's Creative Cloud update and should be available shortly.

Adobe offers full Creative Cloud subscriptions for $49.99 per month, and those who have not subscribed can sign up for a 30-day free trial. Adobe also offers a $9.99 photography plan with access to Lightroom and Photoshop.


Discuss this article in our forums



Supreme Court Ruling Supports Apple's Long-Running Fight Against Patent Trolls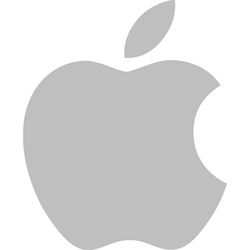 The Supreme Court yesterday made it a few steps easier for technology companies like Apple to challenge lawsuits from "patent assertion businesses," or patent trolls. The decision implemented part of a 2011 law that created "quicker and cheaper" avenues into contesting patents with the Patent Office, instead of having to delve into a lengthy court battle or face a federal judge (via The Wall Street Journal).

This way, companies like Apple -- who face patent trolls frequently -- could easily argue against unseemly patent lawsuits in far less time, and without spending as much money.

Speaking for the court system, Justice Stephen Breyer said that the new ruling in favor of the Patent Office approach will help "to protect the public" since it'll prevent potential patent trolls from claiming overly broad patents that "might discourage the use of the invention by a member of the public."

The 2011 law created quicker and cheaper procedures for contesting patents in front of the Patent Office instead of in front of a federal judge. But some argued the procedures overcompensated and made patents too vulnerable. That is because the Patent Office adopted challenger-friendly legal standards that were different than those used in courts.

The Supreme Court acknowledged the Patent Office rules depart from those used in court, but said the agency had taken a reasonable approach.
So far, cases emerging from the Patent Office are said to rule largely in favor of the individual or company contesting the patent. According to recent government data, a reported 80 percent of the trials completed so far through the Patent Office board have seen the cancellation of the patent in question.

Apple is nearly constantly in the news surrounding various lawsuits and litigation updates, a large sum of which are usually centered around companies that claim they are "absolutely not" a patent troll. The new ruling should help alleviate the headache and streamline the contesting process for some of these cases made against the company.


Discuss this article in our forums



Apple Once Again Blocks Older Versions of Adobe Flash Player Due to Vulnerability
Last week Adobe issued a security advisory for Flash Player, indicating that version 21.0.0.242 and earlier had a critical vulnerability that could potentially cause a crash and allow an attacker to take control of the infected system. Adobe issued a fix a couple days later.




Apple today published a support document explaining that users with out-of-date versions of the Adobe Flash Player plug-ins will see a "Blocked plug-in," "Flash Security Alert," or "Flash out-of-date" message when attempting to view Flash content in Safari.

Plug-ins like Adobe Flash Player have long been an issue for Apple, requiring forced updates and security fixes to patch vulnerabilities. When vulnerabilities arise, Apple has been consistent in blocking older versions of the web plug-ins. Apple is looking to reduce the risk of potential issues with macOS Sierra, in which Safari will deactivate Flash Player and other plug-ins by default in an effort to push the more modern HTML5.

To continue using Flash, users must download the latest Adobe Flash Player update from Adobe's website.


Discuss this article in our forums



Apple CEO Tim Cook to Host Fundraiser for House Speaker Paul Ryan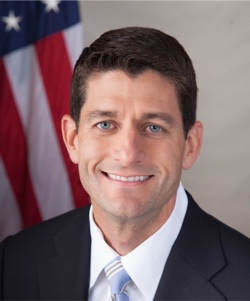 Apple CEO Tim Cook plans to co-host a fundraiser for House Speaker Paul Ryan next week in an attempt to strengthen Apple's relationship with key Republicans, reports Politico. The announcement comes following news Apple has decided not to donate money and Apple products to the Republican National Convention, reportedly because of comments made by presumptive nominee Donald Trump.

Cook and Ryan will host a private breakfast on Tuesday, June 28 in Menlo Park alongside longtime Apple treasurer Gary Wipfler. Money raised will benefit Ryan and a fundraising committee that helps elect other House Republicans. Invitations were sent out today, and Politico was able to obtain one.
Cook is hosting the fundraiser on his own accord, as Apple does not have a corporate political action committee like Facebook, Google and other tech giants in Silicon Valley. Still, the move reflects Apple's desire to court Republican and Democratic officeholders alike, even at a time when it has serious reservations about Trump, the GOP's presumptive presidential nominee.
Over the weekend, Apple told Republican leaders it would not donate resources to the convention due to Trump's comments on women, immigrants, and minorities, despite having traditionally made donations to both the Republican and Democratic conventions.

HP has also announced that it will not provide funding, but Facebook, Google, and Microsoft have all agreed to provide support to the upcoming event. It is not clear if Apple will donate to the Democratic convention.

As Politico points out, Cook has made an effort to bolster relationships with both Democrats and Republicans in the past, with donations to Senators and Representatives from each party.

Note: Due to the political nature of the discussion regarding this topic, the discussion thread is located in our Politics, Religion, Social Issues forum. All forum members and site visitors are welcome to read and follow the thread, but posting is limited to forum members with at least 100 posts.


Discuss this article in our forums



Ruling in India Clears Way for Apple's Long-Awaited Retail Expansion
The Indian government today announced a few changes to its rules on foreign direct investments (FDI) within the country, which previously required 30 percent of goods sold by a foreign company to be manufactured or produced within India (via The Times of India). The rule stagnated Apple's retail store growth within the country due to most of its products being created in China.

Now, Apple is going to be the recipient of a 3 year "relaxation" that India is introducing on its local sourcing rules, which was predicted earlier in the month, in addition to an extension of another 5 years on top of that if it can prove that the products it sells are "state of the art." India has previously exempted companies who proved such quality over the last few years, which prompted Apple to file a new application with the Indian government in May.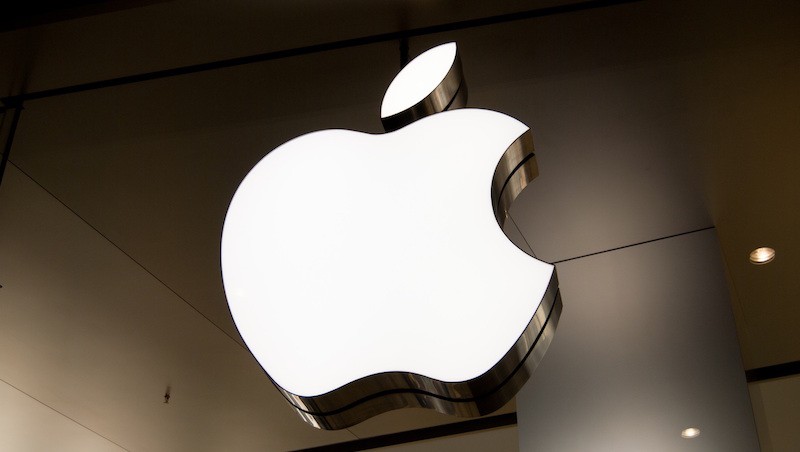 Apple's plans to open stores in the country had suffered a setback as the Foreign Investment Promotion Board (FIPB), under the finance ministry, red-flagged a panel's recommendation to relax the mandatory local sourcing norm for the Cupertino-based company to sell its products through the single-brand retail window.

The panel comprising representatives from departments of industrial policy and promotion (DIPP) and information technology had recommended a waiver from the 30% sourcing norm on the ground that Apple's products were "cutting-edge", which allows for doing away with the domestic procurement rule.
If it gets the 5 year extension, Apple could open and run retail stores in India for 8 years without needing to source products locally. Last month, Apple CEO Tim Cook met with Indian Prime Minister Narendra Modi to discuss these issues and reiterate India's importance to Apple's global iPhone market.

Currently, Apple's largest presence in India comes in the form of its Authorized Mobility Resellers program, which saw the Cupertino company partnering with third-party resellers to introduce an Apple presence in the country without directly installing full-blown Apple Stores.


Discuss this article in our forums



Apple Withholds Republican Convention Donations Over Trump Politics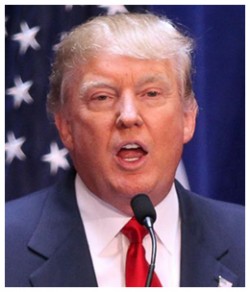 Apple has informed Republican leaders it will not be supporting the party's 2016 presidential convention in Cleveland next month, according to sources who spoke to Politico today.

The decision is reportedly due to comments made by presumptive nominee Donald Trump which the company takes issue with, in particular his controversial positions on the subjects of minorities, women, and immigrants.

Apple has traditionally donated technology and cash to both Republican and Democratic conventions, although no funding was provided to the 2012 Democratic event after the party decided against taking corporate donations.

It's still unclear whether Apple plans to donate to the upcoming Democratic convention in Philadelphia this summer.

Facebook, Google, and Microsoft have all said they will provide some support to this year's GOP event, despite general reservations within the tech industry about where the party is headed under Trump's candidacy.

Back in March, Apple CEO Tim Cookattended the American Enterprise Institute's annual World Forum, where conversation among tech leaders and Republican representatives kept returning to the topic of the GOP candidate's emergence on the political scene. Sources familiar with the event said that the meeting centered more around how and why Trump had attracted support, rather than how to stop him.

Trump has previously singled out Apple for its encryption stance and its refusal to help the FBI unlock the San Bernardino shooter's iPhone, and at one point suggested people should boycott the company's products unless it complied with the federal agency's demands.

It was later revealed that Trump had tweeted the comment using an iPhone.

No indication was given by the two sources Politico spoke to that Trump's criticism of Apple was behind its decision to withhold support for the Republican event.

Apple will not be alone in its refusal to help with GOP convention efforts. Earlier this month, HP announced it would not provide funding, after coming under pressure from activists at ColorofChange.org.

"We want them to divest from hate; we want them to pull all their money and support," said Mary Alice, field director for Free Press Action Fund, which is part of the anti-Trump campaign. Tech companies backing the convention need to be "thinking hard about where they put their brand, and whether they want to align their brand with racism, hatred and misogyny," she told Politico.

Note: Due to the political nature of the discussion regarding this topic, the discussion thread is located in our Politics, Religion, Social Issues forum. All forum members and site visitors are welcome to read and follow the thread, but posting is limited to forum members with at least 100 posts.


Discuss this article in our forums



MacRumors Giveaway: Win a Pad & Quill 'Everyday Developer Carry Kit' Package
In celebration of Apple's Worldwide Developers Conference, Pad & Quill, the maker of premium MacBook, iPhone, and iPad cases and other accessories, is generously offering an 'Everyday Developer Carry Kit' package where one winner can choose a briefcase bag, iPad case, iPhone case, and an Apple Watch band from the company's entire product line-up.

Pad & Quill offers several briefcase bag styles. The Briefcase and Large Briefcase can both accommodate laptops up to 15 inches, with the latter offering 25% more room than the former. Both are made of full-grain American cowhide and waxed canvas, featuring solid nickel hardware, internal dividers and pockets, leather handles, and a 25-year warranty. The Briefcase retails for $295 while the Large Briefcase retails for $365.




For iPads, Pad & Quill offers something for every model. For the 12.9-inch iPad Pro, there's the $139.95 Oxford Leather Folio case (see our review) that's made from a single piece of American full-grain bridle leather with a built-in stand and room for the Apple Pencil. For the 9.7-inch iPad Pro, there's the $89.95 Contega Thin Case with an archival-quality linen cover, built-in stand, and elastic band closure.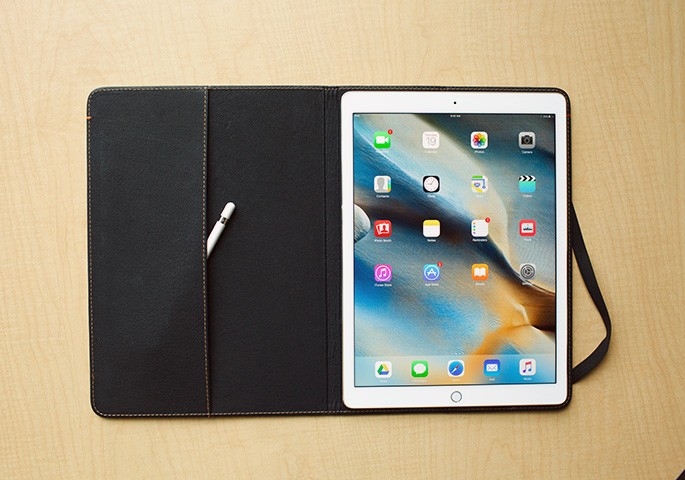 For iPhones, Pad & Quill's most popular options are the Luxury Pocket Book for the iPhone 6/6S that features a Baltic birch cradle and saddle leather cover, and the Woodline Case for the iPhone 6/6S Plus that's made of hardwood around an Aramid polymer core. For the Apple Watch, there's the Lowry Cuff band (our review) for 42mm models, and the Classic Leather Band for both 42mm and 38mm models.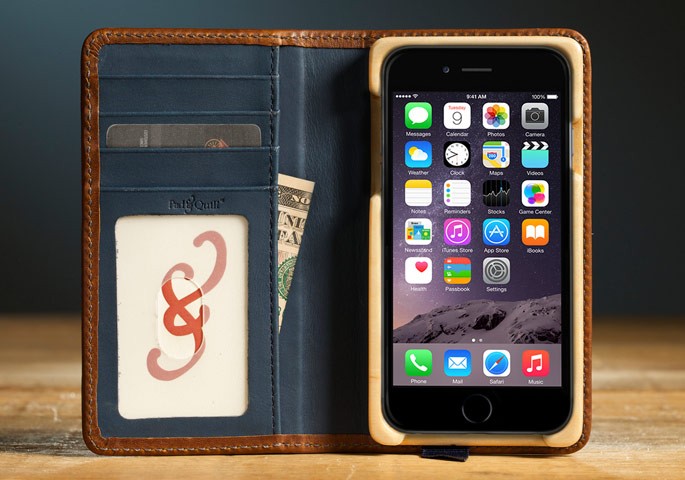 One winner will be chosen. The winner can select one briefcase bag, one iPad case, one iPhone case, and one Apple Watch band.

To enter to win, use the Rafflecopter widget below and enter your email address. Your email address will be used solely for contact purposes to reach the winners and provide prize shipping information. You can earn additional entries by subscribing to our weekly newsletter, subscribing to our YouTube channel, following us on Twitter, or visiting the MacRumorsFacebook page. Due to the complexities of international laws regarding giveaways, only U.S. residents who are 18 years of age or older are eligible to enter.a Rafflecopter giveaway
This contest will run from today (June 17) at 12:00 pm Pacific time through 12:00 pm Pacific time on June 24. The winner will be chosen randomly on June 24 and will be contacted by email. The winner will have 48 hours to respond and provide a shipping address. The prize package will be shipped to the winner for free.

Pad & Quill is also offering $10 off any purchase of $39 or more for MacRumors readers for a limited time. Please enter code Apple10 at checkout to get the discount.


Discuss this article in our forums



Apple Drops Free AppleCare, Lowers Discount on Macs for U.K. Students
Along with expanding its free Beats promotion to Europe, Apple has quietly changed its education incentives for students in the United Kingdom.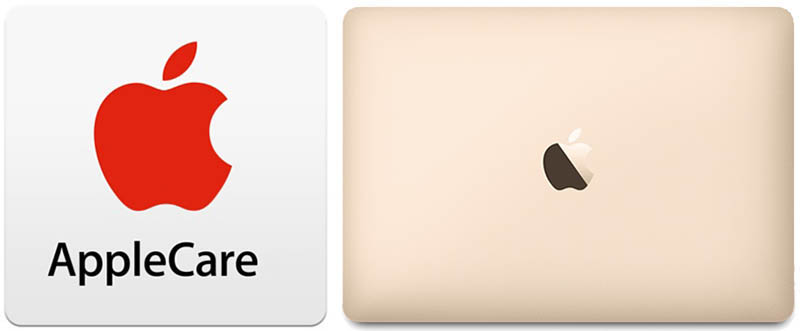 As of this week, Apple's online higher education store in the U.K. now offers up to 10 percent off Macs and other qualifying purchases, whereas the discount was previously up to 15 percent off. The base model 13-inch MacBook Pro now costs £898.80 for students and £999 otherwise, amounting to roughly 10 percent off.

Apple also no longer includes three years of complimentary AppleCare with Macs, with one year of phone support, and instead offers students 50 percent off the protection plan. AppleCare for the MacBook, MacBook Air, and 13-inch MacBook Pro, for example, is now £99.63 for students and £199 otherwise.

The changes mean that a student purchasing a new 13-inch MacBook Pro with AppleCare, for example, will now be required to pay £150 or more extra. The free Beats Solo2 Wireless On-Ear Headphones included with a qualifying Mac purchase retail for £269.95, so the difference amounts to around £100 to £120.

Apple's higher education store in the U.K. is now closer in line with the U.S., Canada, and elsewhere, where Apple has offered students up to 10 percent off with no AppleCare included for several years. It remains unclear if the changes are permanent, or only for the duration of the free Beats promotion in Europe.

Update: To clarify, Apple only offered three years of complimentary AppleCare for Mac purchases made through its online higher education store in the U.K. Physical retail stores only offered AppleCare at a discount of up to 75 percent off.


Discuss this article in our forums



Cambridge Awards Jony Ive With Honorary Degree in Science for Design Work at Apple
The University of Cambridge has awarded seven "distinguished individuals" with honorary degrees -- known as the highest honor bestowed by the University -- in fields like law, business, and medical science. One of those honored was Apple's own Jony Ive, who received a doctorate in science for the "elegance, purity and beauty" he brought to personal computers in his time at the company.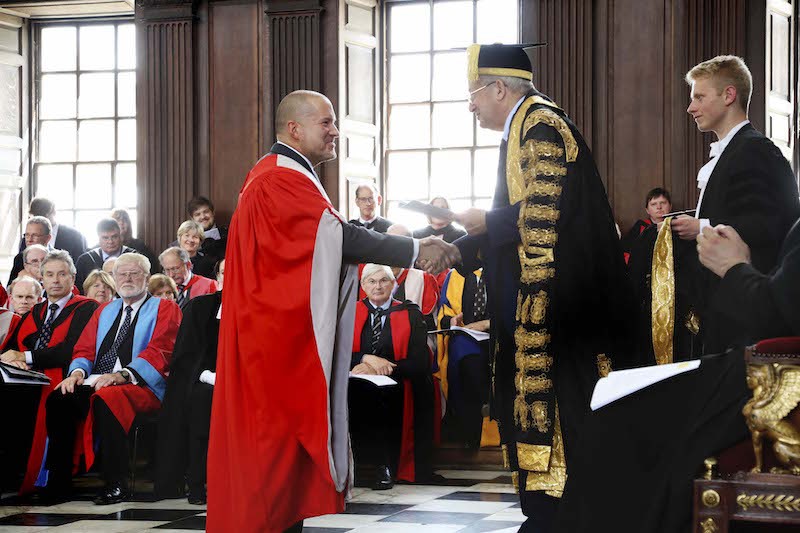 The man credited with introducing elegance, purity and beauty to the design of personal computers as Apple's chief designer was also honoured. A doctorate in science was conferred on Sir Jonathan Ive, Chief Design Officer at Apple, in recognition of his impact on the world of computing and in making technology approachable through design.
Cambridge won't be the only esteemed university giving Ive an honorary degree, as Oxford plans to bestow a similar honor onto Apple's chief design officer next week. The Oxford ceremony recognizes ten figures from similar fields as Cambridge, including theology, law, economics and, in Ive's case, science.

At Oxford, Ive will be named a "Doctor of Science," alongside neurobiologist Dr Cornelia Bargmann and physicist Mildred Dresselhaus. The honorary degrees will be given out at the University's annual Encaenia ceremony on June 22.


Discuss this article in our forums



Apple Invites Retail Employees to Test Pre-Release Versions of macOS Sierra
Apple has begun inviting its retail store employees to try pre-release versions of macOS Sierra, the latest version of its Mac software platform and renamed successor to OS X El Capitan.

Staff who sign up to the voluntary AppleSeed program are set to receive pre-release versions of macOS Sierra to install on their personal computers for use on their own time.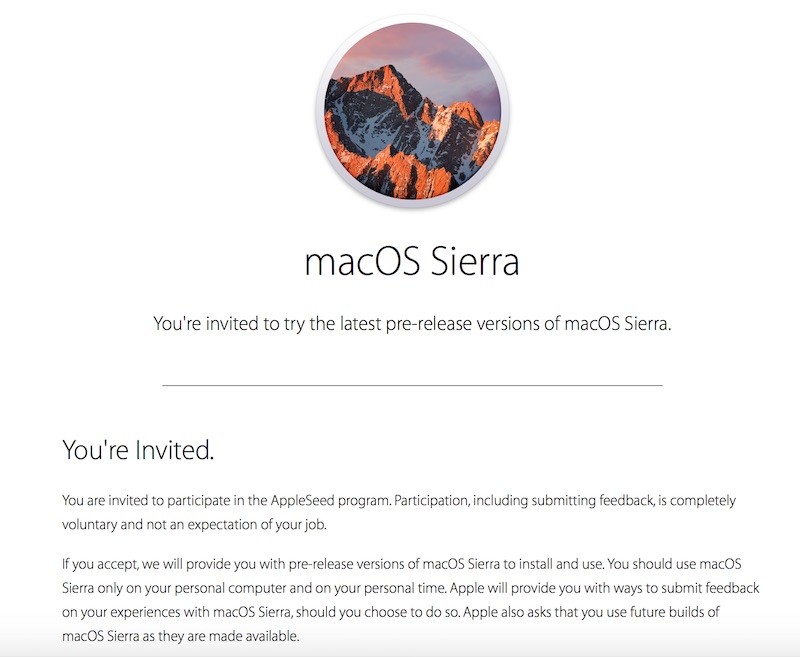 Apple is hoping that staff who get involved will help the company assess how the OS stands up in typical everyday usage scenarios, as outlined in its AppleSeed participation guidelines:

We ask that you use seeded software in your day-to-day activities, which is an environment that cannot be replicated at Apple. We will provide you with a variety of tools that will allow you to give us detailed information about your experience, should you decide to provide feedback to us.
As usual, the AppleSeed program is subject to a strict confidentiality agreement that prevents employees from publicly discussing their involvement in testing the seed.

Apple has invited retail employees to try pre-release software for the past few years, such as the company's Photos app, which replaced iPhoto and was released last year for OS X.

macOS Sierra was announced on Monday at WWDC 2016, and became available to developers for testing immediately after the company's keynote. Apple says a public beta will be launched in July, while the final public release is coming in the fall.

macOS Sierra includes a number of new capabilities, including Siri desktop integration, an automatic unlocking feature, universal Clipboard support, new iCloud integration, Apple Pay for the web, and more. The new Mac OS also features an entirely new file system, dedicated RAID Support, and an intelligent Optimized Storage function.

The macOS name, which does away with Apple's long-standing OS X naming scheme, also brings the name of the Mac operating system in line with iOS, watchOS, and tvOS.


Discuss this article in our forums



Apple Launches 2016 Back to School Promotion in Europe, Free Beats With Qualifying Purchases
Apple has extended its Back to School promotion to countries in Europe, offering a free pair of Beats Solo2 Wireless Headphones with eligible purchases.

At the beginning of June, Apple launched its annual Back to School promotion in the U.S. and Canada, offering the headphones to qualifying students and select others that purchase an eligible Mac, iPhone, or iPad Pro with education pricing.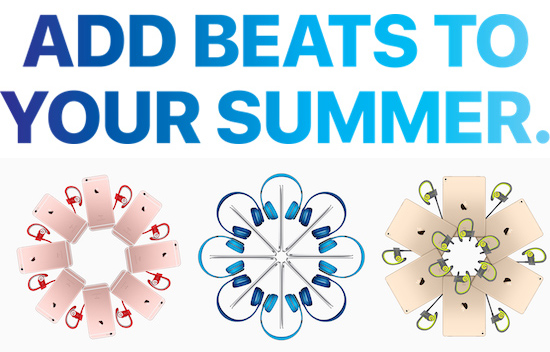 The same offer is now open to higher education students in the U.K., France, Germany, Italy, Netherlands, and other countries in Europe. To qualify for the Beats Solo2 cans, customers must purchase an iMac, MacBook, MacBook Pro, Mac Pro or MacBook Air.

Apple is also offering a free pair of Powerbeats2 Wireless Headphones with the purchase of an eligible iPhone or iPad with education pricing, including the iPhone 6s, iPhone 6, iPhone SE, and the iPad Air 2, iPad mini 4, iPad mini 2, and both the 9.7-inch and 12.9-inch iPad Pro.

The offer can be taken up online and at brick-and-mortar Apple Stores and is available through to September 5, 2016. Apple has outlined the full eligibility requirements for the program in its terms and conditions, available at the bottom of the promotion pages on Apple's country-specific sites.


Discuss this article in our forums



U.S. Appeals Court Rules in Favor of FCC Net Neutrality Rules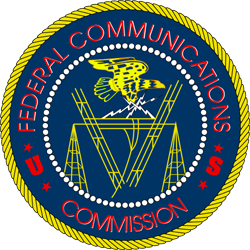 A U.S. appeals court yesterday upheld landmark federal rules preventing internet service providers from obstructing or slowing down consumer access to web content (via Reuters).

The backing for the Federal Communications Commission's net neutrality rules came in a 2-1 decision by a three-judge panel in the U.S. Court of Appeals for the District of Columbia Circuit. The outcome reaffirms the law enforced last year that says ISPs must treat all internet traffic equally.

The rules prohibit broadband providers from giving or selling access to faster internet lanes for specific internet services, which the FCC claims will help protect freedom of expression and innovation on the internet.

The court also rejected legal arguments from telecommunications industry groups that the rules should not apply to mobile phone web use or that they violated the constitutional free-speech rights of internet service providers.

The court's decision in favor of the FCC means that it too considered the internet to be a public utility, and therefore subject to government regulations. White House spokesman Josh Earnest called the ruling "a victory for the open, fair, and free internet as we know it today," and one that barred service providers from becoming "paid gatekeepers".

The outcome will also be seen as a personal victory for President Barack Obama, who is a strong advocate of net neutrality rules, although ISPs have already said they plan to appeal to either the full appellate court or the Supreme Court over the ruling. Telecoms industry groups have also said they will continue with efforts to get Congress to limit the FCC's authority.

Netflix and Twitter were among the companies that praised the ruling, while Google and others have backed the rules. Democrats in Congress also lauded the decision to back the FCC rules, which have been in place since June 2015.

However, the U.S. Chamber of Commerce business group accused the FCC of "essentially transforming an entire industry... from an innovative, lightly regulated enterprise that made huge investments into this country, into a public utility subject to the whims of regulators."

South Dakota Republican John Thune, who chairs the Senate Commerce Committee, said the decision upholds FCC restrictions "designed for the monopoly-telephone era" and asked the Republican-led Congress to step in to overturn a decision that results in "a highly political agency micromanaging the internet ecosystem."

US Telecom, the telecommunications industry trade association that led the legal challenge, said the court failed to recognize "the significant legal failings" of the FCC rules that "we believe will replace a consumer-driven internet with a government-run internet, threatening innovation and investment in years to come."

But FCC Chairman Tom Wheeler called the ruling "a victory for consumers and innovators who deserve unfettered access to the entire web" and claimed that it would ensure the internet remained "a platform for unparalleled innovation, free expression and economic growth."

Note: Due to the political nature of the discussion regarding this topic, the discussion thread is located in our Politics, Religion, Social Issues forum. All forum members and site visitors are welcome to read and follow the thread, but posting is limited to forum members with at least 100 posts.


Discuss this article in our forums



List of Macs Compatible With macOS Sierra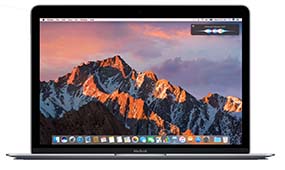 Apple today announced macOS Sierra, the latest version of its Mac software platform and renamed successor to OS X El Capitan. The first beta of the update was seeded to developers earlier today, while a public beta will be released in July.

macOS Sierra will be available as a free software update for compatible MacBook, MacBook Air, MacBook Pro, iMac, Mac mini, and Mac Pro models in the fall. Many 2007 to 2009 Macs that are compatible with OS X El Capitan will not be upgradeable to macOS Sierra, as the cutoff is now at least Late 2009.

The official list of Macs compatible with macOS Sierra:



Apple has shared the full video of its WWDC 2016 keynote, where it also introduced iOS 10 alongside new versions of watchOS and tvOS.


Discuss this article in our forums