Mac Rumors powered by MacRumors_p2


Resource id #61Apple Store at Pentagon City to Reopen March 4 With Next-Generation Design
Apple has announced that its retail store at the Fashion Centre at Pentagon City shopping mall in Arlington, Virginia reopens on Saturday, March 4 at 10:00 a.m. local time. The store, which originally opened in August 2005, has been closed for renovations since September 25 of last year.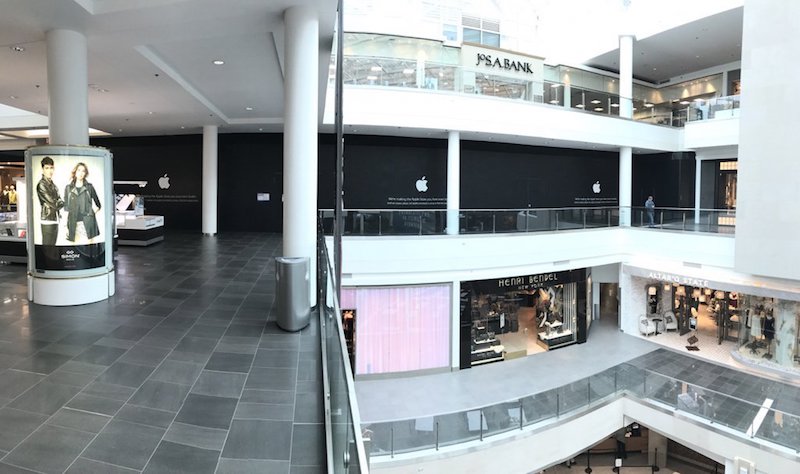 Apple Pentagon City has expanded into adjacent storefronts (Image: Jordan Sheckman)


Apple Pentagon City will be the iPhone maker's latest retail store to be updated with its next-generation design introduced in 2015.

The newer look often includes wide, open spaces with some combination of indoor trees, large glass doors, touch-sensitive sequoia wood tables and shelves, seating areas for community events, large 6K resolution video screens for product marketing, and light boxes extending the length of the ceiling.


Discuss this article in our forums



Google Responds to Reports of Unexpected Account Sign-Outs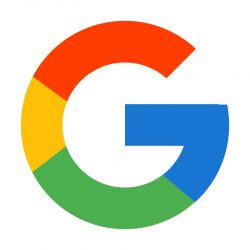 Google has responded to multiple reports of users being unexpectedly logged out of their Google accounts, in order to assuage fears that the logouts were security related.

The unexpected sign-outs began on Thursday night and continued through Friday, affecting multiple services including Gmail, Chromecast, YouTube, and Google Play.

During routine maintenance, a number of users were signed-out from their Google accounts. This may have resulted in you being signed out of your account or seeing a notification about "A change in your Google account" or "Account Action Required".

We hear your concerns that this appeared to potentially be phishing or another type of security issue. We can assure you that the security of your account was never in danger as a result of this issue.
Google said the issue with its Google Accounts engine also caused some Google Wifi and OnHub devices to automatically revert to factory settings. "Unfortunately, these devices need to be set up again," said Google. "We'd like to share our sincerest apologies for the inconvenience." Instructions on re-setting the Wi-Fi devices can be found here.




The reports initially caused some concern among users, coming in just hours after it was revealed that content delivery network CloudFare had been informed by Google of a bug that leaked memory, which could potentially contain private information cached by search engines.

Cloudflare worked with the affected search engines, including Google, Yahoo, and Bing, to erase any remnants of the sensitive data from their caches, and the bug has since been patched.


Discuss this article in our forums



MacRumors Giveaway: Win a Thunderbolt Station 3 Lite From CalDigit
For this week's giveaway, we've teamed up with CalDigit to offer MacRumors readers a chance to win a Thunderbolt Station 3 Lite, which is designed to work with the new 2016 MacBook Pro.

The new MacBook Pro is equipped with Thunderbolt 3, but it offers a limited number of ports, making a dock or some form of dongle essential for most users who have older accessories. The TS3 Lite, a small hub that includes support for Thunderbolt 3, is ideal for users who need a robust but portable solution.

The TS3 Lite features two Thunderbolt 3 Type-C ports with 40Gb/s throughput, two USB 3.1 Type-A ports, 1 USB 3.1 Type-C port, a DisplayPort, a Gigabit Ethernet port, and Audio In/Out ports. It doesn't support 85W charging though, so you'll need a separate cable to power your MacBook Pro.




It's able to support a single 5K monitor at 60Hz or dual 4K monitors, and it ships with a Thunderbolt 3 cable. With daisychaining, up to six Thunderbolt 3 devices can be connected to a single computer, and the included USB-A and USB-C ports can be used to connect a variety of other accessories.

For instances when a computer is not available, the TS3 Lite features a Stand Alone Charging function that allows users to charge devices like an iPad or an iPhone using the USB-A ports on the TS3 Lite even when it's not connected to a computer.




The TS3 Lite, which features a brushed aluminum enclosure that matches well with Apple devices, measures in at 8 inches by 3.15 inches and it weighs less than a pound, so it's easy to pack into a bag with your computer and it doesn't take up much space on a desk.

CalDigit charges $199 for the Thunderbolt 3 Station Lite, but we have two to give away to MacRumors readers. To enter to win, use the Rafflecopter widget below and enter an email address. Email addresses will be used solely for contact purposes to reach the winner and send the prize. You can earn additional entries by subscribing to our weekly newsletter, subscribing to our YouTube channel, following us on Twitter, or visiting the MacRumorsFacebook page.

Due to the complexities of international laws regarding giveaways, only U.S. residents who are 18 years of age or older are eligible to enter. To offer feedback or get more information on the giveaway restrictions, please refer to our Site Feedback section, as that is where discussion of the rules will be redirected.



a Rafflecopter giveaway


The contest will run from today (February 24) at 11:15 a.m. Pacific Time through 11:15 a.m. Pacific Time on March 3. The winners will be chosen randomly on March 3 and will be contacted by email. The winners will have 48 hours to respond and provide a shipping address before new winners are chosen.


Discuss this article in our forums



Cloudflare Bug That Leaked Sensitive User Data From Various Websites and Apps Now Fixed
Content delivery network Cloudflare has confirmed the existence of a bug that caused search engines to cache sensitive user data from a variety of well-known apps and websites. Google researcher Tavis Ormandy discovered and reported the bug to Cloudflare, and the company has since fixed the bug and published a detailed blog post about exactly what happened.

According to Cloudflare, the period of greatest impact for the "parser bug" ran from February 13 to February 18, although the extent of the leak stretches back months. The heart of the issue was a security problem with Cloudflare edge servers, which were returning corrupted web pages by some HTTP requests running on Cloudflare's large network.




In what the company referred to as "some unusual circumstances," occasionally private information was returned as well, including "HTTP cookies, authentication tokens, HTTP POST bodies, and other sensitive data."

It turned out that in some unusual circumstances, which I'll detail below, our edge servers were running past the end of a buffer and returning memory that contained private information such as HTTP cookies, authentication tokens, HTTP POST bodies, and other sensitive data. And some of that data had been cached by search engines.

The bug was serious because the leaked memory could contain private information and because it had been cached by search engines. We have also not discovered any evidence of malicious exploits of the bug or other reports of its existence.
As shared in a tweet by Ormandy this week, that data also included private dating site messages from OKCupid, full messages from a "well-known chat service," passwords from password managing apps like 1Password, and more (via Fortune). In response, some companies -- like 1Password -- have published blog posts confirming that "no 1Password data is put at any risk through the bug reported about CloudFlare."

To expedite a solution, Cloudflare responded to Ormandy's discovery and turned off three minor features of the network -- email obfuscation, Server-side Excludes, and Automatic HTTPS Rewrites -- discovered to be using the same HTML parser chain "that was causing the leakage."

In its blog post, the company said that it has "not discovered any evidence of malicious exploits" in relation to the time that the parser bug was active. It also noted that, while serious, the scale of the bug was still relatively low: around 1 in every 3,300,000 HTTP requests through Cloudflare potentially resulted in memory leakage. "That's about 0.00003% of requests," the company noted.

Cloudflare worked with the affected search engines, including Google, Yahoo, and Bing, to erase any remnants of the sensitive data from their caches. The company's chief technology officer, John Graham-Cumming, concluded the blog saying, "We are very grateful to our colleagues at Google for contacting us about the problem and working closely with us through its resolution. All of which occurred without any reports that outside parties had identified the issue or exploited it."

Earlier this week, it was reported that Apple cut ties with server supplier Super Micro Computer in order to avoid a potential future scenario where user data might be put at risk, similar to Cloudflare's leak. Early in 2016, Apple was said to have discovered a potential security vulnerability in one of Super Micro Computer's data center servers and effectively ended its business relationship with the network company shortly thereafter.

For a technical dive into Cloudflare's parser bug and its origins, check out the company's blog post.


Discuss this article in our forums



Apple CEO Tim Cook Will Move His Office to Apple Park
Apple CEO Tim Cook plans to work out of Apple Park, the official name for Apple's second spaceship-shaped campus, according to information obtained by The Chronicle.

Cook will presumably move his office from Apple's Infinite Loop campus to Apple Park when it opens for employees in April of 2017. Apple announced its plans to open Apple Park in April in a press statement released this morning.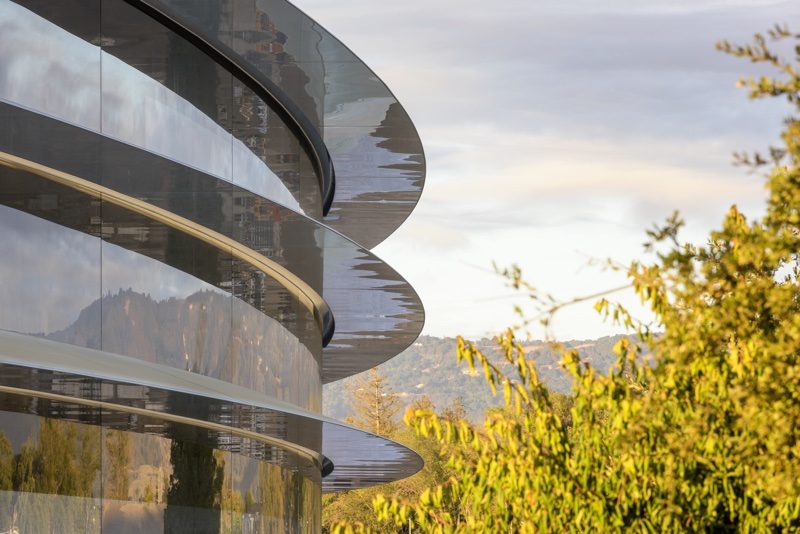 Apple Park will eventually house more than 12,000 employees, who will move to the campus over a period of six months. While Apple Park will open in a little over a month, smaller construction projects and landscaping will continue into the summer.




In addition to the main ring-shaped building, Apple Park includes a visitor's center with a full Apple Store and cafe, a fitness center for employees, auxiliary research buildings, underground parking structures, a cafeteria, and a theater named "Steve Jobs Theater" after late Apple CEO Steve Jobs.

The entire campus is powered by 100 percent renewable energy and features huge swathes of greenery suitable for the California climate, with more than 9,000 native and drought-resistant trees.

First conceived in 2011 by Steve Jobs, Apple Park has been under construction since 2013 and is rumored to have cost Apple upwards of $5 billion.


Discuss this article in our forums



Latest Chrome Canary Build Includes Support for MacBook Pro Touch Bar
The newest build (58.0.3020.0) of Chrome Canary, Google's experimental browser, includes support for the Touch Bar built into the 2016 MacBook Pro, indicating Touch Bar support will soon be added to the Chrome browser.

On the Touch Bar, the current Chrome Canary build offers a search/URL bar, forward and back buttons, a refresh/stop option, a button for opening a new tab, and a button for adding a new bookmark.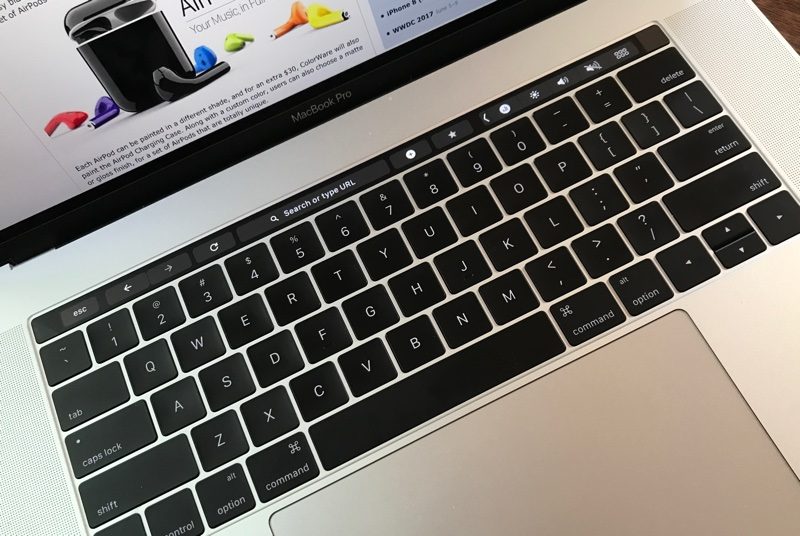 It's much a simpler implementation than Touch Bar support in Safari, which includes preview tabs for quickly switching between windows. There are also no controls available for video or music playback in the browser.

Features are tested in Canary before being added release builds of the Google Chrome browser, so Touch Bar support is expected in Chrome 58, set to be released during the week of April 25th.

Those who want to give Touch Bar support a try ahead of the release of Chrome 58 can download Chrome Canary from Google.


Discuss this article in our forums



Apple Releases Safari Technology Preview 24 With User Timing and Link Preload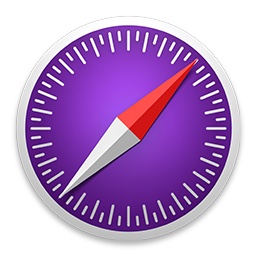 Apple today released a new update for Safari Technology Preview, the experimental browser Apple first introduced in March of 2016. Apple designed the Safari Technology Preview to test features that may be introduced into future release versions of Safari.

Safari Technology Preview release 24 includes fixes and improvements for Web API, JavaScript, CSS, Web Inspector, Rendering, Accessibility, and more. Both User Timing and Link Preload are new experimental features in this version of Safari Technology Preview.

The Safari Technology Preview update is available through the Software Update mechanism in the Mac App Store to anyone who has downloaded the browser. Full release notes for the update are available on the Safari Technology Preview website.

Apple's aim with Safari Technology Preview is to gather feedback from developers and users on its browser development process. Safari Technology Preview can run side-by-side with the existing Safari browser and while designed for developers, it does not require a developer account to download.


Discuss this article in our forums



Apple's Presence in Cambridge Office Confirmed, Reportedly Centering on Siri Research
Over two years ago it was reported that Apple was planning on opening a new R&D office in Cambridge, England, and after that multiplereports suggested that the company was primarily working on Siri research at the location.

Besides a few job posts Apple never formally admitted to being the occupant at 90 Hills Road in Cambridge. This week, however, Cambridge News has spotted confirmation of Apple's presence in the city, in the form of the Apple logo appearing on signage outside of the office building.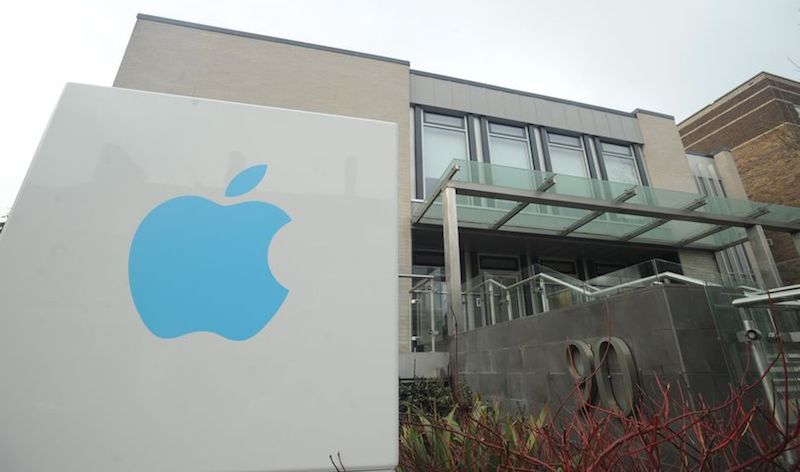 For the last two years Apple has been tight-lipped about its office in Cambridge, but now it seems the iPhone maker is ready to come out of the closet.

The tech giant has repeatedly refused to confirm it is operating out of 90 Hills Road, next to the entrance of the Botanic Gardens. But now its iconic logo has appeared on signage outside the building.
News of the office in Cambridge began in November 2014, and then one year later in November 2015 Cambridge News reported that Apple was hiring staff in the area to work on Siri. That rumor came in the wake of Apple's acquisition of the UK-based startup VocalIQ, which specializes in speech technology and finding ways for users and computers to have a more natural dialogue.

Now, it is believed that more than 30 employees -- including former staff from VocalIQ -- are at work at the Cambridge office. Today's report states that the workers at 90 Hills Road are "developing new versions of Siri to compete with the likes of Amazon and Google." Last month, industry sources stated that Apple is working on "enhanced Siri" capabilities for future iPhones, citing another Apple acquisition (machine learning startup Turi), while also mentioning the company's desire to best its competitors in the AI assistant space.


Discuss this article in our forums



Apple Names its New Campus Auditorium 'Steve Jobs Theater'
Apple today announced that the 1,000-seat auditorium at its new Apple Park campus will be named the "Steve Jobs Theater" in memory of the company's late co-founder, who would have turned 62 years old on February 24.




Steve Jobs Theater, a 20-foot-tall glass cylinder with the world's largest freestanding carbon-fiber roof, is situated atop a hill at one of the highest points of the 175-acre campus, overlooking meadows and the main building.

Apple CEO Tim Cook:
"Steve's vision for Apple stretched far beyond his time with us. He intended Apple Park to be the home of innovation for generations to come," said Tim Cook, Apple's CEO. "The workspaces and parklands are designed to inspire our team as well as benefit the environment. We've achieved the most energy-efficient building of its kind in the world and the campus will run entirely on renewable energy."
Jobs' widow Laurene Powell Jobs:
"Steve was exhilarated, and inspired, by the California landscape, by its light and its expansiveness. It was his favorite setting for thought. Apple Park captures his spirit uncannily well," said Laurene Powell Jobs. "He would have flourished, as the people of Apple surely will, on this luminously designed campus."
Apple design chief Jony Ive:
"Steve invested so much of his energy creating and supporting vital, creative environments. We have approached the design, engineering and making of our new campus with the same enthusiasm and design principles that characterize our products," said Jony Ive, Apple's chief design officer. "Connecting extraordinarily advanced buildings with rolling parkland creates a wonderfully open environment for people to create, collaborate and work together. We have been extremely fortunate to be able to work closely, over many years, with the remarkable architectural practice Foster + Partners."
Apple Park will be ready for employees to begin occupying in April, and the Steve Jobs Theater will open later this year.


Discuss this article in our forums



Apple Updates Logic Pro X With Minor Bug Fixes and Feature Improvements
Apple today updated Logic Pro X, its software for audio professionals, to version 10.3.1. The new update introduces a few bug fixes and refines two previously implemented features.

According to Apple's release notes, Logic Pro X 10.3.1 fixes a bug that caused regions to behave unexpectedly when moved, and it fixes an issue that could cause regions on Track Alternatives to get deleted.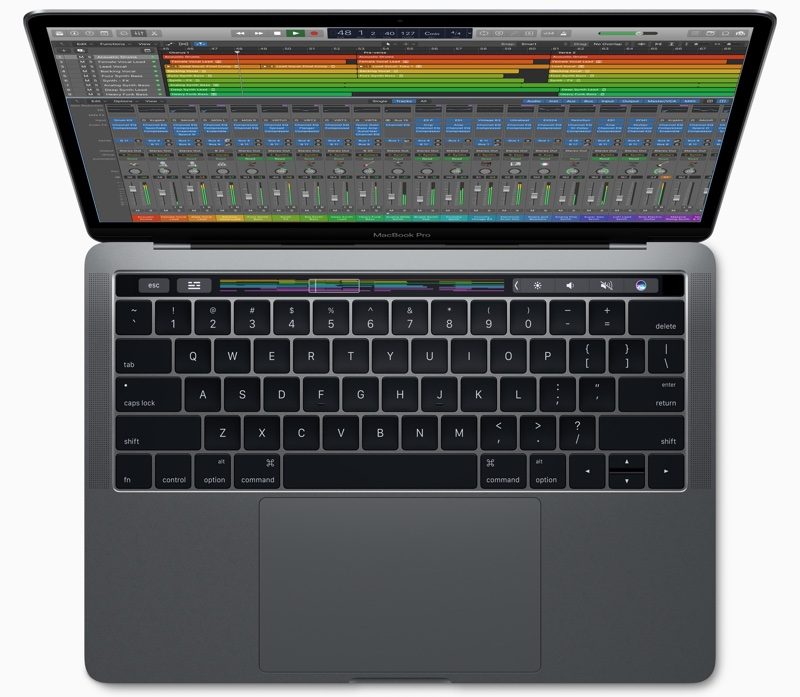 As for feature additions, global edits cutting or inserting time are now also applied to inactive Track Alternatives, and projects that use sample rates other than 44.1kHz can be shared to GarageBand for iOS.

Today's 10.3.1 update comes just over a month after Apple released Logic Pro X 10.3, a major update introducing a refreshed interface, Track Alternatives, and Touch Bar support for the new MacBook Pro.

Logic Pro X is available for purchase from the Mac App Store for $199.99. [Direct Link]
Discuss this article in our forums



Apple Releases Third macOS Sierra 10.12.4 Public Beta for Public Beta Testers
Apple today seeded the third beta of an upcoming macOS Sierra 10.12.4 update to public beta testers for testing purposes, two weeks after seeding the second public beta and one day after releasing the third 10.12.4 beta to developers.

Beta testers who have signed up for Apple's beta testing program will receive the third 10.12.4 macOS Sierra beta through the Software Update mechanism in the Mac App Store.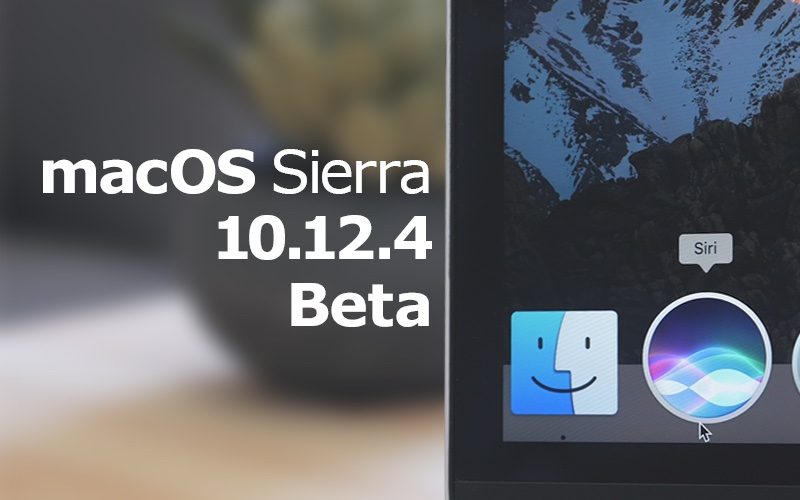 Those who want to be a part of Apple's beta testing program can sign up to participate through the beta testing website, which gives users access to both iOS and macOS Sierra betas. Betas should not be installed on a primary machine due to the potential for instability.

macOS Sierra 10.12.4 brings iOS's popular Night Shift mode to the Mac, allowing users to cut down on blue light exposure in the evening. Believed to affect sleep by upsetting the body's circadian rhythm, blue light is thought to be more harmful than yellow light.



Subscribe to the MacRumors YouTube channel for more videos.


With Night Shift, the Mac's display automatically shifts from cool to warm at sunset and then shifts back at sunrise. Users can also set custom times for the display's colors to shift, or toggle the effect on manually. A Toggle to turn Night Shift on is available in the Notification Center, and Siri can also be used to activate the feature.

macOS Sierra 10.12.4 also includes Shanghainese dictation support, cricket scores for Siri, improved PDFKit APIs, and iCloud Analytics options.


Discuss this article in our forums



Apple Comes Fifth, Amazon Ranked Top, in Company Reputation Poll
Apple is the fifth most reputable major company active in the U.S. according to an annual poll that gauges public perception of 100 consumer brands (via The Korea Herald).

The Reputation Quotient Ratings from the 2017 Harris Poll are based on an online survey completed by over 30,000 adults in the U.S. The survey analyzes brand reputation across six gauges: social responsibility, vision and leadership, financial performance, products and services, workplace environment, and emotional appeal.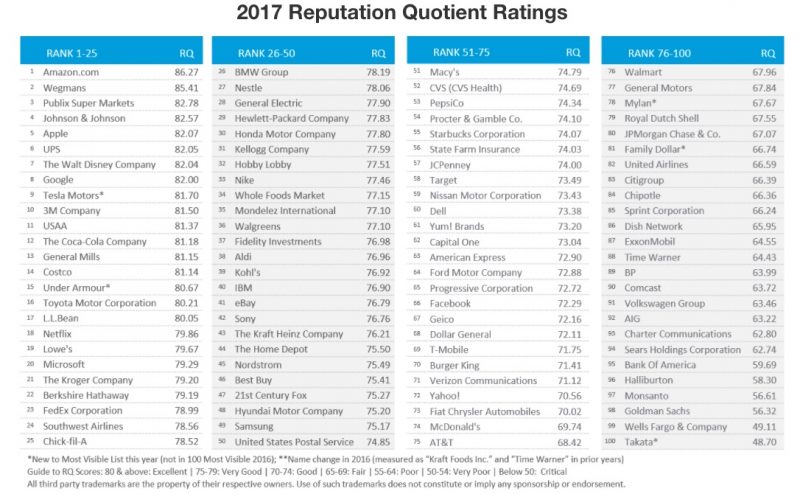 The Reputation Quotient Ratings saw Apple fall three places from the previous year, losing ground to Wegmans, Publix Super Markets, and Johnson & Johnson. Amazon meanwhile maintained its 2016 position at the top of the table, but the effects of the exploding Note7 phone debacle saw Samsung slump to 49th after last year ranking at seventh.

Other companies in the top ten include Google, which slipped from fifth in 2016 to eighth, and Tesla Motors, which was not included in last year's rankings. Netflix and Microsoft both ranked in the top 20 (18th and 20th, respectively), with Facebook sitting at 66th.

According to Harris Polls, the biggest risks to a company's reputation are illegal actions by corporate leaders and lies about products or services. The poll was carried out between November 28 and December 16 of last year, so just before Consumer Reports denied Apple's new MacBook Pro line-up a buyer recommendation, based on perceived battery life issues. Consumer Reports later revisited the issues with Apple's input, and ultimately decided to award the laptops a recommendation in January.

Samsung meanwhile will be eager to resuscitate its brand in 2017 after some of its Galaxy Note7 phones caught fire, leading to the discontinuation of the model in October. However, the company had a setback last week when Samsung chief Lee Jae-yong was arrested over his alleged role in an influence-peddling scandal that has led to the South Korean president's impeachment.
Discuss this article in our forums



Apple Shifts Towards Digital and Regional Ad Campaigns
Apple's shift towards regionally-focused digital and social media campaigns, and away from translating broader TV-focused campaigns for global markets, has led to layoffs and reorganizational efforts at its longtime global advertising partner TBWA\Media Arts Lab, according to Adweek.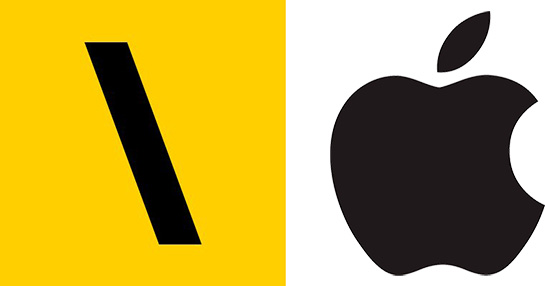 The agency's translation and transcreation teams were naturally among those hardest hit by the downsizing, the report claims. The exact number of employees laid off was not revealed, but the staff reductions are said to have occurred at TBWA's Los Angeles headquarters and other offices around the world.

Nevertheless, the report said TBWA expanded other departments, most prominently digital and social media. The agency said its new operating model will allow it to "keep pace with the way people consume media and content," which increasingly involves platforms such as Instagram, Snapchat, Facebook, and YouTube.
"TBWA\Media Arts Lab is reorganizing and introducing a new operating model to keep pace with the way people consume media and content," an agency spokesperson told Adweek. "This will result in a reduction in areas such as localization and further investment in areas such as digital, social, data analytics, content creation and a more diverse set of strategic skills. We will also have greater integration with media partners at OMD."
A recent example of Apple's regional work is "Meu Bloco na Rua," a Brazilian Carnival-focused video promoting Portrait Mode on iPhone 7 Plus. Apple shared the 90-second spot on its YouTube account in Brazil last week ahead of the Carnival beginning on the afternoon of February 24.




Apple has also shared an increasing number of social-friendly 15-second ads on YouTube for products such as the iPhone, Apple Watch, and AirPods. Just two days ago, Apple launched a series of new ads in which it promotes the iPad Pro and its features by responding to real tweets printed on large posters.




Apple will continue to work with TBWA\Media Arts Lab in tandem with its growing in-house marketing team, the report said.


Discuss this article in our forums



Adobe Issues Critical Security Update for Flash Player on Mac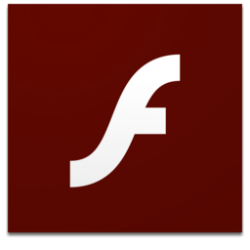 Adobe this week released Flash Player version 24.0.0.221 to "address critical vulnerabilities that could potentially allow an attacker to take control of the affected system," including Mac, Windows, Linux, and Chrome OS.

Mac users with Flash Player version 24.0.0.194 or earlier installed should immediately update to the latest version using the built-in update mechanism. The update is also available from the Adobe Flash Player Download Center.

Flash Player users who had enabled the option to "allow Adobe to install updates" will receive the update automatically. Likewise, Google Chrome will automatically update Flash Player to version 24.0.0.221. Select "About Google Chrome" under the Tools menu to verify the browser is up-to-date.

Adobe said the critical security update resolves integer overflow, memory corruption, type confusion, heap buffer overflow, and use-after-free vulnerabilities that could lead to code execution. The vulnerabilities were reported by security teams from Google, Microsoft, Palo Alto Networks, and Trend Micro.

Safari on macOS Sierradeactivates Flash by default, only turning on the plug-in when user requested. Chrome, Firefox, and most other modern web browsers also have web plug-in safeguards in place due to repeatedsecurity risks. Adobe has released fifteen Flash Player security updates over the past year.

In 2010, Apple co-founder Steve Jobs shared his "Thoughts on Flash," in which he favored open web standards such as HTML5 over Adobe Flash. Jobs said Flash Player was "the number one reason Macs crash," while criticizing its performance on mobile devices. "Flash was created during the PC era – for PCs and mice," he opined.


Discuss this article in our forums



Apple Store in Sydney, Australia Reopens After Temporary Closure Due to Alleged Bomb Threat
The Apple retail store located on George Street in Sydney, Australia was closed for a brief period of time today due to "a police operation," although the exact reasoning behind the closure remains unclear. Some customers evacuated from the store tweeted claims of hearing employees discussing a "bomb threat," while workers in nearby buildings are referencing some kind of workplace accident responsible for the closure (via Gizmodo Australia).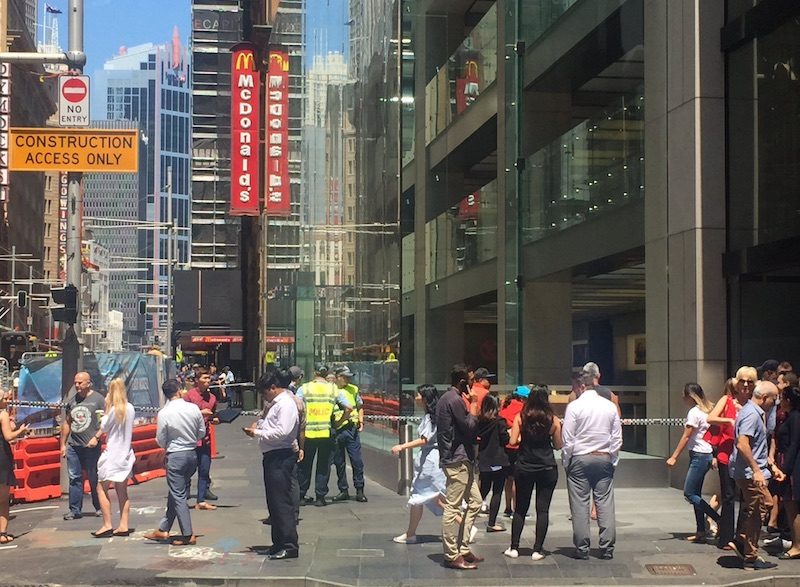 The only information confirmed by the local police force referenced "a police operation" that was ongoing on the corner of King and George streets between 1:36 PM and 1:50 PM local time today. A police dog was also seen entering the Apple Store, but once it left and the police appeared finished at the scene at around 2:24 PM, a line was allowed to queue back on the street for re-entry into the store.

Shoppers were evacuated from the store as around six police cars appeared at the building in the city's CBD. Officers and a police dog were seen entering the store as a crowd gathered outside.

Ashley, one of those evacuated, tweeted that he "heard store employees talking about a bomb threat, not a drill" and police were "very firm in telling people to leave immediately."
Since customers have now been allowed to re-enter the location, it appears that the officers didn't find anything of potential harm in the store.


Discuss this article in our forums



Touch Bar Support in Microsoft Office for Mac Rolls Out to All Users
Starting today, Microsoft Office users who own one of Apple's new 2016 MacBook Pro models can update their Word, Excel, and PowerPoint software to gain new Touch Bar integrations.

Touch Bar support for Microsoft Office was first announced at Apple's October keynote event where the updated MacBook Pro with Touch Bar debuted. At that time, Microsoft outlined the Touch Bar's capabilities, highlighting unique capabilities for Word, Excel, PowerPoint, and Outlook.

In Microsoft Word, the Touch Bar can be used with Word Focus Mode, which hides all on-screen ribbons and commands to put the focus on your work. The Touch Bar puts "the most relevant Word features" at a user's fingertips, allowing for quick style changes.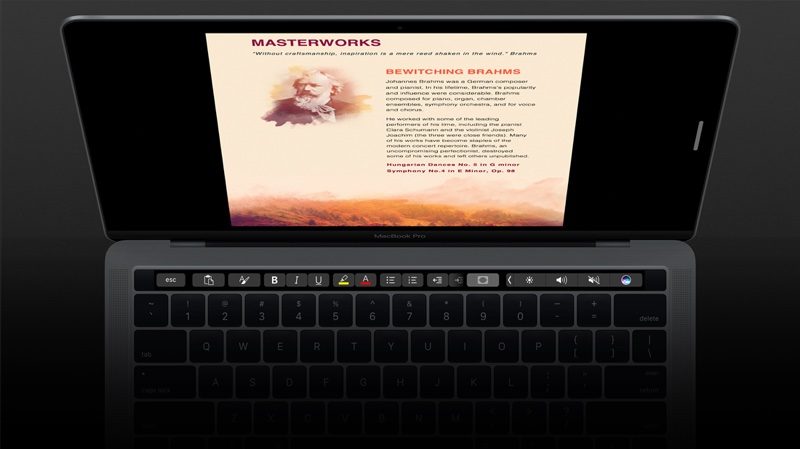 In PowerPoint, the Touch Bar makes it easier to manipulate graphic elements. A Reorder Objects button creates a graphical map of all the layers, so users can quickly find an object and move its position. There are also special controls that are available in Slideshow View.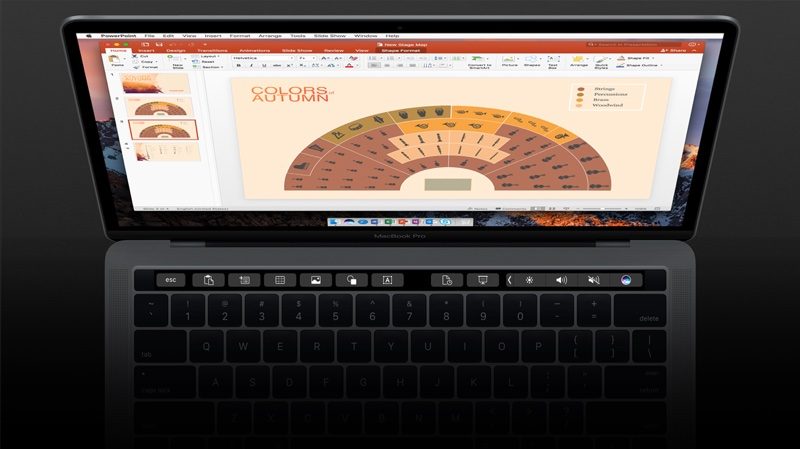 With Excel, the Touch Bar displays the most recently used functions when the equals sign is typed into a cell, so it's quicker to do things like sum a range of numbers. The Touch Bar also provides access to borders, cell colors, and recommended charts.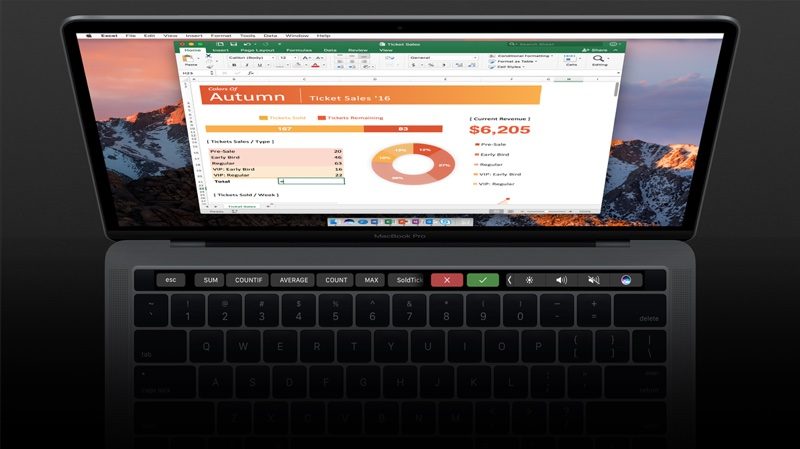 Microsoft has also added new capabilities to the Touch Bar during its testing period. The Touch Bar can also be used to insert comments, photos, and hyperlinks into Word, it includes view-specific controls in PowerPoint, and there's an object rotation slider for Word, Excel, and PowerPoint.

Last week, Microsoft previewed Touch Bar support, providing it to its "Office Insider" beta testers, but now the service is ready to roll out to all Office users.

Touch Bar support is currently only available for Word, Excel, and PowerPoint, but Microsoft also plans expand it to Outlook and Skype for Business in the near future.


Discuss this article in our forums



Apple Tops 'World's Most Admired Companies' List for Tenth Year in a Row
Apple has been awarded the number one spot on Fortune's annual list of the "World's Most Admired Companies." The 2017 list marks Apple's tenth consecutive win as the most admired company in the world according to Fortune, which collected the data from 3,800 executives, analysts, directors, and industry experts to end up with the final ranking.

After Apple, the top five slots are rounded out by Amazon, Starbucks, Berkshire Hathaway, and Disney. Last year, Alphabet ranked in second place but the company has fallen down to sixth in 2017. One of Apple's direct rivals in the hardware and software space, Microsoft, has been placed in the ninth spot in a tie with Facebook.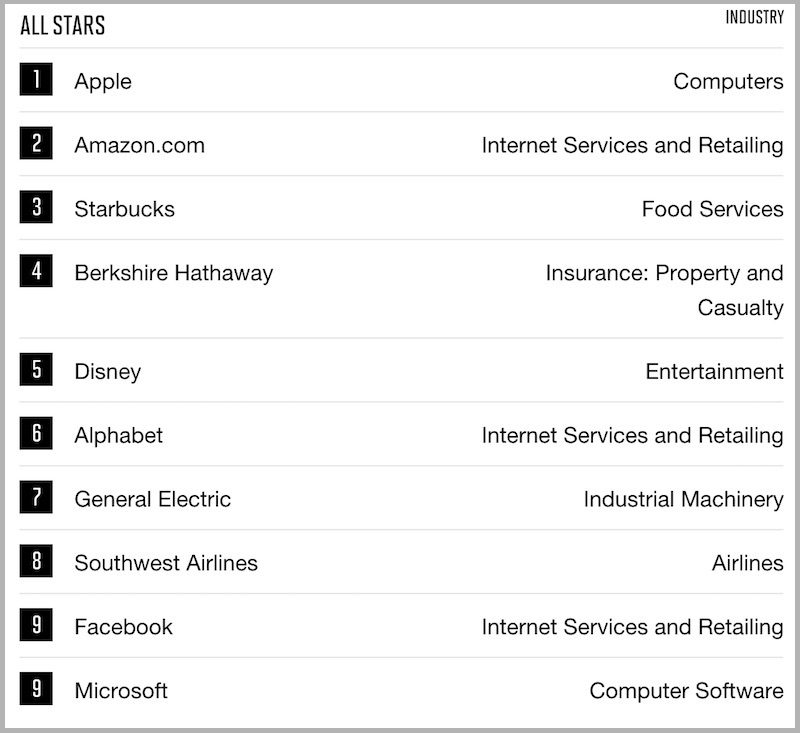 Fortune ranks companies through a collection of "key attributes of reputation," including areas like innovation, people management, social responsibility, and quality of products/services. This year, however, Apple's industry rank wasn't reported "due to an insufficient response rate in the computer industry."

Like in previous iterations, Fortune started the list by looking at a collection of the 1,000 largest U.S. companies ranked by revenue, along with 500 non-U.S. companies with revenue of $10 billion or more. The list was then further whittled down to 680 companies in 28 countries, and Fortune survey collaborator Korn Ferry Hay Group began asking the 3,800 experts to rank companies on the nine criteria.


Discuss this article in our forums



Minecraft Player Spends 232 Hours Building Apple Campus 2
Apple's spaceship-shaped campus in Cupertino, California has been under construction for several years and is one of the most expensive, ambitious buildings in the United States.

While Apple has been hard at work putting the finishing touches on the campus, which is slated to open later this year, Minecraft player Alex Westerlund has been building a Minecraft version of Apple's second campus.




According to Westerlund, building the campus in Minecraft took him 232 hours over the course of a year. He used construction plans along with topographical maps to create an accurate rendition of the campus, down to the land it's built on.

As can be seen in the video, the ring-shaped main building has been faithfully recreated, with its curved glass windows, massive doors, solar panels, window awnings, and more. Westerlund says the main building is "absolutely massive" at 469 blocks across, with every hill, path, and orchard placed according to construction plans.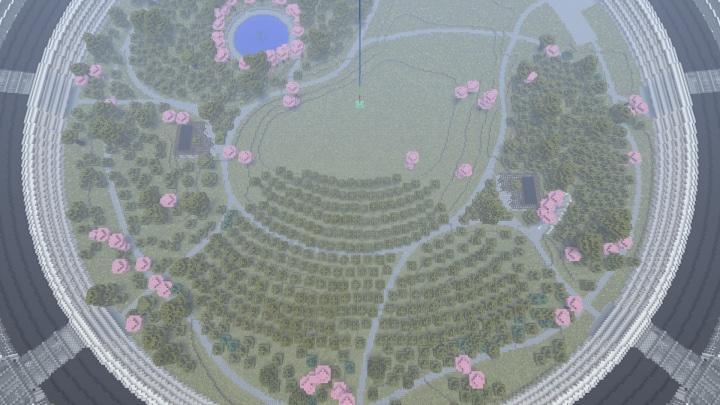 The courtyard of the building includes trails, two cafes, a cafeteria patio, cherry trees, a fitness center, and a fountain, while the interior features atriums and a huge cafeteria built to match a publicly released rendering.

Apple's real second campus is nearing completion. According to the latest drone video, construction crews are hard at work on landscaping and are wrapping up work on solar panels and a nearby research and development facility. The campus is expected to be finished in 2017, but exactly when employees will move in remains unclear.

Westerlund tells MacRumors that as Apple continues work on its campus, he'll continue to flesh out his virtual version, putting in up to four hours of active building time per day.


Discuss this article in our forums



Apple's 'Arrogance' Impedes Major Acquisitions as Analysts Look to Potential Targets in Online Video
In an in-depth new look at Apple's merger and acquisitions tactics published today by Bloomberg, Apple's "arrogant" culture of deal negotiations is put on display. According to sources who have worked with Apple in M&A, the company struggles repeatedly to pull off big deals "because of a series of quirks," including a refusal to work with investment bankers, inexperience with large takeovers, and an "aversion to risk."

Apple is more interested, and more confident, in building its own services rather than outright purchasing them from a competitor, with occasional exceptions like the 2014 acquisition of Beats and later launch of Apple Music.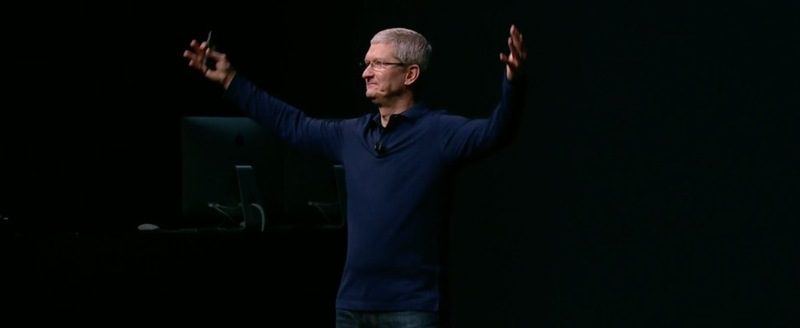 "The first step in M&A is having some conviction about what it is you want to do," said Eric Risley, managing partner at Architect Partners LLC who has negotiated deals with Apple. "Apple probably more than most feels that they're very capable of building things" rather than buying them, he added. An Apple spokesman declined to comment.
According to analysts and investors, Apple's next big move should be the acquisition of an online video streaming service. The company has began making strides towards beefing up Apple Music's original video content division, with Carpool Karaoke: The Series and Planet of the Apps coming this spring, but analysts believe it needs something "akin to Netflix or Amazon.com Inc.'s Prime Video."

In order to reach a forecast of $50 billion revenue in its services business by 2021, Erick Maronak, chief investment officer at Victory Capital Management, said that the company is "going to have to pursue something bigger than a Beats-like acquisition." This might include other possible "blockbuster" acquisitions like Walt Disney Co. or Tesla Inc, according to Baird analyst William Power.

Netflix is also mentioned multiple times as a logical acquisition target for Apple, with multiple investors and analysts saying the company "needs at least one big acquisition in online video."

But even here, some analysts and investors argue for a big acquisition, especially in online video streaming. Apple has started distributing videos through the Music service, and pooling other providers' video in its mobile TV app, but it has no service akin to Netflix or Amazon.com Inc.'s Prime Video.

On Friday, Sanford C. Bernstein analyst Toni Sacconaghi said Apple needs at least one big acquisition in online video. To reach its $50 billion target, the company must find an extra $13 billion in services revenue over the next four years -- beyond what it can generate itself. Netflix Inc. ended 2016 with sales of less than $9 billion, so even buying that business may not be enough, the analyst said.
Looking behind the scenes at the process Apple goes through to acquire a company, the Apple deals team is said to be made up of around a dozen people and led by Apple's head of M&A Adrian Perica. Most deals "take place at the behest of the company's engineers," so the team meets with Apple engineers who advise them on which potential acquisition targets are attractive and include talented engineers that would add value to Apple.

Its acquisition strategy works well for smaller startups, which it acquires frequently, but the company faces a challenge for bigger deals. Apple refuses to work with investment bankers in an attempt to work directly with the other company's management teams. This results in an air of arrogance, according to Eric Risley, who has negotiated deals with Apple, further stating that "they're used to being able to muscle their way in and get attractive economics."

The company's overall attitude "puts off sellers," as well as its inexperience with integrating larger companies. Some analysts point towards the "lukewarm" launch of Apple Music after the Beats acquisition as proof of this struggle. Still, some investors remain adamant that for Apple to succeed, particularly in its attempts at creating and producing original TV, a big acquisition has to happen soon. Many of those have been pushing Netflix as an attractive target, despite Netflix saying it's not for sale.

Read the rest of Bloomberg's report right here.


Discuss this article in our forums



Microsoft Follows Apple By Hiking Price of Surface Book Laptops in the U.K.
Microsoft has increased the price of its Surface Book laptops in the United Kingdom, following the impact of the country's decision to leave the European Union on the pound sterling (via TechCrunch).

Previously, the company had limited its cost adjustments to enterprise products, but the significant drop in the strength of the pound since the E.U. referendum last June has now seen Microsoft follow Apple's lead and hike the prices of its consumer laptops.




The price rises mean the base model of the Surface Book in the U.K. now costs £150 more at £1,449 ($1,800), putting it at the same price as the base model of a 13-inch MacBook Pro sans Touch Bar.

The price changes, which came into effect today, only affect products and services purchased by individuals, or organizations without volume licensing contracts.

"In response to a recent review we are adjusting the British pound prices of some of our hardware and consumer software in order to align to market dynamics," said a Microsoft spokeswoman.
Back in October, Apple raised sterling prices for its entire Mac line-up by around 25 percent. The cost of a 2015 13-inch MacBook Pro went from £999 to £1,249 overnight, despite being superseded by a brand new model starting at £1,449. Similar price increases were seen across aging Mac mini, iMac, and Mac Pro lines, while just last month, Apple also increased the price of iOS apps by the same percentage.

Microsoft has repeatedly positioned the Surface Book as an alternative laptop for newcomers and unsatisfied MacBook owners, with time-limited "trade-up" offers for disillusioned Mac owners and TV ads describing capabilities of the Surface Book as things a Mac "just can't do".


Discuss this article in our forums