Mac Rumors powered by MacRumors_p2


Resource id #60Opera Browser Users Urged to Reset Passwords After Sync Server is Hacked
Opera has warned users of the browser that an unknown hacker has managed to gain access to its sync system, potentially compromising the data of around 1.7 million users.

The Norwegian company said in a blog post that "some of our sync users' passwords and account information, such as login names, may have been compromised" following the hack, and encouraged users to reset passwords for third-party sites.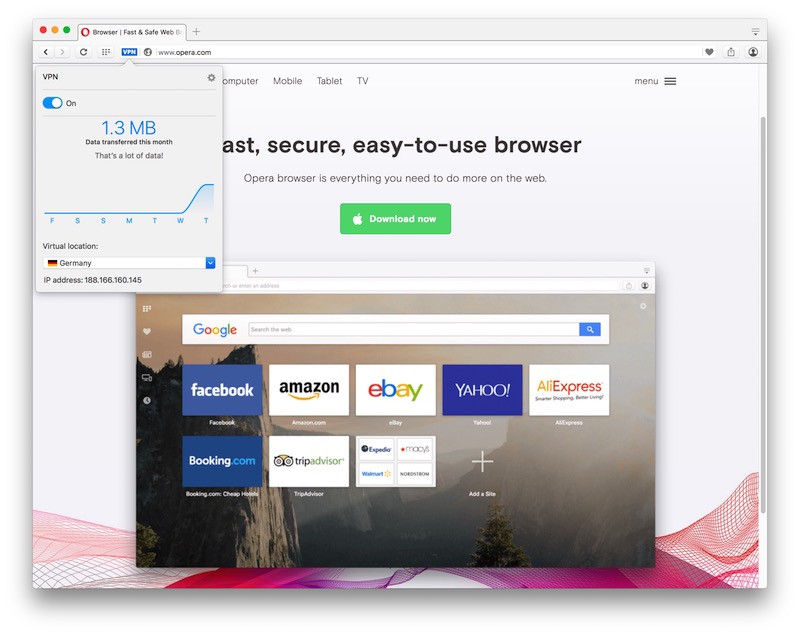 Although we only store encrypted (for synchronized passwords) or hashed and salted (for authentication) passwords in this system, we have reset all the Opera sync account passwords as a precaution.

We have also sent emails to all Opera sync users to inform them about the incident and ask them to change the password for their Opera sync accounts. In an abundance of caution, we have encouraged users to also reset any passwords to third party sites they may have synchronized with the service.
Opera's web sync feature lets uses synchronize their browser data and settings across multiple devices. Opera notes that the total active number of users of the feature in the last month is less than 0.5 percent of the web browser's user base of 350 million people, and that the password reset is a precaution.

Security scares have been a recurring theme for online services recently. Last week, Dropbox told its users that the firm was resetting passwords for anyone who had not changed theirs since mid-2012. The preventative measure was enacted after the company learned about an old set of user credentials that was stolen in a hacking incident nearly four years ago.


Discuss this article in our forums



Apple CEO Tim Cook Sells More Than $35M in Stock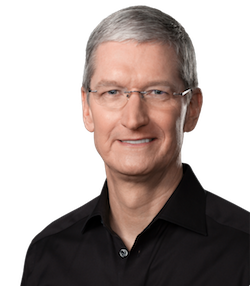 Apple CEO Tim Cook recently sold more than $35 million worth of Apple stock, according documents filed with the SEC this week.

Cook sold 334,000 shares at prices ranging from $107.21 to $107.69, netting himself almost $36 million dollars.

Apple also sold more than 656,000 shares on Tim Cook's behalf, an amount over $70 million, to settle the tax liability for the RSUs that vested earlier this week as he reached his five-year anniversary as CEO of Apple.

Cook on Wednesday unlocked awarded stock bonuses worth more than $100 million for both his time spent at Apple and the company's performance under his leadership, earning 1,260,000 total shares.

That number consists of 980,000 tenure-based RSUs and an allotment of 280,000 shares awarded because Apple's shareholder return reached 61%, putting it in the top-performing third of the S&P 500 index.

Tim Cook continues to hold more than 1.3 million shares of Apple stock following the sale, which is worth more than $140 million.


Discuss this article in our forums



Adverse Ruling Against Apple Expected in European Tax Probe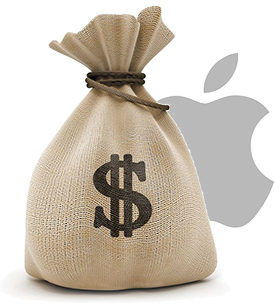 The European Commission is poised to hand down an adverse ruling against Apple next week following a three-year inquiry into the company's tax arrangements in Ireland, according to Financial Times.
Expectation of an adverse ruling gathered pace this week after the US Treasury issued a stinging attack on the commission's investigation, saying the EU executive was becoming a "supranational tax authority" that threatened international agreements on tax reform.
The Brussels-based body, led by competition commissioner Margrethe Vestager, has been investigating whether Apple's alleged "sweetheart deal" with Ireland constitutes illegal state aid, which it determined based on its preliminary findings in 2014.

The commission has accused Apple of sheltering tens of billions of dollars by transferring revenue to multiple subsidiaries in Ireland, where it pays a significantly lower tax rate of around 2%, compared to the country's headline corporate tax rate of 12.5%.

An adverse ruling could result in Apple owing up to $21.2 billion in back taxes, although a previous study placed the figure around $8 billion, and some analysts believe the amount could be as low as $1 billion.

Apple is one of several large corporations accused of tax avoidance in Europe over the past three years, joining the likes of Starbucks, Fiat Chrysler, Amazon, Google, IKEA, and McDonald's. Starbucks in particular is currently appealing its case in Netherlands, where it was ordered to pay as much as 30 million euros in back taxes.

Apple CEO Tim Cook, who has insisted that his company fully complies with international tax law, said last month that it would appeal any unfavorable ruling in European courts. Apple has also said it is the largest taxpayer in the world.

Earlier this week, the U.S. Treasury department warned that an adverse ruling against Apple could "set an undesirable precedent." It also said the European Commission is becoming a "supranational tax authority," going beyond acceptable enforcement of competition and state aid law.

Note: Due to the political nature of the discussion regarding this topic, the discussion thread is located in our Politics, Religion, Social Issues forum. All forum members and site visitors are welcome to read and follow the thread, but posting is limited to forum members with at least 100 posts.


Discuss this article in our forums



MacRumors Giveaway: Win a Luxury Leather Briefcase From Pad & Quill
For the next four weeks, MacRumors is running a special giveaway event, which will see us highlighting and giving away high-quality luxury bags from manufacturers like Pad & Quill, Intrepid Bag Co, Whipping Post, and Saddleback Leather Company. We've got all of these bags on hand so we can give clear details on construction, quality, utility, and more.

For today's giveaway, we've partnered with Pad & Quill, a company that makes a whole line of luxury Apple accessories from cases to Apple Watch bands to leather bags. We'll be giving away the Luxury Briefcase in Galloper Black with Chestnut accents.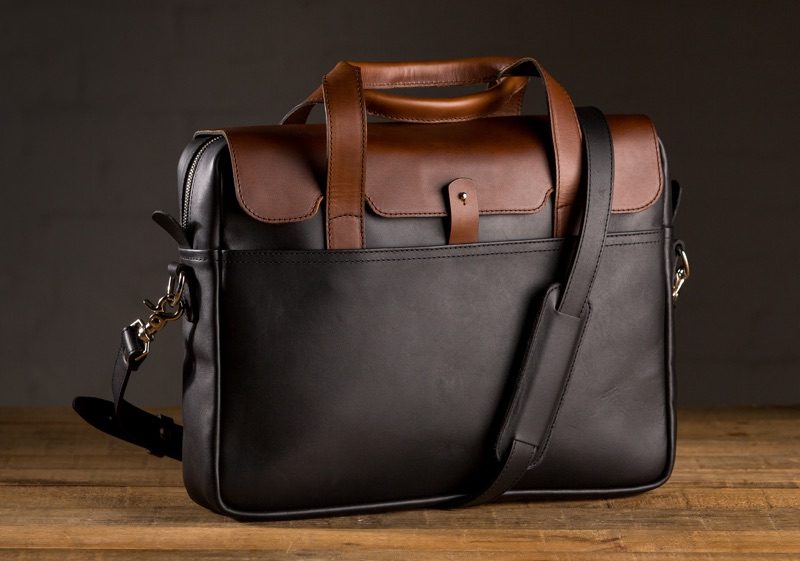 Pad & Quill's Luxury Briefcase, priced at $495, is a large bag (15 inches by 11 inches by 4.2 inches) with enough pockets to hold whatever you might need to carry on a day to day basis.

There are two outer pockets for holding papers or other small, flat accessories, along with a main interior pocket that can hold up to a 15-inch MacBook. The main pocket has several smaller pockets inside (two dividers with five pockets total), perfect for holding all kinds of accessories.

I was able to fit my MacBook Pro, Retina MacBook, iPad Pro, iPad mini, iPhone in the bag along with various sundries like a hairbrush, a water bottle, a battery pack, pencils, two notebooks, and more. It holds a lot. There's a full nickel zipper at the top and a flap that folds over and snaps, so the contents within the bag stay safe and protected while you're hauling it around. When full, this is not a light bag - it weighs in at three pounds by itself.




Made of a thick, durable full-grain American cowhide leather, the Luxury Briefcase is immaculately constructed with features like careful hand stitching, rigid but comfortable leather handles and a removable shoulder strap with a leather pad. Out of the box, the Luxury Briefcase is stiff and pristine, but with use, it'll loosen up and develop a unique, worn in look. The leather has been tanned so it's resistant to stains and water, and the interior is made from a durable pigskin that looks like it's going to hold up well to daily abuse.

Pad & Quill's bags are all handmade and it shows in their construction. This looks like a $500 bag, and it's nice enough to take to the office, but casual enough that it doesn't look out of place in a less formal setting.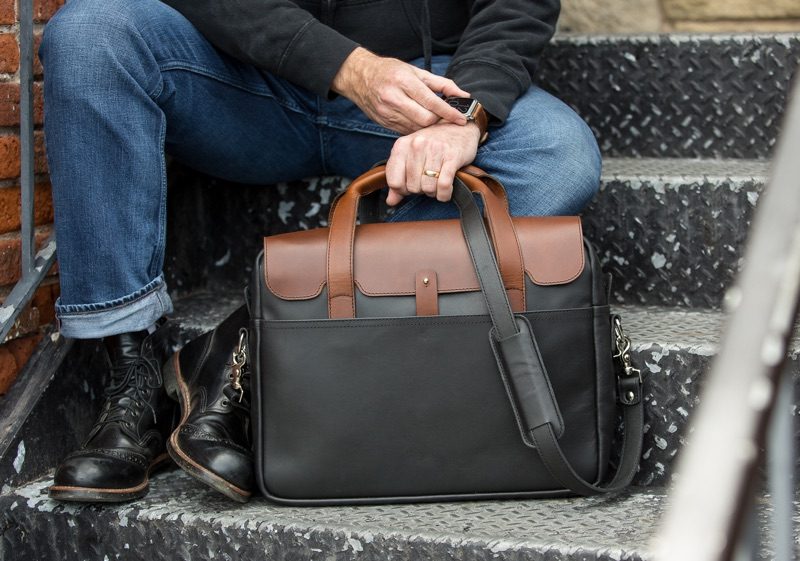 One MacRumors reader will be able to win a Luxury Briefcase from Pad & Quill. To enter to win, use the Rafflecopter widget below and enter an email address. Email addresses will be used solely for contact purposes to reach the winner and send the prize.

You can earn additional entries by subscribing to our weekly newsletter, subscribing to our YouTube channel, following us on Twitter, or visiting the MacRumorsFacebook page.

Due to the complexities of international laws regarding giveaways, only U.S. residents who are 18 years of age or older are eligible to enter. To offer feedback or get more information on the giveaway restrictions, please refer to our Site Feedback section, as that is where discussion of the rules will be redirected.



a Rafflecopter giveaway

The contest will run from today (August 26) at 11:00 a.m. Pacific Time through 11:00 a.m. Pacific Time on September 2. The winner will be chosen randomly on September 2 and will be contacted by email. The winner will have 48 hours to respond and provide a shipping address before a new winner is chosen.


Discuss this article in our forums



Dropbox Requiring Users to Change Old Passwords Dating Back to Mid-2012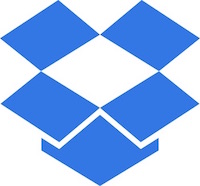 Dropbox yesterday emailed users who have not changed their passwords since mid-2012 to inform them they will be prompted to do so the next time they log in.

The cloud storage firm called the action a "preventative measure" and said that there was no indication user accounts had been improperly accessed. Users who held passwords created after mid-2012 were not affected, said the company.

In a blog post explaining what prompted the step, Dropbox said it had learned about an old set of user credentials (email addresses plus hashed and salted passwords) that were stolen in an incident the company reported in 2012.

Based on our threat monitoring and the way we secure passwords, we don't believe that any accounts have been improperly accessed. Still, as one of many precautions, we're requiring anyone who hasn't changed their password since mid-2012 to update it the next time they sign in.
The incident is likely related to the huge LinkedIn hack which saw 117 million account credentials posted online. It's thought that hackers tried the login details on other websites under the assumption that some people use the same passwords across different online services.

Dropbox has taken the opportunity to urge its users to consider enabling two-factor authentication when signing in, and has warned about the risk of re-using the same password across multiple sites.


Discuss this article in our forums



Homebrew Enthusiasts Emulate Macintosh Plus on Nintendo 3DS
While the Macintosh Plus was discontinued over 25 years ago, two developers have brought the old school machine back to life in the form of a Nintendo 2DS and 3DS.

The first developer, who uses the pseudonym TarableCode, managed to port the Mini vMac emulator to Nintendo 2DS and has since shared pictures and technical details of her homebrew accomplishment on video game community GBAtemp. The code for Mini vMac for Nintendo 2DS/3DS is available on GitHub.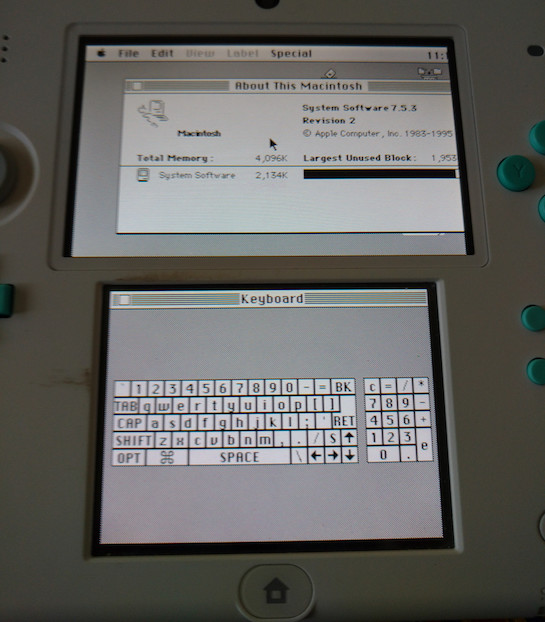 The photo shows the Nintendo 2DS is running Macintosh System 7.5.3, retroactively called Mac OS 7, released in 1996. The 2DS's directional pad functions as arrow keys, while the L and R shoulder buttons are the mouse buttons, the Y button toggles the on-screen keyboard, and both the circle pad and touchscreen move the mouse.

A fellow homebrew enthusiast who uses the pseudonym LarBob Doomer has since uploaded a YouTube video that shows the emulated Macintosh Plus experience in action on Nintendo 3DS. In the video, he scrolls through a functional version of System 6, and opens apps, inputs text from the keyboard, and eventually powers off the device.




The practical applications of 20-year-old Mac software running on Nintendo 3DS are obviously limited, but the homebrew emulator is a unique proof of concept. In the past, developer Nick Lee similarly managed to get both Macintosh System 7.5.5 and Windows 95 to run on an Apple Watch.

(Thanks, Mitch!)


Discuss this article in our forums



Apple Adds to Vintage Software Collection With eBay Purchase
An Apple collector who was selling his vintage Apple software collection on eBay received a surprise earlier this month when Apple itself bought out much of his software inventory for its software archives (via MacGeneration).

According to seller "Marcoguy," he made several listings of various Apple CDs and received a message from someone asking to buy a dozen discs. When he went to ship the package, he noticed it was going to 1 Infinite Loop in Cupertino, California, Apple's corporate address. Upon asking the buyer about the purchase, he was told that Apple maintains a lab at its headquarters containing archived materials. "We were missing some of the disks that you placed on eBay," wrote the buyer.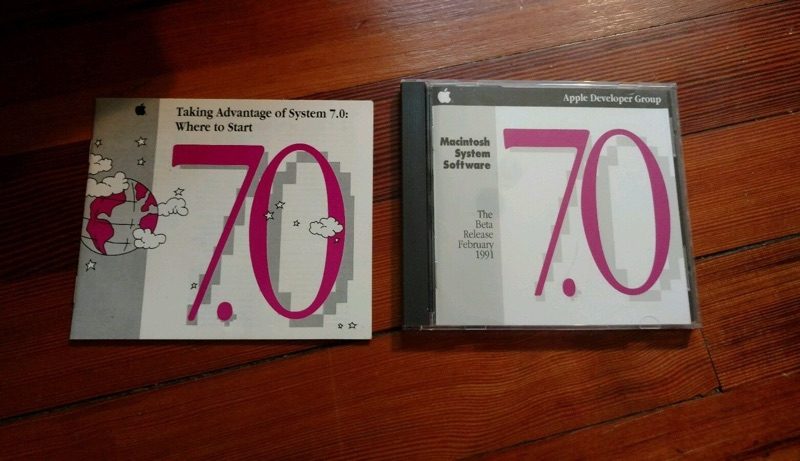 So yeah, Apple bought some of their own software back from me. :) Feel free to post if you've had a similar experience, as I would love to hear about it. I knew Microsoft has a pretty robust archive of their history, but I wasn't aware Apple does too until this happened.

Just goes to show how necessary this community is. If is wasn't for collectors like us, so much software would just be lost, out of the grasp of even the companies that produced it.
It's not clear how much Apple paid to fill out its archives, but the seller lists his software at prices ranging from $9.95 to $19.95. It's also not known exactly what Apple purchased, but the seller is offering many rare CDs from the early 90s, including a beta version of Apple's System 7 operating system and a disc from WWDC in 1994.
Discuss this article in our forums



Apple Dragged Into Lawsuit Involving Singer Ariana Grande
Canadian songwriter and producer Alex Greggs, who has worked with several renowned artists such as Beyoncé, Lady Gaga, Justin Timberlake, and the late Michael Jackson, is suing Apple in a larger lawsuit filed against singer Ariana Grande, electronic artist David Guetta, publisher Universal Music Group, and others, according to court documents filed electronically this week.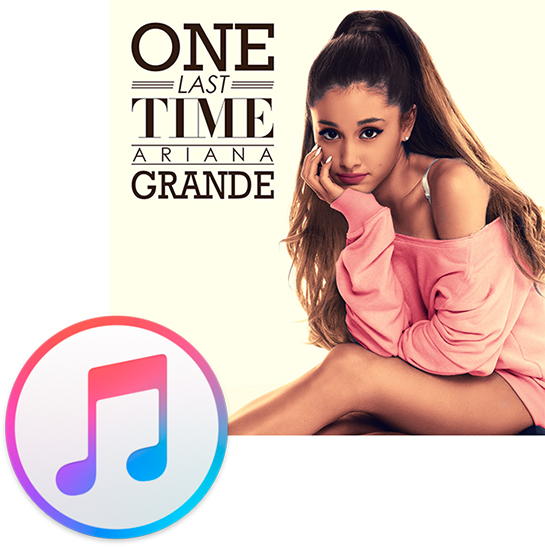 Greggs claims that Grande's single "One Last Time" from 2014 infringes upon the 2011 single "Takes All Night" by Skye Stevens, said to be the subject of a valid pending U.S. copyright registration in Gregg's name. He added that the defendants had access to "Takes All Night" before composing "One Last Time," and that it's "highly likely" the songs were not created independently of one another.
Skye Stephens performed the song on tour and in live performances at festivals and in clubs throughout the United States and Canada in particular, and also appeared on numerous radio shows, in addition to promoting the song through social media. Moreover, the similarity between Takes All Night and One Last Time is so striking that it is highly likely the works were not created independently of one another.
Greggs accuses Apple, as the operator of iTunes, of failing to verify that Grande and the other defendants had reached copyright and synchronization license agreements, and other contractual agreements, with him prior to releasing "One Last Time" as a digital download on iTunes and for streaming on Apple Music. He filed a similar claim against Universal Music Group as distributor of the single.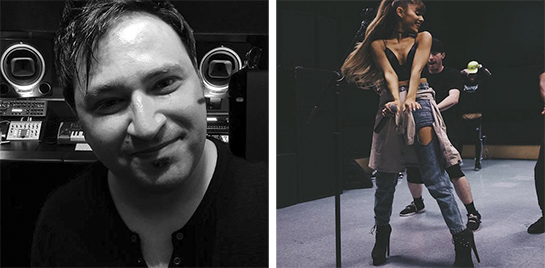 Songwriter and producer Alex Greggs, left, and singer Ariana Grande


Greggs has demanded a jury trial with the U.S. District Court for Central California, and is seeking adequate monetary damages and a permanent injunction that would see "One Last Time" removed from iTunes, Apple Music, and other music distribution and streaming services. The complaint was filed in Santa Monica on Tuesday, and it will have to be accepted by a judge before proceeding.


Discuss this article in our forums



U.S. Warns Apple Tax Probe in Europe Could Set 'Undesirable Precedent'
Just weeks before the European Commission is expected to make a decision in its landmark Apple tax probe, the U.S. Treasury department has criticized the Brussels-based body for "threatening international agreements on tax reform," and warned that a decision against the iPhone maker could "set an undesirable precedent."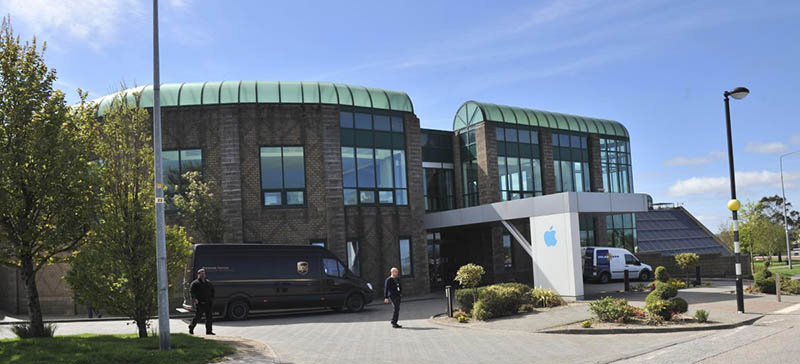 Apple's offices in Cork, Ireland


According to Financial Times, the U.S. Treasury said the European Commission is becoming a "supranational tax authority," going beyond acceptable enforcement of competition and state aid law. The U.S. has previously called out Brussels for setting unfair and "disturbing" precedents and singling out U.S. companies.

Brussels has accused Apple of sheltering tens of billions of dollars in Ireland, partly in exchange for creating jobs in the country, a deal that could be considered illegal state aid. Apple operates multiple subsidiaries in Ireland to pay significantly less tax outside of the U.S., where it earns up to two-thirds of its revenue.

Apple's $64.1 billion in profits generated from 2004 to 2012 could be subject to a higher 12.5% tax rate, compared to the sub-2% it has paid in Ireland, in which case it could owe more than $8 billion in back taxes. Apple insists that it is the largest taxpayer in the world and pays every cent of tax it owes under current laws.

A decision in the tax probe is expected in September or October, according to Ireland's finance minister Michael Noonan. Apple CEO Tim Cook said last month that the company would appeal any unfavorable ruling against the company.

Note: Due to the political nature of the discussion regarding this topic, the discussion thread is located in our Politics, Religion, Social Issues forum. All forum members and site visitors are welcome to read and follow the thread, but posting is limited to forum members with at least 100 posts.


Discuss this article in our forums



Thunderbolt Device Promises Desktop-Class GPU Performance For MacBooks
A Kickstarter project for a high-performance desktop GPU that can plug into a MacBook via Thunderbolt and is compatible with the Oculus Rift VR headset has raised its backing target of $50,000 in less than 24 hours.

The Wolfe is a portable box that contains an Nvidia desktop-class graphics card and connects to a MacBook or other laptop via Thunderbolt 2 (or potentially Thunderbolt 3), and promises vastly improved performance for gaming, virtual reality, graphic design, and video editing.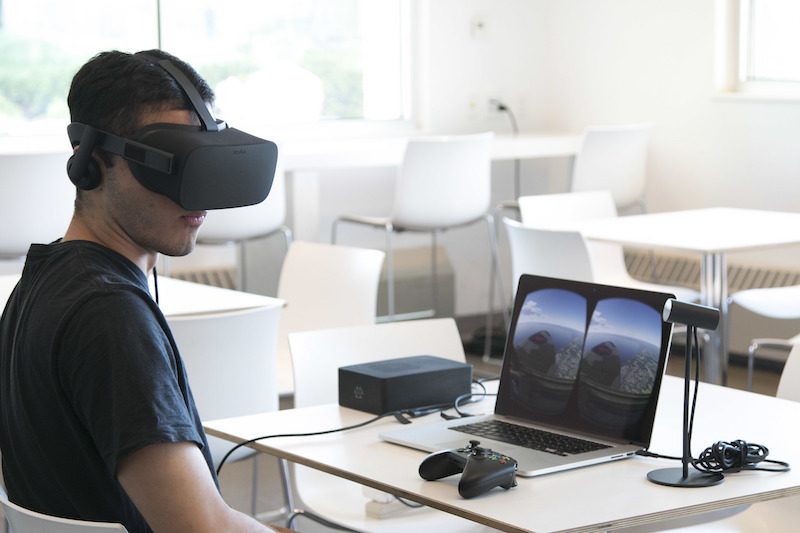 The team behind the Wolfe claims owners of newer laptops can expect performance increases up to 500 percent when using a Wolfe box, or up to 1000 percent with the Wolfe Pro, while older computers are said to see even more dramatic performance gains.

The Wolfe contains an NVIDIA GTX 950 GPU - 768 cores operating at 1024MHz, for a peak compute power of 1.57 TeraFLOPS.



The Wolfe Pro runs on an NVIDIA GTX 970 GPU - 1664 cores operating at 1050MHz, for a peak compute power of 3.49 TeraFLOPS.

What about NVIDIA's 10-series GPUs? As of right now, The Wolfe Pro includes an NVIDIA GTX 970. However, it's more than likely that Wolfe Pro level backers will be able to opt for the new GTX 1060 in our post-campaign survey for even better performance.
The box runs off a 220W PSU and has three DisplayPort 1.2 connections, one HDMI 2.0 and one DVI-I port. The Thunderbolt connection also offers the potential for more than one Wolfe box to be used with one laptop, for building a render farm or for a multi-monitor setup, say the makers.

Kickstarter early-bird pledges of $399 or more get backers a Wolfe box powered by a GTX 950 with the option of Thunderbolt 2 or 3 connectivity, while a standard pledge costs $449. An early-bird pledge for the Wolfe Pro is $549 ($599 for a standard pledge). A Wolfe DIY pack for modders who want to use their own GPU costs $269.

The makers note that while the Wolfe will increase laptop display performance, the best results are expected to come with using an external monitor or VR headset, due to the inherent bandwidth restrictions in Thunderbolt 2.

The project was conceived by a group of Harvard computer science graduates and Mac-owning gaming enthusiasts, after they hacked together a prototype GPU box in a DeWolfe dorm room at Harvard.

The team has continued to improve the hardware and software at the Harvard Innovation Lab, with the aim of making Macs "performance powerhouses" and "to stop big companies from charging outrageous prices for minuscule upgrades" by letting users take control of their computer's performance. The Kickstarter project page quotes a shipping aim of February 2017.

The project comes five months after Oculus Rift founder Palmer Luckey suggested VR headset support for the Mac was "up to Apple," and that the company needed to "prioritize higher-end GPUs." If Apple builds a machine that can handle the hardware, Oculus VR would "love to support Mac," said Luckey.


Discuss this article in our forums



Sony Brings Full DualShock 4 Controller Support to Mac With New Adapter
Sony today announced the upcoming launch of a new DualShock 4 USB Wireless Adapter, which will allow Mac and PC users to wirelessly connect a DualShock 4 controller to their machines.

The adapter will enable all DualShock 4 features, including buttons, analog sticks, touch pad, light bar, motion sensors, vibration, and stereo headset jack so long as games support the feature.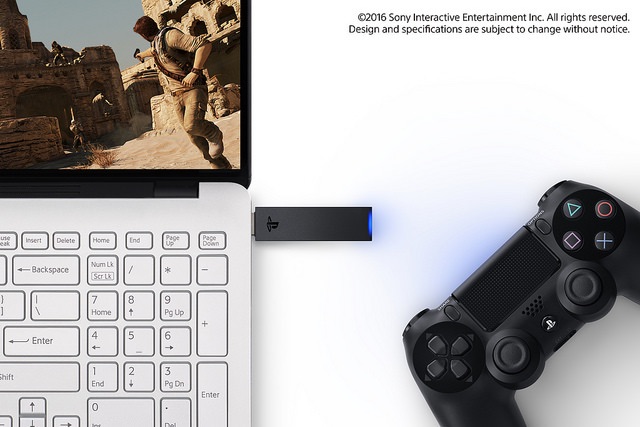 Currently, the DualShock 4 controller can connect to Macs via Bluetooth or a USB cable, but the adapter will allow for access to all controller functions. The adapter can also be used for PS4 Remote Play, which allows games to be streamed from the PS4 to a Mac or PC.

Sony has also announced imminent PlayStation Now availability for Windows PCs, which will allow PCs to play PS3 exclusive titles. PlayStation Now will be launching soon in Europe and a wider release in the United States will follow. Sony says it is "evaluating" Mac support for PS Now, but has nothing to announce at this time.

Sony will begin selling the DualShock 4 USB Wireless Adapter in early September for $24.99.
Discuss this article in our forums



Apple The Oaks Reopens Next Weekend, CambridgeSide Next Up for Renovations
Apple has announced that its The Oaks retail location in Thousand Oaks, California reopens this Saturday, August 27 at 10:00 a.m. local time. The location, which first opened on October 29, 2005, has been closed for renovations since March. The renovated space is expected to have a Jony Ive-inspired next-generation design and double the square footage within the shopping mall.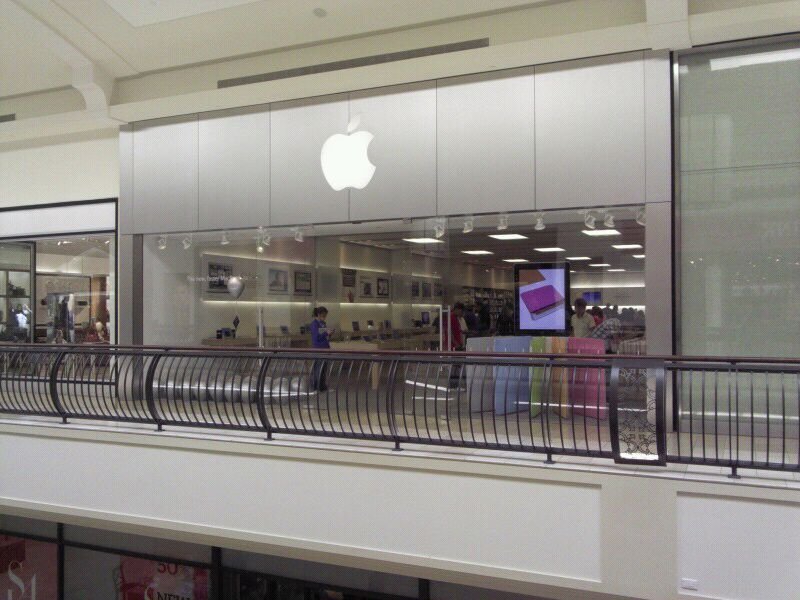 Apple The Oaks, opened on October 29, 2005, prior to renovations


Meanwhile, Apple's retail location at the CambridgeSide Galleria shopping mall in Cambridge, a suburb of Boston, Massachusetts, will close for renovations one day later on Sunday, August 28. During the closure, Apple recommends that customers visit the nearby Apple Boylston Street or Apple Chestnut Hill locations. The closure is presumably to allow for similar next-generation design updates.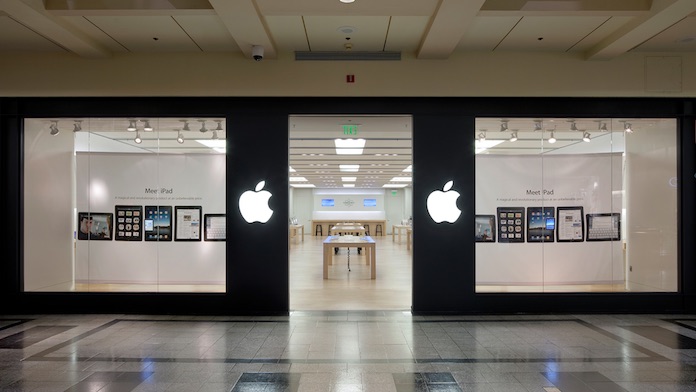 Apple CambridgeSide, opened on December 15, 2001, prior to renovations


Apple is in the process of renovating several of its retail locations in the U.S. and around the world. The new layout includes a combination of The Avenue, Genius Grove, The Forum, The Plaza, and The Boardroom. All new locations since around mid 2015 have been based on the new design language, including the flagship Apple Union Square. Apple now has over 30 retail locations based on the new design language.

A list of next-generation Apple retail locations renovated or opened to date:
Apple Stores roundup.


Discuss this article in our forums



Apple Patent Details Visual-Based AR Navigation Device
Apple has been granted an augmented reality navigation patent stemming from its acquisition of AR startup Flyby Media earlier this year (via AppleInsider).

The patent was published today by the U.S. Patent and Trademark Office under the title "Visual-based inertial navigation", and describes a system that allows a consumer device to position itself in three-dimensional space using data from cameras and sensors.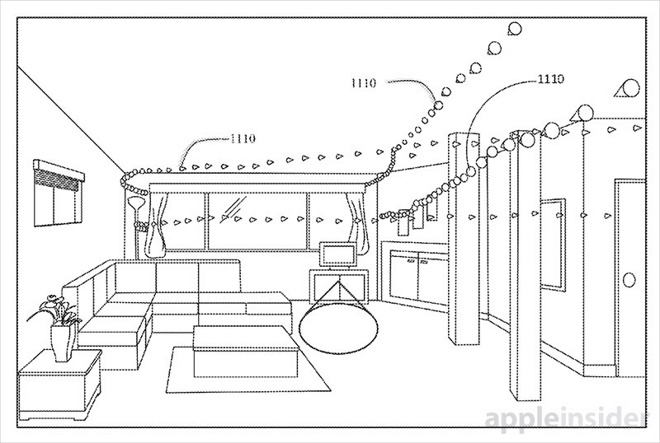 The system combines images from an onboard camera with measurements gleaned from a gyroscope and accelerometers as well as other sensors, to build a picture of the device's real-time position in physical space.

The patent notes that visual-based inertial navigation systems can achieve positional awareness down to the centimeter scale without the need for GPS or cellular network signals. However, the technology is unsuitable for implementation in typical mobile devices because of the processing demands involved in variable real-time location tracking.

To overcome the limitation, Apple's invention uses something called a sliding window inverse filter (SWF) that minimizes computational load by using predictive coding to map the orientation of objects relative to the device.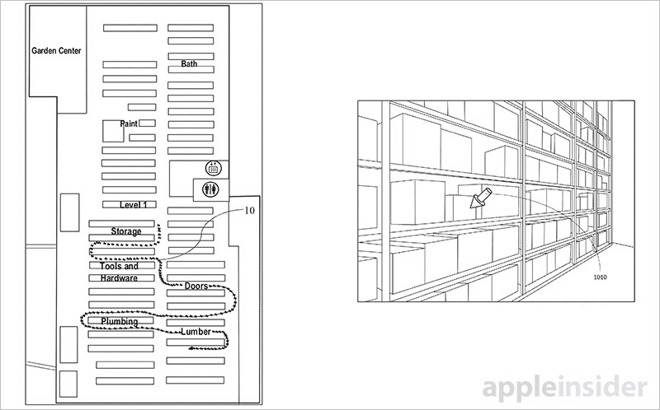 The system could be used in a navigational AR device that overlays an output image with location-based information. One scenario describes how the technology could be used to pinpoint items in a retail store as a user walks among the aisles. Another describes the use of depth sensors to generate a 3D map of a given environment.

Whether or not Apple uses the patent in an upcoming product is obviously unknown at this time, but the company has been relatively open about its interest in innovating in the virtual reality and AR space. Apple is said to have a large team experimenting with headsets and other technologies and is believed to have been working in the area since at least early 2015.

The patent was filed in 2013 and credits former Flyby Media employees Alex Flint, Oleg Naroditsky, Christopher P. Broaddus, Andriy Grygorenko and Oriel Bergig, as well as University of Michigan professor Stergios Roumeliotis, as its inventors.


Discuss this article in our forums



Amazon Working on Echo $5-a-Month Music Streaming Service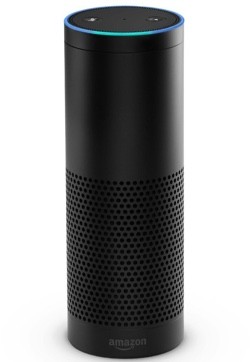 Amazon is working on a $5-a-month music subscription service that will be exclusive to owners of the company's internet-connected Echo speaker.

According to Recode, Amazon is planning to introduce the service in September alongside another music streaming service that costs $10 a month, to compete more directly with the likes of Apple Music and Spotify.

Industry sources say the company has yet to finalize deals with major music labels and publishers. One sticking point is reported to be whether Amazon sells the cheaper Echo-only service for $4 or $5 a month.

The $10-a-month service is said to replicate features common to the streaming market, such as unlimited, ad-free playback and an option to download music for offline listening. The company already offers Amazon Music as part of its Amazon Prime subscription package, but the music catalog is limited compared to streaming services like Tidal and Google Play Music.

The $5-a-month service would be different to discounted subscription models that other companies have tried in the past. Not only will the $5 service be restricted to Echo owners, it won't be available to use on smartphones, which is what most users of existing streaming services sign up for.

Amazon started shipping the Echo last year and reportedly sold a million units. The company is aiming to sell three million more this year and 10 million in 2017, according to The Information.


Discuss this article in our forums



Microsoft Security Update Brings 64-Bit Support to All Mac Office Apps
Microsoft today release a new update for its Office 2016 for Mac apps, introducing small performance improvements, bug fixes, and 64-bit support across the Office lineup.

Outlook, Excel, Word, PowerPoint, and OneNote have all adopted the 64-bit runtime environment to enable better performance and "new innovative features." 64-bit support has previously been available to Microsoft's "Office Insider" beta testers but is rolling out to all users today.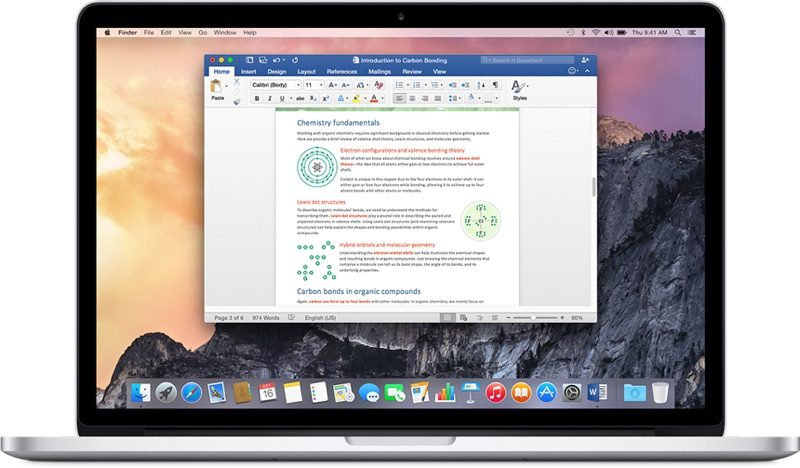 Microsoft Office users who do not use add-ins will be unaffected by the change, while those who do will need to update their add-ins to 64-bit versions as add-in developers release the necessary updates. All add-in developers have had several months to make the updates thanks to the beta testing period, so the transition should be seamless for most end users.

Apple's Mac operating system has supported 64-bit applications for many years, but prior to 2016, Microsoft continued to offer 32-bit Office for Mac apps.

Microsoft Office for Mac is available through an Office 365 subscription or as a standalone purchase from the Microsoft website. Office 365 costs a minimum of $69.99 per year while the standalone version of Office 2016 for Mac is priced at $149.99.
Discuss this article in our forums



Apple Opening Three Next-Generation Stores Over the Next Week
Apple has announced that it will be opening a trio of retail stores following construction and renovations over the next week.

Apple's retail store at Westfield Annapolis in Annapolis, Maryland will open at a new location within the shopping mall on Saturday, August 20. Apple did not provide a specific time, but the store opens at 10:00 a.m. local time on Saturdays. The store's new address will be 1735 Annapolis Mall.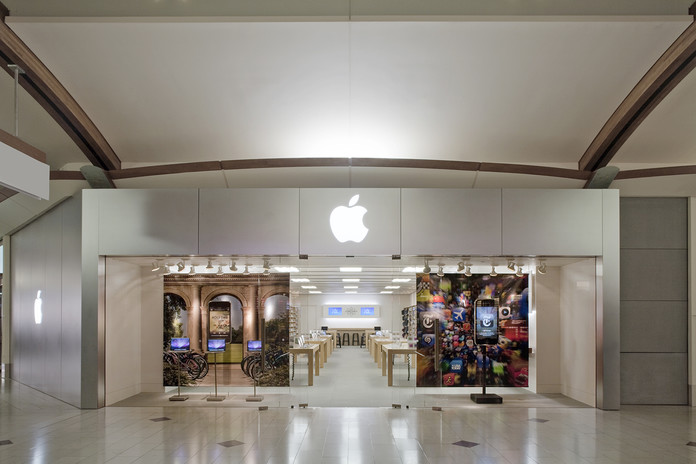 Apple Annapolis prior to renovations


Apple's retail store at Country Club Plaza in Kansas City, Missouri will also be moving to a new location within the shopping center on Saturday, August 20. Apple did not provide a specific time, but the store opens at 10:00 a.m. local time on Saturdays. The store's new address will be 227 Nichols Road.

Apple's retail store on Buchanan Street in Glasgow, Scotland, closed since January, will reopen one week later on Saturday, August 27 at 9:00 a.m. local time. The store remains located at 147 Buchanan Street. Planning documents filed with Glasgow City Council in 2015 reveal extensive interior and exterior renovations.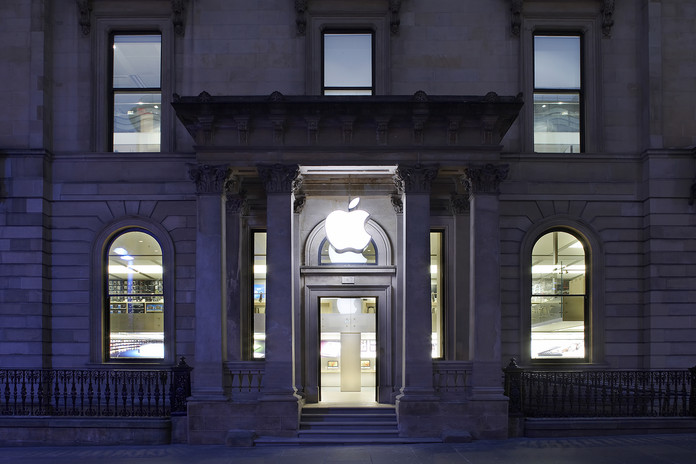 Apple Buchanan Street prior to renovations


The trio of locations will feature Apple's next-generation store design inspired by chief design officer Jony Ive, including some combination of large glass doors, light boxes extending the length of the ceiling, indoor trees, touch-sensitive sequoia wood tables, sequoia wood shelves along the walls, and large digital screens for product marketing.

Read our Apple Stores roundup to keep track of the company's latest retail store developments.


Discuss this article in our forums



Team Collaboration Platform HipChat Adds Group Video Calling Feature
Team messaging app HipChat has announced a new group video chat feature for premium users of the platform.

The video conferencing option, set to roll out over the next few weeks, means HipChat Plus account holders can initiate a virtual meeting with another person and add up to 10 others to the call using an invite URL.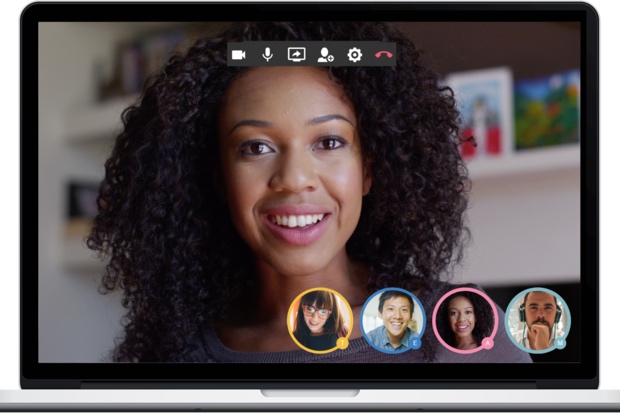 Users also have the ability to share their screen during a video chat, so that others can live view open documents or browser pages on their desktop.

Mac users will need to update their HipChat installations to see the option, which is represented by a camera icon above the member list in every room. Initial rollout of the group video chat is limited to the HipChat desktop app, but the company says it will appear on its mobile version soon.

The announcement will be seen by HipChat owner Atlassian as a victory over rival service Slack, which has promised team video calling as part of its development timeline but has yet to deliver the feature.

HipChat Plus costs $2 a month per user, but the Mac app is a free download, while the iPhone and iPad version of HipChat can be downloaded for free from the App Store.



Discuss this article in our forums



Best Buy Launches 50th Anniversary Sale With Discounts on MacBook Pro, iPhone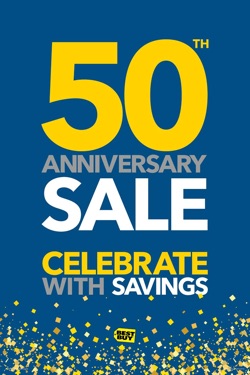 Best Buy is celebrating its 50th anniversary on Monday, August 22 and in honor of the occasion, the retailer is offering 50 deals for 50 hours, dropping the prices on a wide range of products from television sets to computers.

Of interest to those potentially looking to purchase an Apple device, Best Buy is dropping the price of some MacBook Pro models by $150, and students can save an additional $150 for a total discount of $300 through Best Buy's Student Deals program.

Best Buy is also offering the iPhone 6s for $1 or the iPhone 6s Plus for $99.99 with the purchase of a two-year contract on Sprint or Verizon Wireless. For those who want to buy an iPhone 6s or 6s Plus using AT&T Next, Best Buy is offering a $200 gift card with purchase.

Other discounts include $180 off Beats Studio Wireless Headphones and tons more. A full list of deals is available from the Best Buy website.

Best Buy's sale kicks off at 10:00 p.m. Central Time on Thursday and lasts through 11:59 p.m. Central Time on Saturday.

To see the best prices on a wide range of Apple products, make sure to check out our deals roundup, which has tables featuring discounts from a number of different retailers.


Discuss this article in our forums



Apple Releases Safari Technology Preview 11 With Bug Fixes and Feature Tweaks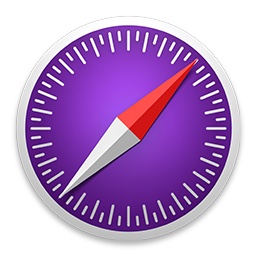 Apple today released another update for Safari Technology Preview, the experimental browser Apple first introduced in March. Apple designed the Safari Technology Preview to test features that may be introduced into future release versions of Safari.

Safari Technology Preview release 11 includes bug fixes and updates for JavaScript, Web APIs, Apple Pay, Web Inspector, MathML, CSS, Rendering, Media, Content Blockers, and Accessibility.

As of release 8, Safari Technology Preview has supported Apple Pay in the web browser, a feature set to launch as part of macOS Sierra.

The Safari Technology Preview update is available through the Software Update mechanism in the Mac App Store to anyone who has downloaded the browser. Versions are available for developers running both macOS Sierra and OS X El Capitan. Full release notes for the update are available on the Safari Technology Preview website.

Apple's goal with Safari Technology Preview is to gather feedback from developers and users on its browser development process. Safari Technology Preview can be run side-by-side with the existing Safari browser and while aimed at developers, it does not require a developer account to download.


Discuss this article in our forums



Ford Announces Plans For Fully Autonomous Self-Driving Car By 2021
Ford Motor Company has announced its plans to build a fleet of fully automated driverless vehicles for commercial ride-sharing by 2021, according to Reuters.

The company said it was increasing its investments in technology firms and tripling its investment in semi-autonomous systems, which would entail doubling the size of its Palo Alto research team while expanding its campus in Silicon Valley.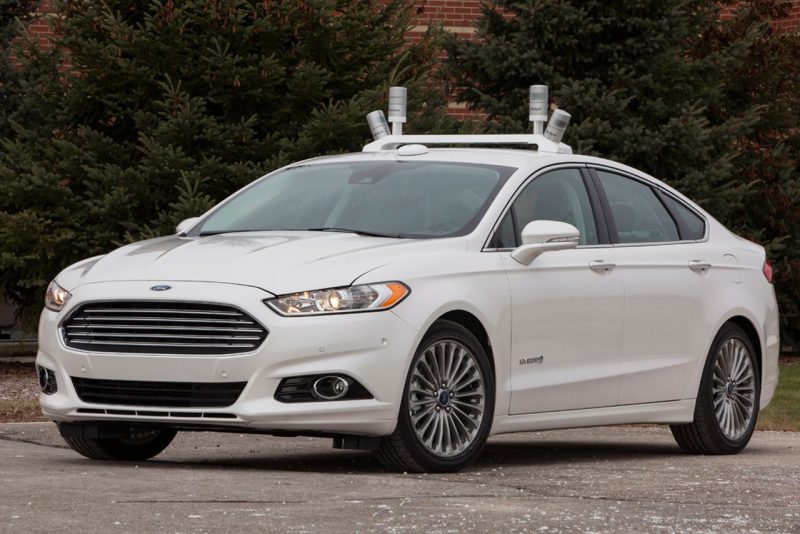 Ford has more than 100 researchers working at its Silicon Valley campus (Image: AFP)


Ford made no mention of Apple or Google in its announcement, suggesting it sees itself competing against other tech companies who have their own car plans, rather than teaming up with them.

Ken Washington, Ford's vice president of research, told Reuters it was important to signal that Ford intends to win in this space. "We're saying to partners, we are the winning partner. It's not a hollow promise, it's a real intent," Washington said.

"Launching a self-driving car first for ride-sharing is a better way to reach the mass market and make the cars more affordable," said Ford Chief Technical Officer Raj Nair. The company is unlikely to offer a similar driverless car without steering wheel or pedals to consumers until 2025 or later, explained Nair.

Ford said it would invest in "Level 4" autonomy, referring to standards set by the Society of Automotive Engineers (SAE). The levels represent the degree of autonomous sophistication, with Level 4 being "high automation", meaning the car is able to drive unmonitored in a specific use case - a city area, in Ford's vision, for instance.

Nair said the company wasn't willing to let drivers take control from a level two or three vehicle at a moment's notice, citing safety concerns. "We don't yet know how to manage hand over back to the driver and have him engage and have him situationally aware, and be able to do that in a safe aware manner," he said, without mentioning Tesla's recent troubles.

The death of a Tesla driver in May who was using the company's "Autopilot" system but had his hands off the wheel has highlighted the confusion over drivers' responsibilities in a semi-autonomous car. Just yesterday, Tesla went so far as to remove the word "autopilot" from its China website after a driver in Beijing who crashed while the mode was active complained that the company had misled them about its capability.

"We abandoned the stepping-stone approach," added Ford chief executive Mark Fields, who believed there are too many risks involved in the safe "hand-over" of driving responsibility between car and driver.

Several sources indicate Apple is exploring various levels of autonomy in its much rumored car project, and has already met with California DMV officials regarding self-driving laws within the state.

The company's so-called Apple Car, codenamed "Project Titan" internally, is reportedly being headed up by former longtime executive Bob Mansfield, who last served as Senior Vice President of Technologies at the company. Last month it was reported that Apple's rumored 2020 target for launching the electric vehicle may have slipped to 2021.


Discuss this article in our forums