Mac Rumors powered by MacRumors_p2


Privacy Concerns Loom as Congress Moves to Allow Internet Providers to Share Users' Sensitive Data
The House of Representatives voted this week to repeal a law previously passed by the Obama administration, requiring Internet Service Providers to gain permission from users in order to access and share certain pieces of personal information with advertisers (via The Washington Post).

The law, which was approved last year prior to the Presidential election, limited what ISPs such as Verizon, AT&T and Comcast could do with sensitive data including user location, browsing history, and even their Social Security numbers. The law also required ISPs to strengthen protections against hackers and online data thieves, and would have officially gone into effect at the end of 2017.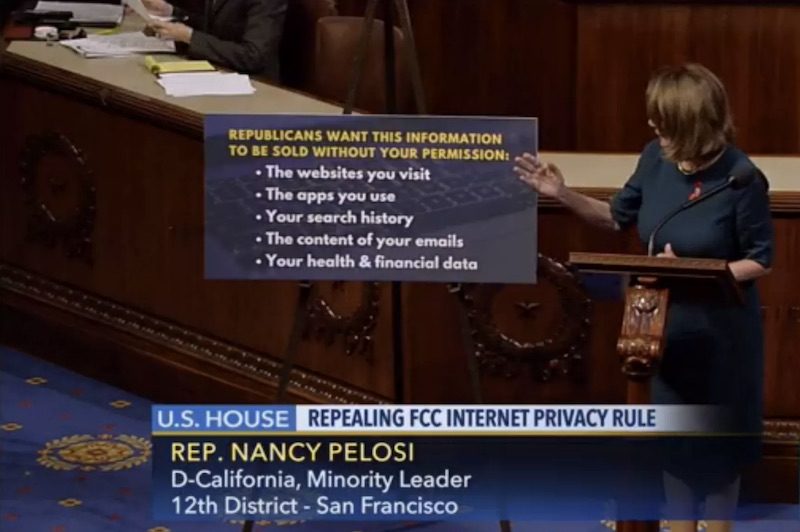 Image via The Verge


The Republican majority House has now voted to repeal these measures, with critics of the previous law arguing that the move will allow ISPs to enter a level playing field -- and subsequently increase healthy competition in the targeted online advertising market -- with companies like Google and Facebook. With the repeal, ISPs will no longer need user consent to sell their data to marketers "and other companies that mine personal data." The vote ended with 215 in favor to 205 in opposition.

In a party-line vote, House Republicans freed Internet service providers such as Verizon, AT&T and Comcast of protections approved just last year that had sought to limit what companies could do with information such as customer browsing habits, app usage history, location data and Social Security numbers. The rules also had required providers to strengthen safeguards for customer data against hackers and thieves.

The Senate has voted to nullify those measures, which were set to take effect at the end of this year. If Trump signs the legislation as expected, providers will be able to monitor their customers' behavior online and, without their permission, use their personal and financial information to sell highly targeted ads — making them rivals to Google and Facebook in the $83 billion online advertising market.
According to The Washington Post, the repeal is considered "the first salvo" in what is expected to turn into a "significant reworking" of rules and regulations regarding internet security and privacy under the Trump administration. The repeal goes so far as to include wording that aims to prevent the Federal Communications Commission -- which drafted the original law -- from issuing similar protections in the future.

Those in support of the original FCC protections argued that ISPs require strict regulations because they represent a much broader scope of access to user data, unlike search engines which only access a snapshot of a user's browsing data. If a user is unhappy with a site's data access they can decide to stop using it, the FCC supporters argued, but switching ISPs because of potentially intrusive data mining "is far more difficult."

On the other side, supporters of this week's repeal said that strict ISP privacy regulations "stifle innovation" when providers are forced to abide by such overbearing guidelines and laws.

Tuesday's vote is a sign that Internet providers will be treated more permissively at a time when conservatives control the executive and legislative branches. That could be a boon for companies such as Verizon and Comcast as they race to become online advertising giants.

Internet providers have historically made their money from selling access to the Web. But now these providers are looking to increase their revenue by tapping the vast troves of data their customers generate as they visit websites, watch videos, read information and download apps.
As some watchers of the repeal have noted, interest in virtual private networks has grown online in the wake of potential threats to user privacy. VPNs provide secure and encrypted connections between a user's Wi-Fi device and the VPN server, cloaking their browsing history and preventing intrusions into their private information. Major businesses and corporations most commonly use VPNs to ensure sensitive information remains private.

For the new legislation, the next step is for it to be signed by the President, at which point it will be officially enacted.

Note: Due to the political nature of the discussion regarding this topic, the discussion thread is located in our Politics, Religion, Social Issues forum. All forum members and site visitors are welcome to read and follow the thread, but posting is limited to forum members with at least 100 posts.


Discuss this article in our forums



LastPass Working on Security Patch For Browser Extension Vulnerability
LastPass has advised all users of the password manager to launch sites directly from the LastPass vault and enable two-factor authentication wherever possible, until it addresses a vulnerability discovered in LastPass browser extensions.

The client-side vulnerability, discovered by Google security researcher Tavis Ormandy, allows for an attack that is "unique and highly sophisticated", said LastPass in a blog post, without disclosing further details.



Over the weekend, Google security researcher Tavis Ormandy reported a new client-side vulnerability in the LastPass browser extension. We are now actively addressing the vulnerability. This attack is unique and highly sophisticated. We don't want to disclose anything specific about the vulnerability or our fix that could reveal anything to less sophisticated but nefarious parties. So you can expect a more detailed post mortem once this work is complete.
To secure sign-in credentials in the meantime, LastPass has recommended that users launch sites directly from the vault and make use of two-factor authentication on sites that offer it, while remaining vigilant to avoid phishing attempts.

The news follows the discovery and successful patching of earlier remote code execution (RCE) vulnerabilities that could be used to steal passwords from extensions for Firefox, Chrome, Opera, and Edge. Safari was not mentioned in the original vulnerability alert, while mobile apps were not affected, but concerned users can follow the advice regardless until LastPass offers further news on the situation.


Discuss this article in our forums



Apple May Join SoftBank-Backed Investment in Didi Chuxing to Avoid Dilution of its Stake
Chinese ride-sharing company Didi Chuxing is considering a $6 billion investment offer by the Japanese SoftBank Group that could dilute Apple's stake in the company, according to people familiar with the matter.

Bloomberg on Tuesday reported that the potential funding would be the single largest for a Chinese technology startup on record, but that it would mean Beijing-based Didi would have to balance the interests of its more than 100 investors, which include the likes of Alibaba and Foxconn. Apple is now said to be considering if it should join the investment on a pro-rata basis to avoid dilution of its stakes, according to sources.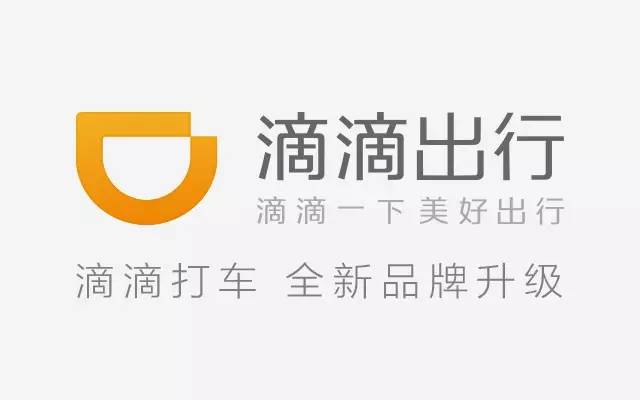 Apple invested $1 billion in the company last year, earning it a seat on Didi's board. However, overall the startup amassed $10 billion in cash in 2016 in order to fund its efforts to develop driverless technology. The company currently faces stringent regulations that limit the number of private vehicles and drivers it operates, which may delay its timeline for an initial public offering, according to people familiar with the company's business strategy.

SoftBank has been a Didi backer since 2014, but it's not clear if its $6 billion bid would come from Softbank Group or its $100 billion SoftBank Vision Fund, which is expected to close soon and also counts Apple among its investors. Apple has yet to comment on the matter.


Discuss this article in our forums



How to Use Night Shift in macOS Sierra 10.12.4
Night Shift, the feature first introduced in iOS devices with iOS 9.3, has expanded to the Mac with the release of 10.12.4. Night Shift is compatible with 2012 and newer Macs, so it won't work on older machines.

For those unfamiliar with Night Shift, it's designed to cut down on the amount of blue light you're exposed to during the evening by shifting the display of a Mac to a more yellow tone. Blue light is said to have a harmful effect on your circadian rhythm, making it harder to fall asleep and stay asleep.

Studies suggest that eliminating blue light exposure at night might help you sleep just a bit better, but it does significantly change the look of your display. Many Mac users have been using blue light reduction software f.lux for years now, but with Night Shift, there's no need to install an additional app because it's an operating system feature.



Subscribe to the MacRumors YouTube channel for more videos.




Turning On Night Shift

Night Shift's controls can be a little bit difficult to find when you go to use the feature for the first time. The Night Shift options are located in the display section of System Preferences.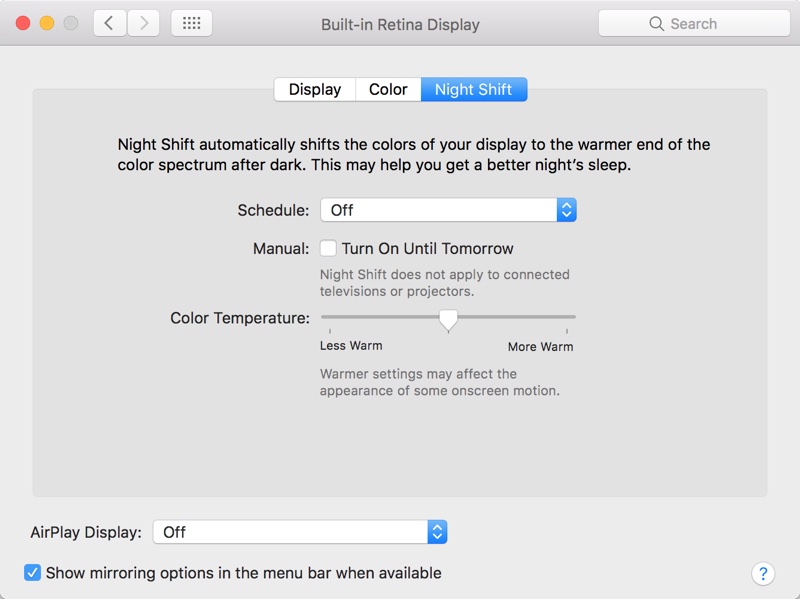 Click on the Apple icon in the menu bar and select System Preferences.


Choose the "Displays" icon.


There are three tabs in this menu: Display, Color, and Night Shift. Choose Night Shift.


From the "Schedule" option, choose either "Sunset to Sunrise" or "Custom."


As the name suggests, the "Sunset to Sunrise" option causes Night Shift to turn on automatically each night when the sun sets and turn off when the sun rises. It's based on your local sunset and sunrise times. This option requires your location to be enabled in Security & Privacy Preferences so your Mac knows where you are in the world.

The "Custom" option lets you choose a specific start and end time for Night Shift to turn on. With a custom setting, it will turn on and off at the same time each night based on the time that you choose.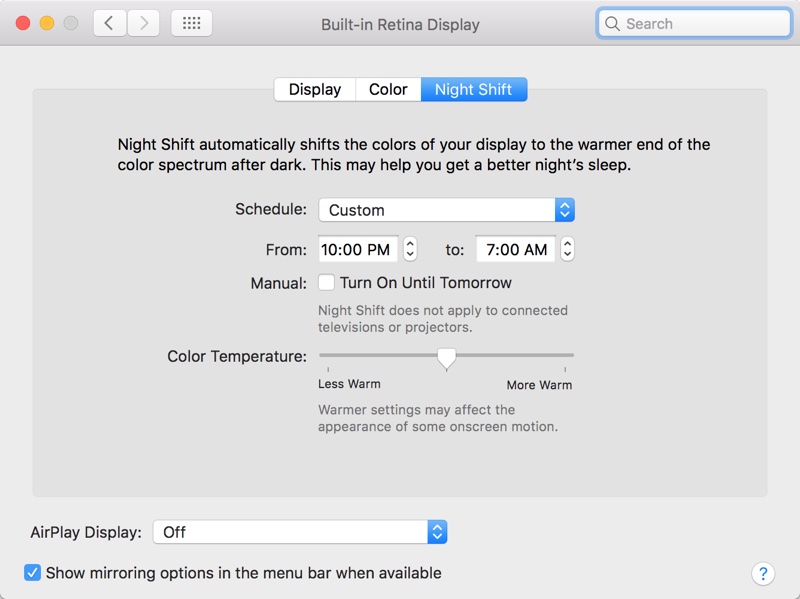 Adjusting Color Temperature

In the same section System Preferences that's used to turn Night Shift on, there's also an option to adjust the color temperature of the feature to your liking.




By default, the temperature is set to the middle, but if you drag the slider to the left, you'll get more blue light, and if you drag it to the right, you'll get a deeper yellow shade with less blue light.

Apple warns that using the warmer end of the spectrum could affect the appearance of some onscreen motion.


Night Shift Quick Toggle

If you want to manually enable or disable Night Shift, there are two ways to do it. You can use the "Manual" setting in System Preferences to force Night Shift to turn on, or you can use the Notification Center, which is quicker. For the Notification Center:



Click on the Notification Center menu bar icon, which is denoted by three lines. It'll open to the Today view.


Scroll up to the top of the Notification Center.


Click on the "Night Shift" toggle to turn the feature on or turn it off.


Choosing one of the manual toggle options when Night Shift is off will toggle it on until sunrise (or a custom set time) no matter what time it is. Toggling it off will turn it off completely.


Siri

Siri, introduced in macOS Sierra, can be used to turn Night Shift on or off. Click the Siri button in the menu bar or the dock and say "Turn on Night Shift" or "Turn off Night Shift" to control the Night Shift feature.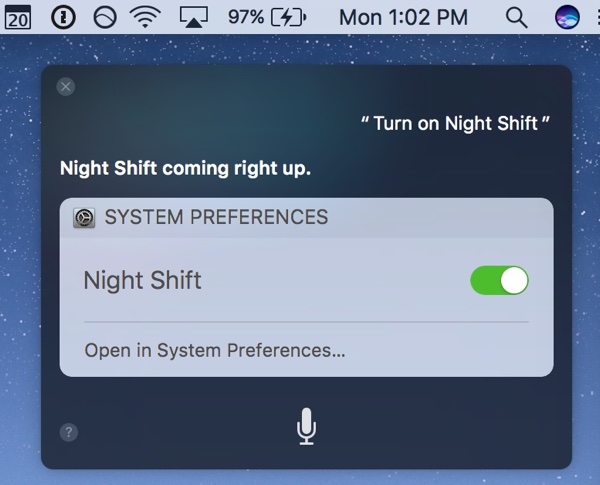 External Monitors

Night Shift extends to external displays that are connected to your Mac, shifting the temperature to a warmer tone to match the Mac's display. It is not an individual option that can be applied to a display, but rather mirrors the Mac setting.

Night Shift does not extend to connected televisions or projectors, however, nor does it always work reliably with an external display.


Compatibility

Night Shift works with Macs manufactured in 2012 and later and it is not available on older machines. A full list of devices that support Night Shift is below:



MacBook (Early 2015 or newer)


MacBook Air (Mid 2012 or newer)


MacBook Pro (Mid 2012 or newer)


Mac mini (Late 2012 or newer)


iMac (Late 2012 or newer)


Mac Pro (Late 2013 or newer)


Apple LED Cinema Display


Apple Thunderbolt Display


LG UltraFine 5K Display


LG UltraFine 4K Display


Limitations

There is no option to toggle Night Shift on and off for specific apps, so if you wanted to be able to do something like turn Night Shift off when you use Photoshop or watch videos, there's no way to do it. It's all or nothing.


Discuss this article in our forums



Apple's 2017 Supplier Responsibility Report Highlights Cobalt Supplier Audits, 98% Work Hour Compliance
Apple today released its 2017 Supplier Responsibility Progress Report, outlining progress that the company has made in its supply chain by highlighting its "highest ever" work hour compliance, advocating the success of Apple's Supplier Education Program, and celebrating more than 2.4 million workers who were trained on their rights last year. Apple releases such progress reports each year as a transparent move to show the strides it takes to improve the work lives of its device manufacturing employees, who work to create products including the iPhone, iPad, Mac, and more.

The company said that over the past year it audited 705 total suppliers and discovered that compliance with its 60-hour maximum work week mandate has reached 98 percent, increasing from 97 percent last year. Throughout the year, Apple tripled the number of suppliers taking part in its Energy Efficiency program, leading to the reduction of over 150,000 metric tons of carbon emissions, "the equivalent of taking 31,000 cars off the road for a year."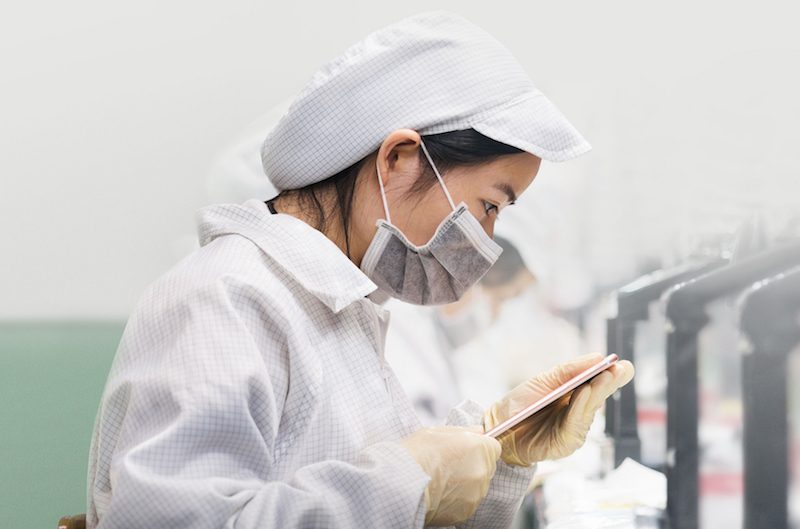 Apple also said that its successes in supplier responsibility included waste reduction, Clean Water initiatives, and more "responsible sourcing efforts" to expand beyond so-called "conflict minerals" to include cobalt for the first time.

Apple's responsible sourcing efforts expanded beyond conflict minerals to include cobalt for the first time. For the second year in a row, 100% of Apple's tin, tungsten, tantalum, and gold (3TG) smelters and refiners are participating in independent third-party audits. Apple has also partnered with numerous NGOs to drive positive change on the ground, including Pact who are working to provide essential health and safety training to artisanal mining, and are building programs to help children stay in school.
An article by BuzzFeed today highlights Apple's expansion beyond conflict minerals, which are referred to in that way due to their source within war-torn countries that mine the minerals -- tantalum, tungsten, tin, and gold -- with little to no respect for workers' rights. Apple's transparency on the subject comes at a time when the Trump administration is said to be considering suspending legislation that previously required companies to disclose whether or not their products contained conflict minerals.

According to Apple's senior director of supply chain social responsibility, Paula Pyers, the company removed three total suppliers (of the 705 audited) for failing to meet its various labor and human rights, environmental standards, and health and safety codes. Conflict mineral suppliers were more harshly cracked down upon, with 22 total suppliers tied to the controversial practice removed from Apple's supply chain over the past year.

"We've been really clear with our suppliers that, notwithstanding any changes to regulations — or deregulation, if you will — we'll continue to run the same program we've been running for the last six years," Pyers said. "We will continue to drive third-party audit programs. We'll continue to dig really deep, and stand up accountability and our incident report system. Candidly, we don't plan any change in that which we are doing."
The company's transparency in 2017 has stretched to include cobalt mining for the first time, including a list of every cobalt supplier in its supply chain, all of which are facing third-party audits. Cobalt is not officially considered a conflict mineral, but recent investigations into the cobalt supply chain potentially violating child labor laws has led to tech companies joining up to form the Responsible Cobalt Initiative to fight the human rights abuses.

Pyers told BuzzFeed that, even in the face of lax legislation potentially passed by the White House, Apple will "continue to do what we're doing" in regards to its annual Supplier Responsibility reports and audits. "We'll continue to call for collective action because we truly believe, whether it's regulated or self-regulated, this is the way business should be run, and the way we'll continue to run our business."

Read more about Apple's Supplier Responsibility initiatives here.

Note: Due to the political nature of the discussion regarding this topic, the discussion thread is located in our Politics, Religion, Social Issues forum. All forum members and site visitors are welcome to read and follow the thread, but posting is limited to forum members with at least 100 posts.


Discuss this article in our forums



Apple Releases Revised Version of iTunes 12.6, Eliminates Strange 'Profile Page' Toggle
Apple today released a revised version of iTunes 12.6, which appears to eliminate a hidden option that may have accidentally been built into the software release.

Shortly after the original release of iTunes 12.6 on Tuesday, a reddit user discovered a "Show on Profile Page" toggle on a Playlist edit page.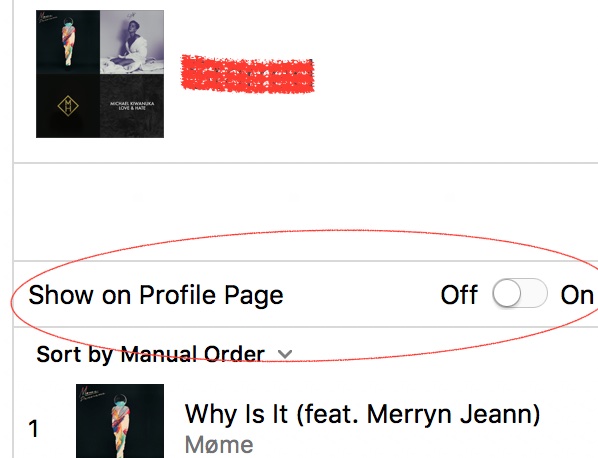 The toggle didn't appear to do anything because there's currently no individual profile page feature in iTunes, and now the non-functional feature has been eliminated from the 12.6 iTunes release, suggesting it was added by mistake and could be destined for some kind of future iTunes profile addition.

It is entirely unclear what a Profile Page might entail, but reddit users speculated that it could be for a future social network or a Spotify-style searchable playlist database.

The new iTunes 12.6 update can be downloaded from the Mac App Store for free. It includes a "Rent once, watch anywhere" feature that lets iTunes users watch iTunes movie rentals across all devices with the as-of-yet unreleased iOS 10.3 and tvOS 10.2 updates.

Prior to the iTunes 12.6 update, iTunes movies could only be watched on a single device at a time. A movie rented on a Mac transferred to an iPhone would remove the movie from the Mac's iTunes Library, while a movie rented on an iOS device or Apple TV could not previously be transferred to other devices.

We don't yet know when the iTunes 12.6 update will become functional, as it is reliant on iOS 10.3 and tvOS 10.2, but those who are running the betas can use the cross-rental feature. The iOS 10.3 and tvOS 10.2 software updates could come at any time.
Discuss this article in our forums



Twitter Considering Paid Subscription Tier for Professional Users on TweetDeck at $20/Month
Twitter is said to be "considering" whether to implement an all-new paid subscription tier that would be introduced in a premium package for TweetDeck, Twitter's popular desktop client, and be aimed directly at professionals (via Reuters). If enacted, this would be the first time Twitter charges users for any part of its social media services, which began eleven years ago in March of 2006.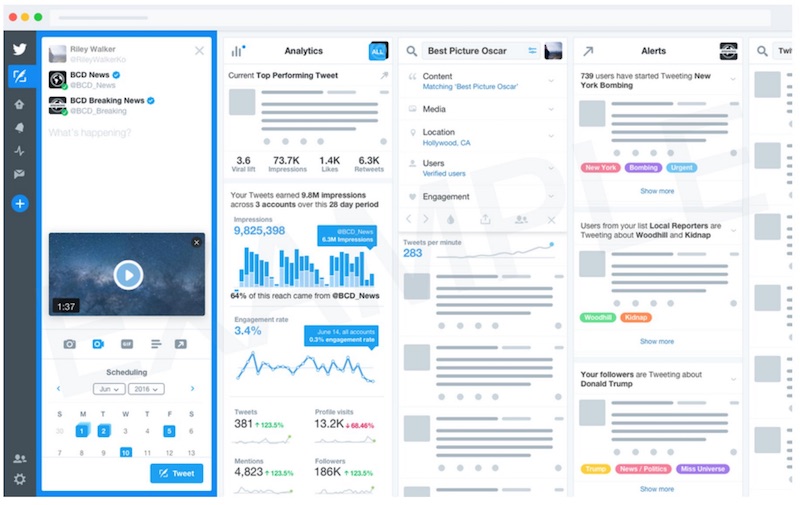 A mockup of what the premium TweetDeck subscription service could look like


Twitter is looking at providing a professional experience for people on TweetDeck that would pack in advance tools and features not found anywhere else on the service. The premium package would cost $19.99 per month, be accessible on both desktop and mobile, and include the following features:

- Exclusive news/alerts summaries personalized for you
- Content management tools like bookmarks, to-do lists, and 'save for later'
- Cross posting to other social media platforms
- Advanced custom trend analysis and alerting tools
- Exclusive content on social media best practices and strategy
- Enhanced tools for managing and creating custom audience lists (e.g., by interest, customer, or region, etc.)
- Exclusive priority customer support
- The ability to manage multiple Twitter accounts
- Advanced publishing features (e.g., scheduling, collaboration, drafting, etc.)
- Advanced tools for sorting or filtering searches
- An ad-free experience
- Analysis tools for understanding topics or conversations on Twitter
- Ability to access this experience on both desktop and mobile devices
- Ability to securely manage the account across multiple team members
- Twitter customization such as color themes and layouts
- Access to pre-populated lists of users and influencers by interest topic (e.g., industry or subject experts)
- Additional account activity details (e.g., influence scores, account unfollows, or ability to see who is looking at your profile page)
- Ability to import user lists from outside sources
- Advanced analytics on my own content performance

The news was shared by The New York Times affiliated journalist Andrew Tavani, and in addition to the detailed list of features, he tweeted out an overall summary of what the service is said to encompass. With the premium additions, Twitter is aiming to help journalists, marketers, and other such professionals "get even more out of Twitter."

"Twitter is considering offering a more advanced TweetDeck experience, with more powerful tools to help marketers, journalists, professionals, and others in our community find out what is happening in the world quicker, to gain more insights, and see the broadest range of what people are saying on Twitter. Whether you use Twitter for work or just want to be more informed on the latest news, sports, entertainment, political viewpoints, and information in today's world, this more advanced TweetDeck experience will be designed to help you get even more out of Twitter.

This premium tool set will provide valuable viewing, posting, and signaling tools like alerts, trends and activity analysis, advanced analytics, and composing and posting tools all in one customizable dashboard.

It will be designed to make it easier than ever to keep up with multiple interests, grow your audience, and see even more great content and information in real-time. It would also offer extra features such as advanced audience insight and analytics, tools to monitor multiple timelines from multiple accounts and from multiple devices, including mobile, all in an ad-free experience.
Twitter confirmed that it is conducting a survey "to access the interest" in this premium version of the service, so no official decision has been made as of yet. It should also be pointed out that the company's wording strictly stuck to the added value proposition for "professionals," with no apparent intention to make a monthly subscription version of Twitter for its casual users.

In the past few years, Twitter has struggled to convince users to stay with the service, as well as faced difficulties in enticing new users to adopt Twitter over its competitors like Snapchat and Facebook. Changes to the service have done some good in improving certain annoyances users had with it -- like removing handles and media attachments from the character count limit and improving anti-harassment tools -- but Twitter has seen little growth from these initiatives. Twitter's total worldwide users currently sit at 319 million, compared to Facebook's 1.86 billion.


Discuss this article in our forums



Small Sample of iCloud Credentials Provided By Hackers Are Valid, But Questions Remain
On Wednesday we reported that Apple had become the target of a ransom threat, with hackers claiming to have access to more than 600 million iCloud accounts. A group known as the "Turkish Crime Family" said they would reset and wipe the accounts unless Apple paid them $150,000 in Bitcoin by April 7.

Apple responded to the threat by stating that there had not been any breach of its systems, and that if hackers did have access to iCloud accounts then it could only be because of compromised third-party services.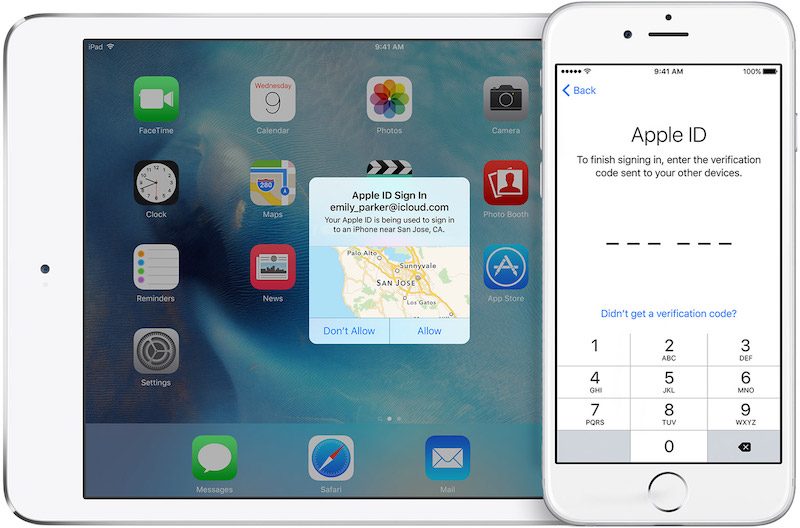 Yesterday, ZDNet said it had received a set of 54 account credentials from the hacker group for "verification" and subsequently reported that all of the accounts were valid, based on a check using Apple's online password reset function.

The accounts include @icloud.com addresses dating back to 2011, as well as legacy @me.com and @mac.com domains from as early as 2000. The list of credentials is said to contain email addresses and plain-text passwords separated by a colon. According to Troy Hunt, data breach expert and owner of notification site Have I Been Pwned, this would suggest the data could have been aggregated from various sources.

ZDNet worked to contact each account holder via iMessage to confirm their password, and found that many of the accounts are no longer registered with Apple's messaging platform. However, of those that could be contacted, 10 people – all based in the U.K. – confirmed that the passwords were accurate, and they have changed them as a result.

When pressed about the original source of the data, the hackers claimed that it was "handled in groups" without explaining how or why. The hackers also refused to hand over a U.S.-based sample of accounts.

All of the people with compromised accounts said that until now, they had never changed their iCloud passwords before. One person said that the password he confirmed with ZDNet was no longer in use as of about two years ago, which narrows down the possible date of a breach or multiple breaches to somewhere between 2011 and 2015.

Most of the people confirmed that they used their iCloud email address and password on other sites, such as Facebook and Twitter. However, three people said that their iCloud email address and password were unique to iCloud, and were not used on any other site. Also, two people claimed someone had tried to reset their iCloud passwords in the past day.

It's unclear if the sample provided is representative of the wider pool of credentials the hackers claim to have, but based on its communications with the group, ZDNet suspects that its members are "naïve and inexperienced" and primarily seeking publicity.

Given that Apple has denied a breach, the account information may have been obtained from a major hacking incident, such as the one that befell Yahoo. iCloud users who have the same username and password that was used for both a hacked site and for iCloud should change their passwords immediately.

Anyone else concerned about the hacking claims should change their password and consider using two-factor authentication to secure their Apple ID credentials. Apple has said that it is "actively monitoring to prevent unauthorized access to user accounts and are working with law enforcement to identify the criminals involved".


Discuss this article in our forums



Tim Cook Hails China Investment, Says Apple 'Here to Stay'
Apple CEO Tim Cook sat down for an interview with Chinese media outlet Caixin on Tuesday, in which he emphasized Apple's ambitions in China and its long-term commitment to investment there.

Despite Apple's need to see off competition in the country from the likes of Chinese mobile makers Oppo and Huawei, Cook took pains to explain that Apple isn't simply in China to grab a piece of the market, but that it is actively working to create jobs and improve people's standard of living in the country.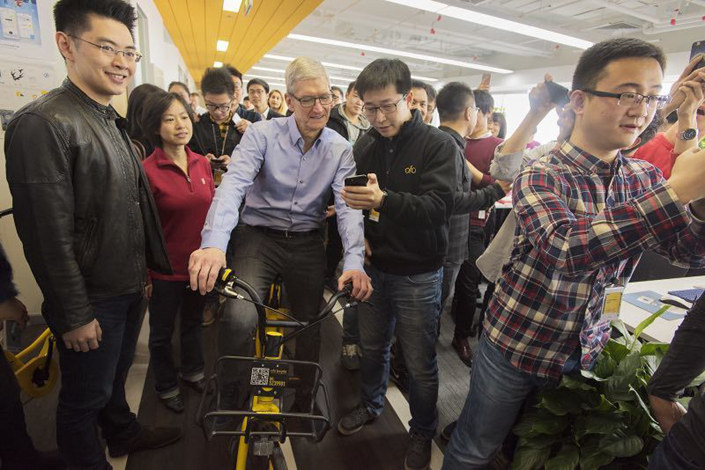 Tim Cook poses for a photo during his visit to Ofo
"We're not just someone who's here to access the market," Cook told Caixin. "We've created almost 5 million jobs in China. I'm not sure there are too many companies, domestic or foreign, who can say that. … There's deep roots here. I think very highly of the country and the people in it. We're here to stay."
As reported earlier this week, Cook has spent the last few days in China to celebrate the company's announcement that it is building several research and development facilities in the region. On Wednesday he stopped in at Beijing-based bicycle sharing startup Ofo, which counts ride hailing company Didi Chuxing as one of its investors.

Apple surprised analysts last year when it bought a $1 billion stake in Didi, earning it a place on the company's board. Speaking to Caixin, Cook said the investment in Didi was an exceptional case and not a general direction for Apple.

"We've never invested in a developer before, and yet we met Didi, and Didi was so impressive. One, we thought their management was so great, we thought their idea was great," Cook said. "And we liked the holistic view, they were doing everything from taxi to the more-traditional private-car thing. There was a strategic alignment. They needed some funds to continue to grow. We really want them to be successful and be global."
Cook kicked off his China visit with a wide-ranging talk on Saturday at the China Development Forum, where he underlined his support for globalization. When asked by Caixin about the subject, the Apple CEO said there were three groups of people he always kept in mind.
"My view on globalization is that you can think of three groups of people. There's a group of people that globalization has helped tremendously. There's a group that globalization did not help. There's a group of people that globalization hurt," Cook said. "Globalization has lifted hundreds of millions of people out of poverty. But I also recognize is that it did not help everyone."
Commenting further on the recent political steps away from globalized investment, such as the protectionist policies of the Trump administration, Cook admitted it was important for policymakers to address the issues that have led to resentment by some, but said it would be a mistake to roll back the process of globalization.

"You want to keep this going because it's great. But we must fix this," Cook said. "I do think there are ways to address it. I don't think it's an impossible task. I hope the politicians will put their attention on fixing that problem. … I'm optimistic. We must be. There are so many good things in the world. We just have to make sure we focus on the thing to fix."
Cook is likely to remain in the country until at least Friday, when Apple will launch its special edition red iPhone 7 and 7 Plus globally. Despite the missing (PRODUCT)RED branding in China, Cook toldMacRumors that proceeds from sales of the red colorway iPhones will still go to help the fight against HIV/AIDS, which has been called a "looming epidemic" in the country.

Note: Due to the political nature of the discussion regarding this topic, the discussion thread is located in our Politics, Religion, Social Issues forum. All forum members and site visitors are welcome to read and follow the thread, but posting is limited to forum members with at least 100 posts.


Discuss this article in our forums



How to Tell Whether Your New LG UltraFine 5K Display Has the Shielding Fix
Last week, we shared a brief video showing that LG's revisions to the shielding in the UltraFine 5K display have successfully addressed issues with the display flickering and disconnecting when in close proximity to Wi-Fi routers. Apple and LG had temporarily pulled the display from the market while LG adjusted its manufacturing processes to incorporate the fix and push the new stock into sales channels, and sales of the revised display began earlier this month.

At the time of last week's post, we noted that customers purchasing the UltraFine 5K display should check for serial numbers beginning with 702 or 703, as these indicate manufacturing dates of February or March after the fix was put into place. Several MacRumors readers subsequently reported, however, that they have recently received units shipped from Apple with serial numbers starting with 612, indicating manufacturing dates in December 2016.

These readers have been uncertain as to whether their units have the revised shielding in place, or if they should be testing their displays to see if the flickering issue can be induced. One reader noticed that the label on the box of his December UltraFine 5K included a black circular sticker at the top left, a sticker that was not present on our original UltraFine 5K display that was manufactured in November and shipped in December and which was susceptible to the interference issue.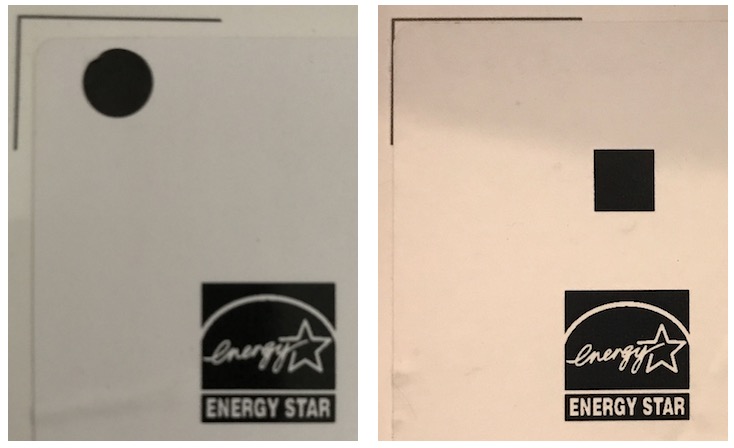 December 2016 unit retrofitted prior to sale (left) vs. March 2017 unit properly shielded from the start (right)


Newly manufactured UltraFine 5K units include a black square printed directly on the label in the same location, and LG has confirmed to MacRumors that the presence of a circle or square does in fact indicate that the unit has the revised internal shielding and should be protected from the interference issues.

While LG did not explicitly confirm any difference between a circle and a square, it appears that the square is indicative of a unit that was originally manufactured with the proper shielding, while the circle is used on earlier units that were subsequently retrofitted with the shielding before sale. There should be no difference in the performance of the two versions.

For those users with units lacking a circle or square on the label and thus susceptible to the Wi-Fi interference, LG is conducting free repairs to install the proper shielding. Users are advised to contact LG to arrange for the repair, which can take up to 7-10 business days once the display is received by the repair facility.

Customers interested in purchasing the UltraFine 5K should remember that Apple's 25 percent discount on USB-C and Thunderbolt 3 accessories is still scheduled to end on March 31, so they have just over a week to order the display at its discounted price of $974 before it goes back up to its regular price of $1299.95. It is possible Apple could extend the discount as it has done once already, but there are no guarantees.


Discuss this article in our forums



Apple Releases Safari Technology Preview 26 With WebGPU Prototype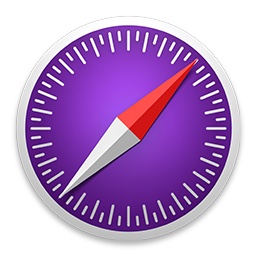 Apple today released a new update for Safari Technology Preview, the experimental browser Apple first introduced one year ago in March of 2016. Apple designed the Safari Technology Preview to test features that may be introduced into future release versions of Safari.

Safari Technology Preview release 26 includes fixes and improvements for Web API, CSS, Rendering, Web Inspector, WebDriver, and WebCrypto. Today's update also includes a WebGPU prototype, accessible from the Experimental Features menu.

The Safari Technology Preview update is available through the Software Update mechanism in the Mac App Store to anyone who has downloaded the browser. Full release notes for the update are available on the Safari Technology Preview website.

Apple's aim with Safari Technology Preview is to gather feedback from developers and users on its browser development process. Safari Technology Preview can run side-by-side with the existing Safari browser and while designed for developers, it does not require a developer account to download.


Discuss this article in our forums



djay Pro for Mac Gains Touch Bar Enhancements, Pioneer DJ Integration
Algoriddim's djay Pro for Mac received a major update today, introducing a range of new features for both hobbyists and professional DJs.

Through a partnership with Pioneer DJ, djay Pro is now officially certified to work with hardware like the CDJ-200NXS2 and the TOUR1, equipment widely used by professionals.

Seamless plug-and-play integration adds support for Pioneer DJ's DJ Link technology, allowing users to connect up to four CDJs with their Pioneer mixer using a single USB cable through the new LAN Link feature. It's a much simpler setup, and allows for access to full Spotify and iTunes catalogs from the CDJ screens.


"djay Pro is the most modern way to DJ on your Mac," said Karim Morsy, CEO of Algoriddim. "This new version adds a host of new features for live performance, music discovery, and preparation. It combines the best of both worlds, content discovery via Spotify and hardware access through Pioneer DJ's state-of-the-art CDJ setups."
Touch Bar integration has been improved in the new version of djay Pro, adding the ability to manipulate two decks simultaneously, manually select the active deck, and navigate the library to preview and prepare songs. Other Touch Bar features that were added in a previous update let users scratch and slice tracks, apply filters and effects in realtime, and trigger audio samples.

djay Pro has long offered Spotify integration, but with the new update, there is improved access to the Spotify Browse feature, letting DJs quickly and easily discover new music based on mood, genre, and popularity.

Today's djay Pro update is free for all customers who own a copy of the software.

djay Pro for Mac can be downloaded from the Mac App Store for $49.99. [Direct Link]


Discuss this article in our forums



Apple Releases iTunes 12.6 With Cross-Device Movie Rental Access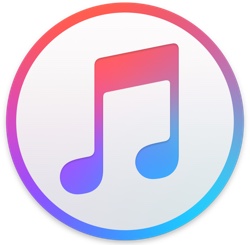 Following a slew of new product announcements early this morning, Apple today released iTunes 12.6, the next major update for the iTunes app on Mac devices.

iTunes 12.6 introduces a "Rent once, watch anywhere" feature that lets iTunes users watch iTunes movie rentals across all devices with iOS 10.3 or tvOS 10.2.

Prior to this update, an iTunes movie was only available on a single device at a time. When a movie rented on a Mac was transferred to an iPhone, iPad, or iPod using USB, the movie became unavailable from an iTunes library until returned to the Mac.

A movie rented on an iOS device or an Apple TV was not previously watchable on other devices and could not be transferred between devices.

The wording of the release notes seems to suggest we're going to see iOS 10.3 and tvOS 10.2 released in the very near future, as the new iTunes update pertains specifically to those releases. We could see new software as soon as tomorrow.

According to Apple's release notes, the update also includes minor app and performance improvements.

The new iTunes 12.6 update can be downloaded from the Mac App Store for free.


Discuss this article in our forums



Tim Cook Visits Beijing-Based Bike Sharing Startup, Ofo
Tim Cook visited Beijing-based bike-sharing company ofo on Tuesday, according to Reuters. The Apple CEO has been in China since at least Saturday, when he gave a wide-ranging talk at the China Development Forum.

During his ofo stop, Cook met with founding members including CEO Dai Wei, and posed for pictures of him riding a yellow ofo bike.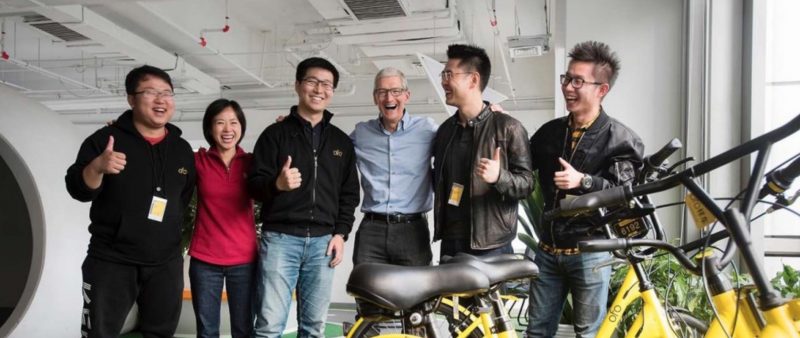 "Thanks for welcoming me today, ofo team! Great energy behind your mission to make commuting greener, more efficient and fun!" Cook said in his official Sina Weibo post, along with pictures of him riding an ofo bike.
The rivalry between China's bike sharing startups has been compared to the battle between Uber and local competitor Didi Chuxing. Last year, Apple poured a $1 billion investment into Didi Chuxing, earning it a seat on the company's board. At the time, Cook described the investment as "a chance to learn more about certain segments of the China market".

Ofo, which counts Didi Chuxing as an investor, confirmed that Cook made the company visit on Tuesday but said no discussions regarding collaboration or investment took place. The company has already raised $450 million this month, which saw its valuation pass the $1 billion mark for the first time.

Founded in 2014, ofo developed the world's first "non-docking" bike sharing platform operated by a mobile application, according to its site. Ofo and main rival Mobike are among a number of rapidly emerging bike-sharing services that allow users to find, unlock, and pay to rent trackable bicycles through smartphone apps, allowing younger consumers to get around congested roads and public transport.

Ofo operates 2.2 million bikes in 43 cities in China, with pilot schemes in Singapore, London, and California.


Discuss this article in our forums



Review: Lofree's Mechanical Bluetooth Keyboard Is a Beautiful, Frustrating Typewriter for Your Mac
Redesigning an input device is a risky business. When Apple introduced its latest MacBooks, some users complained that the new butterfly mechanism in the keys was a turnoff. They criticized the keyboard for its lack of travel, and said the experience of typing was not much different to tapping on a touch screen. Other users felt okay with the change. Whichever side people fell on the debate, everyone could agree that how a keyboard actually feels beneath the fingers matters a great deal.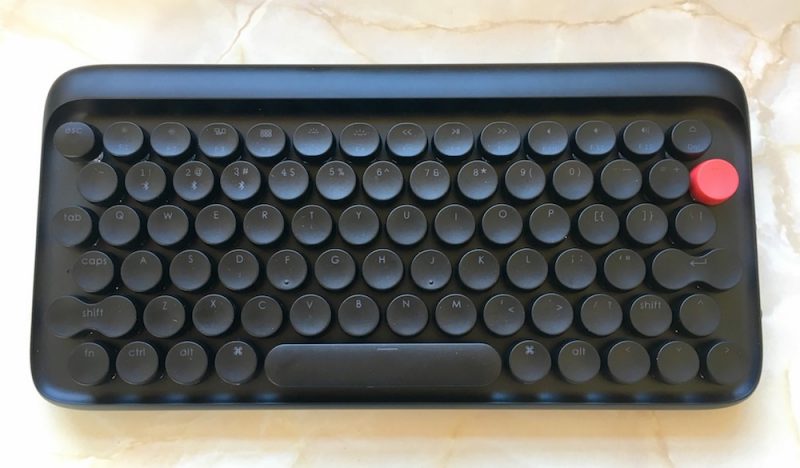 With the lofree Bluetooth keyboard, the designers have tried to re-imagine the typing process in a more radical way, by recreating the experience of operating a traditional typewriter, but in an elegant retro-modern design. The desirability of such a product is in no doubt – lofree's Indiegogo campaign set out to raise $10,000 over 30 days, but has already garnered $364,443 from over 4,000 backers, with several weeks to spare. We got a hold of a finished unit to see if the lofree keyboard can live up to expectations.


Design and Features

The first thing that struck me about the lofree was its sheer heft. At 800 grams, it's pretty heavy – the Apple Magic Keyboard is just 321 grams – but the extra weight has a stabilizing influence and adds to the retro feel. It features a sturdy rounded plastic base, with two rubber legs at the back that raise the keys high off the desk at a six degree angle.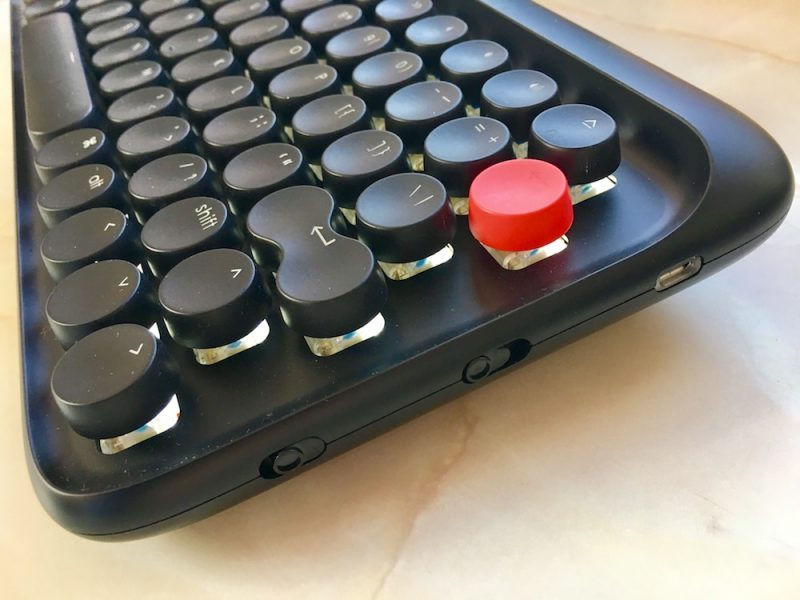 On the right-hand side of the keyboard is a micro-USB port for charging as well as for connecting in wired mode using the included cable. There's a switch next to the port to turn Bluetooth on/off. The second switch sets the keyboard for use on Mac/iOS or Windows/Android, but a quick look at the layout shows the lofree has been designed primarily with Apple users in mind.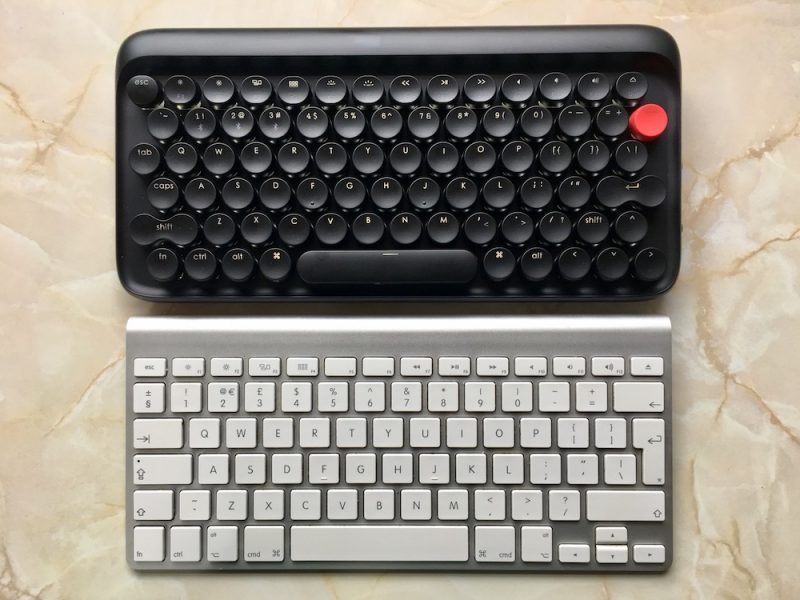 The functional layout on the top row houses the usual controls you'd expect of an Apple keyboard, like Mission Control, Launchpad, volume, and so on. However, overall the keys are more crowded, and there are some changes to the layout, the main one being the fact that the number key row lines up differently, so 1 is slightly right of Q, 2 is right of W, and so on. Eagle-eyed readers may have noticed key numbers 1, 2, and 3 all have Bluetooth symbols. These are used in combination with the fn key to quickly switch between up to three paired devices.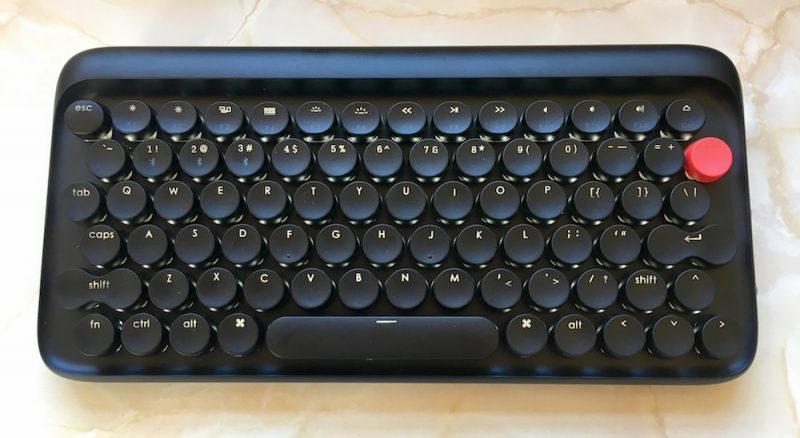 The keycaps are raised off the base in pseudo-typewriter fashion, which makes the backlight one of the signature features of the keyboard's design. I found that in a dimly lit room, it gave each key a lovely muted corona, but if you find the bed of light too glaring you can dial down the intensity by choosing from three levels of brightness, or simply switch off the backlight altogether. To save battery, the light also sleeps if you don't use the keyboard for a few minutes, but they snap back on just as quickly with a tap.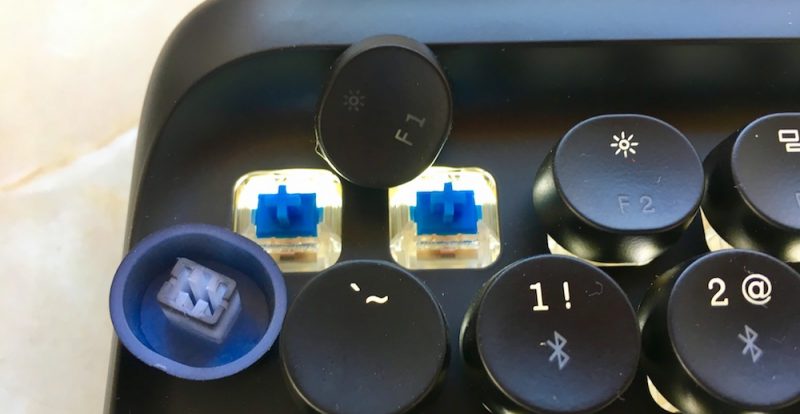 Instead of the squishy rubber membrane you'd find under most notebook keycaps, lofree has chosen to use Gateron Blue mechanical switches. The decision reflects lofree's attempt to mimic not only the look of a typewriter as closely as possible, but also the sound and the tactile sensation of hitting traditional typewriter keys.

In practice, this means there's a slight bump when the key is actuated, more force is required, and there's a lot more travel when the key is fully depressed. The replaceable keycaps also have a concave shape to fit your fingers.





Performance

I had no trouble pairing the keyboard with my MacBook Pro, iPad, or iPhone. The lofree appeared in Bluetooth preferences as soon as I switched it on, and the LED beside the caps lock key flashed to confirm the connection. The ability to switch between devices worked well too, and I didn't experience any dropouts when testing the keyboard within a reasonable range.

I type heavy-handed at the best of times, but tapping at the lofree's keys was enough to create an echo in the hallway leading to my office room. Gateron switches are loud and "clicky" compared to Apple keyboards, which is obviously why they were chosen. Whether you (or anyone within earshot) can get on with the sound will depend on taste as well as circumstance.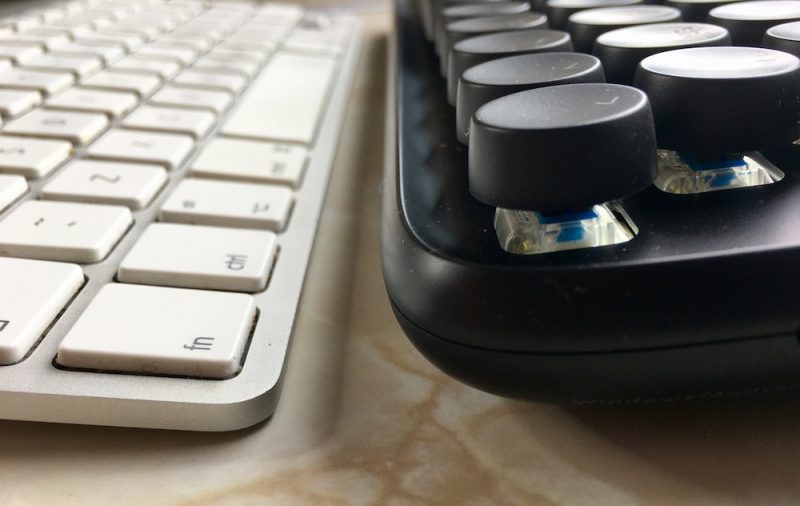 Some people feel the continual clackety-clack has a focusing influence on the mind. Others are likely to find the din positively off-putting. As such, it's probably a bad idea to use the lofree in an open plan office, unless you really want to annoy your co-workers. The best place to use this keyboard is probably at home in a personal office or study with the door firmly closed.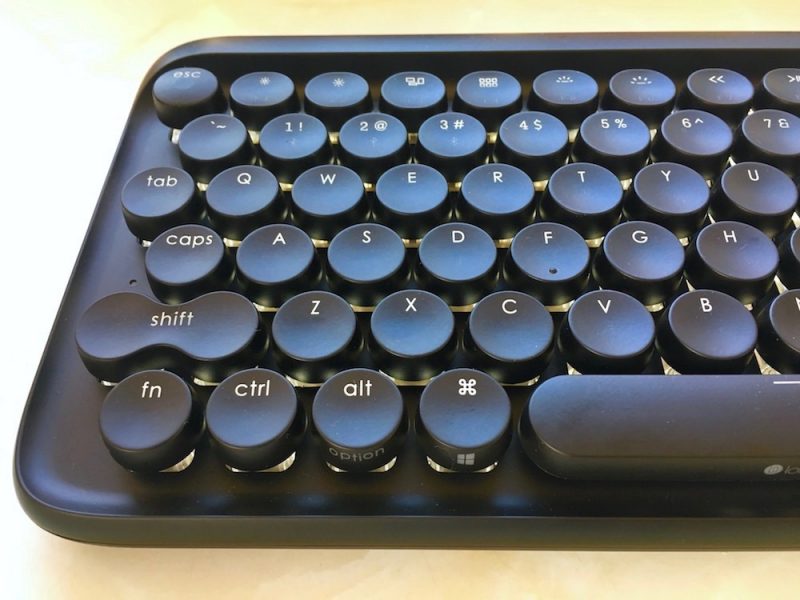 That said, such precautions are unlikely to muffle the volley of verbal abuse you may find yourself hurling at the lofree during your first few days together. The oddly aligned number keys certainly take some getting used to, but personally they were the least of my worries.

On an Apple keyboard, the right shift key is a large oblong target in both US and UK layouts, but on the lofree, the right portion of this area is home to the up arrow key. This seemingly small change meant my little finger kept hitting the up arrow and taking me up a line instead of capping the next letter, which was incredibly frustrating. I kept having to look down at the keys to orient my fingers, making touch typing pretty impossible. Despite the early irritation though, I stuck with it, and within a week I was able to type up a few paragraphs without error.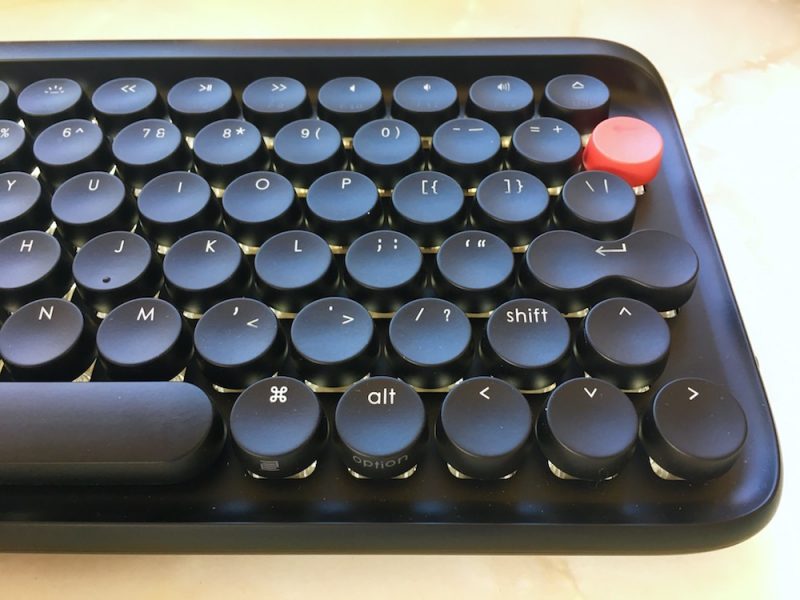 At the moment, the lofree is still sitting pretty, albeit connected to my iPad on a separate desk in another room. I've been using it to journal, reply to emails and tap out quick notes, but I continue to prefer a wireless Apple keyboard to do the majority of my work on my Mac. Typing on the lofree after a couple of hours started to fatigue my fingers a bit, which could be an RSI harbinger for some users.

I didn't manage to drain the battery over seven days of use, but lofree claims that with the backlight set at low, the Bluetooth working time is around three weeks on a single charge, and that extends to around six months with the backlight off. (To compare, I've gotten about two months of real-world use out of a single charge on an Apple Magic Keyboard with no backlight).


Bottom Line

There's no denying the lofree's inviting looks – its retro aesthetic is an immediate eye-catcher that's sure to brighten up any computer desk or study space. As for invoking the bygone spirit of typewriting, it broadly accomplishes what it sets out to achieve. It's just a shame the tweaked layout distracts from your creative flow and forces you to relearn where certain keys are located. For those with nostalgia and patience in abundance, however, the lofree should prove a delightful keyboard to use in the long term.

Pros

Impressive retro design


Beautiful adjustable backlight


Supports switching between up to three paired devices


Decent battery life
Cons
Some odd layout decisions


More fatiguing on fingers


Not great for touch typing


Noisy compared to Apple keyboards
How to Buy

The lofree typewriter-inspired mechanical keyboard is available in pure white, turquoise blue, or sandstone black, and costs $79 for Indiegogo early adopters. According to lofree, the keyboard will retail for $129 and pre-order shipping will start immediately after the Indiegogo campaign ends.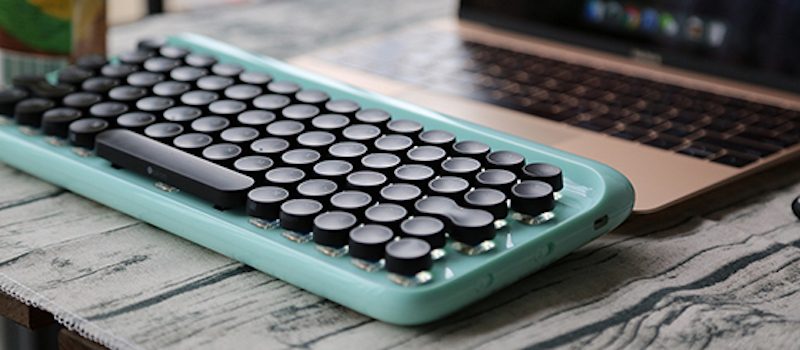 Note: lofree supplied the keyboard to MacRumors for the purposes of this review. No other compensation was received.


Discuss this article in our forums



Review: LG's $1500 38UC99 UltraWide Display Offers a Giant, Desk-Filling Workspace
We've already looked at LG's UltraFine 5K and 27UD88 displays as companions for Apple's latest notebooks, and today we're taking a look at another USB-C display option that brings something quite different: LG's 38UC99 curved "UltraWide" display.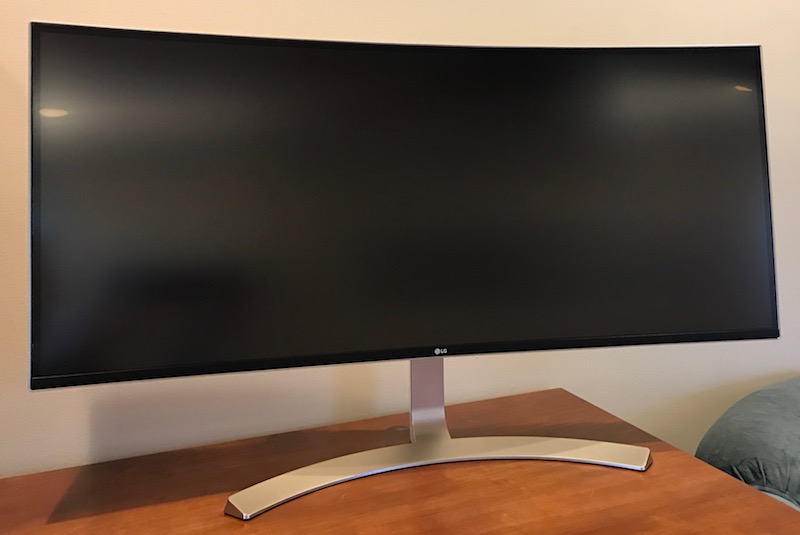 This is a desk-filling display in the truest sense of the term: 37.5 inches on the diagonal with a 21:9 aspect ratio and a native resolution of 3840x1600. It has fewer pixels than a true 4K or Ultra HD display, but its sheer size makes up for it in some unique ways. While the UltraFine 5K and 27UD88 displays work best at Retina or scaled resolutions, the 38UC99 uses a full 3840x1600 desktop that leaves everything on screen at just the right size to be useful. No, it's not a Retina display in this mode, but until we have 8K displays this will have to do.

Even without Retina resolution, this display is impressive. The sheer size of it gives you so much flexibility in terms of your workspace. I can easily have three large windows open side-by-side with room to spare.



UltraFine 5K, 38UC99, 2016 MacBook Pro (left to right)


I've been testing this in a three-display setup with the new 15-inch MacBook Pro, an UltraFine 5K, and the 38UC99. It's a ridiculous amount of desktop space that I can barely fit on my desk, and the MacBook Pro with entry-level graphics runs all of it without breaking a sweat.


Setup

Just like the 27UD88, the 38UC99 is dead simple to set up, requiring the same steps of snapping the arm into the back of the display and attaching a very similar curved foot to the bottom of the arm with a pair of screws that can be tightened with a screwdriver, coin, or by hand using grasping rings. The display is compatible with VESA mounting options, although a mounting plate is not included in the box.

The display is stable on sturdy surfaces, with very little wobbling unless you really shake your desk or bump the display itself. The tilt ranges from –5 to +15 degrees for good flexibility in angling the display, while the entire display panel can be easily raised or lowered over a range of 110 mm. The spring-loaded arm means no tools are required for raising or lowering the display, and it stays right where you set it. A cable management clip is included on the back of the arm near the bottom, and the display can be tilted up to 3 degrees left or right for leveling purposes.

The 38UC99 comes with an array of cables, offering good flexibility for connecting to various types of computers and peripherals. In the box are HDMI, DisplayPort, and USB-C to USB-C cables, as well as a USB-C to USB-A adapter.

As with the 27UD88, the 38UC99 unfortunately only supplies up to 60 watts of power over USB-C. That's enough to support a MacBook or a 13-inch MacBook Pro, but it's going to struggle to power a 15-inch MacBook Pro that can draw up to 85 watts. That means if you're a 15-inch MacBook Pro owner, you'll probably have to also plug in your power brick, which means you'll be using up two of your USB-C ports on the machine between the display and power.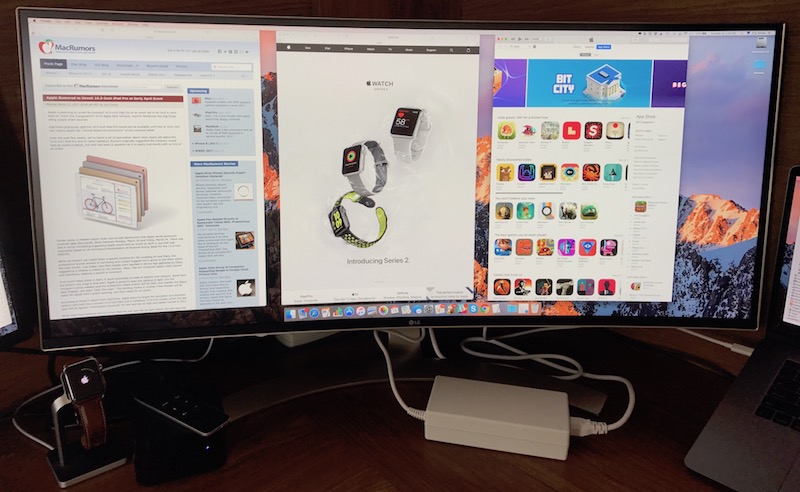 Three windows side-by-side with room to spare; also notice the large power brick


The external power brick for the 38UC99 is quite large, which really makes me appreciate the UltraFine 5K's built-in power supply, but as long as you can hide the power brick away somewhere, it's probably not going to bother you.


Display Resolution

The default resolution upon connecting to a 2016 MacBook Pro is the full 3840x1600 running at 60 Hz. Other available options are 3200x1333, 2560x1067, and Retina 1920x800, plus some others. Pretty much all of those are going to leave your content looking too big unless you're sitting quite far from the screen.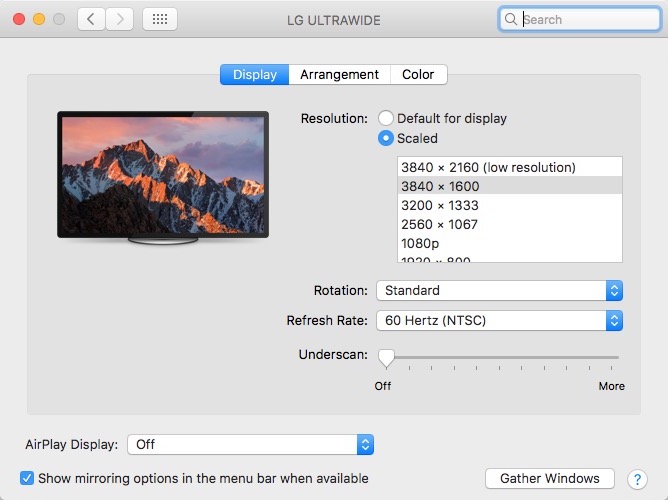 Scaled resolution options


Holding down the option key while clicking the Scaled button in preferences brings up a host other resolution options including some higher pixel counts ranging all the way up to 7680x3200. These are obviously scaled to the display's actual 3840x1600 resolution, but they can give you a really tiny desktop if that's what you're after for some reason.

Rotation settings for the 38UC99 are present in System Preferences on macOS Sierra but beyond the small leveling adjustments the screen doesn't actually rotate, and vertical orientation on a curved display this large wouldn't make a whole lot of sense anyway.

At the display's native resolution of 3840x1600 spread over 37.5 inches of screen, that works out to approximately 111 pixels per inch, which most users will find to be a reasonable desktop size at typical sitting distances. It's not going to give you the sharpness of a Retina display, but the massive size of the desktop you have to work with might be worth sacrificing Retina sharpness for many users.


Display Quality

The maximum brightness of the 38UC99 is just 300 nits according to the manufacturer's specs, which is considerably lower than the 500 nits you can expect from the MacBook Pro and the UltraFine 5K and even a bit lower than the 27UD88's 350 nits. It's clearly a noticeable difference next to a MacBook Pro, but it can be compensated for by turning down the brightness on your computer if you're using a dual-screen setup and you don't mind slightly dimmer displays. It's not a major issue for me.

The backlighting is a little uneven on the 38UC99, with the upper corners in particular appearing a bit dim compared to the rest of the display. Again, it's not a deal breaker for me considering the plusses this display brings.

Like the 27UD88, the 38UC99 has 99+% coverage of the sRGB spectrum and 10-bit color. It's not going to match the wide gamut of the UltraFine 5K or some other high-end displays, but as I noted in my earlier review, sRGB remains the mainstream standard for displays. So unless you're a photo or video professional, there's a good chance you don't need wide gamut, although once you've experienced wide gamut you may feel you're missing out a bit if you have to go back.

Gamers are undoubtedly a major target market for this display, and it supports an array of technologies designed for superior performance, including FreeSync and Motion Blur Reduction.


The UltraWide Curve

One of the highlight features of the 38UC99 is its curved display, and I'm sure many are wondering what its purpose is and whether there are any drawbacks. Personally, I love it. The curve is quite subtle, so your content is not significantly distorted, and when you're sitting just a couple of feet away from a 38-inch display, the curve makes the edges of your screen still feel directly in front of you rather than off at an angle. It's a nice feature, and it makes me feel more immersed in my workspace than a flat display at this size would.




The other defining aspect of this display is its "UltraWide" 21:9 aspect ratio. I've found it tremendously useful, allowing me to place as many as three large windows side-by-side on the desktop with room to spare. That's a huge benefit when you're either multitasking with a number of different apps or working on tasks that require multiple windows such as side-by-side browser windows, or editing apps with lots of palettes, for example.

Having everything all on one screen is a much better experience than having to switch visual focus between displays, even if those displays are right next to each other. Of course, I'm still running a three-display setup, but it means I can have a huge contiguous workspace on the 38UC99 for my main focus while my MacBook Pro and UltraFine 5K displays are used for other apps I need to monitor and like to have visible at all times, such as email, Twitter, Slack, and calendars.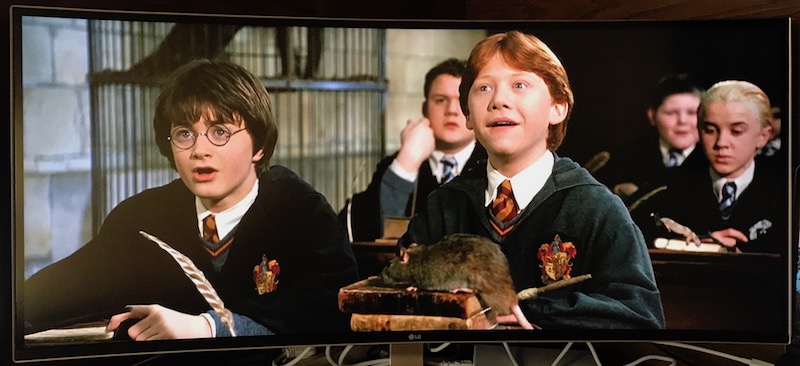 The 21:9 display also comes in handy for another purpose: watching movies. Widescreen shows and films at 1.77:1 or 1.85:1 will be pillarboxed with black bars on the sides of the screen, while 2.39:1 films will just about fill the entire screen, so the 38UC99 doubles nicely as a display for watching video as long as you can sit fairly close to it.


Build Quality and Looks

For the most part, I should just point everyone back to my 27UD88 review here, as these two displays are clearly cut from the same cloth. They have the same all-plastic build with the faux brushed aluminum finish on the arm and foot and fairly thin matte black plastic bezels bordered by silver around the edges. The bottom chin is slightly larger than the top and sides, but it's not a distractingly large difference, and a subtle silver LG logo is centered on the bottom chin.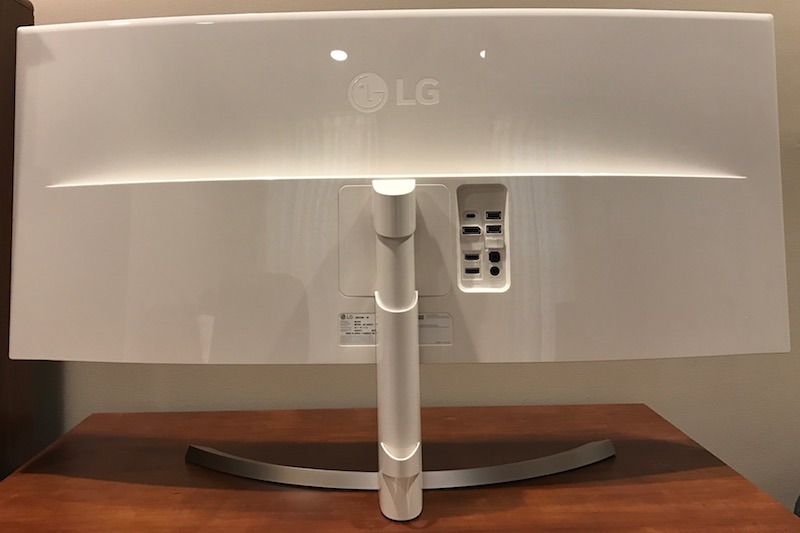 The rear sides of the display and arm are glossy, bright white plastic. It will certainly attract attention if the rear of your display is visible such as in an office setting, but if the display is up against a wall or other surface, you may forget what the back even looks like until you turn it or stick your head behind it to adjust cable connections.


Ports

On the rear of the display, you'll find the exact same set of ports as on the 27UD88 I reviewed earlier: a USB-C port for single-cable connectivity, one DisplayPort 1.2 input, and two HDMI 2.0 inputs. On the downstream side are a pair of USB-A ports with up to 5V/1.5A of charging power.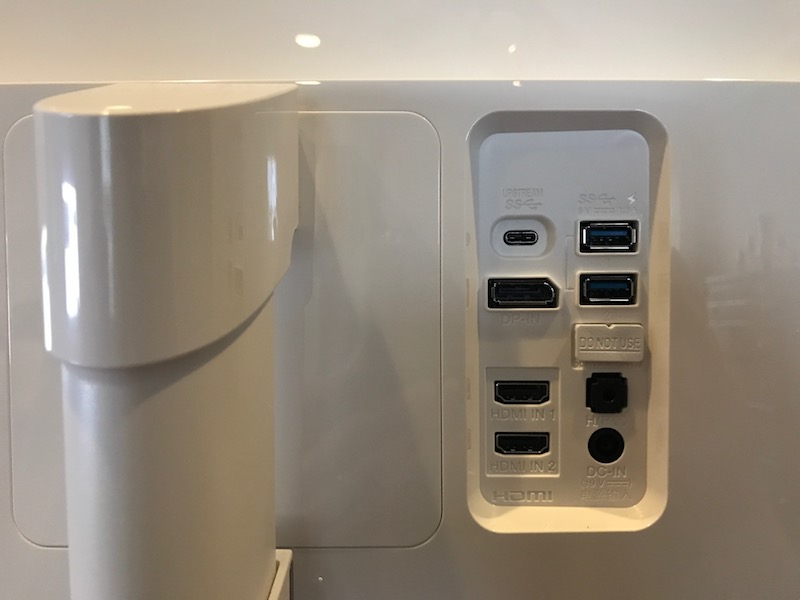 As on the 27UD88, you'll find that while the ports are officially USB 3.0, they will run at USB 2.0 speeds once the display is connected, as all of the USB 3.0 lanes are used to drive the display itself. So if you're looking for fast USB connectivity such as for an external hard drive, you'll want to connect it directly to your computer rather than through the display. My testing found USB 2.0 speeds of around 30–35 MB/s for read and write with a USB 3.0 5400 rpm external hard drive, which may be passable for some users, but if you're moving lots of data you're going to want a faster direct connection.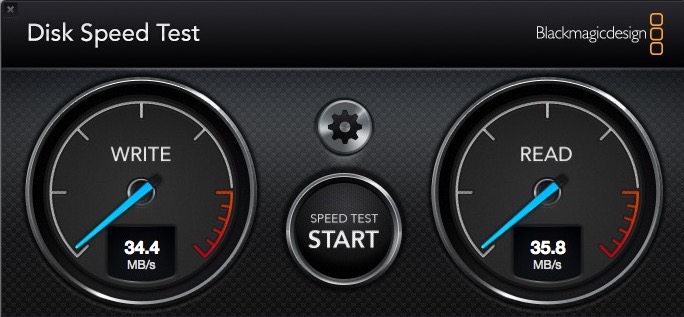 Finally, the 38UC99 includes a headphone jack and a DC-in port for the power adapter on the rear, while there is a Kensington lock slot on the bottom edge for security.


Audio

The 38UC99 includes a pair of 10W speakers with LG's "Rich Bass" technology, and they actually sound quite good for display speakers. They're not going to replace your home audio system, but they're perfectly acceptable for general computer use including music and gaming.

Another nice inclusion is Bluetooth audio support, which lets you connect other devices to the display's speakers wirelessly, which could be handy if you want to play something direct from an iPhone or other device and want to have higher quality sound.


Joystick Button and Menu Options

The 38UC99 uses LG's familiar joystick button as the sole method of controlling the display. Pressing it turns the display on, while pressing and holding it powers the display off. Moving it right or left adjusts the volume, with a bump forward while the volume is displayed muting or unmuting the sound.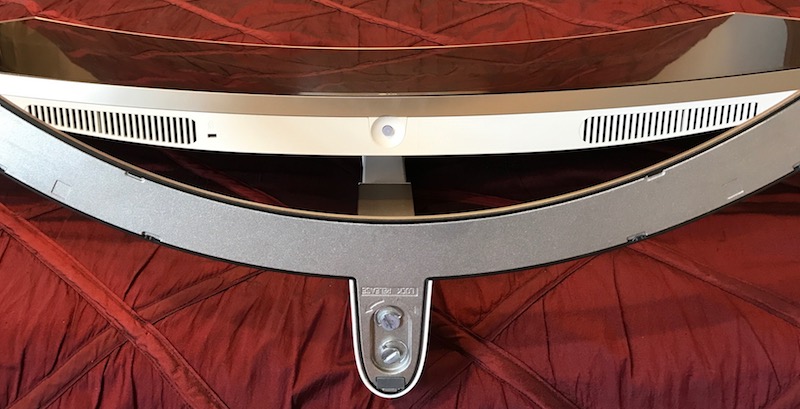 Bottom view showing joystick button, speakers, and Kensington lock slot


A brief press on the button opens up the main menu, which provides easy access to input selection and Bluetooth audio connections, as well as the rest of the menus for a variety of settings for adjusting inputs, picture, sound, and more. A wide array of adjustments are available to optimize picture modes and quality depending on your preference and the type of content being displayed. There are 11 picture modes available, with a calibrated Custom mode set as the default out of the box. I found Custom mode to be satisfactory and did not need to perform additional calibration, but those options are certainly available for those who want to make adjustments.

The display supports Picture by Picture (PBP), which lets you display two inputs side-by-side simultaneously. It works rather well due to the display panel's aspect ratio, and I occasionally use it to display an external screen for my computer alongside my Apple TV, which I have hooked up to the display via HDMI. The Apple TV content is significantly letterboxed since I'm displaying a widescreen input on half of a 21:9 display, but things are still large enough that the Apple TV is usable for checking apps and settings or even watching a bit of video.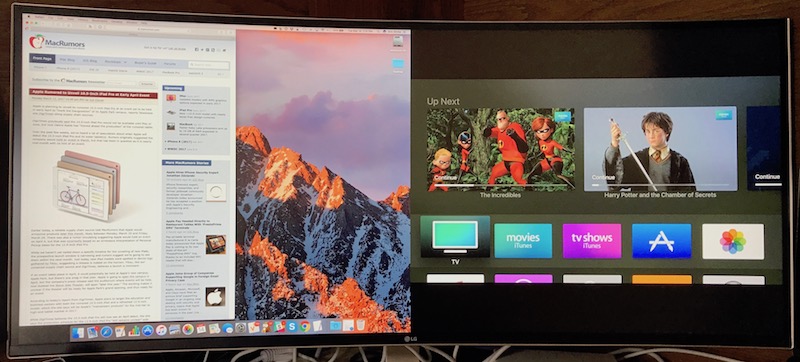 Picture by Picture with MacBook Pro screen via USB-C and Apple TV via HDMI


LG's OnScreen Control app also supports the 38UC99. The app runs in the menu bar on Mac, offering quick access to a Screen Split mode that lets you divide your desktop into up to four different zones, with different apps automatically snapping into zones and maximizing their windows within them, with apps automatically moving out of the way from one region to another as you drag an app to a different zone.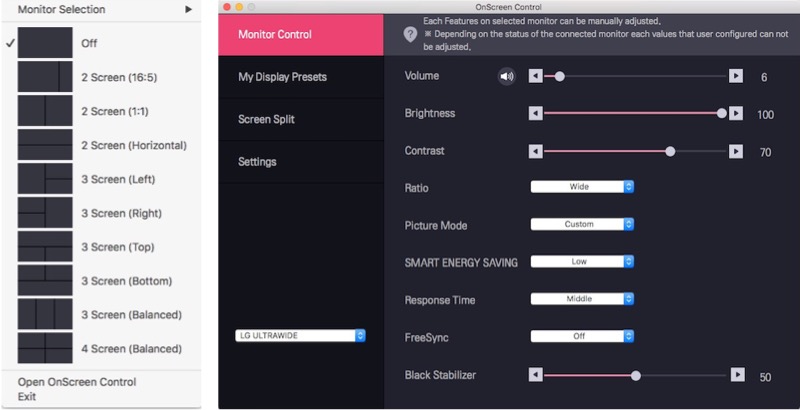 OnScreen Control menu item with Screen Split options (left) and app (right)


The menu bar also offers quick access to the full OnScreen Control app, which lets you manage several features including general display adjustments, specific display settings on a per-app basis, and more.


Wrap-up

The 38UC99 has some shortcomings in areas such as brightness and evenness of backlighting, but I truly can not get over just how useful this massive desktop is. Sure, the UltraFine 5K and 27UD88 have higher total pixel counts, but they're not usable in non-Retina mode at their full resolutions, as everything is just way too small. But when you blow that 3840 pixel horizontal resolution up onto a 37.5-inch screen, it just gives you so much real estate to work with that's actually usable in size.

Ideally the 38UC99 would be a Retina display, but it's going to be a few more years before we're able to drive 7680x3200 displays given the current technology standards are just barely serving 5K content, and even that has required some creativity. Throw in wide gamut support and we'd really be in business, but we're not quite there yet.

At this price point of display, a webcam and microphone to go along with the speakers might have been a nice inclusion, but unfortunately those features didn't make the cut. LG's standard one-year warranty is also on the short side, with many other manufacturers offering three-year warranties on their displays.

After almost two months using the 38UC99 as my main display, I've found it hard to swap it out for anything else. Even the UltraFine 5K with its razor sharp text, bright screen, and beautiful colors feels like it's falling short simply because it offers a smaller desktop.

All of that said, this is an expensive display considering its lack of truly professional-level specs, so you have to have the budget and the true need for this size of display to make it a worthwhile purchase.


Pricing

The curved UltraWide screen of the 38UC99 doesn't come cheaply, with the display carrying a list price of $1499.99 and available at retailers such as Best Buy.

That's considerably higher than even the full retail price of the UltraFine 5K, which is set to rise to $1299.95 at the end of this month after Apple's temporary 25 percent price cut expires. We haven't really seen any discounts on the 38UC99, and it is even backordered at some retailers, so supplies are apparently tight.

Note: LG provided the 38UC99 display to MacRumors free of charge for the purposes of this review. No other compensation was received. MacRumors is an affiliate partner with Best Buy and may earn commissions on purchases made through links in this article.


Discuss this article in our forums



Apple to Build Two Additional R&D Centers in China
Apple announced today that it will set up two additional research and development centers in China, to go with the two locations in the country that it announced last year. The new R&D centers will open in Shanghai and Suzhou, the company said in a statement on its Chinese website on Friday.

Apple hopes the centers will help it to attract graduates from institutes such as Peking University, Tsinghua University, and Shanghai Jiaotong University, and has partnered with schools in the region to offer internship programs, in the hope of developing experts to work closely with its regional supply chain.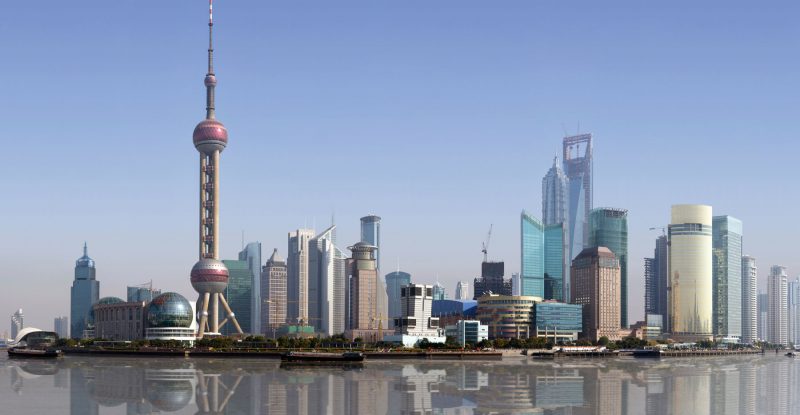 Shanghai, China
"We are looking forward to working with more local partners and academic institutions through the expansion of R&D centers in China," said Dan Riccio, senior vice president of hardware engineering at Apple. "We are honored to have access to excellent talent and a positive entrepreneurial spirit in the region, where our developers and suppliers will be working together.
Apple's attempt to boost its presence in the country began last September with the opening of its first R&D center in Beijing's Zhongguancun Science Park, often referred to as "China's Silicon Valley". Another R&D center, this time in Shenzhen, was announced the following month.

Apple has pledged to invest more than 3.5 billion yuan ($508 million) in research and development in the country, in a bid to address dwindling returns on its Chinese iPhone business as consumers opt for low-cost mobile alternatives. Apple has also experienced pushback in other areas of its China plans, including the closure of iTunes and iBooks Stores.

Apple is expected to have completed construction of all its research and development centers in Beijing, Shenzhen, Shanghai, and Suzhou later this year.


Discuss this article in our forums



WePay Now Supports Apple Pay on Web
WePay, an online payment service provider, today announced that its customers can now accept Apple Pay and Android Pay on the web.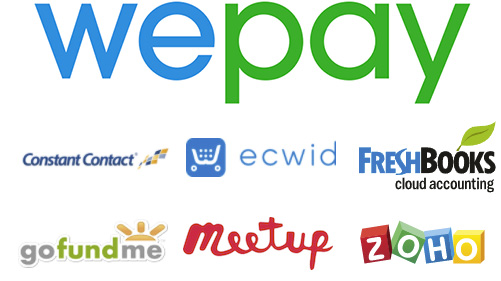 WePay's biggest customers include popular crowdfunding website GoFundMe, cloud productivity software company Zoho, and cloud-based accounting software service FreshBooks. Some of its other clients include Constant Contact, Meetup, Chargebee, Infusionsoft, Invoice Ninja, and RallyBound.

Apple Pay on the web launched in Safari on iOS 10 and macOS Sierra, expanding upon in-store and in-app payments. The feature started rolling out in September 2016 on websites such as Indiegogo, StubHub, and Wayfair, with other committed partners including Airbnb, Fandango, Target, Ticketmaster, and more.

Apple Pay on the web works with iPhone 6 and later, iPad Pro, iPad Air 2, and iPad mini 3 and later. iOS 10 or later is required. On Macs, Apple Pay on the web requires an iPhone with Touch ID and Apple Pay support or an Apple Watch, as payments are authenticated through the smartphone or watch.


Discuss this article in our forums



Apple Not Listed on New Legal Brief Opposing Trump's Second Travel Ban
Apple, Microsoft, Netflix, Facebook, Twitter, Google, and more than 60 other companies have either decided not to sign, or have yet to sign, a new legal brief filed in federal court in Hawaii this week, constituting the makings of a lawsuit looking to block the second version of President Donald Trump's travel ban (via Reuters). Trump referred to the new order as a "watered-down version" of the original, but a federal judge in Hawaii nevertheless blocked the revised order.

Over a month ago, Apple joined 100 U.S. companies in support of a legal brief that opposed the first immigration ban. That order banned Syrian refugees from entering the United States, blocked citizens of seven countries (Iraq, Iran, Somalia, Sudan, Libya, Syria, and Yemen) from entering the U.S. for 90 days, and suspended entry of all refugees entering the U.S. for 120 days. The new ban removed Iraq from the list, exempted green card and visa holders, and toned down "contentious language referring to religious minorities."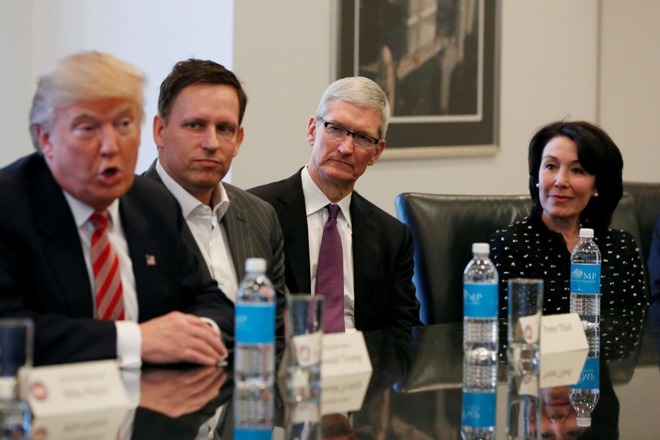 On Tuesday, a new legal brief was filed in a Hawaiian court on behalf of 58 total Silicon Valley companies voicing support for the state's blocking of Trump's order, down from 127 companies on the first brief. A few companies mentioned on the new opposition brief include Kickstarter, Airbnb, and Dropbox. Although the current list is small, hope for the lawsuit to succeed is growing, and New York lawyer Robert Atkins -- who co-authored the new brief -- said "we do expect the group to expand."

Apple Inc, Alphabet Inc's Google and Facebook Inc are among more than 60 technology companies that appear to have backed away from the legal fight against U.S. President Donald Trump's controversial travel ban, deciding not to put their weight behind a lawsuit seeking to block the second version of his executive order.

A legal brief filed in federal court in Hawaii on Tuesday on behalf of Silicon Valley companies listed the support of 58 companies, less than half the 127 signatories to a similar brief filed in an appeals court last month after Trump's first executive order banning travel from a number of countries the administration said posed a security risk.

It was not immediately clear why fewer of them signed on to the "friend-of-the-court" brief this time around.
Apple was a large part of the opposition to the travel ban last month, helping pen an open letter to Trump explaining that the U.S. is a "nation made stronger by immigrants," while Apple CEO Tim Cook said that it "is not a policy we support." Trump himself said he plans to appeal against the federal judge's halting of his revised order and take the case "as far as it needs to go," including the Supreme Court.

Note: Due to the political nature of the discussion regarding this topic, the discussion thread is located in our Politics, Religion, Social Issues forum. All forum members and site visitors are welcome to read and follow the thread, but posting is limited to forum members with at least 100 posts.


Discuss this article in our forums



Researchers Uncover macOS and Safari Exploits at Pwn2Own 2017
The seventeenth annual CanSecWest security conference is underway in downtown Vancouver, British Columbia, where researchers are competing in the 10th anniversary Pwn2Own computer hacking contest for over $1 million in prizes.

Day one results have already been published over at the Zero Day Initiative website, with a couple of successful Mac-related exploits already appearing in the list of achievements. Independent hackers Samuel Groß and Niklas Baumstark landed a partial success and earned $28,000 after targeting Safari with an escalation to root on macOS, which allowed them to scroll a message on a MacBook Pro Touch Bar.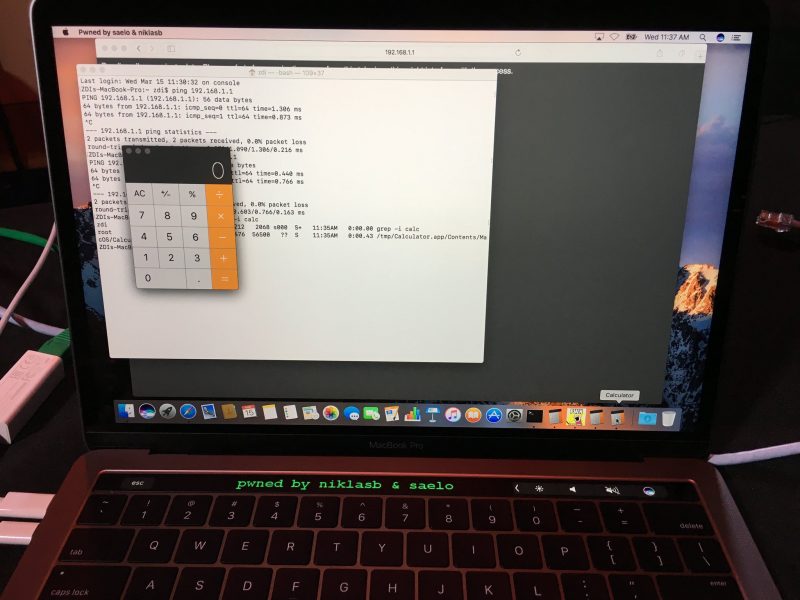 In a partial win, Samuel Groß (@5aelo) and Niklas Baumstark (@_niklasb) earn some style points by leaving a special message on the touch bar of the Mac. They used a use-after-free (UAF) in Safari combined with three logic bugs and a null pointer dereference to exploit Safari and elevate to root in macOS. They still managed to earn $28,000 USD and 9 Master of Pwn points.
Later in the day, Chaitin Security Research Lab also targeted Safari with an escalation to root on macOS, finding success using a total of six bugs in their exploit chain, including "an info disclosure in Safari, four type confusion bugs in the browser, and a UAF in WindowServer". The combined efforts earned the team $35,000.

The participating teams earned a total of $233,000 in prizes on day one, including a leading $105,000 earned by Tencent Security, according to published details. Other software successfully targeted by contestants include Adobe Reader, Ubuntu Desktop, and Microsoft Edge on Windows.

Apple representatives have attended the Pwn2Own contest in the past, and affected parties are made aware of all security vulnerabilities discovered during the contest in order to patch them. Pwn2Own day two begins today at 8:30 a.m. Pacific and will involve additional exploit attempts against macOS and Safari.


Discuss this article in our forums