Mac Rumors powered by MacRumors_p2


Resource id #62Tor Myhren Officially Joins Apple as Vice President of Marketing Communications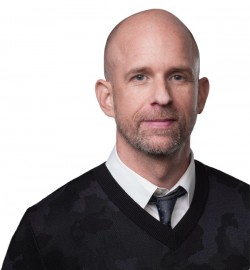 Former Grey Group chief creative officer and New York president Tor Myhren has officially joined Apple and has been added to the company's Executive Profiles webpage. Apple first announced Myhren's plans to join the company back in December of 2015, when it announced new roles for Jeff Williams and Phil Schiller.

According to his profile, Myhren will lead a creative team focused on Apple's advertising, internet presence, package design, and other consumer-facing marketing. Myhren is replacing Hiroki Asai, who is retiring after spending 18 years handling marketing communications and graphic design at Apple.

Myhren has overseen popular Grey ad campaigns like the ETrade talking baby and a series of commercials for DirecTV starring Rob Lowe.
A two-time TED speaker, Tor has been named to Fast Company's Most Creative People in Business, Fortune's 40 Under 40, AdAge's Creativity 50 honoring the world's 50 most influential creative minds, and was inducted into the Advertising Federation of America's Hall of Achievement.
Like all Apple executives listed on Apple's Executive site, Myhren will report directly to Apple CEO Tim Cook.
Discuss this article in our forums



Review: Griffin's BreakSafe Cable Provides Handy Magnetic USB-C Charging, but With a Few Drawbacks
Although Apple recently refreshed its 12-inch MacBook lineup with a faster SSD, new sixth-generation Skylake processors, and longer battery life, the Retina Macbook's USB Type-C input remains the notebook's single port, apart from a 3.5mm headphone jack. Similar to the launch of the first generation device in 2015, many fans lament not only the inability to use traditional USB 3.0 inputs without carrying around an adapter, but the safety issues present in a charging cable lacking Apple's trusty MagSafe technology.

To that end, at CES this year Griffin Technology introduced a third-party solution to the lack of a magnetic charging cable on the 12-inch MacBook, called the BreakSafe Magnetic USB-C Power Cable. The $39.99 kit comes with a six-foot cable and small metal dongle, which is about 3/4 of an inch long. Setup is simple: the cable is capped by a USB-C output, which users plug into Apple's packaged-in wall outlet brick. The dongle is plugged into the USB-C slot on the MacBook, so users can then charge the notebook using BreakSafe's quick-release magnetic connection.




Similar to MagSafe, BreakSafe's purpose is largely to prevent the MacBook from tumbling down off of furniture -- or kicked along the floor -- when something snags the charging cable connected to a wall outlet and the computer itself. The messaging is focused on computers (and charging power only, as data and video are not supported), but the company does note that the idea transfers to USB-C supported smartphones and tablets as well.


Design

The dongle side of Griffin's new accessory hews closely in size to the Satechi Type-C USB Adapter I reviewed last year, but with the added bonus of a more ergonomic design. With its rounded edges, the BreakSafe comes out ahead of Satechi's adapter in feel, although Griffin is limiting users to one universal silver color that was slightly lighter than my Space Gray MacBook. Users with a Gold, or the new Rose Gold, color option might be bothered more by the dongle's clashing color so close to their preferred MacBook colorway.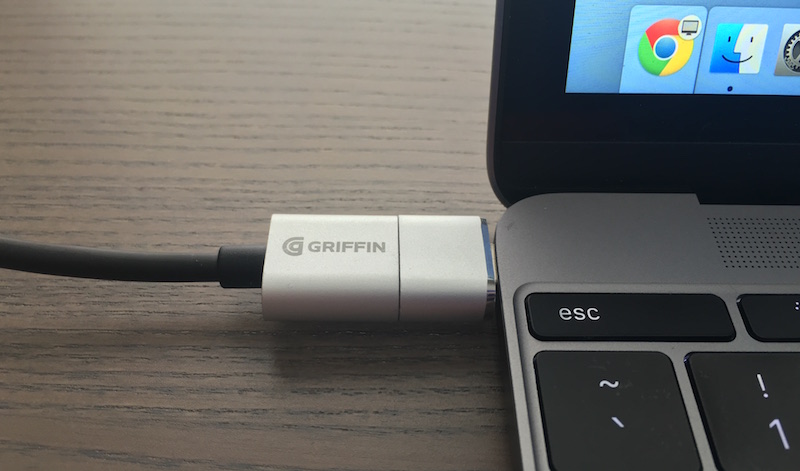 The dongle has a mark on the top side to remind users which side goes up when plugging it into the MacBook, although USB-C does allow reversible inputs so it doesn't much matter (a small Griffin logo resides on the opposite side). That gray line does have to line up with a similar engraving on the charging cable; otherwise the BreakSafe's reverse polarity pushes the two magnetic ends apart and fails to induce a charge to the MacBook.

That's the first minor issue -- of only a few -- with Griffin's MagSafe alternative. Apple's proprietary technology allows users to plug their MagSafe cables into their notebooks in either orientation; even the later-generation L-shaped MagSafe could be attached in reverse, albeit with the power cable blocking a few USB ports.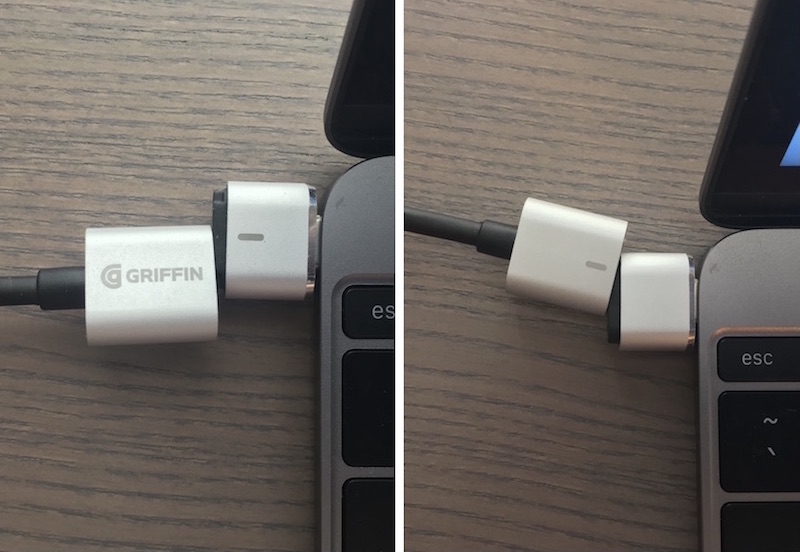 When aligned incorrectly, the two ends fail to click and magnetize together


BreakSafe doesn't provide such a feature and as such isn't as slickly easy to use as the first-party alternative. Griffin informed me that the major reason behind its decision to not make BreakSafe reversible was its attempt to keep the connector as small as possible, while still managing to provide magnetic attraction and charge to the MacBook.

The company described the small markings on the cable and dongle, and the reverse magnetic push users receive when aligned incorrectly, as integrated "safety features" of BreakSafe, helping accustom users to regularly aligning the cable and connector. The system is a step above needing to look or feel for the MacBook's USB-C port to connect the cable, but it's also a step below Apple's seamlessly reversible MagSafe function.


Daily Use

Griffin's rough-and-tumble cable design, which is guaranteed for life by the company, helps make up in areas where the accessory lacks. I've only been using BreakSafe for a week so I can't refer to its long-term durability, but in direct comparison to Apple's, the third-party cable is far thicker and more resilient to annoying coiling prevalent in Apple's thin white cable. It is slightly shorter at 6ft (1.8m), compared to Apple's 6.5ft (2m) cable.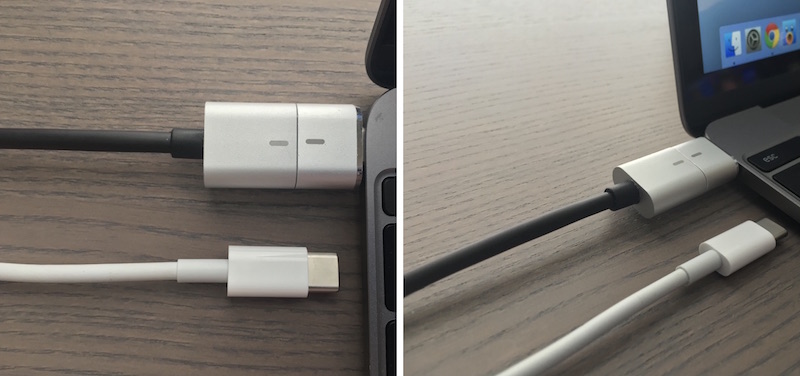 Powered off of Apple's 29-watt USB-C Power Adapter that's included with every 12-inch MacBook, Griffin's 60-watt BreakSafe cable has shown reliably fast charging speeds when the MacBook is both close to dying, and just in need of a quick top-off. I ran a charging speed test over the weekend to compare it with Apple's and, expectedly, the two came in around the same time. BreakSafe fueled the MacBook from 35 percent to 100 percent in 1 hour and 27 minutes, while Apple's included USB-C cable completed the same battery test in 1 hour and 25 minutes.

What will be the deciding factor on Griffin's BreakSafe cable for many users is the introduction of another minuscule accessory (12.8mm long to be exact) that needs to be kept track of to be able to fully use its features. The dongle is small in form factor, but recognizably thicker in comparison with Apple's charger. When inserted into the MacBook, there's a a definite protrusion and even a slight amount of wiggle when touching the BreakSafe plug, which gave me some hesitation about keeping it attached when not in use.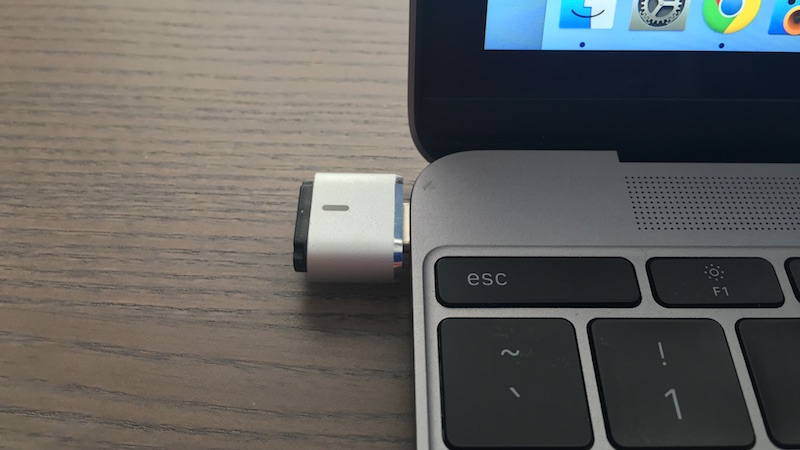 Of course, removing the dongle when not in use would negate the entire reason for its existence, since every time you plug it back in you return to the original problem of correctly aligning a USB-C plug into the MacBook. To replicate a MagSafe-like experience on the 12-inch Retina MacBook, you would have to keep the BreakSafe dongle plugged into your MacBook at all times.

Such a decision comes down to personal preference, but as someone who's by-and-large gotten accustomed to daily USB-C charging, the idea of adding yet another Type-C accessory to a growing list of necessities needed for my year-old 12-inch MacBook, especially when traveling, just isn't worth the hassle.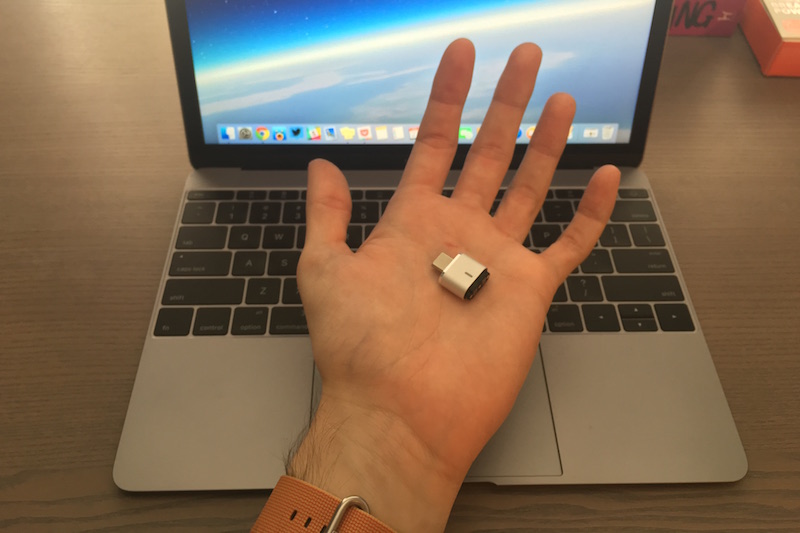 Griffin's alternative also feels tangibly less magnetic than MagSafe. That means BreakSafe will successfully disengage when users place enough pressure on the cable, but I also found it to disconnect unintentionally without me even knowing. In the first test, I left the cable plugged in and returned intermittently to check my MacBook's charge level, and discovered twice that the two correctly aligned magnetic ends were touching, but not fully connected.

This might be an individual issue (my MacBook was placed on a standing desk which was raised and lowered a few times during the test), but the thickness of BreakSafe's cable seems to generate one negative in this regard, occasionally pulling on the slightly-weaker-than-MagSafe connection and disrupting charge to the MacBook.


Bottom Line

Someone who is just joining the USB-C world that Apple is forging with the Retina MacBooks could find Griffin's cable a decent alternative to using Apple's included charging cable, and users who routinely use their machines in environments where the charging cord is likely to be pulled or tripped over will appreciate the peace of mind BreakSafe brings.

It's a quality accessory in any capacity, and running for $39.99, BreakSafe is also largely competitive with Apple's $29.99 USB Type-C cable. It's not without some drawbacks, the biggest one being its lack of magnetically reversible charging, so if you've already gotten used to the USB-C setup it may not be worth the effort and expense to switch back to a magnetic interface.


How To Buy

Griffin is currently selling the BreakSafe Magnetic USB-C Power Cable from its website for $39.99.


Discuss this article in our forums



iMovie for Mac Updated With Fast Project Creation, Other New Features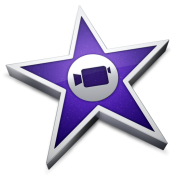 Apple today updated its iMovie app designed for the Mac, adding several new features and design tweaks aimed at speeding up the video editing process.

Fast project creation allows editing to begin with a single click, while an easier to find "New Project" button has been added to the Projects browser. Larger product thumbnails, designed to bring the look of iMovie for Mac in line with the iOS version, have been added.

Clicking a video clip will now select the entire clip instead of a range, and there's a keyboard shortcut that enables selecting a range within a clip. There's also support for App Preview resolutions for the iPad Pro and the Apple TV, along with performance improvements. A full list of the changes is below:
- Easy to find New Project button in the Projects browser
- Larger project thumbnails that match the look of iMovie for iOS
- Fast project creation lets you begin editing with a single click
- Clicking a video clip selects the entire clip, instead of a range
- Keyboard shortcut to select range within a clip in the browser and timeline (hold down R key while dragging)
- Support for App Preview resolutions for iPad Pro (1600 x 1200) and Apple TV (1920 x 1080)
- Improves stability
iMovie can be downloaded from the App Store for $14.99. [Direct Link]


Discuss this article in our forums



Indian Government Approves Single-Branded Apple Retail Stores
The Indian government is set to approve Apple's request to open its own retail stores in the country and exempt the company from its domestic sourcing policy for foreign businesses.

Apple currently has no wholly-owned stores in India and sells its products through a number of distributors. Back in January, the company sent an application to the country's Department of Industrial Policy and Promotion (DIPP) for approval of several planned Apple retail outlets.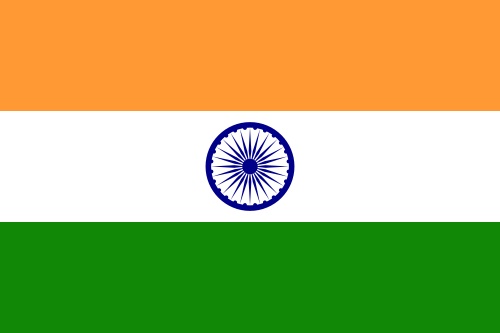 According to The Times of India, a committee led by DIPP secretary Ramesh Abhishek will this week recommend exempting Apple from a state ruling that requires single-brand foreign stores to source at least 30 percent of their goods from domestic suppliers.

"The committee has found that the company's products are cutting edge technology and state-of-the-art," said sources familiar with the matter. "It has recommended to exempt them from the local sourcing norms."

The source's wording is significant, since under the rule, restrictions may be waived for retailers selling "state-of-the-art" and "cutting-edge technology" if local suppliers are unavailable. Since Apple manufactures most of its products in China, the precondition had thus far been an issue for the company as it tries to make headway into the Indian retail market.

Last summer, Apple announced its Authorized Mobility Resellers program in India, which focused on opening 500 retail store locations across 12 cities in the country. Apple CEO Tim Cook has praised India's business environment and stated that the company is putting more energy into the country, which has the third largest smartphone market in the world with over 200 million users, despite only one third of the population being smartphone owners.


Discuss this article in our forums



Police Investigating Death at Apple's Cupertino Campus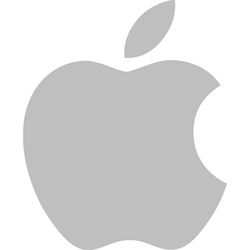 On Wednesday morning at approximately 8:35 a.m., the Santa Clara County Sheriff's Department was called to Apple's 1 Infinite Loop campus in Cupertino after a body was found in a conference room, according to several news reports.

There is no official word on what happened and Apple has not commented on the situation, but a sheriff's spokesperson has confirmed the deceased individual was an Apple employee and that no one else was involved. The employee's death has been described as an "isolated incident" with "nobody else on campus or in the public at risk."

Update: Apple has issued a statement on the situation.
"We are heartbroken by the tragic loss of a young and talented coworker," Apple spokesperson Kristin Huguet said in a statement to BuzzFeed News. "Our thoughts and deepest sympathies go out to his family and friends, including the many people he worked with here at Apple. We are working to support them however we can in this difficult time."
Update 2: According to the Santa Clara Country Medical Examiner's Office, the Apple employee who died yesterday was 25-year-old Santa Clara resident Edward Mackowiak. Cause of death was suicide caused by a gunshot wound to the head.
Discuss this article in our forums



Apple Releases Safari Technology Preview 3 With Extensive Tweaks and Bug Fixes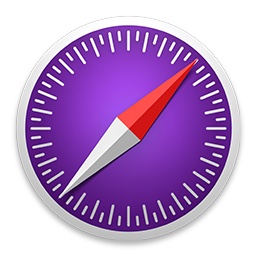 Apple today released a new update for Safari Technology Preview, the experimental browser that launched on March 30. Release 3 includes a long list of feature tweaks and updates to JavaScript, CSS, Web APIs, Web Inspector, Accessibility, Rendering, Media, and Networking, plus bug fixes.

Release notes are available on Apple's Safari Technology Preview website.

The Safari Technology Preview update is available through the Mac App Store to anyone who has downloaded the browser.

Apple's goal with Safari Technology Preview is to gather feedback from developers and users on its browser development ahead of launch. Safari Technology Preview can be run side-by-side with the existing Safari browser and while aimed at developers, it does not require a developer account to download.


Discuss this article in our forums



Crowdfunding Campaign Aims to Shed Light on 'The Secret History of Mac Gaming' in New Book
Journalist and author Richard Moss has launched a crowdfunding campaign for his book The Secret History of Mac Gaming. Moss' work will describe the story of a community of gamers and developers who crafted gameplay experiences that would later serve as influential backbones of modern games, gaining little credit for their place in the history of video games in the process.




Among major influences, Moss mentions that gaming on the Mac brought ideas like "mouse-driven input, multi-window interfaces, and even online play" into popularity with gamers around the world. The book will delve into that history and include over 60 interviews with individuals who were there at the height of Mac gaming, all the way back to the 1980s. The description mentions that it should run about 304 pages long in a standard hardback form, with Mac gaming evangelist Craig Fryar contributing in a co-author role in some chapters.

Mac gaming led to much that is now taken for granted by PC gamers, including mouse-driven input, multi-window interfaces, and even online play. The Mac birthed two of the biggest franchises in videogame history, Myst and Halo, and it hosted numerous "firsts" for the medium.

The Secret History of Mac Gaming is the story of those communities and the game developers who survived and thrived in an ecosystem that was serially ignored by the outside world. It's a book about people who made games and people who played them — people who, on both counts, followed their hearts first and market trends second.

Among many topics and chapters that aim to "cast a narrative around the people behind the games," Moss will include stories like Apple's original intention to acquire Bungie games. That, of course, never came to pass due to Microsoft's own acquisition of the studio in 2000, eventually leading to the now massively successful multi-media franchise Halo. Microsoft's cherry picking of "the premier Mac game developer" out from under Steve Jobs didn't sit well with the former Apple CEO, and was one of the first of many stepping stones that led to the less-than-stellar Mac gaming landscape seen today.




The book is currently on the crowdfunding site Unbound, which deals exclusively in getting independent stories off the ground thanks to the monetary input of interested users. As of the time of writing, The Secret History of Mac Gaming needs about 500 more pledges to be successfully funded. Unbound is based in London, but the site offers international exchange rates for customers interested in pledging who live outside of the United Kingdom. There's also a £14 ($20) international shipping charge for most physical rewards.

The initial £10 ($14) reward tier will get pledges an eBook version of the book, while those who are into physical books will need to pledge £30 ($44). Higher rewards include your name listed in the front of the book, exclusive art, a meet-up with the authors and, at the highest £2,000 ($2,900) tier, a "unique dust jacket" created solely for the user who donates on that tier. Every contributor to the campaign will get their name in the back of the book.

Check out the campaign page here to browse all of the rewards, and even read an except from The Secret History of Mac Gaming.
Discuss this article in our forums



Deadpool Runs Riot in iTunes Store
Gleefully profane antihero Deadpool has invaded movie pages and posters in the iTunes Store to celebrate the release of his frequently fourth-wall-breaking comedy action film.




The rogue Marvel Comics character's latest act of defiance appears to involve defacing or photobombing posters and preview pages in the Movie section of the Store, with everything from 127 Hours to Taken getting the snarky Deadpool treatment.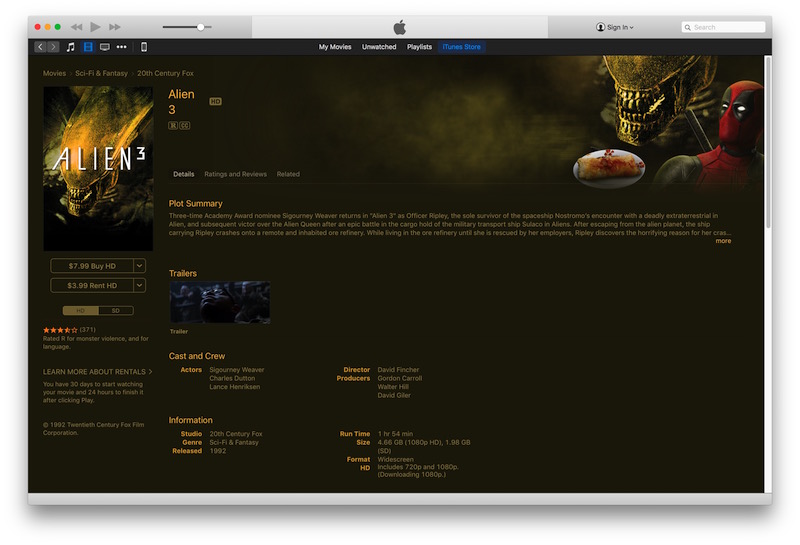 Deadpool stars Ryan Reynolds as the former Special Forces operative turned freakishly self-aware superhero. The movie has set a record for highest-earning R-rated movie ever, earning a total of $746 million globally. A sequel is currently in production.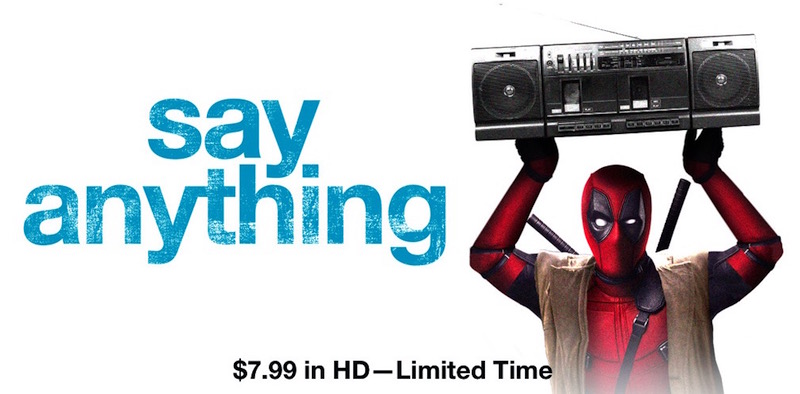 Deadpool can be purchased on the iTunes Store in HD for $14.99 which includes access to iTunes Extras. The movie will be available to rent from May 10.


Discuss this article in our forums



Apple Forecasts Another Revenue Decline Next Quarter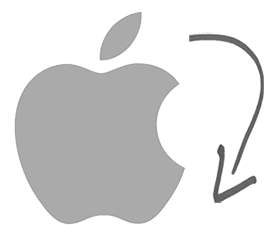 Apple today reported its first year-over-year decline in quarterly revenue since 2003, and its guidance for the third quarter of the 2016 fiscal year suggests that the downward trend is likely to continue.

Apple expects third quarter revenue of between $41 billion and $43 billion, which would be up to 18 percent lower than the $49.6 billion in revenue it posted in the year-ago quarter.

The company also expects a gross margin between 37.5 percent and 38 percent, operating expenses between $6 billion and $6.1 billion, other income/expenses of $300 million, and a tax rate of 25.5 percent.

Apple's first revenue decline in thirteen years is largely attributable to the first ever year-over-year decline in iPhone sales, which dropped to 51.2 million from nearly 61.2 million in the year-ago quarter.

iPad and Mac sales also declined to 10.25 million and 4.03 million respectively in the March quarter, compared to 12.62 million and 4.56 million respectively a year ago.

Meanwhile, Apple experienced growth in both its Services and Other Products categories, the latter of which totaled $2.19 billion and includes sales of iPods, Apple TVs, Beats Electronics, and Apple-branded and third-party accessories.

Quarterly revenue from the iTunes Store, App Store, Mac App Store, iBooks Store, AppleCare, Apple Pay, licensing, and other services amounted to nearly $6 billion, up from $5 billion in the year-ago quarter.

The Americas remain Apple's largest market with $19.1 billion in revenue, followed by China where revenue fell rather sharply to $12.5 billion compared to $16.8 billion in the previous March quarter.


Discuss this article in our forums



Microsoft Debuts Skype for Business Preview on Mac With Outlook Integration
Microsoft today announced the launch of its Skype for Business Mac Public Preview, bringing expanded Skype capabilities to its Mac business users. The Public Preview of Skype for Business for the Mac follows the launch of Skype for Business on iOS.

Skype for Business will be released in three stages leading to the public launch of the app during the third quarter of 2016. Starting today, Skype for Business Mac users will be able to see meetings in the Skype business client through built-in Outlook calendar integration, joining them with a click. Full screen video, content viewing, in-meeting chat, and the ability to invite additional people to the meeting are all supported features.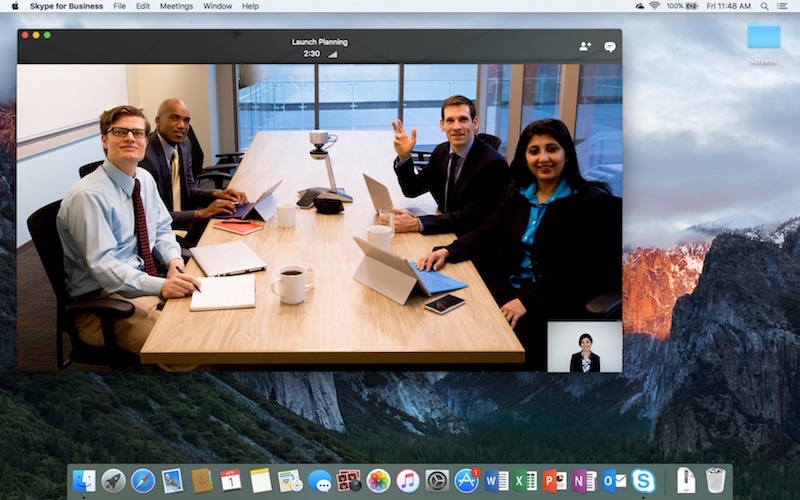 In the second phase of the Public Preview, Microsoft plans to add instant messaging, presence, and contacts, which will come in the early summer. Phase three, which will include telephony features, will be available later in the summer.

Skype for Business, designed for corporate users, supports up to 250 people per call and it includes enterprise-grade security features and employee account management.




Microsoft's commercial customers can request an invite to test the Skype for Business Mac Public Preview through the Skype for Business website. Microsoft plans to begin issuing invites to IT administrators to download the client with a gradual expansion of the preview coming in the current weeks.
Discuss this article in our forums



Dropbox's 'Project Infinite' Introduces Cloud Storage to Free Up Hard Drive Space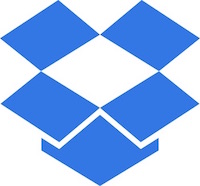 At Dropbox Open London today, the company announced "Project Infinite," a new feature of the popular document transferring app that will save space on a user's local hard drive thanks to the implementation of a new cloud storage feature.

With Infinite, both cloud files and locally saved files will cohabitate in the traditional location within Finder on Macs, letting users decide which take up storage space and which stay in the cloud.

Documents saved in the cloud will be marked with a tiny icon referencing their storage location, but there won't be any kind of laborious download process if a user needs to quickly gain access to anything not directly saved on their computer. Cloud files will sync on demand when a user clicks on them, displaying them in the same way as locally stored files. If a file will be needed in a location lacking an Internet connection, users can choose to "Save local copy" and download the cloud file for later.

In Project Infinite's introduction video, the company gives the example of a shared company Dropbox folder with upwards of 10 terabytes of data synced inside. On the desktop of one user, however, the folder is taking up just 28 megabytes of data thanks to the inclusion of cloud storage.




The company also mentioned that Project Infinite supports all platforms that Dropbox is available on, and even includes backwards-compatibility "on any computer running Windows 7 or higher, or Mac OS X 10.9 and up." So a file saved by a team member on Windows 8, for instance, can be viewed as a placeholder cloud file on another user's iMac, and then downloaded to their hard drive.

Project Infinite will enable users to seamlessly and securely access all their Dropbox files from the desktop, regardless of how much space they have available on their hard drives. Everything in the company's Dropbox that you're given access to, whether it's stored locally or in the cloud, will show up in Dropbox on your desktop. If it's synced locally, you'll see the familiar green checkmark, while everything else will have a new cloud icon.
Dropbox's aim for Project Infinite appears to be enterprise focused, but the company's blog post mentioned that it has "more product announcements to come throughout the year," following the launch of its new storage-saving cloud feature. Project Infinite is currently being tested among a select number of Dropbox sponsors, but no word has yet been given regarding a specific wide launch.


Discuss this article in our forums



Apple 'Reevaluating' Recruiting Efforts, Reportedly Lays Off All Contract Recruiters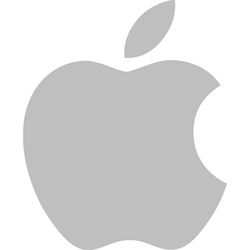 Apple has been cutting down on its recruiting team over the last few months, reports VentureBeat. According to a source that spoke to the site, Apple has laid off all of its contract recruiters and has started to lay off some of its full-time recruiters. Up to 100 employees could be affected by Apple's decision to prune its recruiting team if the rumors are true.
Essentially the recruiting engine inside Apple has slowed down and the company is reevaluating its activities in that area, the source said.

"You always need to have something new coming out to justify hiring," the source said.
Apple has also implemented a new incentive structure for recruiters, dropping bonuses from 40 percent of a newly recruited employee's base salary to 10 to 15 percent. In the future, the inside source believes bonuses could be eliminated entirely. Apple is also not hiring recruiters through its jobs website at this time.

The reason behind Apple's potential recruiting scale back is not known, but VentureBeat points towards ongoing cutbacks in smartphone production and an imminent Q2 2016 earnings report that's expected to see a year-over-year decline in iPhone sales and overall revenue.

Despite the reports of recruiting cuts, Apple has, in recent months, been hiring aggressively for its rumored car project, taking on employees from companies like Ford, Tesla, GM, MIT Motorsports, General Dynamics, Samsung, and more.
Discuss this article in our forums



MacHeist's Indie Games Bundle Offers 9 Mac Games for $20
MacHeist today launched its latest software bundle, offering consumers the chance to purchase several popular indie games at a discounted price. The Awesomest Mac + Windows Indie Games Extravaganza features 9 games that are compatible with both Mac and Windows Machines.

The first three games in the list below are unlocked with a payment of as little as $1, while the full list of games can be unlocked with a payment of $20. Indie Game: The Movie is also included.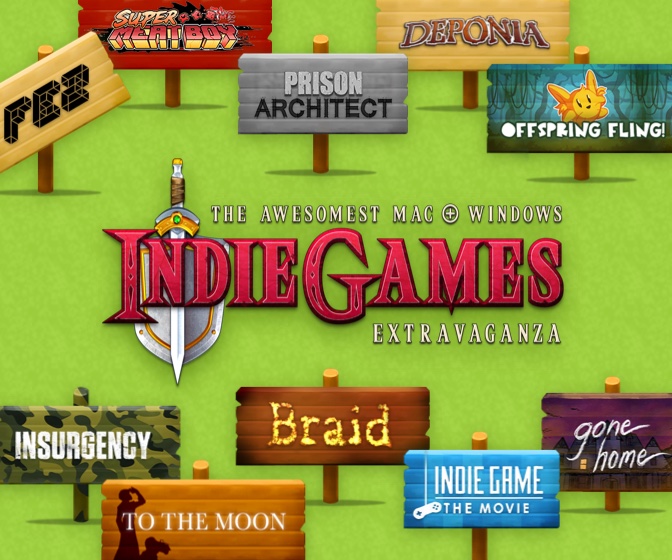 The last two games, Fez and Prison Architect, will be unlocked for all purchasers when once certain sales targets are met.

The bundle can be purchased from the MacHeist website for the next 10 days. MacHeist is also giving away prizes and other free software titles (Defend Your Life, A Bird Story, and Cloud Knights) through a mini adventure game on the website. 10% of each bundle purchased will be donated to charity, with each person who purchases a bundle able to pick the charity of their choice.

MacRumors is an affiliate partner of MacHeist.


Discuss this article in our forums



Steve Wozniak Says Apple Should Pay 50% Tax Rate
Apple co-founder Steve Wozniak has spoken out in favor of Apple and all other companies in the world paying the same 50% tax rate he does, calling anything less "unfair".

In an interview with the BBC published this morning, Wozniak, who left Apple in 1986, said that every company in the world should pay the same rate he pays as an individual. "I do a lot of work, I do a lot of travel and I pay over 50% of anything I make in taxes and I believe that's part of life and you should do it," he said.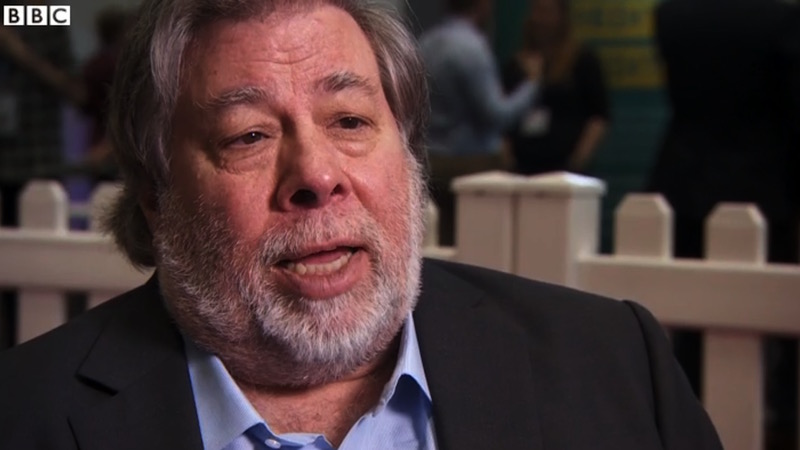 Tax avoidance has been brought back into focus by the recent Panama Papers revelations, a huge leak of documents that lifted the lid on how the rich and powerful use tax havens to hide their wealth.

Asked about companies maximizing profit and the related issue of tax havens, Wozniak said he was personally never interested in making money, unlike his former partner, Steve Jobs. "Jobs started Apple Computers for money, that was his big thing and that was extremely important and critical and good," he said. "[But] we didn't think we'd be figuring out how to go off to the Bahamas and have special accounts like people do to try to hide their money."

"On the other hand," he continued, "any company that is a public company, its shareholders are going to force it to be as profitable as possible and that means financial people studying all the laws of the world and figuring out all the schemes that work that are technically legal. They're technically legal and it bothers me and I would not live my life that way."

Asked if he worried that Apple had moved so far away from its founding principles that it was now looking to actively pay less tax, Wozniak replied: "The company we founded in 1976 knew that we would be a worldwide company selling huge amounts of computers everywhere, and we just assumed we would pay taxes on it. And maybe the tax rates are different for a company than they are for a person, but that's something that bothers me to this day."

Apple is one of several multinational corporations that have been targeted for possible corporate tax avoidance in Europe. In September 2014, the European Commission formally accused it of receiving illegal state aid from Ireland, where it has reportedly paid a reduced tax rate of around 1.8% on its overseas profits.

In a March hearing at the European Parliament's tax committee, Apple claimed it was the "largest taxpayer in the world", in 2015 paying $13.2 billion in taxes worldwide at an effective tax rate of 36.4%.

Earlier this month, candidate for the 2016 Democratic presidential nomination for the United States, Bernie Sanders, said he wished Apple would stop trying not to pay its fair share of taxes and move some of its manufacturing to the U.S.

Tim Cook has previously said that Apple pays all of the taxes that it owes. In a December interview with Charlie Rose, he said accusations Apple avoids taxes on revenue held overseas is "total political crap". "There is no truth behind it," he said. "Apple pays every tax dollar we owe."

A decision in the European Commission's probe of Apple's tax affairs in Ireland is unlikely to be reached soon, according to EU competition chief Margrethe Vestager, who told reporters querying its conclusion, "Don't hold your breath."

Note: Due to the political nature of the discussion regarding this topic, the discussion thread is located in our Politics, Religion, Social Issues forum. All forum members and site visitors are welcome to read and follow the thread, but posting is limited to forum members with at least 100 posts.


Discuss this article in our forums



Apple Releases Second OS X 10.11.5 El Capitan Beta to Public Beta Testers
Apple today seeded the second beta of an upcoming OS X 10.11.5 update to public beta testers, just one day after releasing the second OS X 10.11.5 beta to developers and a month after releasing OS X 10.11.4, the fourth update to the OS X 10.11 operating system.

The second beta of OS X 10.11.5 is available through the Software Update mechanism in the Mac App Store for those who are enrolled in Apple's beta testing program. Those who want to join the program can sign up on Apple's beta testing website.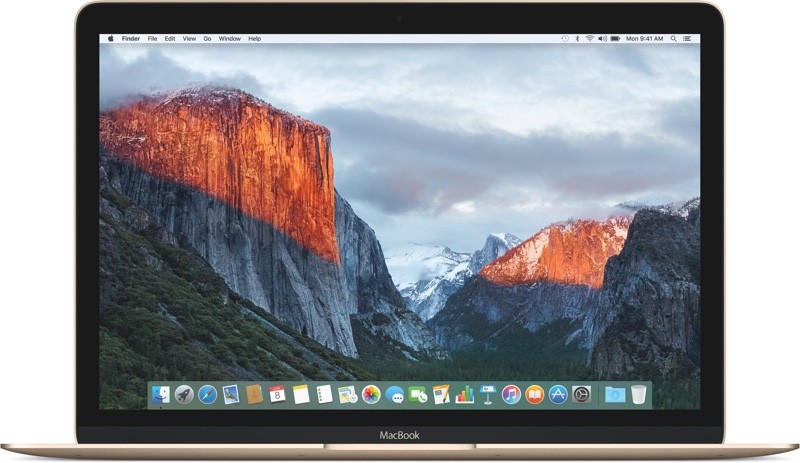 Most of the updates to OS X 10.11 have been minor in scale, and OS X 10.11.5 is no exception. The update appears to focus on under-the-hood bug fixes, security enhancements, and performance improvements with no obvious outward-facing changes discovered in the first two developer betas.


Discuss this article in our forums



Griffin's $40 BreakSafe Power Cable Brings MagSafe to the 12-Inch MacBook Starting April 25
Griffin Technology has announced that its BreakSafe Magnetic USB-C Power Cable for the 12-inch Retina MacBook, including the new Early 2016 model introduced earlier this week, will start shipping on Monday, April 25.




BreakSafe is a magnetic breakaway power cable for USB-C laptops such as the 12-inch MacBook which, unlike the MacBook Air and MacBook Pro, does not feature Apple's proprietary MagSafe technology first introduced in 2006.

The cable, originally announced at CES 2016, has a quick-release magnetic connector that plugs into the 12-inch MacBook's USB-C port and safely disconnects from the rest of the cable when under stress or strain, such as tripping over the power cord.

BreakSafe's magnetic connector is 12.8mm deep, while the USB-C cable is six feet (1.8m) long. The cable, compatible with USB Power Delivery and rated up to 60 watts, is for charging power only and does not support data and video.

BreakSafe can be ordered now for $39.99 on Griffin's website ahead of April 25 shipping.


Discuss this article in our forums



Product Hunt Launches Menu Bar Mac App
Product Hunt, the site that specializes in surfacing new technology products, books, games, and podcasts, is today launching a dedicated Mac app. The Product Hunt Mac app adds a menu bar widget to Macs, giving users a way to stay updated with new site content throughout the day.

Once installed, Product Hunt for Mac adds a "P" icon to the Mac's menu bar, which can be clicked to display a list of the day's stories. It's a simple app that has few bells and whistles, but it offers Product Hunt fans a quick way to access posts. The app updates on a regular basis and is set up to display a notification badge whenever an unread story is available.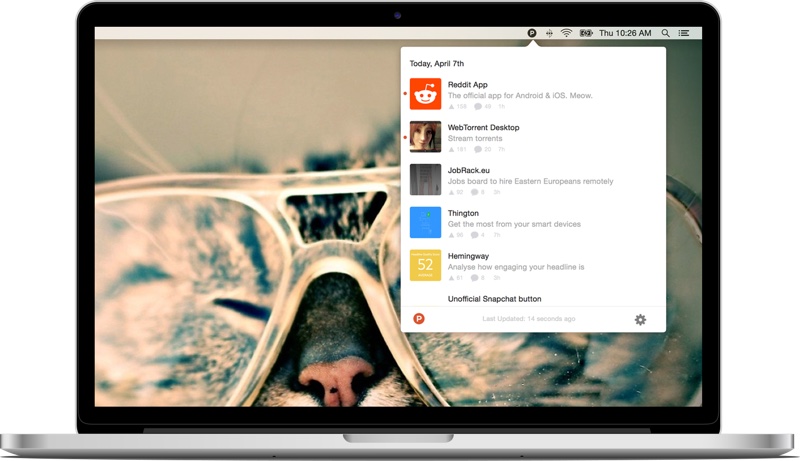 In the app, users will see a list of the most highly upvoted products, games, podcasts, and books, with trending posts at the top of the feed. Clicking on a story headline opens the Product Hunt website in the default browser, where users can read more about a particular product.

Settings allow for a small bit of customization, with filters for only displaying posts that have a certain number of votes to limit the content that's offered up. There are also built-in FAQs and help documents for users who are new to Product Hunt.

Product Hunt for Mac is open source and available on GitHub, allowing Product Hunt users to help improve it. Product Hunt also offers an API for developers to create third-party apps for the web, iPhone, and Android. The new Mac app can be downloaded from the Product Hunt website for free.


Discuss this article in our forums



Opera Web Browser for OS X Gains Free Unlimited VPN Feature
Norway-based company Opera Software has integrated a virtual private network (VPN) feature into the latest developer version of its free Opera web browser for OS X.

A VPN creates an encrypted tunnel from the user's computer to the VPN server, hiding browsing activity from other users on the local network and enhancing security and privacy online. A VPN shields a user's real IP address, allowing them to bypass firewalls, block tracking cookies, and access geo-restricted content regardless of their true location.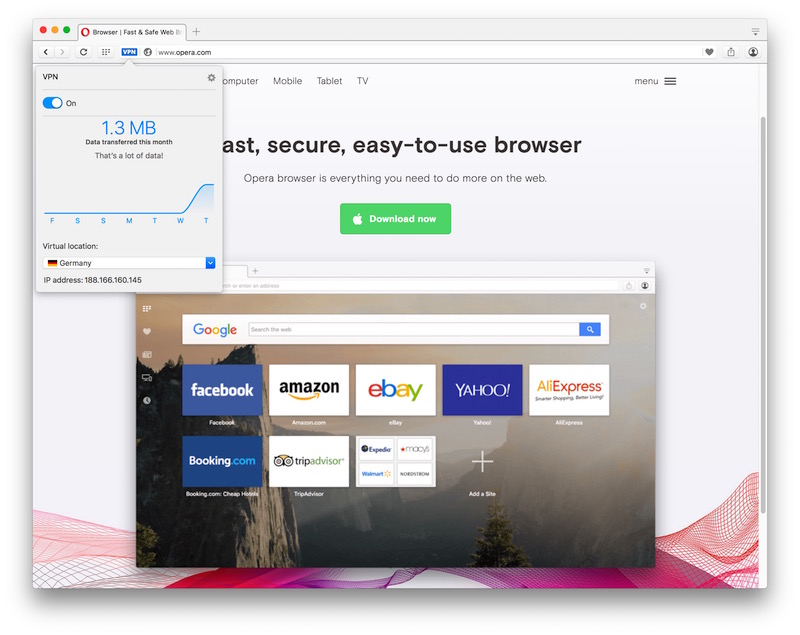 VPNs usually come in the form of separate plug-ins or apps that require a paid subscription, making Opera one the first major browsers to include one as standard. The launch of the feature comes after Opera's acquisition of U.S. VPN company SurfEasy last March.

Currently Opera's built-in VPN allows users to choose virtual locations in the US, Canada, and Germany. Opera says more countries will be available when the feature makes it to the stable public release of the browser.




Mac users can download Opera 38 developer release and give the free, unlimited VPN a try. After installation, simply click "Opera" in the menu bar, select "Preferences" and toggle the VPN switch on.

According to Global Web Index, more than half a billion people (24 percent of the world's online population) have tried or are currently using VPN services. According to the research, the primary reasons people use a VPN are for better access to entertainment content, browser anonymity, and the ability to access sites restricted by their workplace or country.

In January, Netflix began blocking users who try to bypass country-based content restrictions by using a VPN. Canadian subscribers to the streaming service appear to have been the latest targets of the crackdown after VPN-tunnelled users in the country began seeing error messages on their screens over the weekend when trying to access the service's much larger U.S. catalogue of movies and TV series.


Discuss this article in our forums



Apple Moves Q2 2016 Earnings Announcement to April 26
Apple today updated its investor relations page to note the earnings announcement for the second fiscal quarter (first calendar quarter) of 2016 will take place on Tuesday, April 26 instead of Monday, April 25 as was previously announced last month.

It is not clear why Apple has moved the date of the earnings call by a single day, but it will now take place next Tuesday instead of next Monday.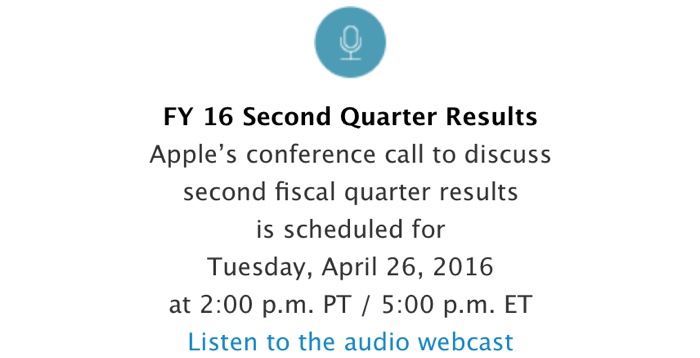 The earnings release will provide a look at sales of the iPhone 6s, 6s Plus, and SE following Apple's record first quarter, which saw the company announce 74.8 million iPhone sales and $18.4 billion profit on $75.9 billion in revenue.

Apple has warned that iPhone sales will decline in the March quarter and has provided Q2 2016 guidance of $50 to $53 billion in revenue and gross margin between 39 and 39.5 percent. Should Apple only take in $50 to $53 billion, the company will see its first year-over-year revenue drop in 13 years.

The quarterly earnings statement will be released at 1:30 PM Pacific/4:30 PM Eastern, with a conference call to discuss the report taking place at 2:00 PM Pacific/5:00 PM Eastern. MacRumors will provide coverage of both the earnings release and conference call on April 26.

Update: According to Apple, the earnings call is delayed because of a memorial service for Bill Campbell, who passed away earlier this week.

Discuss this article in our forums



Apple Seeds Second OS X 10.11.5 El Capitan Beta to Developers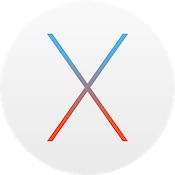 Apple today seeded the second beta of an upcoming OS X 10.11.5 El Capitan update to developers for testing purposes, two weeks after releasing the first OS X 10.11.5 beta and a month after releasing OS X 10.11.4, the fourth update to the OS X 10.11 operating system.

The new OS X 10.11.5 update, build 15F24b, can be downloaded through the software update mechanism in the Mac App Store or through the Apple Developer Center.

Like prior OS X El Capitan updates, the fifth update is likely to focus on security enhancements, performance improvements, and bug fixes to address issues that have been discovered since the release of OS X 10.11.4. No obvious outward-facing changes were found in the first OS X 10.11.5 beta, but we will update this post with any changes discovered in the second beta.


Discuss this article in our forums