Mac Rumors powered by MacRumors_p2


MacRumors Giveaway: Win a Case or Sleeve for Your MacBook From WaterField Designs
For this week's giveaway, we've teamed up with WaterField Designs to offer MacBook and MacBook Pro users a chance to win a Syde MacBook Case or a Maxwell Sleeve for their notebooks.

Available for the MacBook, the 2016 13-inch MacBook Pro and the 2016 15-inch MacBook Pro, the Syde MacBook Case is priced at $159 and is a simple, slim bag that can hold a MacBook and a few other accessories. Made from either black ballistic nylon or a brown waxed canvas, the bag has a simple magnetic closure so it's easy to get a MacBook in and out.




A padded neoprene sleeve keeps the MacBook safe from bumps and scratches and a leather front pocket holds a charger and other odds and ends. A leather handle is included, as is a strap, and there's also a rear pocket for holding documents.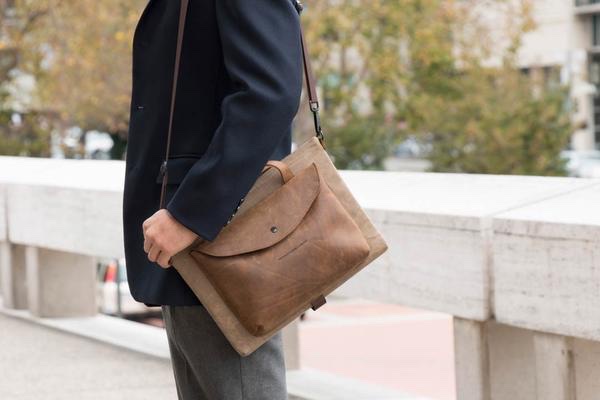 The Maxwell Sleeve is also available for the 12-inch MacBook and the two new MacBook Pro models, plus there's an iPad Pro version for Apple's 12.9-inch tablet.

Priced at $99 to $119, the Maxwell Sleeve is available in a water-repellant Nanotex-coated material, waxed canvas, or ballistic nylon, and it comes in several different colors (kelly, crimson, slate, cobalt, black ballistic, and waxed canvas, a brown shade).




Like the Syde, the Maxwell uses a simple noiseless magnetic closure and offers padded protection for the MacBook, plus it can be ordered in vertical or horizontal orientation. It doesn't have additional pockets or straps (but you can get one if you want), so it's ideal for sticking into another bag or backpack.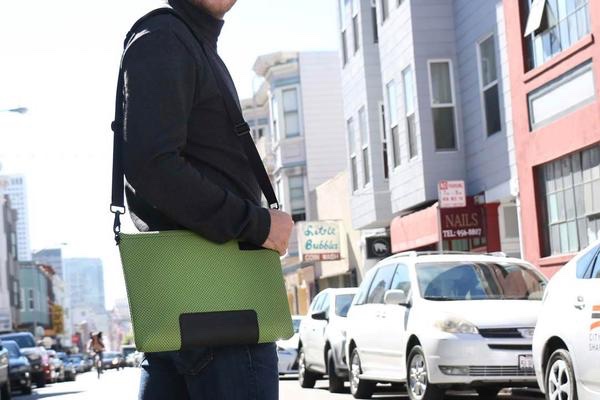 We're giving away one Syde and one Maxwell, with winners to choose size and color. To enter to win, use the Rafflecopter widget below and enter an email address. Email addresses will be used solely for contact purposes to reach the winner and send the prize. You can earn additional entries by subscribing to our weekly newsletter, subscribing to our YouTube channel, following us on Twitter, or visiting the MacRumorsFacebook page.

Due to the complexities of international laws regarding giveaways, only U.S. residents who are 18 years of age or older are eligible to enter. To offer feedback or get more information on the giveaway restrictions, please refer to our Site Feedback section, as that is where discussion of the rules will be redirected.



a Rafflecopter giveaway

The contest will run from today (January 13) at 11:00 a.m. Pacific Time through 11:00 a.m. Pacific Time on January 20. The winners will be chosen randomly on January 20 and will be contacted by email. The winners will have 48 hours to respond and provide a shipping address before new winners are chosen.


Discuss this article in our forums



Sonnet Unveils Thunderbolt 3-to-PCIe Card Expansion Systems for 2016 MacBook Pros
Sonnet Technologies yesterday launched its first Thunderbolt 3-to-PCIe card expansion systems for 2016 MacBook Pros, the Echo Express SEL — Thunderbolt 3 Edition and the Echo Express SE I — Thunderbolt 3 Edition.

The SEL and SE I are compact and lightweight single-slot expansion systems that differ only in size and enable users to take advantage of the Thunderbolt 3's 2,750 MB/s of PCI Express bandwidth to support high performance adapter cards.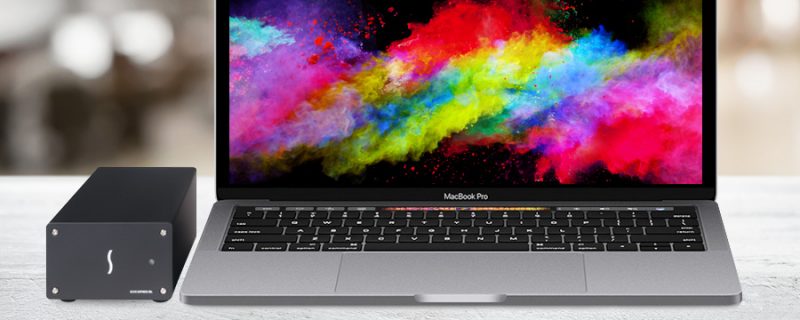 The Echo Express SE I — Thunderbolt 3 Edition weighs just 2.6 pounds and measures 5.6 inches wide by 8.6 inches deep by 3.5 inches tall, accommodating one-half length (up to 7.75 inches long), full-height, single-width PCIe 3.0 card with additional mounting space for a daughter card. With its Thunderbolt 3 interface, the SE I delivers ample bandwidth for the majority of Thunderbolt-compatible PCIe cards including pro video capture, digital audio interface, 6Gbps or 12Gbps SAS or SATA host bus adapters, 16Gb or 8Gb Fibre Channel, 10 Gigabit Ethernet, and RAID controller PCIe cards.

The Echo Express SEL — Thunderbolt 3 Edition is the smallest and quietest Thunderbolt 3 chassis yet, measuring 4 inches wide by 8.25 inches long by 2.8 inches tall and weighing just 1.75 pounds. The SEL houses one low-profile, single-width PCIe 3.0 card, including the majority of the most popular Thunderbolt-compatible 16Gb and 8Gb Fibre Channel, 40 and 10 Gigabit Ethernet, 6Gbps or 12Gbps SAS and SATA host bus adapters, RAID controller cards, and even low-profile pro video capture cards like the BlueFish 444 Epoch 4K Neutron.
The Echo Express SE I and Echo Express SEL Thunderbolt 3 Editions feature dual 40Gbps Thunderbolt 3 ports that support the daisy chaining of up to five additional Thunderbolt peripheral devices. Both models support backward compatibility for 20Gbps Thunderbolt 2- and 10Gbps Thunderbolt-equipped devices when connected via the Apple® Thunderbolt 3 (USB-C) to Thunderbolt 2 Adapter.

As an added benefit, the second Thunderbolt 3 port also supports a variety of displays and a multitude of USB 3.1, USB 3.0, and USB 2.0 devices when connected with the proper cable, and also fully supports the DisplayPort 1.2 protocol, which enables streaming to one 4K display at 120Hz, or two 4K displays at 60Hz, or one 5K display at 60Hz.

The list of compatible PCIe cards is available on Sonnet's website. Sonnet is also offering Thunderbolt 3 upgrade cards for existing Thunderbolt 2 Echo Express SEL and SE I expansion systems, enabling those models with all the capabilities of the new Thunderbolt 3 Editions. 



Discuss this article in our forums



Safari Users Unable to Play Newer 4K Video on YouTube in Native Resolution
Reddit users have recently discovered that YouTube refuses to stream newly uploaded 4K video in its native resolution if the website is accessed through Safari web browser.

The issue was first raised almost a month ago by Reddit user GezimS, who wondered why the option to view 4K videos in 2160p was no longer available.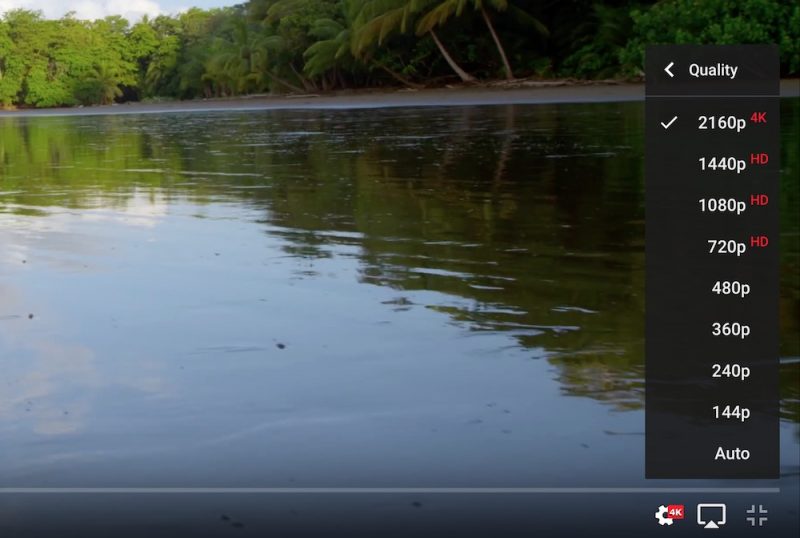 Other users soon chimed in to confirm the anomaly, noting that it only seemed to occur in recently uploaded 4K video and that accessing the same content in Chrome or Firefox still offered up the preferred 2160p resolution as a viewing option.

After some digging, user themcfly recently discovered that the issue is being caused by a change to the way YouTube encodes video and serves it through its website.

Specifically, YouTube appears to be storing video on its servers using either the more efficient VP9 codec or the older H.264 codec. Safari only supports the latter, which explains why recently uploaded 4K videos are only able to be viewed in up to 1440p.

Funnily enough, the same videos can be streamed by Safari in native 4K as long as they're embedded in another website, suggesting that the VP9 codec support requirement only applies to videos viewed directly on YouTube's website.

Until Apple updates Safari to support the VP9 codec, Mac users who want to access newer 4K video on YouTube in native 2160p resolution are advised to use a different browser.


Discuss this article in our forums



Adobe's Research Team Experimenting With Voice-Based AI, Digital Face Painting
Adobe this week published three videos on YouTube, sharing details on what its research team is working on for inclusion in future Adobe products like Photoshop.

A voice-based AI assistant like Siri is Adobe's most interesting project, which Adobe says is the first step towards a voice-based interface that would let Adobe users search and edit images in unique ways.




According to Adobe, its team is working to combine voice interaction with "a deep understanding" of creative workflows. In its current incarnation, the speech recognition system can accept natural language instructions or image editing, directly on a device or through a cloud-based Natural Language understanding service.

Adobe is also working on a new digital face painting application that would allow users to paint on a still image of a person, using blending and rotating tools to paint on all sides of the face. A real-time paint simulation engine makes there the paint blends in with the image with the proper lighting.




The final project shared by the research team is an interactive sculpting tool for Photoshop, which allows an artist to use familiar Photoshop tools to sculpt 3D objects.




There's no word on if or when these projects will make their way into Adobe's software, but Adobe pushes updates to its Creative Cloud projects on a regular basis and unveils major new features each year.


Discuss this article in our forums



Apple Seeds Fourth Beta of macOS Sierra 10.12.3 to Developers [Update: Public Beta Available Too]
Apple today seeded the fourth beta of an upcoming macOS Sierra 10.12.3 update to developers, a few days after seeding the third 10.12.3 beta and more than a month after releasing macOS Sierra 10.12.2, the second update to the macOS Sierra operating system.

The macOS Sierra 10.12.3 update is available for download through the Apple Developer Center or through the software update mechanism in the Mac App Store.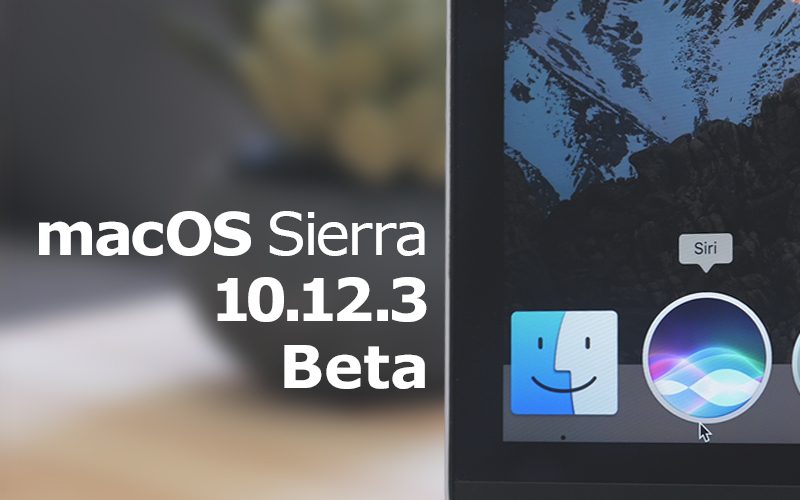 According to Apple's release notes, the 10.12.3 update "improves the stability, compatibility, and security of your Mac." No specific changes, bug fixes, or feature additions were discovered in the first three betas, but we'll update this post should any new features be found in the fourth beta.

With bug fixes, it's often hard to determine exactly what's included in an update until Apple supplies detailed release notes with a release. We do, however, know that this update fixes a Safari bug that caused battery life problems during the MacBook Pro testing conducted by Consumer Reports.

Available since September, macOS Sierra is the latest Mac operating system. It includes Siri support, Apple Pay for the web, Universal Clipboard, Apple Watch auto unlocking, improved iCloud Drive integration, Picture-in-Picture multitasking, and dozens of smaller features that can be found in our macOS Sierra roundup.

Update: The fourth macOS Sierra 10.12.3 beta is also available for public beta testers.


Discuss this article in our forums



Akitio Launches 2.5" Quad Thunderbolt 3 Storage Device for New MacBook Pro
Akitio has announced the release of the its Thunder3 Quad Mini, a 2.5" four-bay Thunderbolt 3 external storage solution for the latest MacBook Pro.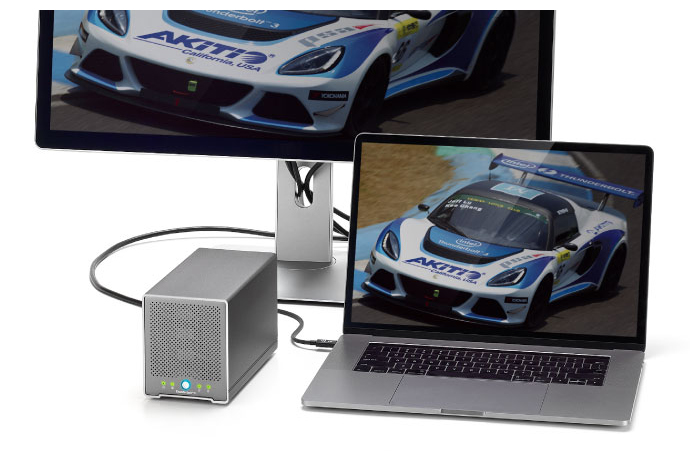 The aluminum storage device has removable trays designed to house up to four 2.5" SATA SSDs or hard drives purchased separately. The device is equipped with two Thunderbolt 3 ports—the first one connects to the MacBook Pro, and the second one can be used to connect or daisy chain Thunderbolt 3 or USB-C peripherals.

With Software RAID, Akitio said four striped SSDs can reach data transfer speeds of up to 1375 MB/s, while four striped hard drives max out at around 400 MB/s. Thunderbolt 3 provides sufficient bandwidth to connect dual 4K displays to the latest MacBook Pro and complete other data transfers simultaneously.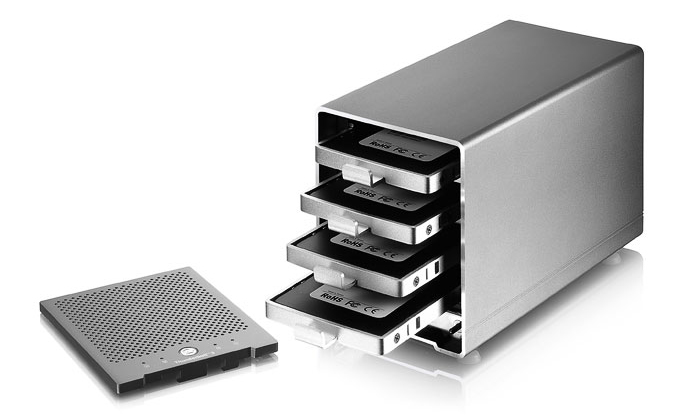 A dedicated DisplayPort 1.2 video output provides connectivity to the 4K displays at 60Hz, while the device supports Power Delivery up to 15W to notebooks that support charging from a 5V/3A power source. 15W is hardly sufficient wattage for the latest MacBook Pro, which fully charges at up to 85W with Apple's own charger.

Akitio said the Thunder3 Quad Mini will be available in March for $329 alongside five other Thunderbolt 3 storage devices it sells.


Discuss this article in our forums



Opera Debuts New 'Opera Neon' Concept Browser
Opera today showcased its first ever concept browser, codenamed Opera Neon. Built on the same browser engine as the standard Opera browser, Neon is designed to focus primarily on content.

Opera Neon includes a new user interface that consists of a start page using the user's current desktop background image, a sidebar with a video player, image gallery, and download manager, and a visual tab bar that makes it easier to switch between tabs and tell which tab is active.




There's also a built-in "intelligent system" that manages tabs, with frequently used tabs listed at the top and the less used tabs being relegated to the bottom.

A pop-out video option lets users watch videos while viewing other web pages, and a snap to gallery feature lets users take a screenshot and crop any part of a webpage, saving it for later use. With an included split screen mode, it's also possible to view two web pages simultaneously, side by side.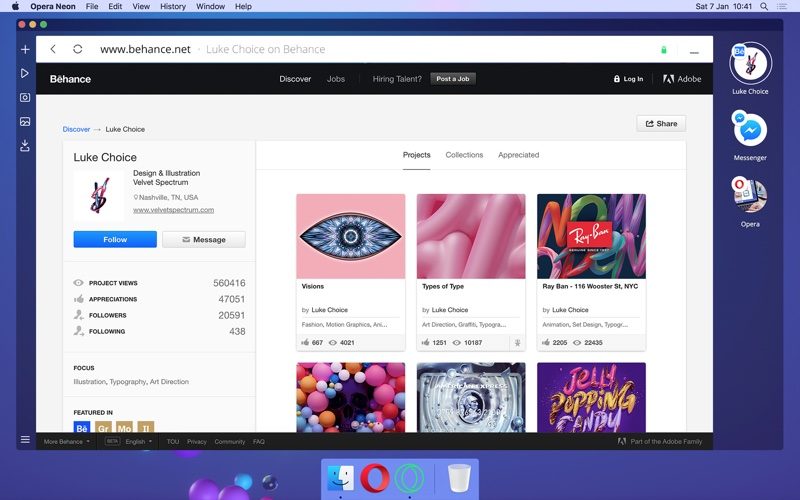 Opera Neon won't replace the current Opera browser, but some of its features will eventually be added to Opera. Both Mac and Windows users can download a free version of Opera Neon to test.


Discuss this article in our forums



Apple Campus 2 Gets First 2017 Construction Update via Drone
Reliable aerial coverage of Apple Campus 2 from Matthew Roberts has continued today, with the first drone footage of the campus in 2017 posted on Roberts' YouTube channel. As construction continues into the new year -- originally expected to be completed by the end of 2016 -- the new footage shows a nearly-complete main building, as well as free-standing structures such as the nearby parking garage and its rooftop solar panels.




Still under construction is the underground auditorium where Apple will host various product reveal events, and workers continue to stream in and out of the "Spaceship" building's main atrium, which began glass installation in November.

A noticeable change comes in the form of landscaping within the circular main building, with dirt piles forming around the central water feature of the courtyard. There are also many more trees and other greenery either lined up to be planted, or already in the ground. This area is expected to be one of many where workers can relax outside to eat or exercise.

In December, Roberts created a video that looked back at the construction progress made on Apple Campus 2 from July to the end of 2016. Construction on the campus officially began back in 2013 and once complete will encompass 2.8 million square feet of space to house 13,000 employees.

Previous Coverage:Here's a Detailed Aerial Photograph of Apple Campus 2


Discuss this article in our forums



Apple Releases Safari Technology Preview 21 With Bug Fixes and Feature Improvements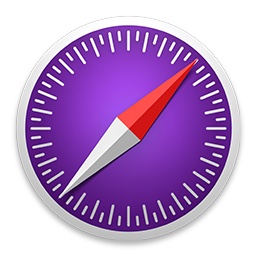 Apple today released a new update for Safari Technology Preview, the experimental browser Apple first introduced in March of 2016. Apple designed the Safari Technology Preview to test features that may be introduced into future release versions of Safari.

Safari Technology Preview release 21 includes bug fixes and updates for JavaScript, Fetch API, IndexedDB 2.0, CSS, Rendering, Web API, Accessibility, and Web Inspector.

The Safari Technology Preview update is available through the Software Update mechanism in the Mac App Store to anyone who has downloaded the browser. Full release notes for the update are available on the Safari Technology Preview website.

Apple's goal with Safari Technology Preview is to receive feedback from developers and users on its browser development process. Safari Technology Preview can run side-by-side with the existing Safari browser and while designed for developers, it does not require a developer account to download.


Discuss this article in our forums



Apple's 'Designed by Apple in California' Book Expands to Additional Countries
Apple's hardbound photo book, "Designed by Apple in California," is now available for purchase in five additional countries around the world. As of this month, Apple's websites and retail stores in the following countries carry the book: Canada, Brazil, Singapore, New Zealand, and Ireland.

Introduced in November, "Designed by Apple in California," showcases 20 years of Apple products, highlighting Macs, iPhones, iPods, iPads, and accessories released between 1998 and 2015.



Subscribe to the MacRumors YouTube channel for more videos.


The book is text-free, featuring 450 large, high-quality images of Apple products, highlighting the company's design process. Apple says it took eight years to design the book, which features specially milled custom-dyed paper with "gilded matte silver edges" and low-ghost ink.

Because "Designed by Apple in California" is positioned as an art book, it costs $200 for the small version and $300 for the large version in the United States. Prices are higher in other countries like Brazil due to import taxes and other fees.

Update: Apple has released the book in even more countries, including Italy, Netherlands, Sweden, Spain, and Norway.


Discuss this article in our forums



LG UltraFine 5K Display Now Ships in Quicker 3-5 Business Days
Apple's website has been updated to indicate the LG UltraFine 5K Display now ships in 3-5 business days in the United States, compared to a previous estimate of 2-4 weeks listed since just minutes after the display launched on December 20. The improvement suggests the display's supply and demand mix has improved.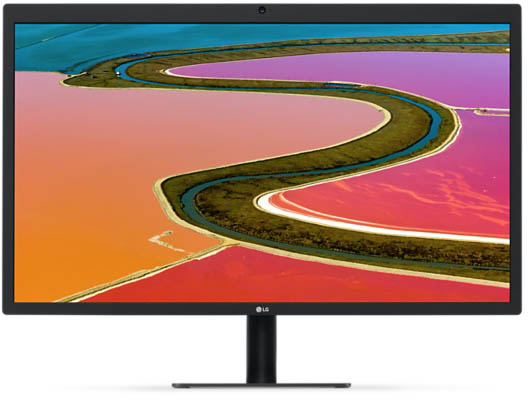 The new 5K display, created in partnership with Apple, remains on sale for $974 until March 31, when the price will return to $1,299.95. Shipping estimates vary in other countries, including 2-3 weeks in the United Kingdom, 4-6 weeks in Australia, and upwards of 1 week in Canada.

LG's UltraFine 5K Display connects to the latest MacBook Pro with a single Thunderbolt 3 cable, which simultaneously streams up to 5K video, transfers data, and charges the notebook at up to a full 85W. Apple also sells a 21.5-inch UltraFine 4K Display for $524 until March 31, when it returns to $699.

In addition to 5K resolution, the 27-inch display has a wide DCI-P3 color gamut that shows more vibrant colors compared to the traditional sRGB standard. It also has a built-in camera, microphone, stereo speakers, and three downstream USB-C ports at 5 Gbps speeds for connecting peripherals.

MacRumors editor-in-chief Eric Slivka called the LG UltraFine 5K Display a "worthy companion" to the latest MacBook Pro, even without the same look and feel as Apple's discontinued Thunderbolt Display. Also be sure to read our USB-C Display Buyer's Guide for other display options with single-cable connectivity.


Discuss this article in our forums



Greenpeace Declares Apple 'Greenest Tech Company' For Third Year Running
Greenpeace has declared Apple to be the most environmentally friendly technology company in the world for the third year in a row.

The conclusion was reached in the environmental organization's latest report, entitled Clicking Clean: Who is Winning the Race to Build a Green Internet, which awarded Apple a final 'A' grade and a clean energy index score of 83 percent. Facebook and Google also scored 'A' grades, with clean energy index scores of 67 and 56 percent respectively.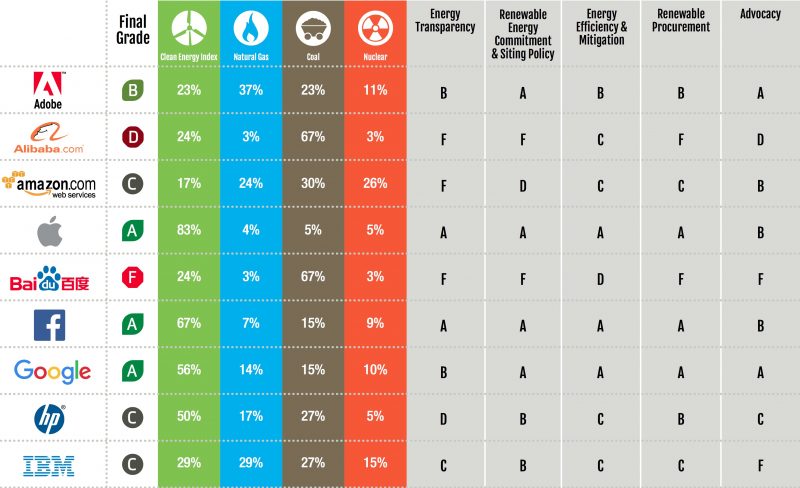 "Thanks to the leadership and advocacy of companies like Apple, Google, Facebook, and Switch, we are seeing the tech industry make major strides toward powering the internet with clean energy," Gary Cook, Greenpeace's senior IT analyst, said in a statement.
The report ranked companies on a range of green credentials, from energy transparency and renewable procurement to energy efficiency and mitigation. Nevada-based telecoms company Switch, which develops data centers, was the only company in its sector to be awarded grade A's across the board, with a 100 percent clean energy index.

According to the report, Apple "played a catalytic role within its IT supply chain, pushing other IT data center and cloud operators who help deliver pieces of Apple's corner of the internet to follow their lead in powering their operations with renewable energy".

Apple, Google, and Facebook pledged in 2012 to commit to 100 percent renewable energy sources. Apple's new Cupertino campus, which is currently under construction, will run entirely on renewable energy, thanks to an estimated 700,000 square feet of solar panels.

Despite the positives in the tech sector, the report highlighted concerns with regards to emerging East Asian internet companies, which lack access to renewables from monopoly utilities in those regions.

"Without key policy changes, the rapid growth of the internet in East Asia will likely be powered by coal and other dirty sources of electricity," the report stated. According to Greenpeace, the north and southeast Asian region is the world's biggest emitter of CO2.


Discuss this article in our forums



Apple Planning to Open Flagship Store in Milan, Italy
Apple is planning to open a flagship retail store underneath Piazza del Liberty, or Liberty Square, in Milan, the most populous metropolitan area in Italy, according to preliminary guidelines approved by the city's planning department last month.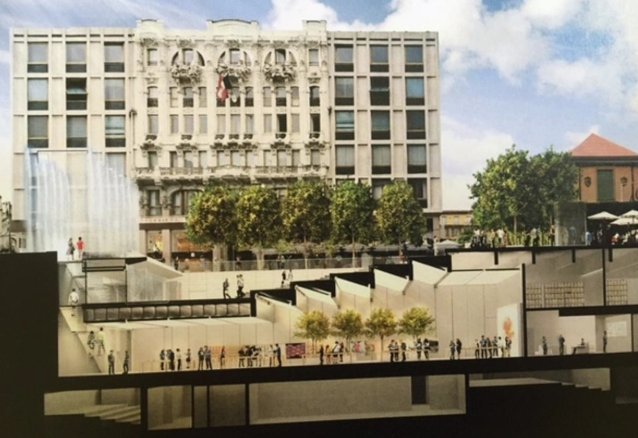 Render of planned flagship Apple Store in Milan, Italy


The retail store will be developed by architecture firm Foster and Partners, who have partnered with Apple for several of its flagship retail stores around the world and its upcoming Campus 2 headquarters in Cupertino, California.

The location is expected to be "one of the most innovative and technological Apple Stores in the world," and it will include an above-ground amphitheater where Apple plans to host at least eight public events of cultural significance per year.

The amphitheater will "represent the heart of the square," with steps leading to an intermediate level between the square and the underlying store. An elevator will be included at the plaza level to ensure the store is fully accessible.

A large glass screen made from a waterfall will mark the entrance to the store, which will take over the space currently occupied by Apollo Spazio Cinema. No timeline was outlined for completion of the project.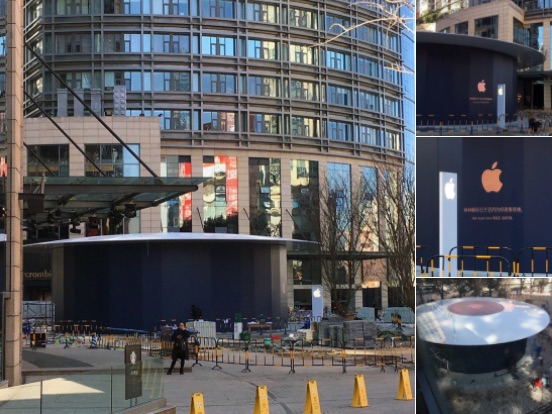 Apple's upcoming store in Kunming, China


In related news, Apple today announced it will open its next store in Kunming, China on January 21 at 10:00 a.m. local time.

(Thanks, setteBIT and Storeteller!)


Discuss this article in our forums



Apple to Use Repurposed Mesa, Arizona Factory to Manufacture Data Center Cabinets
Apple wants to use GT Advanced's former sapphire plant to produce hardware that will be used within its U.S. data centers, according to a notification published by the Federal Register and shared by Business Insider.

Apple is seeking approval from the Foreign-Trade Zones Board to create "finished products and foreign status materials/components" in the factory. Specifically, Apple wants to create "finished server assembly cabinets" and needs permission to use materials sourced from abroad.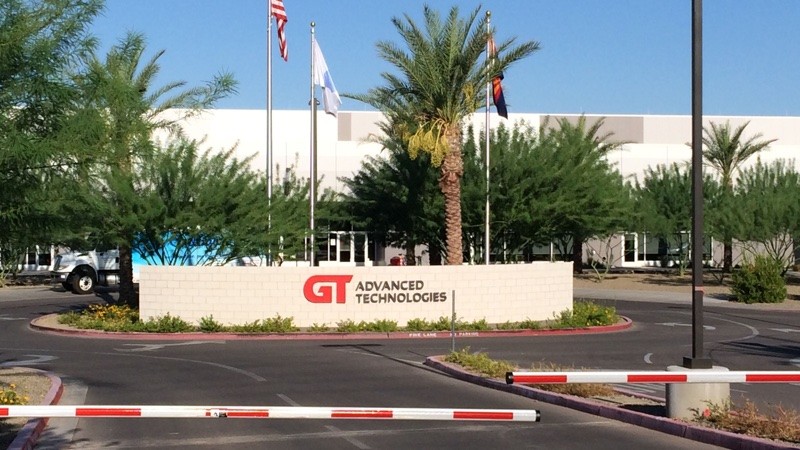 Image via AZCentral


According to the filing, the data center cabinets will be used for "other global data centers." A person with knowledge of Apple's data centers spoke to Business Insider and said Apple's data center server production will be consolidated in Mesa, Arizona.

Servers for Apple's Oregon and North Carolina data centers are currently built and tested on-site, and the same likely goes for other global data center locations. With the Mesa factory, Apple will build and configure all U.S. servers in Arizona and ship them to Oregon and North Carolina.

Apple originally purchased the Mesa, Arizona factory for sapphire manufacturer GT Advanced, but after the sapphire-making company failed to produce sapphire up to Apple's standards and went bankrupt, Apple was left with an empty facility.

Apple announced plans to repurpose the sapphire plant in 2014, and is said to be investing $2 billion to turn it into a "global command center" for Apple's data network. At 1.3 million square feet, the facility is large enough to serve as both a data center and a manufacturing plant for data center equipment.


Discuss this article in our forums



Apple Executives to Visit India to Discuss Local Manufacturing Plans
Apple executives will attend a high-profile meeting with Indian officials later this month in order to discuss the company's plans to set up a manufacturing plant in the country.

Apple is said to be seeking a number of tax and other incentives at the meeting, set to take place on January 25, and could potentially ask for long-term duty exemptions. According to PTI, Indian representatives from a number of government departments will attend, including officials from commerce, industrial policy and promotion (DIPP), revenue, environment and forest, electronics, and IT.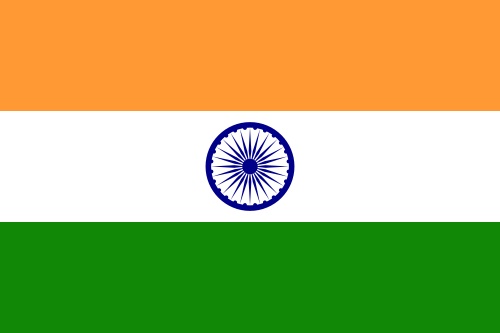 Last month it emerged that Apple was in talks with India to explore the possibility of making products locally, as well as set up a distribution center, after Prime Minister Narendra Modi ordered his government to exempt foreign retailers for three years from a requirement to locally source 30 percent of goods solid in their stores.

Apple sent a letter to India's federal government in December, outlining its manufacturing plans and asking for financial incentives, and this month's meeting would appear to be the next step in the negotiations.

In September 2015, Apple CEO Tim Cooksat down with Prime Minister Modi to discuss various matters and Cook reportedly responded positively to Modi's invitation to open a manufacturing base in India. Foxconn was previously reported to be looking at the possibility of an expansion into India to produce iPhones and iPads, but Cook's outspoken interest in the possibility was Apple's first public interest in the expansion.

Apple products are currently manufactured in six countries, including China, Korea, Japan, and the United States.


Discuss this article in our forums



Google's Waymo Unveils Fleet of Self-Driving Chrysler Pacifica Minivans
Google spin-off Waymo unveiled its fleet of 100 self-driving Chrysler Pacifica minivans in a preview event ahead of the North American International Auto Show on Sunday (via USA Today).

John Krafcik, CEO of Waymo, told attendees at the Detroit event that the fleet packs an array of new sensors that were all developed in-house, including an enhanced vision system, improved radar and laser-based lidar.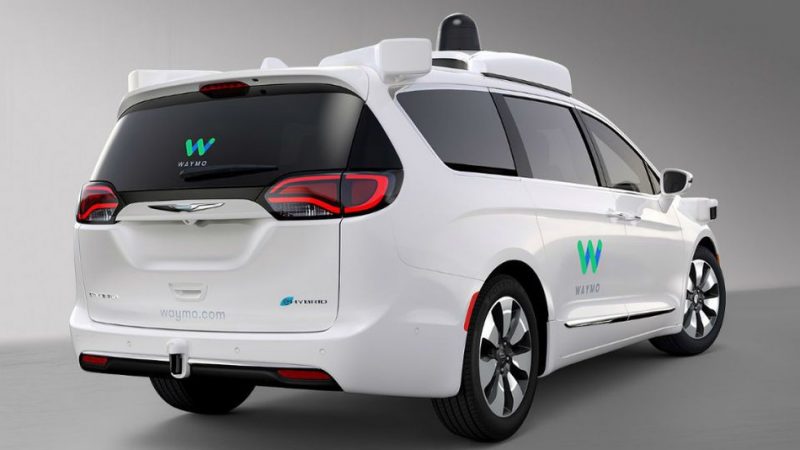 "We're serious about creating fully self-driving cars that can help millions of people, and to do that we have to oversee both the self-driving software and the self-driving hardware," said Krafcik.
The autonomous vehicles are the result of a partnership between Google and Fiat Chrysler that was agreed last spring, and represent the first time Google has chosen to build self-driving technology itself, rather than turn to third-party manufacturers. As a result, Waymo said the company had been able to cut costs by 90 percent.

But apart from cutting costs, Krafcik told attendees that building the hardware in-house had allowed the company to develop better technology, such as an improved rooftop radar system, or Lidar, that allows the cars to read more information off the environment.

"The detail we capture is so high that not only can we detect pedestrians all around us, but we can tell which direction they're facing," said Krafcik. "This is incredibly important, as it helps us more accurately predict where someone will walk next."
The hybrid vehicles will join the company's Lexus SUVs and Firefly vehicles on public roads in California and Arizona later this month to speed up testing. Waymo has yet to reveal when the self-driving system employed in the minivans will be ready to install in production vehicles, but the companies are thought to be planning an autonomous ride-sharing service to compete with the likes of Uber and Lyft.

Apple's self-driving technology plans remain tightly under wraps, but Cupertino is thought to be developing its own autonomous driving system for use in third-party vehicles. The company is said to have given its car team until 2017 to prove the feasibility of a self-driving vehicle system.

Apple revealed its interest in the emerging self-driving market in November 2016 when it sent a letter to the U.S. National Highway Traffic Safety Administration, suggesting that new entrants to the auto industry should get the same rights as established companies.


Discuss this article in our forums



Apple Will Open its First Retail Store in South Korea This Year
Apple will open its first retail store in South Korea this year, according to a report on Friday (via Reuters).

The country's Yonhap News Agency said that construction was underway for a store in the southern district of Seoul and that work on the site would likely be completed by the end of November.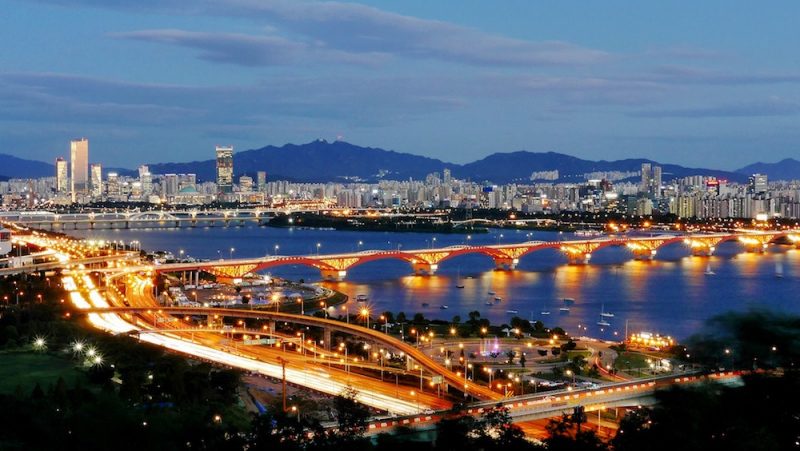 Image: Flickr
"We're excited about opening our first Apple Store in Korea, one of the world's economic centers and a leader in telecommunication and technology, with a vibrant K-culture," Apple told Reuters in a statement Friday.

"We're now hiring the team that will offer our customers in Seoul the service, education and entertainment that is loved by Apple customers around the world."
Yesterday, Apple listed hiring notices for 15 positions on its website, including a store leader and business manager. The exact location and start time for the jobs was omitted from the listings.

Apple's first Korean brick-and-mortar store will be in Samsung's back yard – the rival smartphone maker has its main headquarters in Suwon, about 13 miles south of the capital city.


Discuss this article in our forums



CES 2017: Henge Docks Debuts New Horizontal and Vertical Docking Stations for 2016 MacBook Pro
Henge Docks, known for its range of docks for Apple's line of notebooks and iOS devices, today introduced new docking stations designed for the 2016 MacBook Pro. There are a total of three new docks: the Tethered Docking Station, the Vertical Docking Station, and the Horizontal Docking Station.

The Tethered Docking Station, available in Space Gray, is designed to be an extension of the MacBook Pro, with an 85-watt power supply, three USB Type-A ports, two Mini DisplayPorts, an SD card slot, a Gigabit Ethernet port, an audio port, and support for USB-C or Thunderbolt 3 (there are two models). An angled design allows the MacBook to rest directly on the dock.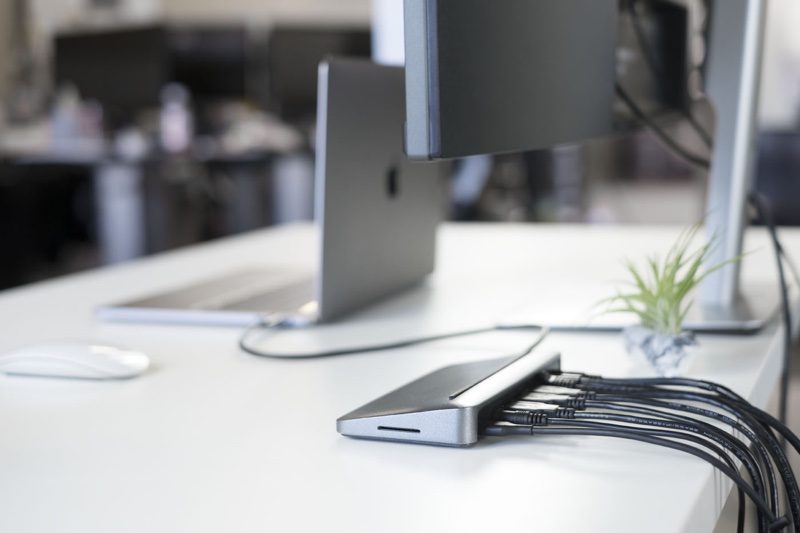 The Vertical Docking Station, also available in Space Gray, includes pass-through connections for USB-C or Thunderbolt 3, allowing customers to dock their MacBook Pros and have an instant connection to peripheral devices. Designed to pair with the Tethered Docking Station, the Vertical Docking Station is available for all three MacBook Pro models.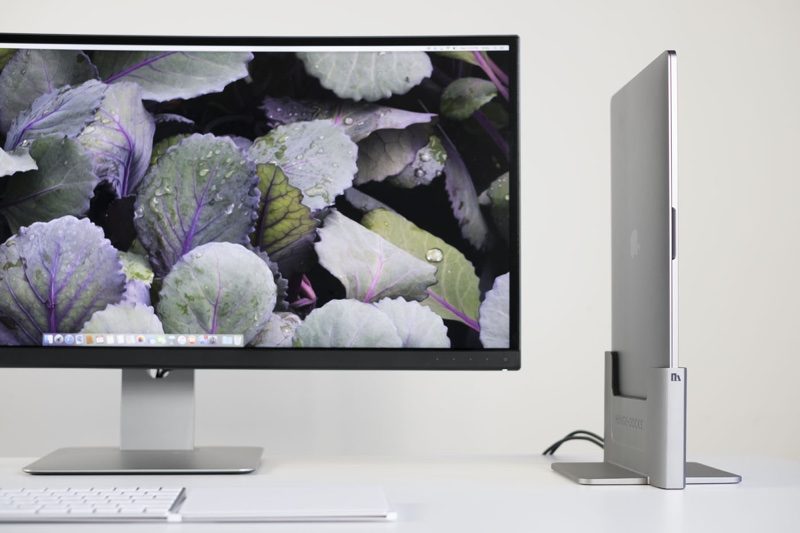 The Horizontal Docking Station is an all-in-one-dock that features 13 ports and the ability to drop your MacBook in place to have immediate access to all of your accessories. It features 85-watt power, support for up to four external displays, multiple USB Type-A ports, an SD card slot, and more. Like the other docks, it is available with either Thunderbolt 3 or USB-C support.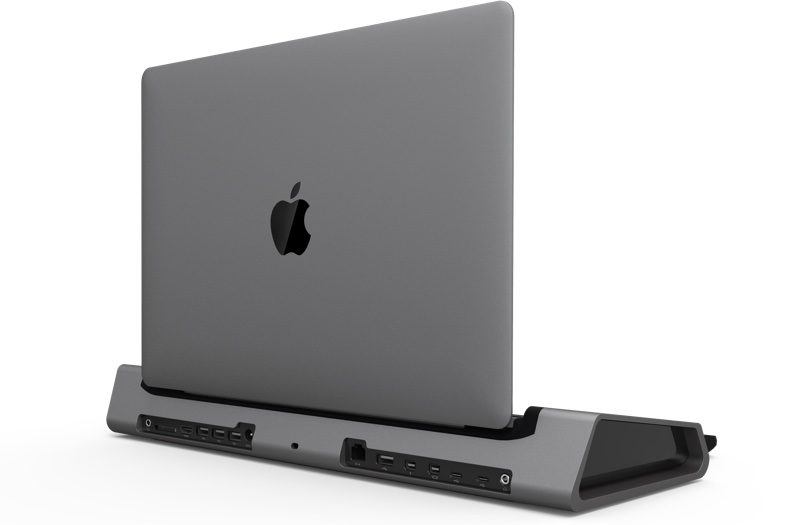 Henge is also announcing a new partnership with Apple, which will see it becoming an Apple Authorized Business Solution Provider. Henge can now sell bundles that include Apple MacBooks and Henge docking stations, and plans to introduce a variety of options that can save customers up to $150.

Bundles will range from the Clique paired with an Apple Magic Trackpad 2 and Apple Magic Keyboard to a new MacBook Pro paired with a Horizontal Docking Station.
"This partnership, coupled with the new products we are launching, allows us to offer our customers a complete workstation setup in one convenient spot, and at a discounted price," said Matthew Vroom, Henge Docks CEO. "It's an honor that we were selected for this program after having worked so hard to build products designed to complement and enhance the Apple user experience."
All of the docks will be available during the spring of 2017. The Vertical Docking Station will be available for $149, while pricing for the Tethered Docking Station and Horizontal Docking Station will start at $199 and $499, respectively.


Discuss this article in our forums



CES 2017: Razer Debuts 'Project Valerie' Triple Display Laptop
Razer, known for its gaming laptops and accessories, today unveiled its latest product, the world's first triple display laptop. Project Valerie features a Razer laptop that's equipped with one main display and two fold out side displays, all of which are 4K.

Each display measures in at 17.3 inches, for what Razer says is the most expansive viewing experience in a notebook. Project Valerie is powered by an NVIDIA GeForce 1080 GPU and supports NVIDIA Surround View with a resolution of 11520 x 2160 for an immersive gaming experience.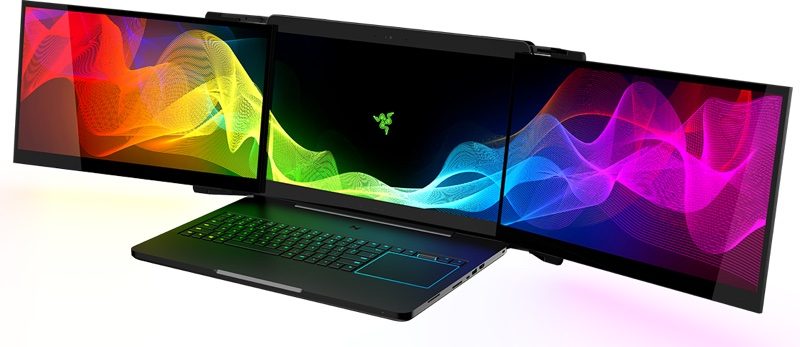 While the three displays can be used as a single display, they can also be used individually to run multiple applications at the same time. An automated deployment system that uses durable aluminum hinges lets the laptop be set up in a matter of seconds, with perfect display alignment.




According to Razer, though its equipped with three displays, Project Valerie has a form factor that's comparable to other 17-inch gaming laptops on the market, fitting neatly into a laptop bag so it can be taken anywhere. It's about 1.5 inches thick and weighs approximately 12 pounds.

Project Valerie is still a prototype machine and it is not clear if it will eventually see a release. No launch date information or pricing details are available, but interested customers can sign up to learn more about it on Razer's website.


Discuss this article in our forums



Elago's W3 Charging Stand Turns Your Apple Watch Into the Original Macintosh
Elago's W3 Stand for Apple Watch can turn Apple's modern wearable device into a classic Macintosh, all while charging and protecting the Apple Watch. The Nightstand Mode-only accessory has a slot for the Apple Watch's charging puck and a small compartment that you slide the Apple Watch into, turning its 38mm or 42mm display into that of a retro Mac. The dock was originally announced last November, but is just now gaining attention online.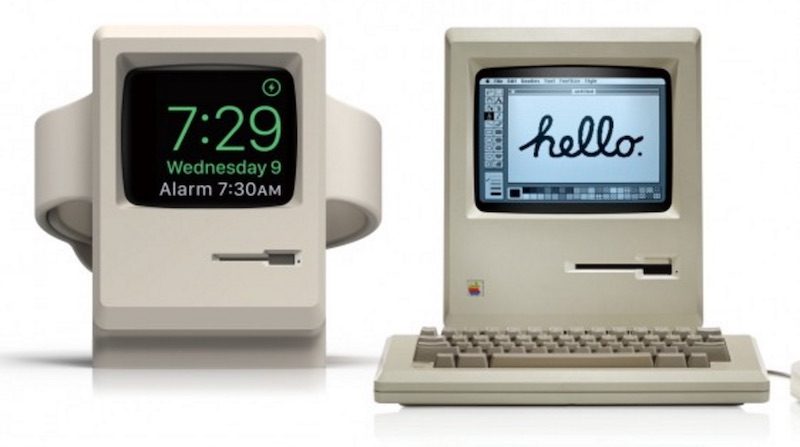 To prevent scratching on the Apple Watch's casing, band, and screen, the entire W3 dock is made of soft silicone, also making it easy to place and remove the Watch. The image used on Elago's website appears to use the Stone Sport Band on the Apple Watch, which is now unavailable on Apple.com. Any band and case combination will work on the dock, however.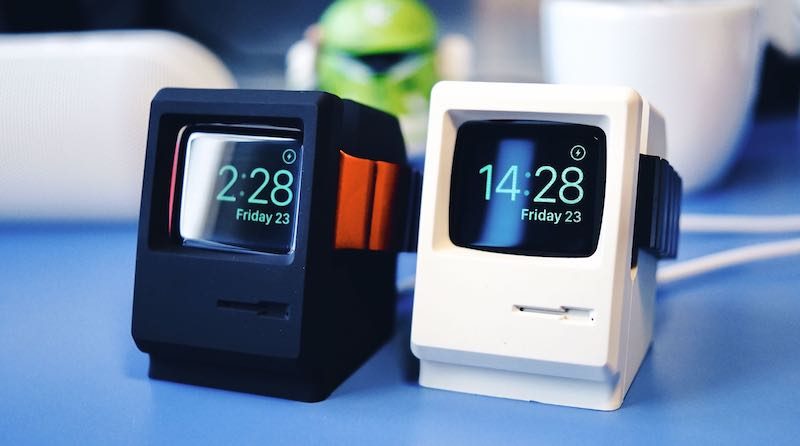 Those interested can purchase the W3 Stand from Elago's website for $13.49, as well as on Amazon for $11.99. An alternate black version is also available.


Discuss this article in our forums