Mac Rumors powered by MacRumors_p2


Steve Jobs' Infamous Temper Lives on at Apple in Bug-Wrangler Kim Vorrath
Steve Jobs was infamous for his temper, with a famous story about him blowing up at the MobileMe team following a rocky rollout of that service in 2008.

However, Jobs isn't the only employee at Apple with a short fuse. A profile in The Informationstudies Kim Vorrath, Apple's vice president in charge of "program management" for both iOS and OS X. She supervises Apple's thorough testing process to discover bugs and is the final arbiter of deadlines to ensure that software updates come out on time.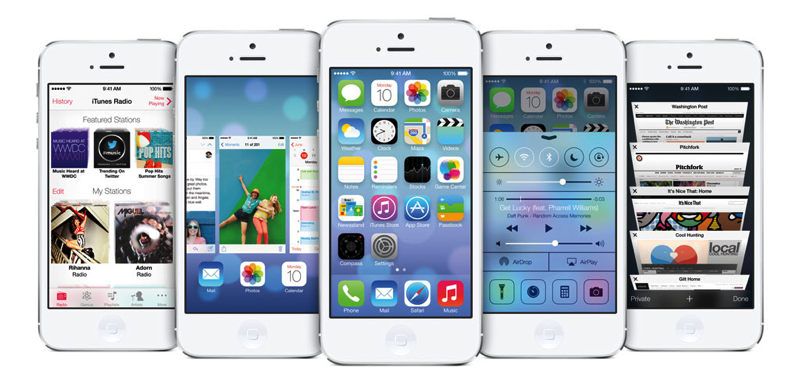 One story in particular, relayed by Business Insider, tells of Vorrath's displeasure when she found out a co-worker was leaving work early before the launch of the first iPhone in 2007.

Ms. Vorrath, who has worked on all seven iOS releases, generally operates by asking lots of questions of engineers, sticking to the facts and getting them to explain in plain English why a particular feature should be included in the operating system. She's easy to get along with, say former colleagues, who recall playfully mocking her 1990s feathered hairstyle and late 1980s fashion sense. But she isn't known for chitchat and has been known to "blow up" on occasion when people miss deadlines or make excuses, colleagues say.

During a tense time before the first release of iOS software in 2007, Ms. Vorrath grew irate when a colleague was heading home early before another marathon weekend meeting. She slammed her office door so hard that the door knob broke, and she locked herself in. Mr. Forstall grabbed a baseball bat to try to break her out, people who worked at Apple at the time recall.
The Information says Vorrath has been working at Apple since 1987, starting as an intern and eventually becoming chief of staff for Scott Forstall. Now, she is said to be working directly beneath Apple executive Craig Federighi, who is in charge of Apple's software engineering teams.
Apple Releases AirPort Extreme and Time Capsule Firmware Update 7.7.3 With Heartbleed Fix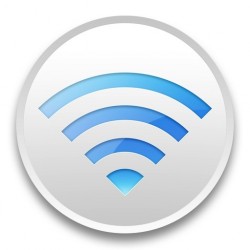 Apple today released AirPort Extreme and AirPort Time Capsule Firmware Update 7.7.3 for AirPorts with 802.11ac. The update includes security improvements related to SSL/TLS.

AirPort Base Station Firmware Update 7.7.3
Available for: AirPort Extreme and AirPort Time Capsule base stations with 802.11ac

Impact: An attacker in a privileged network position may obtain memory contents

Description: An out-of-bounds read issue existed in the OpenSSL library when handling TLS heartbeat extension packets. An attacker in a privileged network position could obtain information from process memory. This issue was addressed through additional bounds checking. Only AirPort Extreme and AirPort Time Capsule base stations with 802.11ac are affected, and only if they have Back to My Mac or Send Diagnostics enabled. Other AirPort base stations are not impacted by this issue.
Earlier this month, an OpenSSL bug known as Heartbleed made headlines, with Apple releasing a statement noting that iOS, OS X, and its "key web services" were unaffected by the security flaw, but it appears that the company's AirPort Extreme and AirPort Time Capsule were vulnerable.

The 7.7.3 update is recommended for all models of the AirPort Extreme and Time Capsule that support 802.11ac Wi-Fi, other AirPort base stations do not need to be updated.


ElevationLab Debuts Aluminum Elevation Stand for iMac and Apple Displays
ElevationLab today launched a new Kickstarter project for the Elevation Stand, an aluminum stand designed for the iMac and Apple displays. Aimed at improving posture, the Elevation Stand is milled from a single piece of aluminum to match the seamless look of the iMac and Apple's displays.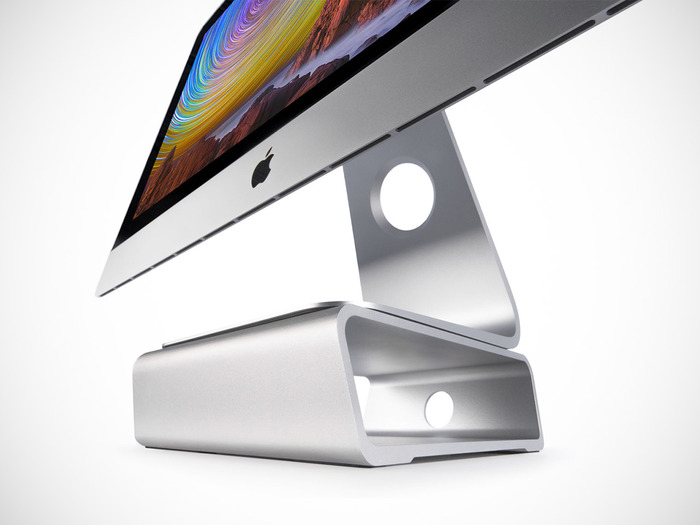 According to ElevationLab, the Elevation Stand has the smallest footprint of available iMac stands, along with a minimalistic design that hides extras like hard drives, USB hubs, cables, and more. It raises the monitor by 68mm, encouraging users to sit up straighter.




The company is also debuting the Elevation Anchor, made to keep headphones out of sight but within reach. Constructed from medical-grade silicone, it mounts under a desk to hide headphones.

ElevationLab previously produced the Elevation Dock, an aluminum iPhone dock that raised more than 1.4 million dollars.

The Elevation Stand can be preordered via a Kickstarter pledge of $59, while the Elevation Anchor can be preordered for $25. A $79 pledge gets backers a Stand and two Anchors, while additional colors are available at $85 and $99 price points. All products are expected to ship in September of 2014.
First Generation Apple TVs Once Again Able to Connect to iTunes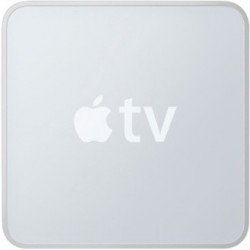 Over the weekend, Apple's first-generation Apple TVs were unable to access iTunes, an issue that affected Apple TV owners worldwide.

It appears that Apple has resolved the problem as of Tuesday, with many first-generation Apple TV owners reporting on Apple's Support Communities that their Apple TVs are once again able to access iTunes.

Some iOS users have speculated that the Apple TV downtime, along with the downtime for FaceTime on iOS 6, could be caused by internal communication upgrades related to the Heartbleed security issue, but Apple denied that any of its "key services" were affected by Heartbleed.

Though the first-generation Apple TV appears to be functioning once again, many iOS 6 users are continue to be unable to access FaceTime.


Apple Releases OS X Security Update for Mavericks, Mountain Lion, and Lion Users
Alongside iOS 7.1.1, Apple today released Security Update 2014–002 for Mavericks, Mountain Lion, and Lion users. The update includes fixes for several operating system vulnerabilities, detailed on Apple's support page.




Apple recommends that all users download the update, which can be acquired via the Software Update tool in the Mac App Store or through the following links:

- Security Update 2014–002 (Mavericks) (80.5 MB)

- Security Update 2014–002 (Mountain Lion) (135.9 MB)

- Security Update 2014–002 (Lion) (126.9 MB)
- Security Update 2014–002 Server (Lion) (177.2 MB)


Aaron Sorkin on Steve Jobs Movie Portrayal: He's 'Part Hero, Part Anti-Hero'
Screenwriter Aaron Sorkin has revealed more information about his script for the Steve Jobs movie while speaking at the Tribeca Film Festival on Monday night to Mashable, telling the site his movie isn't a traditional biopic or the story of Steve Jobs.

"It's not a biopic; it's not the story of Steve Jobs — it's something much different than that," Sorkin said. "He's a fascinating guy — part hero, part antihero."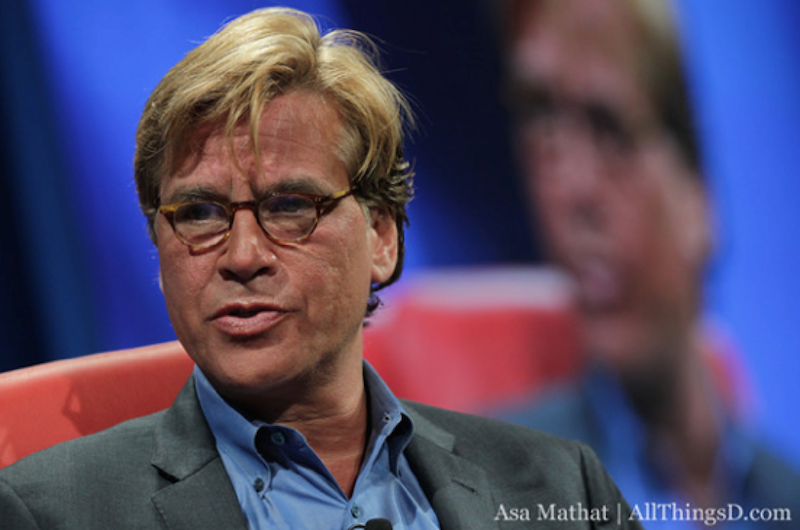 Sorkin declined to comment on today's report from The Hollywood Reporter saying that Slumdog Millionaire director Danny Boyle was in talks to direct the Steve Jobs movie with Leonardo DiCaprio potentially starring as the Apple co-founder. Instead, he said that he wanted the movie to speak for itself and that Jobs was a "fascinating guy" surrounded by "fascinating people" and had "very interesting relationships in his life".

Additionally, Sorkin revealed that the film, which he referred to as Steve Jobs, was one of the few times in his career he set out to write what he wanted to write and that it was an "incredibly satisfying" feeling.

The script, which Sorkin completed in January, uses material from Walter Isaacson's Steve Jobs biography and will focus on three 30-minute scenes ahead of three product launches. No potential release date has been announced.


Samsung Expert Says It Only Owes Apple $40 Million in Patent Case, Not $2 Billion
In the ongoing Samsung vs. Apple lawsuit, experts hired by Samsung took the stand on Monday to explain to the jury why Samsung should only pay Apple $38.4 million in damages for infringing on Apple's patents, rather than the $2 billion Apple says it is owed.




Samsung's paid expert, Judith Chevalier, a professor of economics and finance at the Yale University School of management, said a reasonable royalty on the five patents -- if they were infringed -- would be approximately $1.75 per device, a total of $38.4 million in total damages. Apple had previously argued that it was owed $40 in damages per device.

She also called Apple's patents "very negligible" in value because they were not mentioned as frequently in customer reviews as other features that are not at issue in the case.

Chevalier also pointed to Apple's accounting for each of its annual iOS software updates since 2009, which Apple pegs between "100+" and "200+" new features at each release, and come in at $10 to $25 per device in deferred revenue. Dividing the number of features, Chevalier claimed you could classify these features, on average, as costing 5 to 25 cents per feature.
Following Chevalier's testimony, Samsung rested its defense before starting its own case accusing Apple of infringing on its patents. The trial is expected to conclude and head to jury deliberations sometime next week.
Apple Seeds OS X Mavericks 10.9.3 Build 13D45a to Developers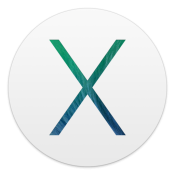 Apple today seeded build 13D45a of OS X 10.9.3 to developers, just under a week after releasing the seventh OS X beta, build 13D43, and over a month after the first 10.9.3 beta.

The beta is available through the Software Update mechanism in the Mac App Store as well as through the Mac Dev Center.

Apple continues to ask developers to focus on Graphics Drivers, Audio, Mail, Contacts and Calendar sync over USB in iTunes, and Safari. As was discovered with the first beta, 10.9.3 adds new support for 4K displays, offering "Retina" resolutions that improve readability along with support for 60Hz output from the Retina MacBook Pro.
Apple to End Support for AIM iChat Logins on Older Versions of OS X Starting June 30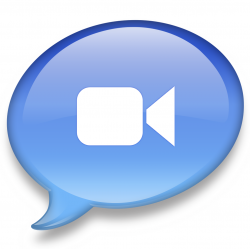 Apple has announced in a recent support note (via ZDNet) that it will end AIM iChat login support for users running versions of OS X below 10.7.2 Lion on June 30, 2014.

The change will affect those who use their mac.com and me.com addresses as AIM IDs to log into iChat on older systems, as users running compatible versions of OS X Snow Leopard and OS X Lion can upgrade to OS X Mavericks for free.

Meanwhile, users running OS X Leopard are directed to purchase and upgrade to Snow Leopard and then install OS X Mavericks for free. If a user cannot upgrade to a newer version of OS X, then the creation of a new AIM ID on AOL's website will be required along with the need to repopulate a new contacts list.

iChat was discontinued in favor of Messages, which has been the default instant messaging application on the Mac since its first appearance in OS X 10.8 Mountain Lion. According to the latest data from Net Applications, Apple's newest operating system, OS X Mavericks, holds a 51% share on all Macs, while the share of systems running older versions of OS X affected by this latest change is 19%.


Employees File Request to Include Steve Jobs Evidence in Anti-Poaching Lawsuit
Apple, Google and two other large technology companies should not be allowed to block evidence in an upcoming trial involving their participation in "no solicitation" agreements that date back to 2005. This request to expand the evidence presented in the trial was filed on behalf of tech workers who initiated the class action lawsuit in 2011, reports Reuters.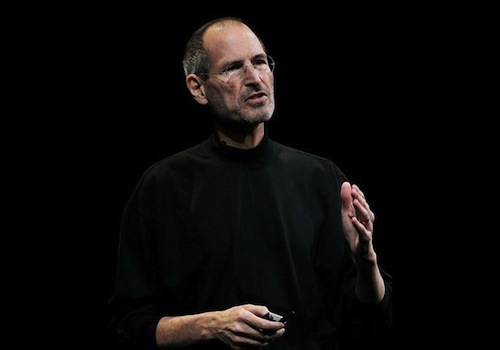 In this latest filing, the tech workers argue that all evidence pertaining to the companies involved, including the "bullying" personality of Steve Jobs, the personal wealth of Google co-founder Sergey Brin and other information gleaned from outside sources should be included in the case.
"That the jury might draw conclusions about Mr. Jobs' character based on evidence showing the manner in which he pursued the conspiracy at the heart of this case is not grounds to exclude such evidence," they wrote.

Additionally, the plaintiffs seek to introduce evidence about the personal wealth of executives like Google co-founder Sergey Brin - and how it could be enhanced by holding down workers' salaries and boosting margins, according to the filing.
The plaintiffs also seek to include information on an earlier investigation by the U.S. Department of Justice that prevented the companies from entering into future no-hire agreements. "The jury should know the reason the companies eliminated their no-hire agreements," argue the employees.

Apple, Google and five other large technology companies were caught signing "no solicitation" agreements that prevented the companies from trying to hire away each others' employees. Engineers, programmers, and other technical professionals who believe they were negatively affected by these non-poaching agreements filed a class action lawsuit in 2011 that is slated to begin this May. Damages could reach $9 billion in this case.

Currently, both sides are locked in negotiations, with the hope that a settlement can reached before the trial begins next month. Some companies, such as Pixar and Intuit, have already agreed to settle the case with Disney paying about $9 million and Intuit paying $11 million.


Former Apple CEO John Sculley: Forcing Steve Jobs Out Was a 'Mistake'
Former Apple CEO John Sculley states that he now regrets his decision to remove Steve Jobs from the company in 1985 and that the move to force the co-founder out was a "mistake," according to a new report from the Times of India.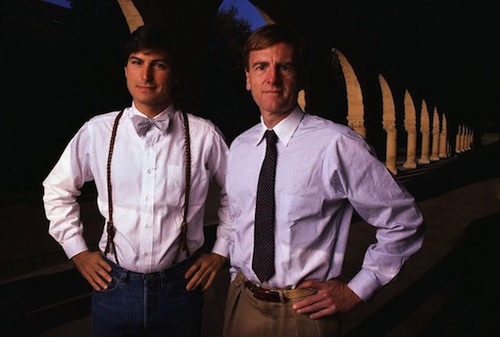 Steve Jobs (left) and John Sculley (right) in 1984


Sculley, who recently launched Obi, a low-cost smartphone brand for India, added that differences between he and Jobs began over the founder's desire to subsidize the Macintosh. Sculley said that he ultimately opposed the idea, feeling that there was no "merit" in lowering the cost of the computer.
However, he still feels that some way would have been found to have them both work for the company and this could have been facilitated by Apple's board then. "I think there could have been a way, in hindsight, where Steve and I did not need to have a confrontation, and we could have worked it out. And, perhaps the board could have played a bigger role in that. But you can't change history."

Jobs hired Sculley from beverage company Pepsi in 1983, however the two clashed over management styles and conflicting visions for the future of Apple. After his departure from Apple, Sculley went on to remain involved with a number of companies, including his role as a founding investor in Metro PCS. The former CEO also stated last March that Apple was experiencing a temporary lull in innovation, and that an iWatch smart watch from the company would be a key product going forward.
Image Editing App Pixelmator Half Off Ahead of 3.2 Update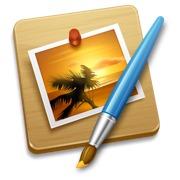 Popular Photoshop alternative Pixelmator today announced that it is planning to introduce a new Repair Tool in an upcoming 3.2 "Sandstone" update, allowing users to remove dust, blemishes, and entire objects from images with "an unsurpassed level of precision and quality."

To promote the future update, which will be available for free to existing Pixelmator users, the app is on sale for half off for the next week, dropping the price from $29.99 to $14.99.




Pixelmator regularly updates its image editing software, with the future 3.2 update following its January 3.1 update, which added full support for the Mac Pro, with 16-bit per channel images, full GPU support, and optimizations for the multi-core processors in the computer.

Back in October, the app was also updated with Mavericks support and a new image editing engine, greatly enhancing its performance.

Pixelmator can be downloaded from the App Store for $14.99. [Direct Link]
Apple Seeds OS X Mavericks 10.9.3 Build 13D43 to Developers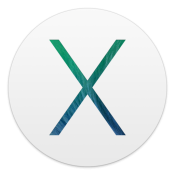 Apple today seeded build 13D43 of OS X 10.9.3 to developers, just under a week after releasing the sixth OS X beta, build 13D38, and a little over a month after the first 10.9.3 beta.

The beta is available through the Software Update mechanism in the Mac App Store as well as through the Mac Dev Center.

Apple continues to ask developers to focus on Graphics Drivers, Audio, Mail, Contacts and Calendar sync over USB in iTunes, and Safari. As was discovered with the first beta, 10.9.3 adds new support for 4K displays, offering "Retina" resolutions that improve readability along with support for 60Hz output from the Retina MacBook Pro.
'Social Network' Director David Fincher Will Not Helm Steve Jobs Movie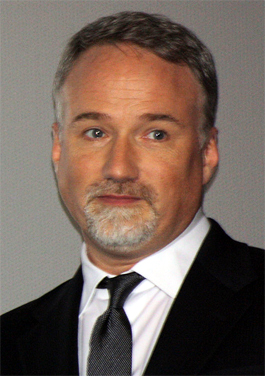 The Social Network director David Fincher will not direct Sony's Steve Jobs biopic, both written by Aaron Sorkin, reports The Hollywood Reporter. Back in February, a report came out saying Fincher was in negotiations to direct the film.

The report says Fincher was asking for $10 million in fees in addition to control over marketing the movie, with Sony saying his asking price was too high. It is possible that negotiations will proceed between the director and Sony.

A source with ties to the studio says Fincher potentially could re-enter negotiations but that the fee he is seeking is "ridiculous," adding, "You're not doing Transformers here. You're not doing Captain America. This is quality — it's not screaming commerciality. He should be rewarded in success but not up front."
Sorkin and Fincher worked together on The Social Network, which made $225 million worldwide and saw Sorkin win an Oscar for best adapted screenplay, in addition to nominations in several other categories.


Photos of New Building at Apple's European Headquarters Show Glass Exterior, Spacious Interior
Photos of Apple's new "Building 4" office building located at its European headquarters in Cork, Ireland have surfaced on the website of Bennett Construction. The images show off the location's glass exterior and spacious interior that features multiple office floors, a cafeteria with kitchen, a conference room equipped with large monitors, and a lounge-type area.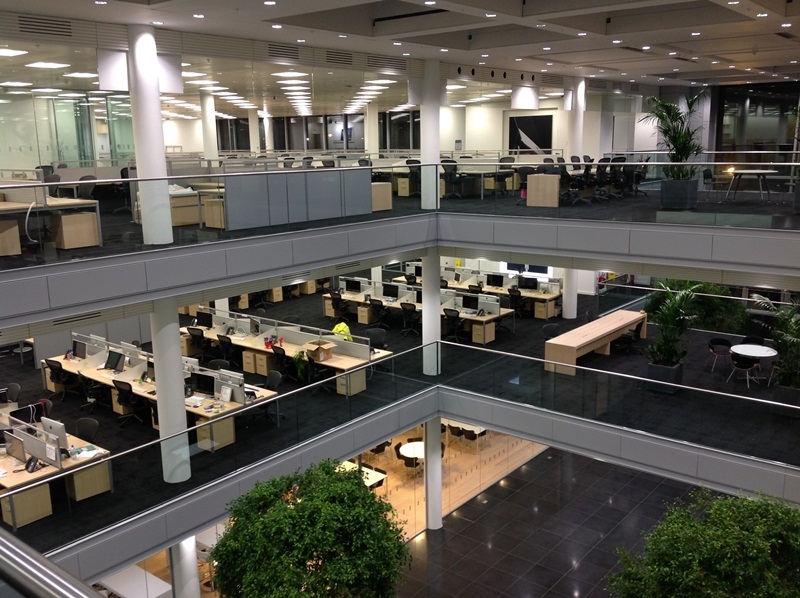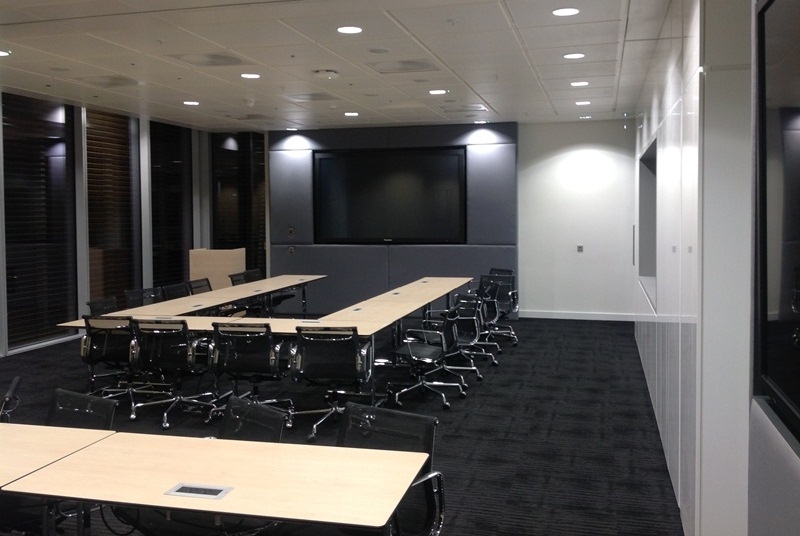 Apple's European headquarters opened in 1980 as the company's first location outside of the United States. In April 2012, it was reported that Apple would be adding 500 new jobs at the location, bringing the total headcount at the site to 3,300. The campus was also in the news that same year after Greenpeace activists scaled one of the location's buildings to protest Apple's use of coal-derived power at its data centers, although the company has earned high marks from the environmental activist group since then for pursuing renewable energy.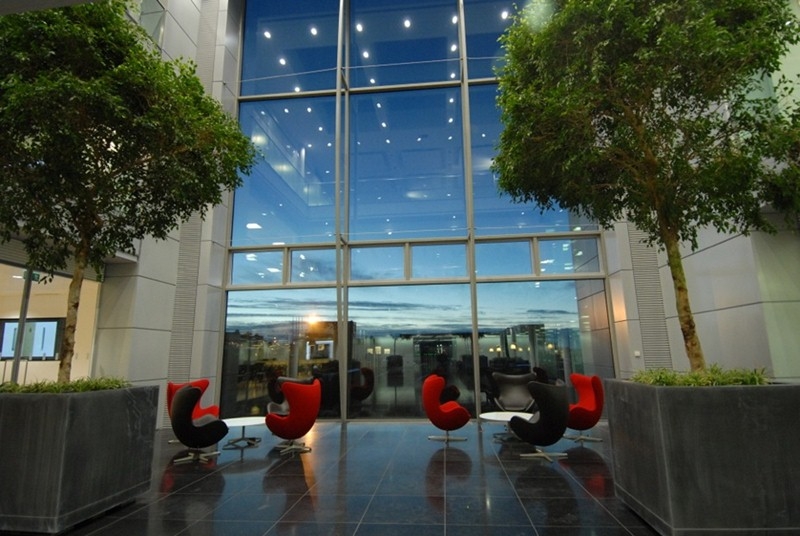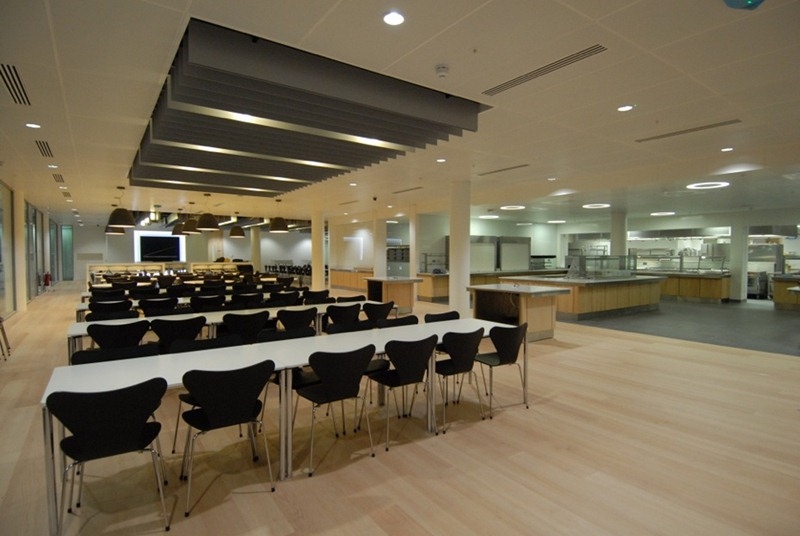 Work of course continues on Apple's large Campus 2 project back in the United States, as the company has begun the first phase of its construction after the demolition of Hewlett Packard's former offices. That phase will involve a 2.8 million square foot ring-shaped main building with an underground parking facility capable of holding approximately 2,400 cars, and the assembly of a 100,000 square foot fitness center and 120,000 square foot auditorium. The project is expected to be completed in 2016.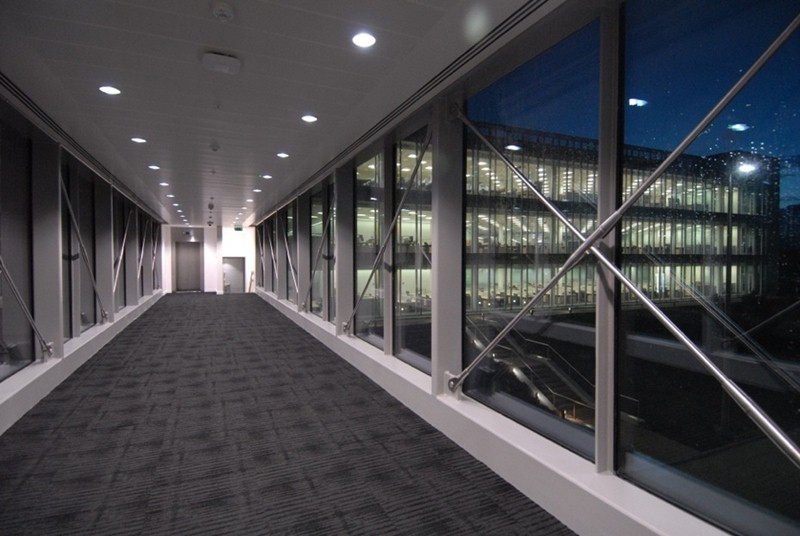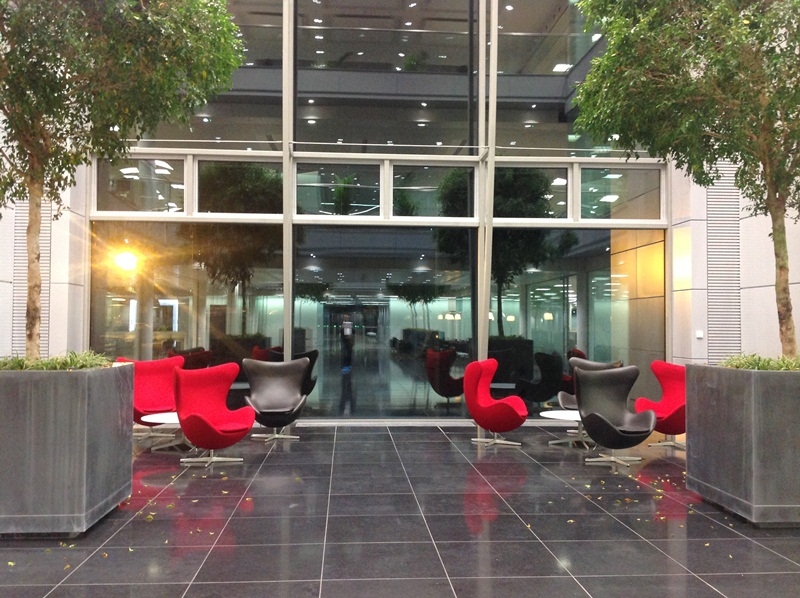 Civilization: Beyond Earth Coming to Mac This Fall
2K Games today announced that Civilization: Beyond Earth, the next entry in the popular Civilization strategy game franchise, is coming to the Mac alongside releases Windows and Linux this fall.




Set in a science-fiction-themed future, the game will allow players to select one of eight different expedition sponsors that are looking to colonize alien planets in order to establish a new civilization. Similar to previous titles in the series, gameplay will center around building large armies and structures as well as researching advanced technologies. Civilization: Beyond Earth also features an enhanced quest system, unit customization, and support for up to 8 players in multiplayer.
As part of an expedition sent to find a home beyond Earth, you will write the next chapter for humanity as you lead your people into a new frontier and create a new civilization in space. Explore and colonize an alien planet, research new technologies, amass mighty armies, build incredible Wonders and shape the face of your new world. As you embark on your journey you must make critical decisions. From your choice of sponsor and the make-up of your colony, to the ultimate path you choose for your civilization, every decision opens up new possibilities.
The past two titles in the series, Civilization V and Civilization IV, were also released for Mac in 2010 and 2006, respectively. Those titles were developed with the help of Aspyr, which has published multiple major gaming titles for the Mac, including Bioshock Infinite, Borderlands 2, Star Wars: Knights of the Old Republic, and SimCity 4. Currently, it is unknown whether Aspyr will help develop Civilization: Beyond Earth for Mac or if the series' original developer, Firaxis Games will work on the port.

- Civilization IV can be downloaded from the Mac App Store, Aspyr's GameAgent digital store, and Steam for $19.99.
- Civilization V can be downloaded from the Mac App Store, Aspyr's GameAgent digital store, and Steam for $29.99.
Branding Agency CEO Karl Heiselman to Join Apple's Marketing Team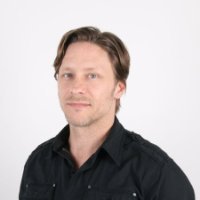 Karl Heiselman, Global CEO of branding agency Wolff Olins is set to leave his position to join Apple in a marketing communications role, reports Ad Age. The move comes as Apple works to double the size of its in-house creative design team as competition from Samsung and Android heats up.

Mr. Heiselman confirmed by email that he accepted "an exciting new role at Apple after 14 fantastic years at Wolff Olins," but referred further questions to Apple. An Apple spokeswoman declined to comment.
Wolff Olins describes itself as a "brand and innovation firm for the future," specializing in helping leaders reinvent their business or category. The company claims multiple high-profile clients, including AOL, Mercedes-Benz, Target, DoCoMo, and Apple's charity partner (Product) RED.

Heiselman's expertise in brand innovation could come in handy at a time when Apple is aiming to bolster its brand image. The company began working to boost its in-house design team numbers back in September and has also recently partnered with four new advertising agencies.

Apple has faced increasing pressure from competitors like Samsung over the course of 2013, with the company reportedly being unhappy with Samsung's "The Next Big Thing" advertising campaign. Its growing in-house design team and its new partnerships come as it prepares to release a multitude of new products later in 2014, including the iPhone 6, the iWatch, revamped MacBooks including a new ultrathin 12-inch MacBook Air, a lower-cost iMac, updated iPads, and a new Apple TV set-top box.

Heiselman previously worked for Apple as a design contractor in the early 1990s, before Steve Jobs took over the company. It's unclear what his exact role will be at Apple after his return.


Apple Declines to Invest in Intellectual Ventures' Patent Buying Fund
After collaborating with patent buying company Intellectual Ventures to purchase Kodak patents in 2012, Apple is now rebuffing offers by IV to invest in is latest patent acquisition fund, reports Reuters. Though both Apple and Intel have declined to participate, rivals Microsoft and Sony have been persuaded to contribute to a new round of patent buying.

"Microsoft and Sony's investments give IV a fresh war chest to buy new patents," said Kevin Jakel, chief executive of Unified Patents, which advises tech companies on alternatives to patent aggregators like IV.

Intellectual Ventures is one of the top five patent owners in the U.S. and has a portfolio of over 70,000 patents and intellectual property assets. The company has raised $6 billion for patents and is courting investors like Apple to raise an additional $3 billion.




Microsoft, Sony, Apple and Intel have invested in Intellectual Ventures in the past, giving them access to IV's patent holdings and a portion of the royalties it collects. Apple didn't comment on its recent decision not to invest in IV, but one intellectual property expert believes it is not related to the company's recent efforts to influence patent legislation in the U.S.

"Amy Landers, an intellectual property professor at University of the Pacific McGeorge School of Law, said Apple and Intel's decision on IV's latest fund was probably unrelated to the political debate on patent reform.

"The companies that are not investing in the fund have probably just found better uses for their money," Landers said.

Apple recently joined the new Partnership for American Innovation, a patent reform lobbying group that includes DuPont, Ford, General Electric, IBM, Microsoft and Pfizer. The group is opposing recent patent reform legislation that they claim may hurt actual innovations that need patent protection.
iMovie for Mac Updated With Minor Feature Upgrades and General Improvements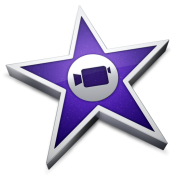 Apple has updated its iMovie for Mac video editing package, adding a few minor improvements and fixing issues related to sharing, search and some foreign languages.

The update adds the ability to sort events in the sidebar by date, change the font, size and color of new titles introduced in iMovie 10, and the ability to double-click an transition in the timeline to adjust its duration. All small additions, but welcome ones for some users.

What's new in iMovie 10.0.3

• Option to sort events in the sidebar by date
• Change the font, size, and color of new titles introduced in iMovie version 10
• Double-click a transition in the timeline to adjust its duration
• Crop and rotate clips in events
• Add speed effects using the Adjustments Bar
• Option to smoothly transition in and out of speed effects
• Fixes issues that could cause iMovie to quit unexpectedly
• Resolves issues that could cause sharing to fail
• Improves reliability of search when using partial or multiple search terms
• General usability improvements on computers using certain languages
Apple also released an update to Xcode coding app that fixes a few issues.

iMovie is available from the Mac App Store for $14.99, though it is included free for many users with their Mac purchase. [Direct Link]

Xcode is a free download from the Mac App Store. [Direct Link]


U.S. Mac Sales Fall in Winter Quarter, Global PC Market Sees Continued Sales Falloff
Apple saw a year-over-year drop of 3.8% in U.S. market share according to a report released today by Gartner, with Dell and Lenovo capturing significant growth at the expense of the rest of the market. The U.S. PC market saw a small increase in total units shipped, while internationally the PC market contracted by 1.7 percent.

In the U.S. market, PC shipments totaled 14.1 million units in the first quarter of 2014, a 2.1 percent increase from the same period last year (see Table 2). HP maintained the No. 1 position, as it accounted for 25 percent of PC shipments in the U.S. market. Dell and Lenovo experienced the strongest growth among the top five vendors, with growth rates of 13.2 and 16.8 percent.

"In terms of the major structural shift of the PC market, the U.S. market is ahead of other regions," Ms. Kitagawa said. "The installed base of PCs started declining in 2013, while the worldwide installed base still grew. The U.S. PC market has been highly saturated with devices: 99 percent of households own at least one or more desktops or laptops, and more than half of them own both. While tablet penetration is expected to reach 50 percent in 2014, some consumer spending could return to PCs."


The overall international PC market fared worse than the U.S., a reversal of last quarter as tablets continue to eat into PC sales. Internationally, Lenovo, Dell, Asus and HP all saw solid market share growth at the expense of Acer and the rest of the market. Gartner considers PCs to include desktop and notebooks, including x86 tablets equipped with Windows 8, but excluding Chromebooks and other tablets like the iPad.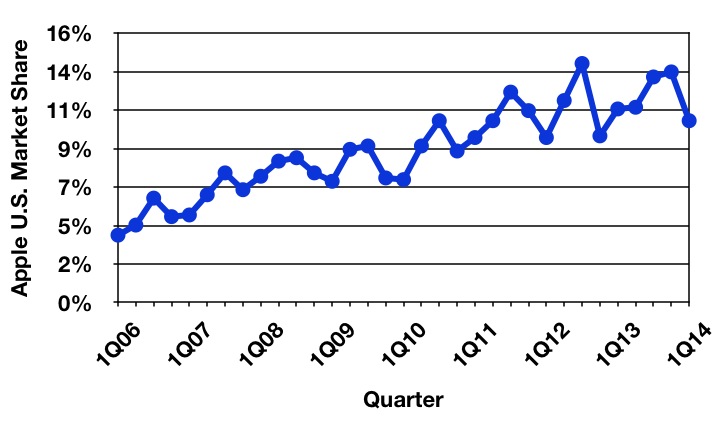 The data is preliminary, meaning Gartner can revise its numbers based on market conditions. Last year the firm revised its preliminary Apple numbers by more than two share points because the newly introduced iMac was in extremely short supply.

Separately, IDC reported similar overall trends, with Apple seeing its U.S. PC market share dropping to 10.3%, down from 11% last year. Globally, the firm saw the PC market shrink by 4.4 percent.

Apple has not updated any of its Mac products since early last fall.
Apple Seeds OS X Mavericks 10.9.3 Build 13D38 to Developers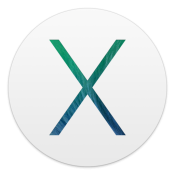 Apple today seeded build 13D38 of OS X 10.9.3 to developers, just under a week after releasing the fifth OS X beta, build 13D33, and a little over a month after the first 10.9.3 beta.

The beta is available through the Software Update mechanism in the Mac App Store as well as through the Mac Dev Center.

Apple continues to ask developers to focus on Graphics Drivers, Audio, Mail, Contacts and Calendar sync over USB in iTunes, and Safari. As was discovered with the first beta, 10.9.3 adds new support for 4K displays, offering "Retina" resolutions that improve readability along with support for 60Hz output from the Retina MacBook Pro.


Intel Expands Thunderbolt Networking with PC Support for Ultra-Fast Connections
Intel today updated its Thunderbolt connectivity with Thunderbolt Networking, allowing a PC and a Mac to be paired for the first time using a Thunderbolt cable, enabling fast file sharing with a throughput of up to 10 Gbps.

Drivers in Mavericks have allowed two Macs to connect via Thunderbolt since the operating system was released in 2013, but now a Mac can also be paired with a PC or two PCs can be paired with one another.



Thunderbolt Networking, emulating an Ethernet connection environment, provides 10GbE throughput between two computers. Already released on the Mac with OS X Mavericks*, a PC driver will soon be available to connect two PCs together or a PC to a Mac, adding a new level of workflow flexibility for media professionals. By offering simple and fast file sharing, Thunderbolt Networking enables backup or upgrade across two computers like never before, using existing cables and connectors.
Connecting two computers via Thunderbolt is similar to connecting them via standard Ethernet, but the file transfer speeds are far faster with the former. Intel is currently demoing Thunderbolt Networking at NAB 2014 and expects to release the PC driver soon.


LaCie Unveils Three New Thunderbolt 2 Storage Solutions for 4K Video Editing
LaCie unveiled three new and updated Thunderbolt 2 storage solutions at the annual NAB trade show this weekend, with the 8big Rack, 5big and 2big geared towards 4K video editing and other professional media uses.




The LaCie 8big Rack is the company's first Thunderbolt 2 rackmount storage solution, featuring up to eight 6TB 7200RPM hard drives and delivering speeds of up to 1330 MB/s. The 8big Rack also features easy access to components and tool-free maintenance of the included power supplies units, fans, and disks, all while offering a cooling system with three fans that conducts heat away from vital components. The 8big Rack will be offered in 4-disk (12TB) or 8-disk (24TB and 48TB) configurations.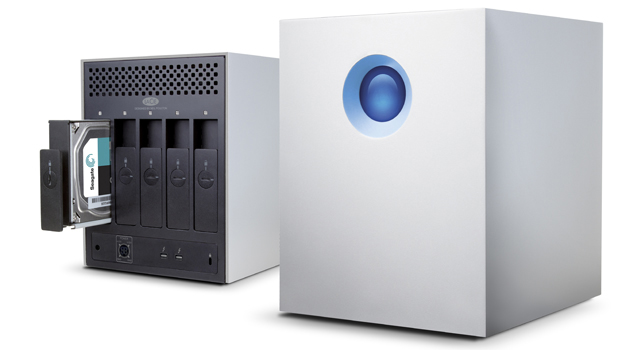 Meanwhile, the new LaCie 5big is up to two times faster than the previous version, featuring multiple 6TB 7200RPM hard disks with speeds of up to 1050 MB/s by way of Thunderbolt 2. Three separate LaCie 5bigs can be connected to a Mac Pro to create a single high-storage workstation, with every device featuring two Thunderbolt ports to daisy chain up to six Thunderbolt devices. An innovative cooling system that composes of a heat-dissipating aluminum enclosure, heat exhausts and a Noctua cooling fan is also included, as the new 5big will be offered in 10, 20, or 30TB capacities.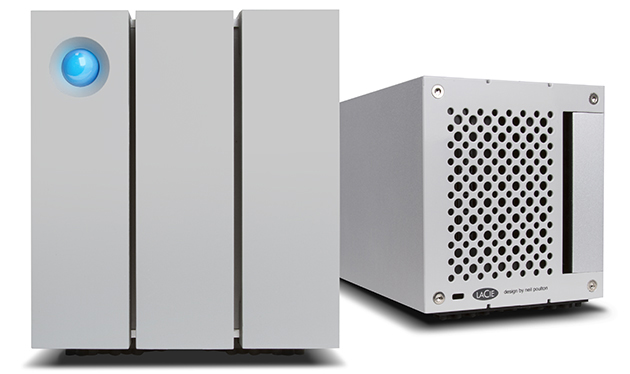 Finally, LaCie has also refreshed its 2big, with the device sporting a new design, speeds of up to 420 MB/s with the included Thunderbolt 2 technology, and fast performance with USB 3.0 support. The device also offers the ability to hot-swap disks through an easy access panel on the front, while status LEDs on the side allow users to track disk health and RAID build status. The LaCie 2big will be offered in 6, 8, or 12TB capacities.




According to LaCie, all three storage devices are expected to be available this quarter through the LaCie online store and the company's resellers, with pricing yet to be determined. The company announced its Little Big Disk Thunderbolt 2 external hard drive this past January at CES, which is available in a 1TB SSD capacity.


Apple's First Turkish Store Opens to Press, Tim Cook Won't Attend Grand Opening
Members of the press were given a tour of Apple's newest retail store in Istanbul, Turkey before its grand opening tomorrow, April 5th, reports Apple Toolbox. Leading the tour was Apple's manager of retail stores, Steve Cano, who confirmed that CEO Tim Cook will not attend the opening as originally expected. Turkish President Abdullah Gül also will postpone his visit until after the retail store is opened.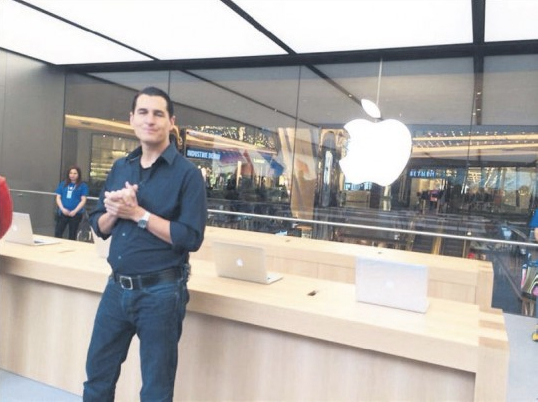 The 20,000 square foot store, which is located in the upscale Zorlu Center, features a unique cubic design with a glass ceiling and glass sides. According to Cano, the store uses more glass than any previous Apple Store and contains special glass materials that take full advantage of the sun light in the open area of the mall.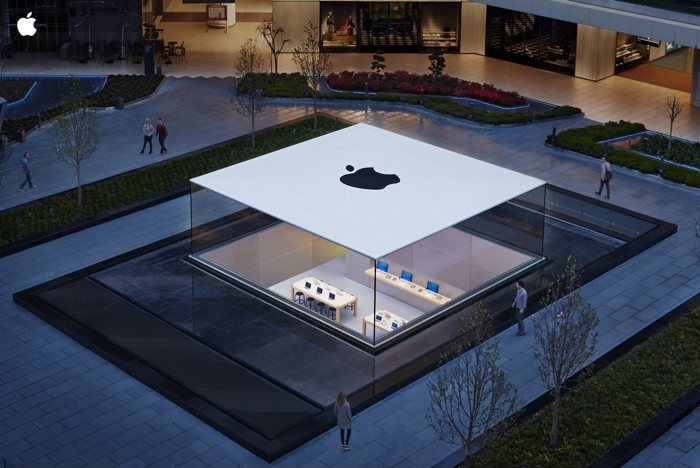 The Apple Retail Store at the Zorlu Center is set to open at 10:00 AM this Saturday, April 5, with Apple sending out announcements via email to Turkish residents. Similar to other retail openings, store employees will be giving away Apple t-shirts to the first 4,500 customers who enter the location on Saturday. The Istanbul location is Apple's 424th retail store worldwide.
Apple Seeds OS X Mavericks 10.9.3 Build 13D33 to Developers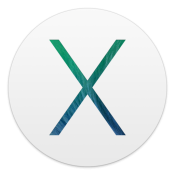 Apple today seeded build 13D33 of OS X 10.9.3 to developers, just under a week after releasing the fourth OS X beta, build 13D28, and a month after the first 10.9.3 beta.

The beta is available through the Software Update mechanism in the Mac App Store as well as through the Mac Dev Center.

Apple continues to ask developers to focus on Graphics Drivers and Audio, and Safari. As was discovered with the first beta, 10.9.3 adds new support for 4K displays, offering "Retina" resolutions that improve readability along with support for 60Hz output from the Retina MacBook Pro.