Mac Rumors powered by MacRumors_p2


Apple Releases MacBook Air Flash Storage Firmware Update 1.0
Apple today released MacBook Air Flash Storage Firmware Update 1.0, an update for Mid-2012 MacBook Air models to address an issue with recovering from crashes.
This update is recommended for MacBook Air (mid 2012) models. This update addresses a storage firmware issue that, in rare cases, may cause a system to fail to recover from a crash.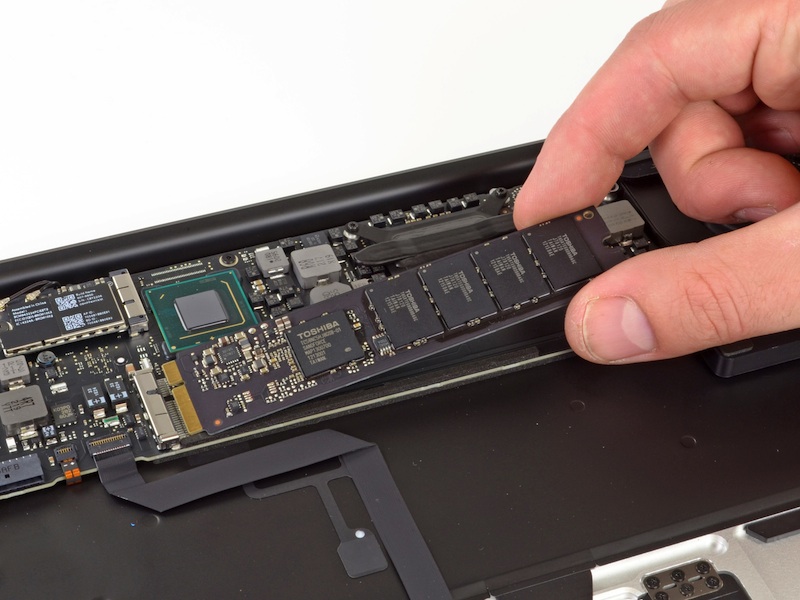 Flash storage module from mid-2012 MacBook Air (Source: iFixit)


The update is 1.69 MB and requires OS X 10.7.5 or OS X 10.8.3.


OS X 10.8.4 Build 12E52 Seeded to Developers
As noted by 9to5Mac, Apple today seeded build 12E52 of OS X 10.8.4 to developers. The release comes seven days after the previous build 12E47 and marks the seventh beta iteration of OS X 10.8.4.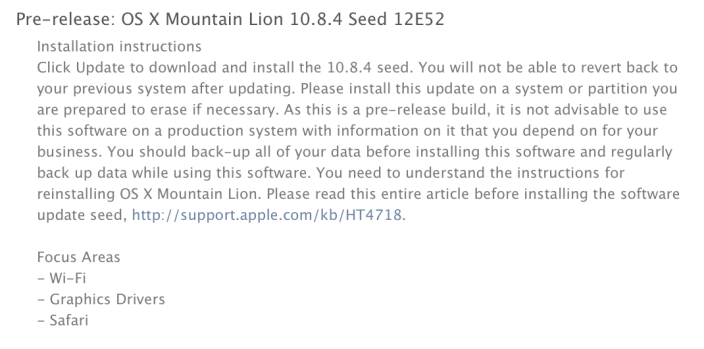 As with previous beta releases, Apple continues to ask developers to focus on Wi-Fi, Graphics Drivers, and Safari.

The update is available through the software update tool in the Mac App Store and Apple's Developer Page.
iMovie Updated With Bug Fixes and Stability Improvements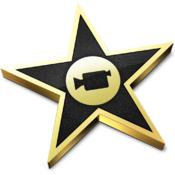 Apple has updated its iMovie for Mac software with some bug fixes and stability improvements.

What's New in Version 9.0.9

- Addresses issues where iMovie does not recognize video cameras connected to your Mac
- Improves compatibility with projects imported from iMovie for iOS
- Includes stability improvements
iMovie is available on the Mac App Store for $14.99. [Direct Link]
Firefox 21 Launches with Enhanced Social API Support, Health Report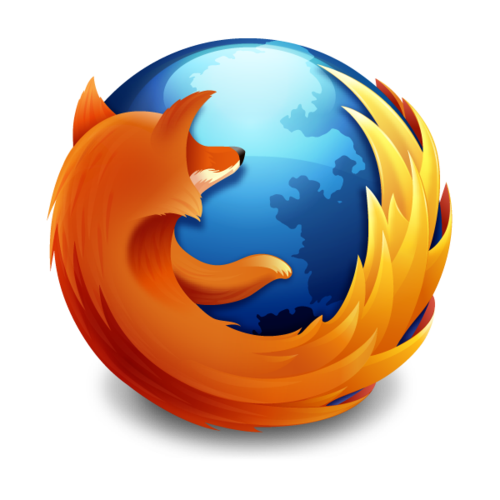 Mozilla has launched Firefox 21 for Mac, Windows, and Linux, adding a number of improvements, namely to the browser's Social API.

The Social API is designed to allow social providers to integrate directly with Firefox, displaying selected content on the browser's sidebar or toolbar.

With the update Mozilla has added several new partners, including Cliqz, Mixi, and msnNow. Cliqz and msnNow are news aggregation services, while Mixi is Japan's largest social network.

Firefox 21 brings an enhanced UI for the Do Not Track Feature and preliminary implementation of the Firefox Health Report, which is a system that is designed to log browser health information like start up time, total running time, and number of crashes. It is designed to monitor browser performance and provide tools to fix potential problems. The update also includes a number of small changes and bug fixes, which can be found in the release notes.

Firefox 21 for the Mac is available for download from the Mozilla website.


Apple Releases Thunderbolt Software Update 1.2
Apple has released Thunderbolt Firmware update for all Macs with Thunderbolt ports, providing stability fixes for Thunderbolt and Target Disk Mode.




The update requires OS X Lion 10.8.3 or later and uses 1.22MB of disk space. The update can be downloaded via Apple's software update page or through the Mac App Store.


Pixelmator 2.2 Adds Extensive Shapes Support, New Video Tutorials Website
The hugely popular Pixelmatorcontinues to add features to its image editing app, this time adding an extensive collection of shapes and related tools, a new paint selection tool, and more. There is also a new tutorials website with videos showing how to use Pixelmator to its fullest.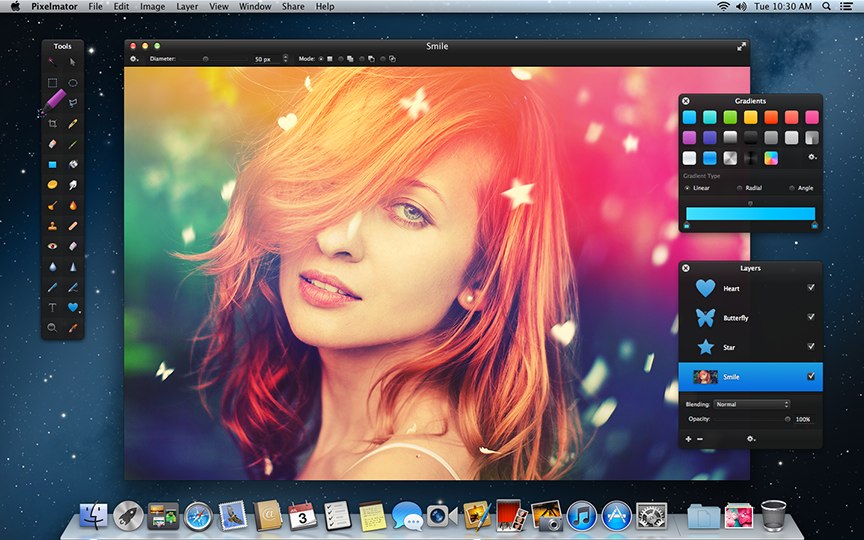 The last update to Pixelmator added CMYK support, color profile management. The software is becoming more and more powerful for image editors, while keeping its competitive price of $14.99 -- significantly less than Adobe's Photoshop, which the team considers its primary competitor.

"We're excited to deliver even more, easy-to-use, advanced features to our Pixelmator fans and continue to create the best and most enjoyable image editing experience," said Saulius Dailide of the Pixelmator Team. "With new state-of-the-art Smart Shape Tools, people can fully enhance their images, create logos, Web layouts, posters, and much more, all easier than ever before."

Pixelmator 2.2 Blueberry comes with more than 100 new features and improvements

Pixelmator 2.2 is available now from the Mac App Store for $14.99, free for current owners. [Direct Link]


Best Buy Offers $125 Discount on MacBook Airs
In honor of Mother's Day, Best Buy has discounted its MacBook Airs by a total of $125. The company is offering a base discount of $100, plus a 'MOM25' promo code that drops the price another $25.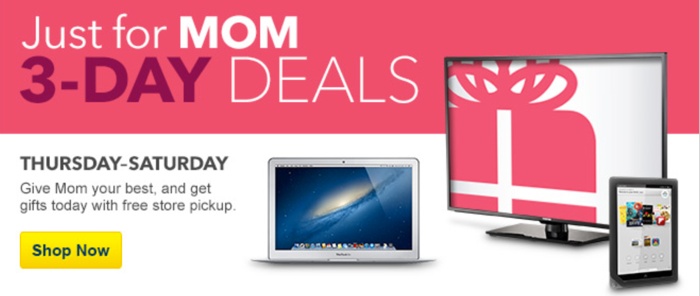 The prices with the discounts are as follows:

11-inch MacBook Air 4GB/64GB - $874.99
11-inch MacBook Air 4GB/128 GB - $974.99
13-inch MacBook Air 4GB/128GB - $1074.99
13-inch MacBook Air 4GB/256 GB - $1274.99

Best Buy has also lowered the price of its $100 iTunes gift cards to $85. The deals will last for three days, ending on Sunday, May 12 2013. To get the full sale price, customers will need to use the 'MOM25' promotion code at checkout.


OS X 10.8.4 Build 12E47 Seeded to Developers
As noted by 9to5Mac, Apple today seeded build 12E47 of OS X 10.8.4 to developers. The release comes eight days after the previous build 12E40, and marks the sixth beta iteration of OS X 10.8.4.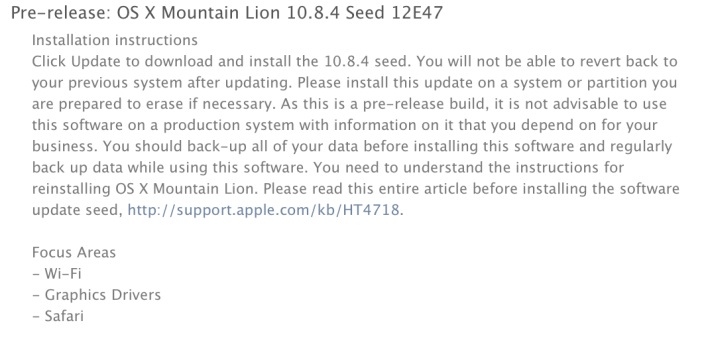 As with previous beta releases, Apple continues to ask developers to focus on Wi-Fi, Graphics Drivers, and Safari.

The update is available through the software update tool in the Mac App Store and Apple's Developer Page.
Microsoft Updates Office for Mac 2011 With Office 365 Compatibility, Bug Fixes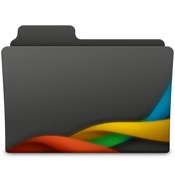 Microsoft today released the 14.3.4 update for Office for Mac 2011, adding Office 365 compatibility in addition to a host of bug fixes. Previously, Office for Mac 2011 users had to uninstall Office for Mac and sign up for Office 365. Now, existing Office for Mac 2011 users can easily integrate their software with the subscription service.

The rest of the update addresses various bugs, including an issue where file names would change when saved to SkyDrive or SharePoint in Microsoft Word for Mac. The font Calibri Light was also added, fixing poor rendering of Office 2013 shared documents that used the font.

Other bug fixes include being able to coauthor a PowerPoint Web App session without being alerted to potential conflicts, an expiring token notification, and an issue where keyboard and mice commands would "lose control" during a PowerPoint for Mac slideshow. A full list of bug fixes can be found on the Microsoft Support site.

While Office 2011 for Mac is still being updated, a new version of Office for Mac may arrive in April 2014. This update to Office 2011 for Mac, which requires Mac OS X 10.5.8 or later, is available for free via Microsoft AutoUpdate or Microsoft's website.


MagSafe Adapter Key Ring Now Available on Kickstarter
The MagSafe Adapter Key Ring began as a simple 3D printing project, but because of the popularity of the accessory, creator Jonathan Bobrow launched a Kickstarter campaign to create a new and improved version.

Now named the KeyBit, the MagSafe Adapter Key Ring produced via the Kickstarter campaign will feature an improved manufacturing process that results in a nickel-plated milled steel product. As with the original version, the KeyBit is an accessory that is designed to attach to Apple's MagSafe to MagSafe 2 Converter, preventing the small converter from becoming lost.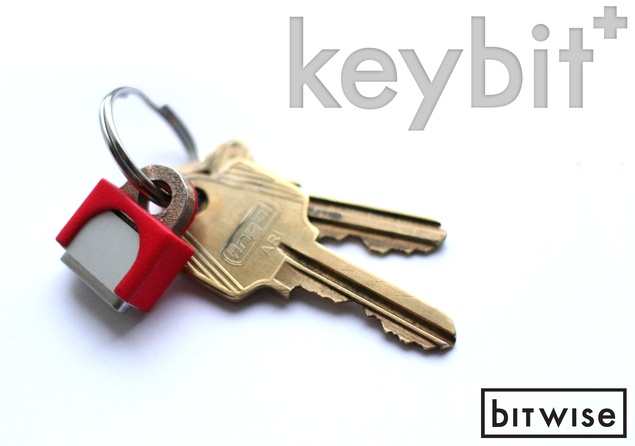 The KeyBit attaches magnetically to the converter to hold it in place when not in use and it also includes the option for a 3D printed cover, which comes in a variety of colors. A standard KeyBit requires a $15 pledge, while a KeyBit with the cover costs $20.

The KeyBit has an estimated delivery date of August 2013, but a $30 donation will net backers a standard KeyBit along with a printed version to be mailed immediately after the Kickstarter campaign ends.


Viber Moves From iOS to Mac with New Desktop App
Popular free messaging and VOIP app Viber is expanding from the iPhone to the desktop with the release of Viber Desktop for PC and Mac.

The new desktop app allows users to initiate both video chats and voice calls, much like competing app Skype. Messages sync instantly across all platforms, and the app includes functionality that lets users begin a call on a smartphone and pick it up on a computer.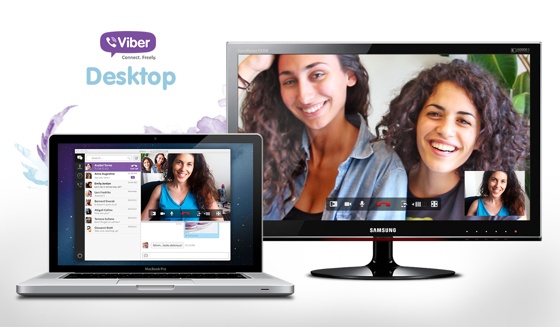 Viber Desktop and the latest versions of the Viber app were designed from the ground up for individuals using Viber on multiple devices, so you can always use the app that's right for you, whether at home, in school, at the office, or on the go. Viber offers far more flexibility than any similar product.
While Viber supports texting, voice calls, and video chats, it does not yet support conference calls or mobile-to-mobile video calls. Alongside today's desktop release, the company has also updated its mobile apps, adding video messages, a new voice engine for better sound quality, and an improved photo sharing experience.




Viber for Mac and Viber for iOS are both free downloads. Viber for PC and Mac can be downloaded from the Viber website while Viber for iOS can be downloaded from the App Store. [Direct Link]
EA Says The Sims 4 Will Be Coming to the Mac in 2014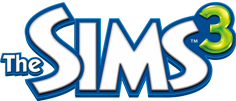 EA has announced in a blog post that its Maxis studio will release The Sims 4 for the Mac and PC in 2014.

The company released no other details about the game, but said more information would be forthcoming.

Today we are revealing to our top fans the fact that The Sims™ 4 is coming to PC and Mac in 2014.

The Sims franchise is fueled by the passion and creativity of its millions of fans around the world. Their continued devotion to the franchise ignites the fire of creativity of the team at The Sims Studio, driving them to continually improve and innovate on one of the world's most successful simulation game that has sold more than 150 million copies worldwide.
On another note, the new Sim City will arrive on the Mac June 11th.


Redesigned Vox Music Player 1.0 Offers Minimalistic Interface and Support for Multiple File Types
The Vox Music Player was originally created as a universal media player in 2007. Its simple design and its support for a wide range of file types led to a surge in popularity, but development stalled and it largely fell out of the public eye. Coppertino, an independent development studio that focuses on Mac and iOS software, has since adopted and redesigned the media player.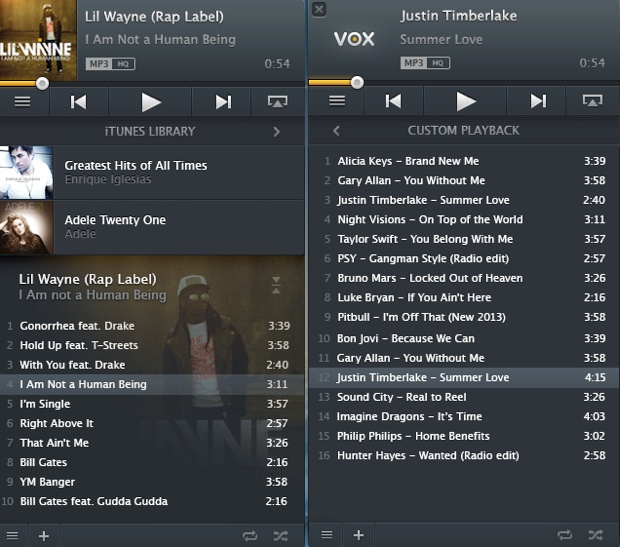 Vox 1.0 retains the minimalistic design of the original software, but comes equipped with a number of upgrades. It supports a wide variety of audio formats like MP3, FLAC, AAC, Musepack, Ogg Vorbis, WAV, and more, plus it integrates easily with iTunes.

The app supports a number of music sources including network drives, external hard drives, and VPN-connected storages and its built-in equalizer comes equipped with presets and adjustments to improve the listening experience.

- VOX 1.0 supports literally any source your Mac can access. Add music from external HDDs, network drives and VPN-connected storages.
- Supports multiple output devices using AirPort.
- Built-in equalizer with a variety of presets and adjustments.
- Transforms ordinary stereo source into 7.1 or 5.1 channel output.
- Bauer Stereo feature provides more realistic sound when listening to stereo music through headphones.
- Your music automatically pauses when your headphones are disconnected.
- Handy controls available from OS X main menu and VOX Dock icon.
- Full OS X gesture support including altering playlist height, switching music sources or adjusting volume.
Vox 1.0 will enter open beta next week, but MacRumors readers can sign up to download the beta version of the app immediately from the Coppertino website.


Rare Working Apple 1 Computer Headed to Auction
German auction house Breker (via ComputerWorld) is set to put a working Apple 1 on auction later this month and it may fetch between $240,000 and $400,000. There are an estimated six working Apple 1 computers in existence.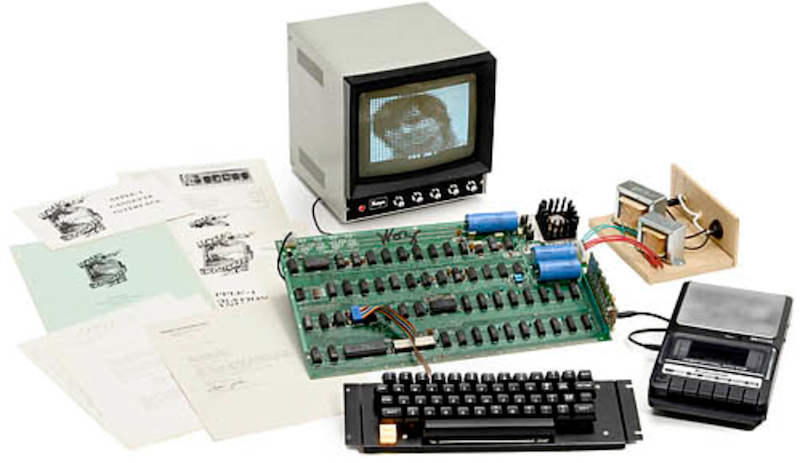 The Apple 1 is signed by Steve Wozniak and was originally owned by Computer Data Systems' Fred Hatfield. The computer is also bundled with the original manual and a letter from Steve Jobs to Hatfield in which Jobs offers to exchange Hatfield's Apple 1 for an Apple II 4K motherboard if Hatfield is willing to pay an extra $400.

As noted by AppleInsider, the record price for an Apple 1 was $640,000 at an auction in December. Last August, a non-working Apple 1 headed to auction with a much lower $125,000 estimate. Before that, another Apple 1 fetched $375,000 at Sotheby's auction in New York.

The Apple 1 was originally priced at $666.66 when it was released in 1976, with only 200 units produced. It's believed that there are roughly 30 to 50 still intact.


Photo Gallery of Stunning New Berlin Apple Store
German Apple website ifun.de has posted a collection of images from the beautiful new Apple Store Kurfürstendamm in Berlin, Germany. The store is located in a century-old theater building in one of the city's major shopping districts. The building measures some 48,000 square feet, though it's unclear how much of that space Apple is occupying.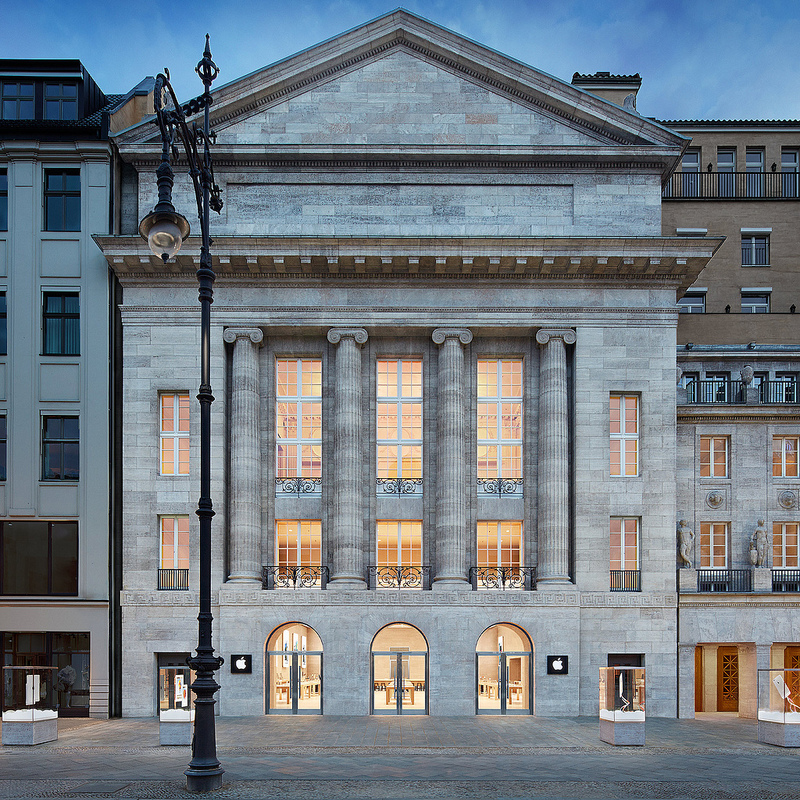 Apple first posted job listings for the Kurfürstendamm store back in December of 2011, though it's taken quite a while for Apple's architects to ready the building for shoppers.

The store opens to the public tomorrow, May 3rd, at 5 PM local time.




Acorn 4 Image Editor Adds Improved Speed, Enhanced User Interface and More
Developer Flying Meat has released an update to its popular Photoshop alternative Acorn, bringing it to version 4.0 and adding an improved user interface, speed upgrades, non-destructive filters, multiple layer selection and more.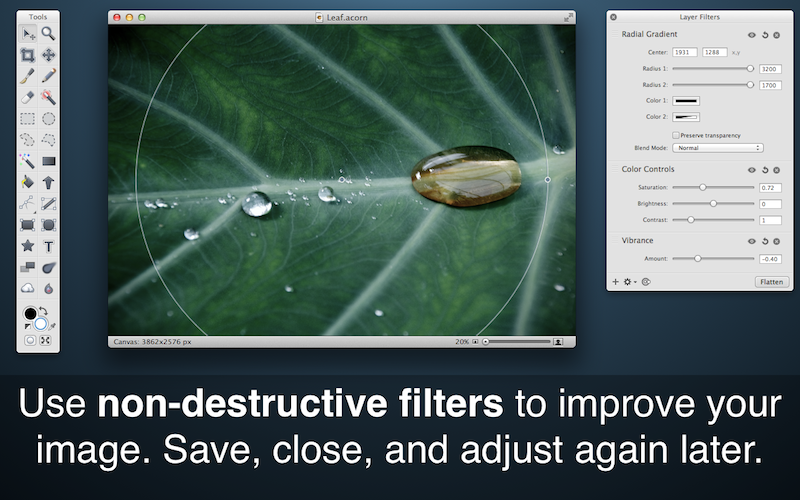 The developer claims that the new version of Acorn is "a lot faster than its predecessors" in a variety of ways, including applying filters and selections and working with large images. New features like non-destructive filters also improve workflow speed, allowing users to try filter combinations without overwriting the original image data.
Non-Destructive Filters

Layer styles and filters are now merged together into a happy new UI. Chain filters together to create endless combinations of unique effects knowing you can always change your mind later on.
Non-destructive filters aren't the only new part of Acorn, as the entire program has received a "new coat of paint" while the tools palette has been split off into its own window and a new filter HUD, called Merlin HUD, has been added, which will allow users to manipulate the radii and center points of their filters on the canvas.

Acorn 4, which debuted in 2007 with the goal of "simplicity", is available on Flying Meat's website for $29.99 until the end of May.


Apple Seeds Build 12E40 of OS X Beta 10.8.4 Developers
Apple today issued build 12E40 of OS X Mountain Lion to developers, a week after build 12E36 was released. Build 12E40 marks the fifth beta iteration of OS X 10.8.4.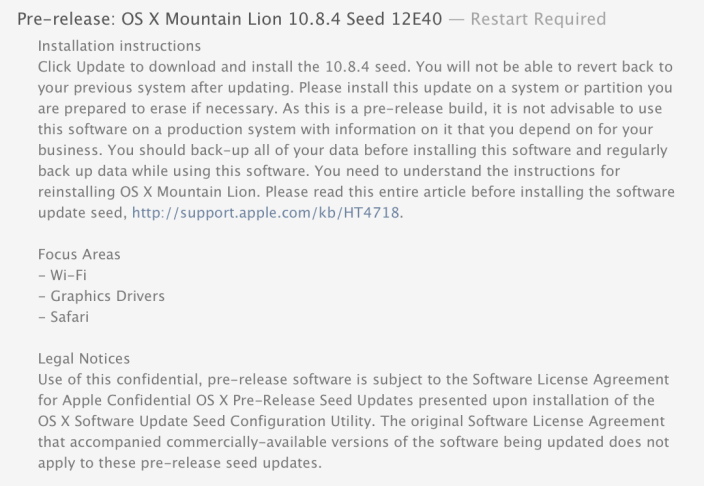 Apple continues to ask developers to focus on Wi-Fi, Graphics Drivers, and Safari.

The update is available through the software update tool in the Mac App Store and Apple's Developer Page.


Russian Billionaire Buys $100 Million in Apple Stock
With Apple's stock price at its lowest levels since 2011, Russian billionaire Alisher Usmanov -- one of the main investors behind the Digital Sky Technologies investment group -- has purchased $100 million of Apple stock, reports Bloomberg.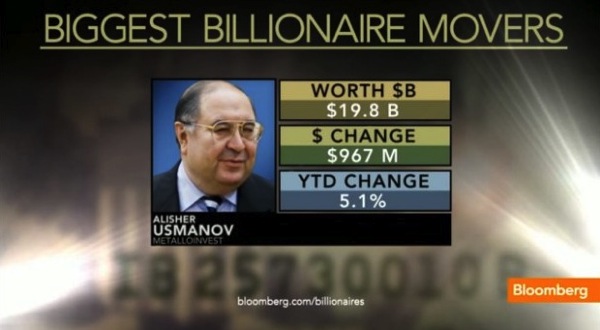 "I believe in the future of this company even after Steve Jobs," Usmanov, 59, said in an interview at Bloomberg's Moscow offices, referring to Apple's late co-founder. "When the company lost $100 billion of its market value, it was a good time to buy its shares, as the capitalization should rebound."
Usmanov is estimated to be Russia's richest man with a fortune worth $19.8 billion.


Belkin Officially Begins Shipping Thunderbolt Express Dock
More than a year and a half after it showed off its first concept for a Thunderbolt docking station, Belkin today officially began shipping its Thunderbolt Express Dock. The $299.99 dock offers users a single-cable connection for a docking station supporting a FireWire 800 port, a Gigabit Ethernet port, three USB 3.0 ports, audio in/out, and Thunderbolt passthrough.
Designed to be an easy and powerful way to increase productivity and take advantage of Thunderbolt technology, Belkin's Thunderbolt Express Dock allows creative professionals the ability to edit films in full HD 1080p, and transfer volumes of data in seconds at bidirectional 10Gbps channels. That is up to 20 times faster than with USB 2.0 and up to 12 times faster than with FireWire 800. The Thunderbolt Express Dock uses a single high-speed connection to create ultrafast data transfers between your laptop and up to eight other devices, including FireWire, Ethernet, USB, and enables users to daisy-chain up to five additional Thunderbolt devices.
Belkin's Thunderbolt Express Dock has had a lengthy history, going through variousdesign and pricing changes before settling on the current feature set. Belkin began taking pre-orders in mid-February, saying that the dock would begin shipping the following week, but the company ended up pushing back the launch of the dock until today.




Belkin representatives declined to offer details on the reasons for the last-minute delay, noting only that the company sought to "ensure that the product's new features and interface would deliver the best possible experience for users."




With a delayed release date for its Thunderbolt Express Dock, Belkin is not the first company to bring a Thunderbolt docking station to market, with Matrox having launched its DS1 dock back in December. CalDigit has announced its own similar solution launching sometime this summer, and Sonnet has announced an even more expansive dock incorporating both an optical drive and an integrated hard drive.

Other solutions such as the ZenDock on Kickstarter are bypassing the expensive and time-consuming implementation of single-cable Thunderbolt connections, instead opting to extend the existing port sets on the MacBook Pro and Retina MacBook Pro through an adapter to a docking station.


Apple Tops Consumer Reports' Tech Support Ratings, Bests Its Own Score
Consumer Reports today released the results of its annual computer tech support survey, which revealed that Apple bested its own scores from last year while also topping every other brand-name computer manufacturer.
The company scored far higher than the other big companies for the elements that make for successful online and phone support: ease of contacting staff, clarity of advice, technical knowledge, patience, and time for follow-up.
Although the full details of the survey are restricted to Consumer Reports subscribers, Macworldreports that Apple's Genius Bar was able to solve 88 percent of problems for in-store support, compared to 73 percent for Staples' EasyTech and 70 percent for Best Buy's Geek Squad.




Consumers surveyed also said that Apple was able to help solve 82 percent of computer problems, more than any other manufacturer, with only independent custom computer shops coming close to Apple. Overall, Apple rated 86 out of 100, which the publication describes as "very satisfied." The next closest brand was Lenovo, which scored a 63 out of 100, or "fairly well satisfied."

Apple traditionally performs well in Consumer Reports' surveys, and has been highly rated for a number of years.


Adobe Offering Spring Discount on Lightroom and Elements
Adobe is offering customers a 20% spring discount on some of its editing software (via AppleInsider), dropping the price of Lightroom 4, Photoshop Elements 11 and Premiere Elements 11 by $30.

Lightroom 4, originally priced at $149, is designed for photographers, offering up an array of powerful image adjustment tools. Though Adobe recently launched a beta version of Lightroom 5, the updated software will not be released until later this year.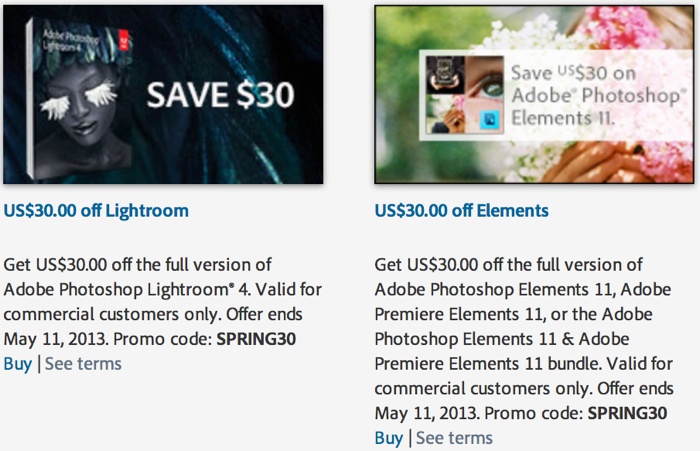 Adobe's Photoshop Elements 11 provides several tools from the more robust Photoshop CS6 at a lower cost, and Premiere Elements 11 is designed for video editing. Both Photoshop Elements and Premiere Elements are priced at $99, though a bundle of the two is also available for $149. The $30 discount applies to the bundle as well as the individual titles.

The discounted software can be purchased directly from Adobe using the code "SPRING30," until May 11 when the promotion ends.
Independent Game Developer Pranks Pirates With 'Game Dev Tycoon'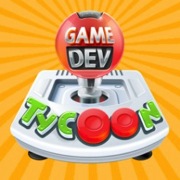 Two brothers, Patrick and Daniel Klug, recently released their first game called 'Game Dev Tycoon'. In it, players start a small game development company in the 1980's and attempt to build it up to a development powerhouse over the next 30 years.

In a bit of an experiment, the Klugs released a cracked version of their game and uploaded it themselves to a torrent site. However, in the pirated version, the in-game developers begin to run into crippling piracy that eventually drives them into bankruptcy. In-game CEO's receive this message:

Boss, it seems that while many players play our new game, they steal it by downloading a cracked version rather than buying it legally.

If players don't buy the games they like, we will sooner or later go bankrupt.
Players who downloaded the game illegally then began posting questions in the game's support forums asking how to better fight the pirates.

After the first weekend, the company had 3100 gamers playing the cracked version, with 214 playing the genuine edition.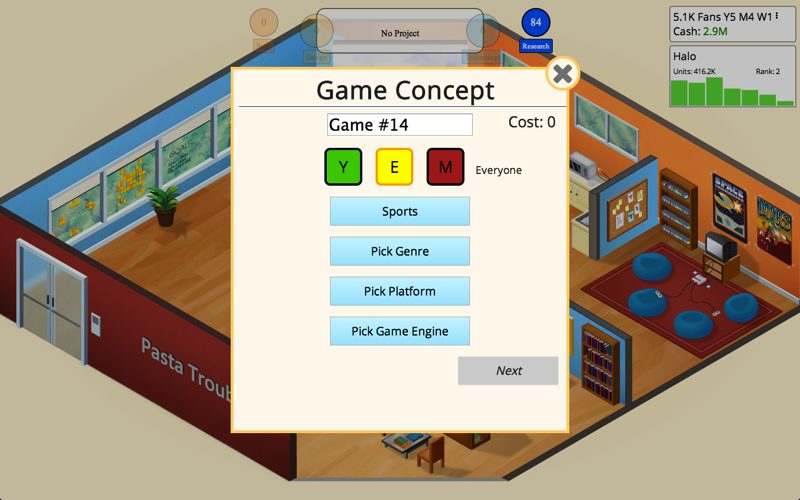 The game itself would be enjoyed by any fans of the tycoon series of games -- as CEO of the game company, players can research new technologies and game types, while hiring new employees and making bigger and bigger video games.

Fictional versions of major game platforms like NES, Sony PlayStation and the Xbox are all used in the game, with some clever thinking required to figure out what types of games will be bestsellers.

Game Dev Tycoon for Mac is $7.99 straight from the developers, with access to Windows and Linux versions also included in the purchase price.


AltWWDC Offers Free Alternative for Developers Without WWDC Tickets
For developers and prospective WWDC attendees who did not manage to secure a ticket during the two minutes they were on sale, there is an alternate event happening in San Francisco right near the Moscone Center.

AltWWDC is a free and open event that is designed to allow developers to meet and mingle. It features five days of talks from a range of well known developers like Daniel Jalkut of Red Sweater Software and NetNewsWire creator Brent Simmons.




The alternate conference takes place at the same time as Apple's Worldwide Developers Conference, from June 10 to June 14. It is located at the SF State Downtown Campus, which is a block away from Moscone.

Along with speakers, AltWWDC will offer a keynote breakfast where live WWDC feeds will be displayed and lunch will be provided each day. A co-working space with WiFi and coffee will also be available.

Tickets for AltWWDC are free and can be obtained from the website.
Leap Motion Controller Delayed Until July for Longer Beta Test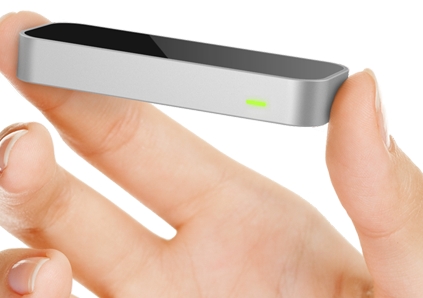 The public release of the Leap Motion controller has been delayed until July because the company feels it needs a longer beta test, reports TechCrunch. Best Buy has sent notifications to customers who preordered the device, and Leap today said the device will ship July 22th.

Leap Motion's controller is a touch-free device that allows users to control their computers via hand gestures in three dimensions. It works in conjunction with the Leap Motion software, and development units have been sent to 10,000 developers around the world.

Leap Motion says it wants to make sure that the product they deliver is the best they can offer, and says that there is "nothing catastrophically wrong" with the hardware as of yet. The company believes that it could have shipped by the original date if it had really pushed things, but wanted to make sure that things were ready for prime time. The new July 22 ship date is firmly set, according to [Leap Motion CEO Michael] Buckwald, and this is "the first and only delay there will be."
The Leap Motion controller is currently available for pre-order from the website for $79.99. At the moment, however, the Leap Motion website still says it will ship on May 13th.


'XCOM: Enemy Unknown' Elite Edition Now Available for Mac
Firaxis and 2K Games' critically acclaimed strategy title XCOM: Enemy Unknown has officially launched for the Mac today.

Originally announced in February, XCOM: Enemy Unknown for Mac comes packaged as part of a special Elite Edition, which includes additional add-on content like the Slingshot Pack, the Elite Soldier Pack, the Second Wave update and the game's soundtrack.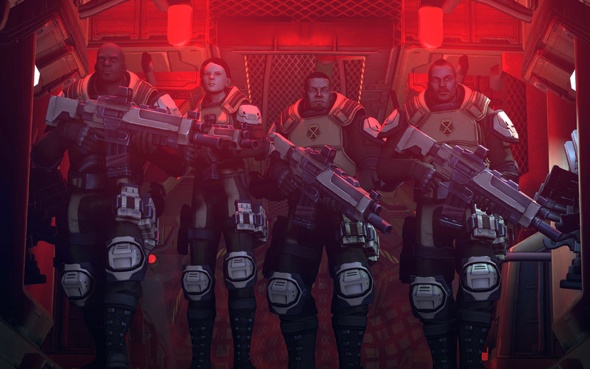 XCOM: Enemy Unknown is a re-imagined version of the 1994 classic X-Com: UFO Defense. In the game, players will lead a secret government organization to defend the world against aliens, overseeing base management and engaging in combat.
-Command XCOM's soldiers in tense turn-based battles where each decision could be the difference between game-changing gains or devastating losses for humanity.

-Expand the XCOM base, manage its resources, oversee international relations and control Earth's satellite coverage and air defenses.

-Recruit, customize and equip an elite squad, then upgrade each soldier's unique skills and abilities as they gain experience in the field.

-Recover artifacts from battle and use them to research and build powerful technologies that can be turned against the invaders.

-Mix and match aliens and soldiers to create powerful squads in LAN and online multiplayer.

The included DLC adds extended character customization options and additional missions, along with several new gameplay options.

XCOM: Enemy Unknown - Elite Edition can be downloaded for $49.99 from the Mac App Store. [Direct Link]