Mac Rumors powered by MacRumors_p2


Resource id #62Apple to Announce Q4 2016 Earnings Results on October 27
Apple today updated its investor relations page to note that it will announce its earnings for the fourth fiscal quarter (third calendar quarter) of 2016 on Thursday, October 27.

The earnings report will be an exciting one, as it will provide a look at early iPhone 7 and iPhone 7 Plus sales. Apple has declined to release launch weekend sales for the two devices, making it difficult to determine how well the new phones have sold compared to the iPhone 6s and 6s Plus.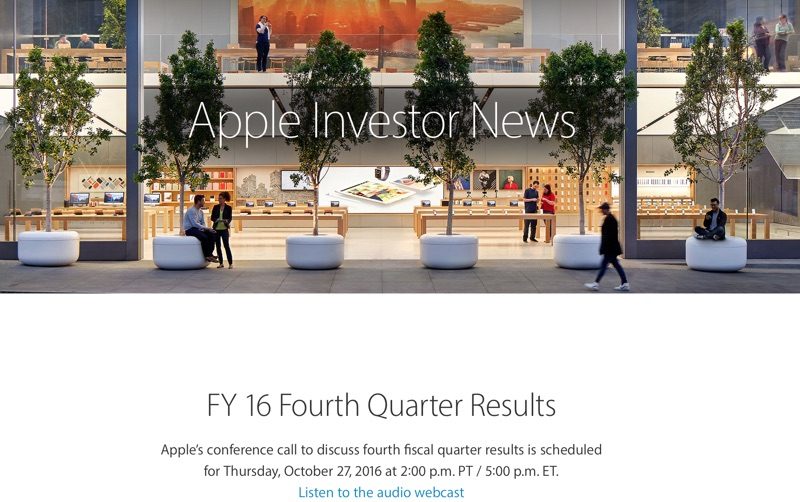 For the third quarter of 2016, Apple posted revenue of $42.5 billion and net quarterly profit of $7.8 billion, or $1.42 per diluted share. That was down from $49.6 billion in revenue, $10.7 billion in net quarterly profit, and $1.85 per diluted share in the year-ago quarter.

Apple's guidance for the fourth quarter of fiscal 2016 includes expected revenue of $45.5 to $47.5 billion and gross margin between 37.5 and 38 percent, well below the revenue of $51.5 billion it saw in 4Q 2015.

Apple will release its quarterly earnings statement at 1:30 p.m. Pacific Time (4:30 p.m. Eastern Time), with a conference call to follow at 2:00 p.m. Pacific Time (5:00 pm. Eastern Time). MacRumors will provide live coverage of the results and the call.
Discuss this article in our forums



Roku Announces Five New Streaming Devices Between $30 and $130
Roku today announced "the biggest streaming player launch in Roku history," with the company revealing a total of five new devices that let users stream media onto their TVs, with varying levels of picture quality and features. The new additions to Roku's lineup join the Roku Streaming Stick, which got an upgrade in April and retails for $49.99.

With a price of $29.99, the company's new low-end Roku Express comes in even cheaper than the Streaming Stick and offers 1080p HD streaming "with a complete channel lineup." The Roku Express+, for $39.99, offers the same features but is outfitted for older TV sets, including a composite jack and A/V cable. Both Express models are aimed at users new to streaming, or those who want to extend Roku throughout their home at a cheaper rate.



The Roku Express


The second tier of devices are called the Roku Premiere and Roku Premiere+, which run for $79.99 and $99.99, respectively. Both models have a quad-core processor and can stream 4K video in up to 60 frames per second, but the higher-cost Premiere+ also supports HDR "for vibrant picture quality," and has a headphone jack in its remote control.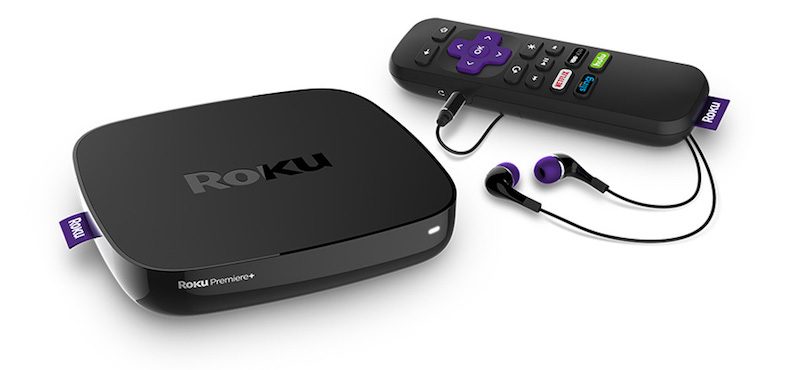 The Roku Premiere+


The last new Roku model -- the "fully loaded" Roku Ultra -- is the priciest at $129.99, and includes each feature of the previous models with the addition of support for Dolby Digital Plus decoding, voice search, and a feature that helps users find a lost remote. Each device announced today offers access to 3,500 streaming channels including 350,000 movies and TV episodes.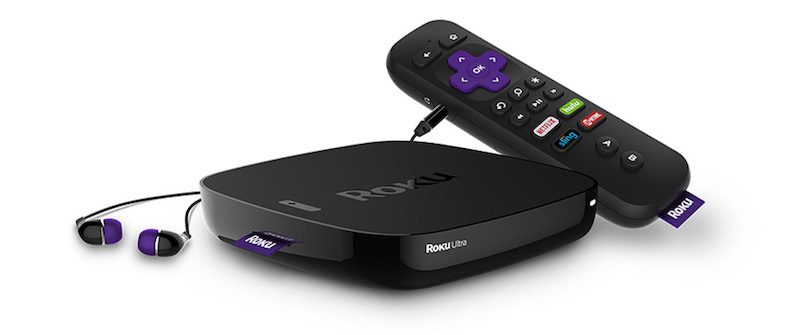 The Roku Ultra


Roku players have features called "Hotel Connect" and "Dorm Connect" to make it easy to connect to public networks and stream when not at home. There's also a free iOS app [Direct Link] that lets users control their Roku device through an iPhone or iPad, and even gain access to features like voice search, private listening, and more.

The company said that each of the five new devices can be pre-ordered starting today and are "expected" to launch in retail stores on October 9. The Roku Express+ will be exclusively available in Walmart stores, however.


Discuss this article in our forums



Apple Facing European Commission's Tax Ruling Without a Lobbying Presence in Brussels
Following the European Commission's ruling that Apple must pay 13 billion euros ($14.5 billion) in back taxes because of its "undue tax benefits" in Ireland, The Wall Street Journal reported over the weekend that Apple is facing the EC "without the army of lobbyists and public relations campaigners typical in such fights."

The company's lack of a lobbying presence in Europe isn't new, however, as it spent less than €900,000 lobbying European institutions in 2015. According to public filings, in total Apple "doesn't employ any full-time lobbyists" in Brussels, and only five people work part-time. In contrast, Google spent "at least" €4.25 million in 2015, and employs more than ten people in lobbying positions in the European capital.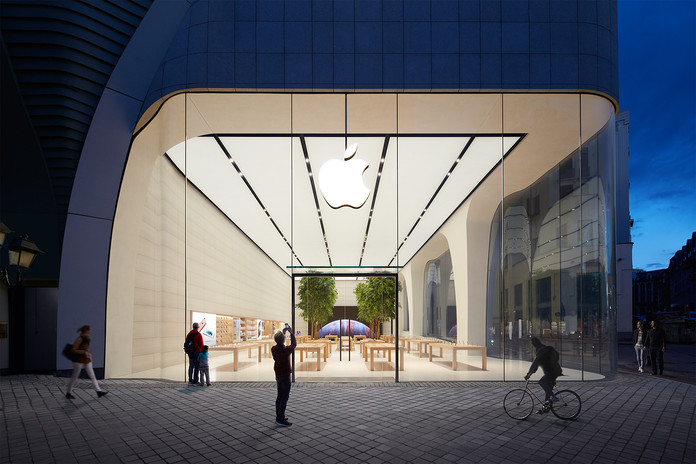 Apple's retail location in Brussels


Sources familiar with the matter stated that Apple's "lack of a presence in the EU capital" led to it being unsuccessful in gathering information over the past few years about the impending tax evasion ruling from the European Commission. Still, a source close to the commission's competition office theorized that a heavier lobbying presence might not have been all that helpful for Apple in the end, since the lobbying tactics of a company like Google have not gotten it out of "many antitrust investigations" over the past few years.

Google's experience with the commission's many antitrust investigations over the years may suggest a bigger Apple lobbying presence in Brussels wouldn't have had a meaningful impact on the regulator's decision.

People familiar with the directorate say there is limited leeway for influencing the outcome of any competition investigation. The regulator can't stray too far from previous case law in its decisions to ensure the ruling is upheld in court when the companies inevitably appeal it.

Still, "I don't know what [Apple] would have done differently," said a person close to the commission's competition office. "It's not a question of behavior; it's a question of what's in the numbers and what's on the table."
Many other America-based companies have a large presence in Europe, including Alphabet and Amazon, "which have built a European lobbying presence to try to sway investigations and potential legislation." The two companies have also tried to advertise the benefits that Europe gains from their presence, with Google launching a digital journalism initiative and Amazon highlighting its storefronts that facilitate the livelihood of small European businesses.

On the Apple side of things, Tim Cook has called the EC's ruling "total political crap" and described the lower end 0.005% tax rate as a "false number." Ultimately, the Apple CEO believes that the decision will be reversed, and most recently Ireland's coalition government agreed to appeal the ruling. Cook has stated that he has "faith in humanity" and "faith in what is just and right will occur."

Note: Due to the political nature of the discussion regarding this topic, the discussion thread is located in our Politics, Religion, Social Issues forum. All forum members and site visitors are welcome to read and follow the thread, but posting is limited to forum members with at least 100 posts.


Discuss this article in our forums



Apple Music Chief Eddy Cue Receives $60 Million Stock Award
Apple senior vice president Eddy Cue, who oversees services like the iTunes Store, Apple Music, Apple Pay, Siri, iCloud, and Apple Maps, received nearly $60 million in company stock earlier this week, as scheduled, according to Securities and Exchange Commission documents filed electronically today.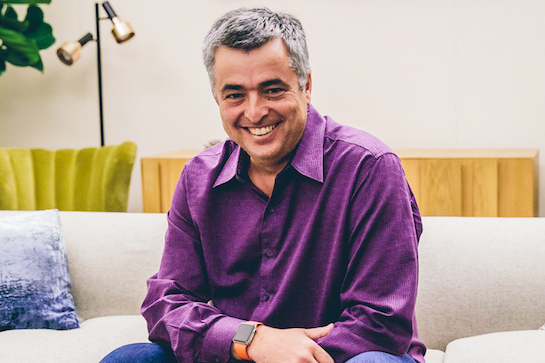 Specifically, 525,000 of Cue's restricted stock units converted into common shares on September 21, worth $59.6 million based on AAPL's closing price of $113.55 on Wednesday. The shares represented the final 75% of 700,000 restricted stock units awarded to Cue in November 2011. The first 25% vested on September 21, 2014.

Cue was originally awarded 100,000 RSUs, but the compensation package became 700,000 RSUs when AAPL split 7-for-1 in June 2014.

256,305 shares were withheld by Apple to satisfy the minimum statutory tax withholding requirements on vesting of RSUs. Cue gifted the remaining 268,695 shares that vested, worth approximately $20.2 million, to a family trust as he did when 350,000 of his RSUs, worth $36.1 million at the time, vested in August 2015.

Cue joined Apple in 1989 and was promoted to Senior Vice President of Internet Software and Services by Apple CEO Tim Cook in September 2011.


Discuss this article in our forums



MacRumors Giveaway: Win a Wayfarer Leather Messenger Bag From Intrepid Bag Co
For the last few weeks, MacRumors has been running a special giveaway event, highlighting high-quality luxury bags from manufacturers like Pad & Quill, Intrepid Bag Co, Whipping Post, and Saddleback Leather Company, and now our event is coming to an end with one final giveaway from Intrepid Bag Co.

This week, we're giving away Intrepid Bag Co.'s Wayfarer Leather Messenger Bag, which is superbly designed and undeniably stylish. Made from a thick full grain coffee-colored saddle leather, the Wayfarer Messenger Bag is big enough to hold a 15-inch MacBook Pro and it boasts the most pockets out of any of the bags we've given away while also being the most compact.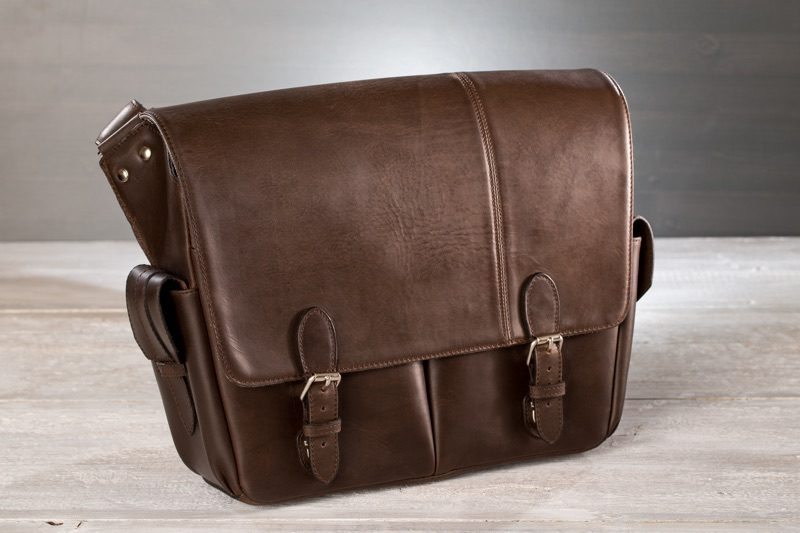 Measuring in at 16 inches wide by 12 inches tall by 4.5 inches deep, the Wayfarer Messenger Bag has a magazine pocket at the back, a large full-length front pocket, and an interior area featuring a padded MacBook pocket, two deep interior pockets, a main compartment, a pen pocket, a phone pocket, and a pocket with a clasp. The whole bag closes up with two front buckles so the contents stay secure during travel.

With all of the pockets and space inside the Wayfarer Messenger Bag, there was room to hold almost any Apple device and accessory I own (MacBook Pro, Retina MacBook, iPad Pro, iPad mini and iPhone), with leftover space for a lightweight hoodie, a water bottle, loose papers, two notebooks, three small books, and other small bits and bobs.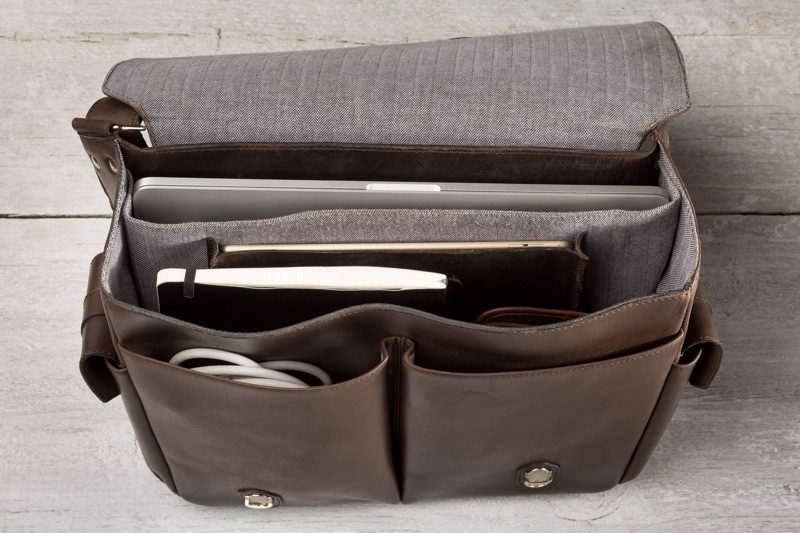 The Wayfarer Messenger Bag is super rigid and stiff when it arrives, but it should loosen up and wear in with usage, gaining its own unique, lived in look. Along with the aforementioned outside buckles, there's an adjustable shoulder strap and a separate hand strap for carrying it around.




Intrepid Bag Co's Messenger Bag was one of the neatest and sharpest I took a look at, with careful stitching, a herringbone lining, and copper accents. Intrepid Bag Co normally prices its Wayfarer Leather Messenger Bag at $469, but one MacRumors reader will win one for free.

To enter to win, use the Rafflecopter widget below and enter an email address. Email addresses will be used solely for contact purposes to reach the winner and send the prize. You can earn additional entries by subscribing to our weekly newsletter, subscribing to our YouTube channel, following us on Twitter, or visiting the MacRumorsFacebook page.

Due to the complexities of international laws regarding giveaways, only U.S. residents who are 18 years of age or older are eligible to enter. To offer feedback or get more information on the giveaway restrictions, please refer to our Site Feedback section, as that is where discussion of the rules will be redirected.



a Rafflecopter giveaway

The contest will run from today (September 23) at 11:00 a.m. Pacific Time through 11:00 a.m. Pacific Time on September 30. The winner will be chosen randomly on September 30 and will be contacted by email. The winner will have 48 hours to respond and provide a shipping address before a new winner is chosen.


Discuss this article in our forums



Users Report Loss of HiDPI Scaling on External Displays in macOS Sierra
Some Mac owners are reporting problems with external monitors and the use of scaled resolutions since installing macOS Sierra earlier this week.

Several MacRumors readers using 4K displays have described the disappearance of scaled HiDPI resolutions beyond 1920x1080 since updating from OS X El Capitan, leaving their options reduced to 1080p or a non-scaled native resolution of 3840x2160. Monitors with native 1440p resolutions also seem to have had HiDPI scaling options removed.



Scaled options in Sierra (left) and OS X El Capitan (right) when holding the Option key.


Owners of larger displays often use Apple's scaled HiDPI resolutions offered in Display preferences to enjoy increased desktop space without reducing the legibility of text. MacRumors forum member Sheza warned:

If you're like me and you have a 1440p monitor that you like to run in 1080p HiDPI mode using a custom plist or SwitchResX, DO NOT UPGRADE TO SIERRA.

Likewise if you have a 4K display and you like a bit more space while maintaining that sweet retina look and so you run it in 1440p HiDPI, DO NOT UPGRADE TO SIERRA.

Apple seems to have inexplicably removed this ability. You're now forced to destroy your eyesight by running... at native resolution.
Some readers have reported unsuccessfully trying alternative monitor cable connections – switching over from DisplayPort to HDMI and vice versa. Others have tried using third-party resolution utilities like SwitchResX, with mixed results.

A separate report posted on StackExchange, viewed 1,259 times, details the same issue:

I just upgraded to macOS Sierra. In El Capitan, I could have my 4k monitor (Dell P2715Q) scale so it was the equivalent of a 2560x1440 monitor, but in Sierra it only lets me do 2k/4k resolutions now.
MacRumors can also confirm that the issue appears to be software-related, since the scaled resolutions reappear when affected Macs are rolled back to OS X El Capitan. The issue does not seem to be limited to a particular monitor brand and the latest Public Beta (10.12.1) of Sierra released on Thursday does not reinstate the missing resolutions.

It's unclear if the change is intentional or whether Apple will re-introduce the scaling options in a forthcoming update. Sierra Beta users are advised to submit feedback to Apple using the Feedback Assistant app located in /Applications/Utilities.


Discuss this article in our forums



Users Reporting 'Wrecked Scrolling' on Logitech Mice After macOS Sierra Update [Updated]
Some users are reporting performance issues with Logitech's mice accessories after updating to macOS Sierra, mostly citing problems centered around "laggy" scrolling and some unresponsive customized buttons. Users have specifically mentioned that the M705 Marathon Laser Mouse and Performance Mouse MX are among products affected, but a wider swath of Logitech's mice lineup is likely included.

The reason behind the problems, and how wide it could reach, is because of an incompatibility issue between the Logitech Control Center app and macOS Sierra. As mentioned by a poster on the Logitech forums, on the latest 3.9.4 software for LCC, the M705's forward and back buttons were reported as "not working," while scrolling was being problematic as well.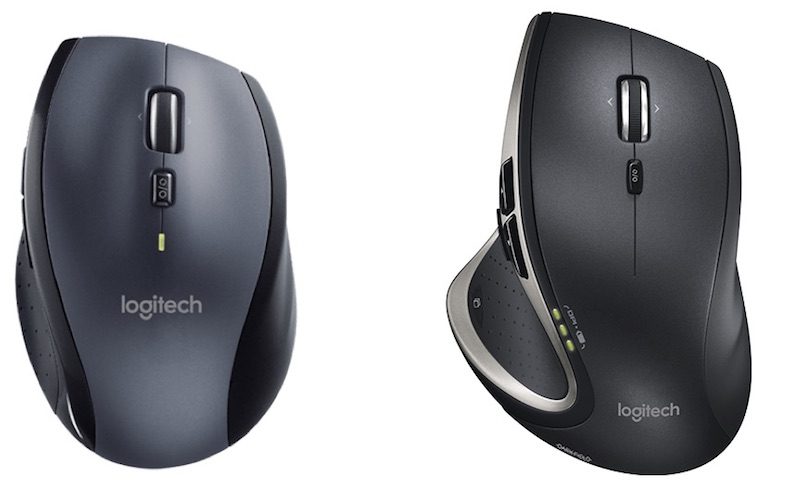 The M705 Marathon Laser Mouse (left) and Performance Mouse MX (right)


A separate report, posted on StackExchange, detailed a similar issue with Logitech's mice on macOS Sierra. The user described their mouse as having "soggy inertia" scrolling in native Apple apps, and "choppy" scrolling in third-party apps. Ultimately, they found that updating to macOS Sierra "wrecked scrolling" on the Logitech mouse.

The scrolling behaviour is erratic because I'm actually assaulted by two issues:

In native macOS applications, like Apple Calendar, there is an "inertia-ish" effect that slows down the scroll and introduces some sort of acceleration-like movement akin to the worst nightmares from Windows 10.

In third-party applications, like Google Chrome, the scrolling is quite fast but not fluid; it's choppy and non-linear with sudden jumps and stops. Because of this, it feels like the computer is laggy when scrolling a page, but it's probably due to the way the software scrolls.
The Logitech Control Center Mac app allows users to customize the features of their Logitech accessories -- mainly mice and keyboards -- along with basic features like notifications for low battery life and when each device has a firmware update. Its incompatibility with Sierra appears to be the source of the problem users are describing online. Unfortunately, Logitech has confirmed that "LCC is not available on Mac Sierra," and that "there is no release date known" for when it might launch.
Hello all!
Thank you for your feedback. Your comments will be transferred to the appropriate department.

As of right now, LCC is not available on Mac Sierra. And there is no release date known.
Once it is available, it will be posted.

Thank you all.
The same user who mentioned "wrecked scrolling" did appear to find some solutions to the problem, although they noted that everything was just "temporary band-aid tweaks" in the face of Logitech's lack of support. The user noted that messing around with the scroll and zoom settings in System Preferences > Mouse could help slightly, as well as checking out System Preferences > Logitech Control Center > Vertical Scrolling.

Update: Logitech has released a new version of its Logitech Control Center that's designed for macOS Sierra.


Discuss this article in our forums



Apple Reportedly Looking to Open Flagship Store at Washington, DC's Carnegie Library
Apple has proposed opening a flagship retail store and events center at Washington, D.C.'s historic Carnegie Library, according to The Washington Post. The new store is reportedly reminiscent of Apple's Union Square store in San Francisco, serving as both a retail outlet for the company and event center where it can host events for locals.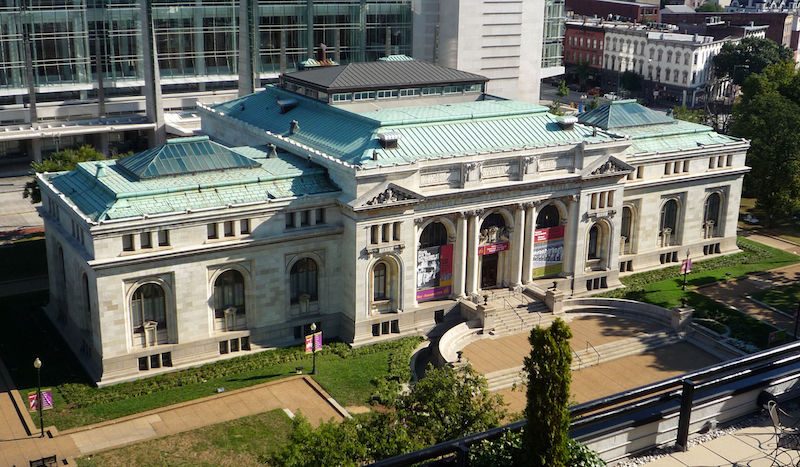 Photo by Bobak Ha'Eri


The 63,000-square foot Carnegie Library was one of the many buildings built with funds donated by steel tycoon Andrew Carnegie. The building, which was opened in 1903, is historically significant in the nation's capital as it's the first desegregated building in the city. Carnegie Library is publicly owned and funded with taxpayer money raised through hotel occupancy taxes.

However, the building's historical legacy and importance to D.C. has made it a difficult development project. As The Washington Post notes, a local history museum only lasted a year at the library, a planned music museum never opened and an International Spy Museum was turned away by the city's historical preservation panel.

Local government officials have been supportive of the idea, with The Post noting that an Apple retail presence in the area would punctuate a rapidly developing section of the city.

"Apple would be a huge attraction," said D.C. Council member Jack Evans (D-Ward 2), who represents downtown. Evans said he first heard about Apple's idea for the store earlier this year and that the addition would accelerate momentum for an area that is quickly adding new apartments, shops and office buildings just south of the Walter E. Washington Convention Center.
Of Apple's handful of stores in D.C., its Georgetown store is the closest to the Carnegie Library. Across the Potomac, the Cupertino company also has Apple Clarendon and Apple Pentagon City. The Clarendon store will be having its grand reopening on September 24, while the Pentagon City store will close on September 25 for remodeling.


Discuss this article in our forums



Next-Generation Apple Stores Opening in Arlington, Brea, Chandler, Glendale, and Pleasanton on September 24
Apple has announced a grand reopening date of September 24 for four of its U.S. retail locations, including stores at Market Common Clarendon in Arlington, Virginia, Brea Mall in Brea, California, Arrowhead Towne Center in Glendale, Arizona, and Stoneridge Shopping Center in Pleasanton, California. Apple's new store in Birmingham, England will also open on the same day while its Bullring store permanently closes.

Each store will open this Saturday at 10:00 a.m. local time, complete with Apple's next-generation retail layout, including The Avenue, Genius Grove, The Forum, The Plaza, and The Boardroom, coupled with some combination of large glass doors, sequoia wood shelves, indoor trees, light boxes extending the length of the ceiling, and large digital screens for product marketing.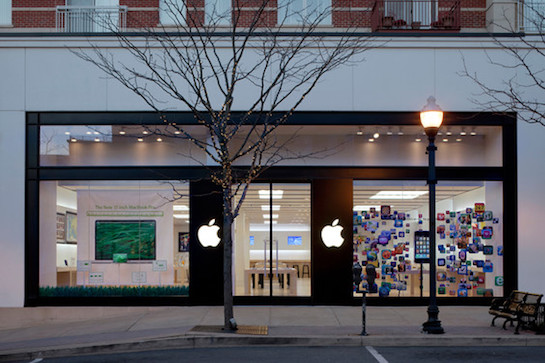 Apple opened its Clarendon store in 2001 as one of its first retail locations


Apple Clarendon opened in December 2001 as one of the company's first retail locations, retaining its classic black facade with two Apple logos for nearly fifteen years before closing for renovations in April. The store will remain located at 2700 Clarendon Boulevard in the Market Common Clarendon complex, a less than five mile drive from downtown Washington D.C.

Apple Brea Mall will be moving to a new space within the shopping mall, and Apple Arrowhead will be relocating to a new unit within its outdoor shopping center. Likewise, Apple Stoneridge will be moving into a larger 9,991-square-foot space recently vacated by clothing retailer Abercrombie & Fitch, according to building permits filed with the City of Pleasanton earlier this year.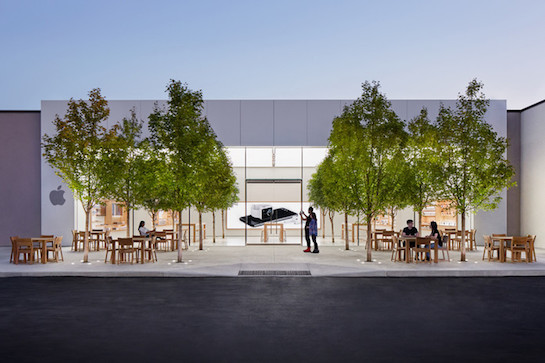 Apple's all-new store at The Fashion Mall at Keystone in Indianapolis


September has been an eventful month for Apple retail, including two new stores in Mexico City and Hong Kong and thirteen grand reopenings announced so far: two locations on September 2, four locations on September 10, three locations on September 16, and four locations on September 24. Meanwhile, Apple Pentagon City in Arlington will close for renovations starting September 25.

Apple is in the process of renovating several of its stores with next-generation designs inspired by Jony Ive, with progress ramping up ahead of the holiday shopping season. All new stores opened since mid 2015 share the revamped design language, including the latest flagship locations at Union Square in San Francisco and at the World Trade Center transit hub in New York City.

Update:Apple Chandler Fashion Center is also moving to a new location on September 24.


Discuss this article in our forums



How to Use Siri in macOS Sierra
With macOS Sierra, Apple has finally brought its well-known personal assistant, Siri, to the Mac. Siri for Mac differs from iOS' version of Siri in several ways, taking advantage of the larger real estate of a Mac's display and the Finder file system. Users can also easily transfer or pin Siri's search results to the Notification Center or documents they're working on. To help you get started with Siri for Mac, we've put together a guide outlining what it's capable of.


Activating Siri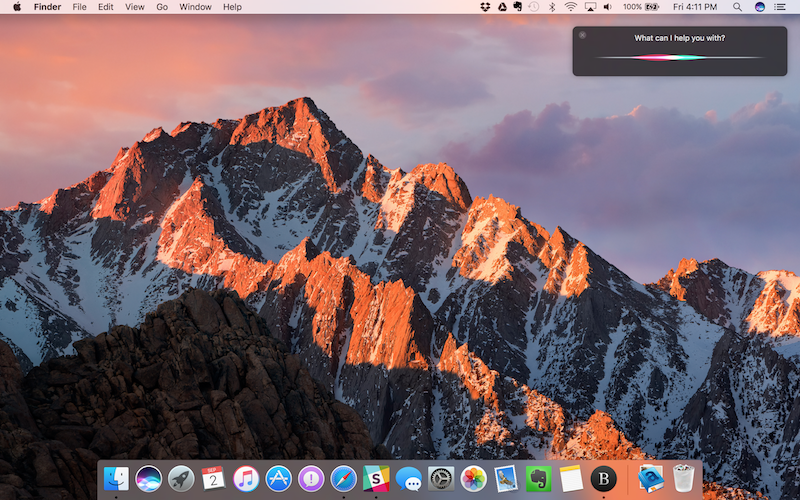 There are three ways to activate Siri in Sierra. Two of the methods are visually obvious while the third is not.



The Dock icon sitting in between the Finder and Launchpad logos.


The Menu Bar toggle in between the Spotlight search and Notification Center icons.


The keyboard command. Hold the Command and Space buttons for approximately two seconds.



Siri can be enabled two ways. While you're installing macOS Sierra, there'll be a prompt asking you whether you'd like to enable Siri. Additionally, Siri can be enabled and disabled in the Siri section of System Preferences. There are several other options for Siri in System Preferences, including language, voice, voice feedback, mic input and customized keyboard shortcuts.


What Siri for Mac Can Do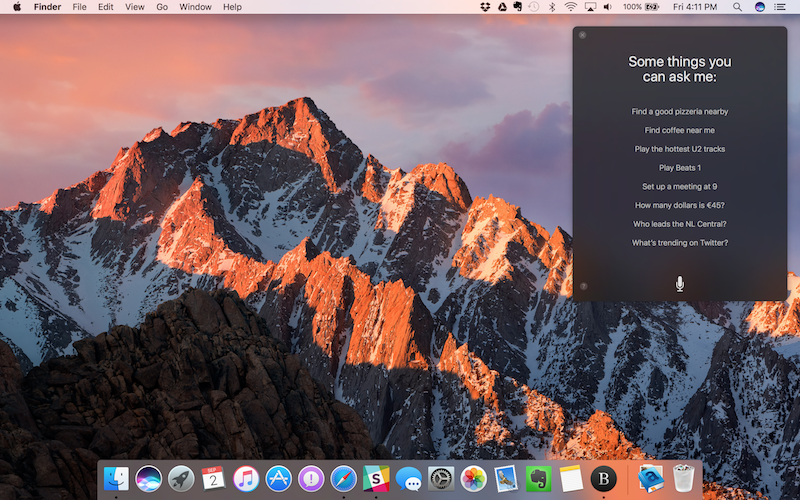 Siri for Mac can do most of the same things Siri for iOS can do. It can give you sports scores or tell you about the weather. Schedule an event on your calendar, remind you what you need to get done today or find movie times. Here's a full list of the things that carry over to the Mac.



Launching and searching for apps.


FaceTime and Messages


Sports scores, team schedules, league standings, and player and team information.


Photo search.


Maps and navigation.


Twitter and Facebook posting, plus Twitter search.


Movie information, showtimes, movie theater locations, movie reviews and award trivia.


Apple Music, radio and music identification.


iTunes, iBooks and Podcasts.


Reminders, calendar stocks, weather, contacts, clock, Find My Friends, email and notes.


Web search and Q&A, like unit measurements, facts and figures, and simple math.


Settings / System Preferences



Siri has two new abilities that are built specifically to take advantage of the Mac:


Siri's Mac-Specific Abilities

Unlike Siri for iOS, Siri for Mac's dialogue box only takes up a portion of the screen. This allowed Apple to build Siri to be better utilized for multitasking. For example, Siri can be used to send a message to a friend while you're writing an email or working on a document. It can also find restaurant reservations for you while you're in the middle of a conversation with a friend.

Because Siri is built for multitasking on a Mac, some of its results are more interactive, allowing you to combine them with other apps. These are some of the things you can do with Siri's results in macOS Sierra.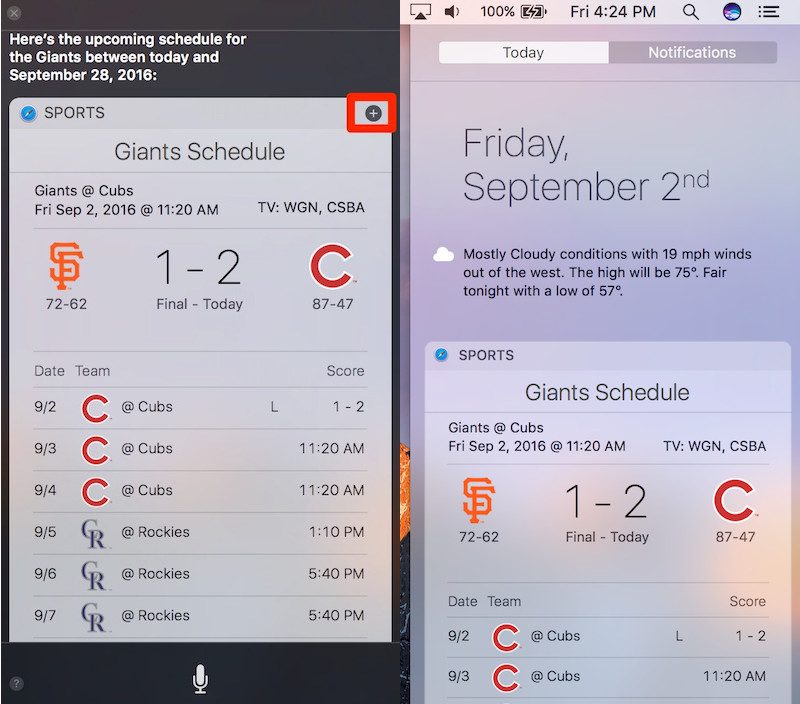 Pin photo results or sports team schedules to the Notification Center by clicking the + icon.


Drag files from Siri's Finder search to the desktop.


Drag and drop search results from photo searches into emails, messages, documents and the desktop.


Drag and drop map locations into emails, messages and documents.



Siri's Settings category is referred to as System Preferences to better match macOS' verbiage, but Siri can also do some things on a Mac that it can't do on an iPhone. These are new settings abilities Siri has gained:



Putting your computer to sleep.


Changing your desktop wallpaper.


Changing your display settings.



Finally, there are some specific hardware requests that Siri can fulfill. In addition to asking Siri to turn up your volume or turn off your Bluetooth, Siri can tell you about your Mac.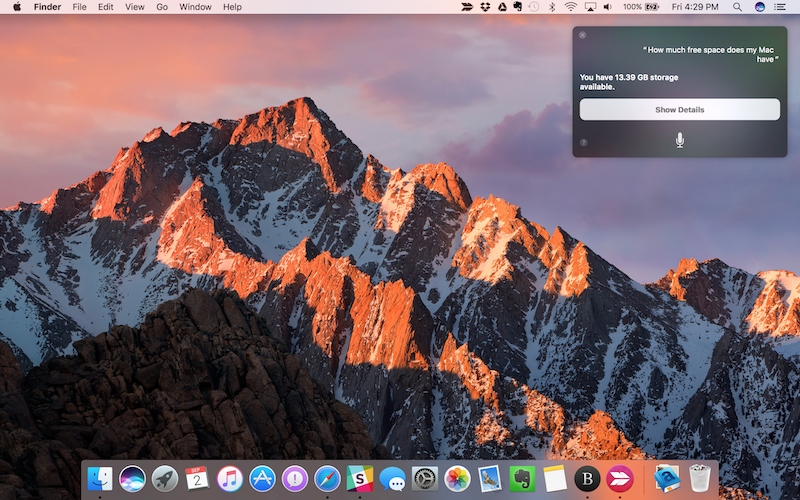 How fast your Mac is.


How much memory your Mac has.


What your Mac's serial number is.


How much free space your Mac's hard drive has.


How much iCloud storage you have.


What version of macOS you're running.



All of Siri's Mac abilities can be used at any time. Siri will pause any audio or video you might have been playing when you activated it. This includes audio and video in your web browser, like SoundCloud tracks or YouTube videos.

Siri's dialogue box will also stay on your screen no matter where you are, whether on the desktop or in a full-screen app. It'll also stay in place as you navigate to different spaces. Siri can be deactivated by clicking the small "x" in the top right corner of its dialogue box.


Discuss this article in our forums



How to Perform a Clean Installation of macOS Sierra
macOS Sierra is Apple's latest desktop operating system, which succeeds OS X El Capitan and adopts a new name to bring it in line with iOS, watchOS, and tvOS. The OS will come pre-installed on all new Macs once current stock is depleted and is a free download for existing Mac owners.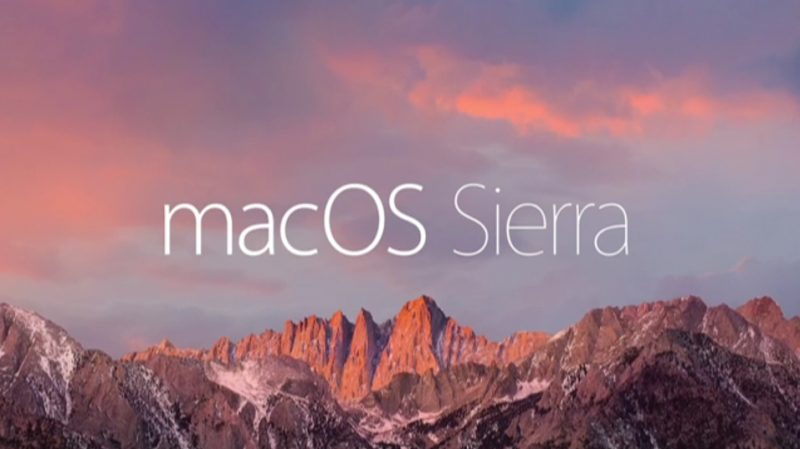 The main new feature in macOS Sierra is deep Siri integration, bringing Apple's personal assistant to the Mac for the first time. It also adds new features to Photos and Messages, and includes Continuity smarts like Universal Clipboard and an Auto Unlock option for Apple Watch owners.

This tutorial explains how to download macOS Sierra and perform a clean install, which offers several benefits over the automatic upgrade process included in the installation package.


Benefits of a Clean Install

A clean install can remove annoying quirks and strange behaviors that your Mac may have inherited over time due to driver upgrades, wonky apps, and messy installation procedures. Performing a fresh install can also reclaim lost disk space caused by junk files left by third-party apps, and can generally make your Mac feel a lot snappier, enabling you to relive that feeling of booting it up for the first time.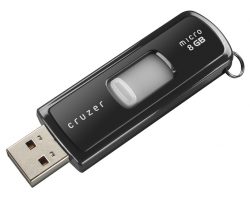 To complete the clean install procedure described below, you'll need an 8GB or larger USB thumb drive and an hour or two to spare.

You should also perform a full backup of your Mac beforehand using Time Machine. That way you can restore your system from the Recovery partition if something goes wrong. Alternatively, save a bootable mirror image of your system to an external drive using a clone utility like SuperDuper! ($27.95) or Carbon Copy Cloner ($39.99).


Compatibility Check

Before you do anything, check that your Mac is compatible with Apple's new operating system. macOS Sierra supports the following:

Another way of checking if your Mac is compatible is to open the Apple menu in the upper left corner of your Mac's screen and selecting About This Mac. Look just below the OS X version number in the Overview tab – if the Mac model name is the same or a later model year than the one shown in the compatibility list above, your Mac is compatible with Sierra.


Pre-Install Notes

If you want total control of what data gets transferred to the new OS, you can sidestep the Migration Assistant and manually copy any important files and folders on your existing system to an external drive instead. It's also worth taking a screenshot of your desktop, to serve as a record of how you like things set up.

Some users may find it useful to make a note of the contents of their Applications folder for later reference. A screenshot may suffice (Command-Shift-4, then Space to capture the Finder window), but if not, the following steps describe a simple way to create a list of apps.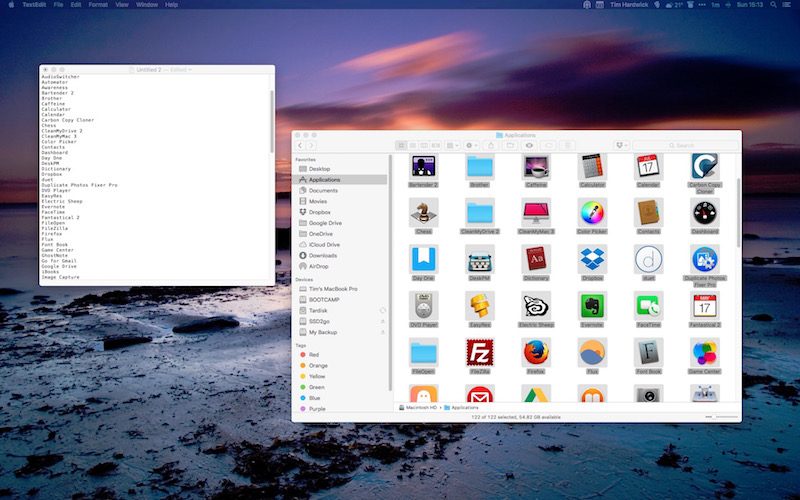 Open the Applications folder and press Command+A to select all apps in the Finder window, then press Command+C.


Now open up TextEdit, create a new document, select Format -> Make Plain Text from the menu bar, and press Command+V to paste a list of app names into the document.


If necessary, add details of download locations for any non-Mac App Store apps you use, append any serial numbers you might need, and save the text document to an external drive.
Be sure to allow any cloud services you use to complete synchronization before continuing. It's also worth screen-grabbing or noting down any custom preferences, settings, Wi-Fi passwords, and app-specific profiles you use.

Lastly, de-authorize any services on your Mac, including your iTunes account (iTunes menu > Store > Deauthorize this Computer), since these are usually limited to a set number of systems.


Create a Bootable Installer

Download the macOS Sierra installation package from the Mac App Store. Once it has downloaded, follow these steps to create a USB bootable installer.

Open Disk Utility (found in the Applications/Utilities folder), select the thumb drive in the sidebar and click the "Erase" button.


Name the USB drive "Untitled" if it isn't already, choose the Format "OS X Extended (Journaled)", and click "Erase". Once your thumb drive is formatted and the macOS installation package has finished downloading, open up Terminal (found in Applications/Utilities).


Now, ensure the USB drive is the only disk named "Untitled" connected to your Mac, and then paste the following command into the Terminal window, and press Enter: sudo /Applications/Install\ macOS\ Sierra.app/Contents/Resources/createinstallmedia --volume /Volumes/Untitled --applicationpath /Applications/Install\ macOS\ Sierra.app --nointeraction


You should be prompted for your administrator password. Enter it, and the command will create a bootable Sierra installer on the USB drive. The process will take a few minutes to complete, so leave it running.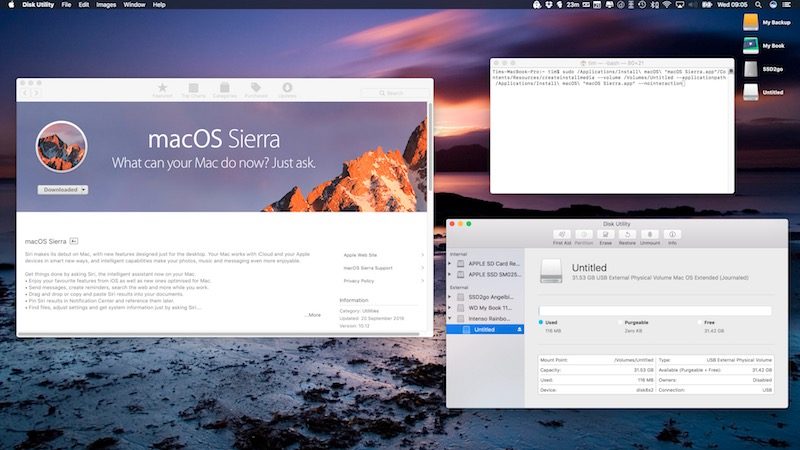 Restart and Install

Once the USB installer has been created, restart your Mac and hold down the Option key as soon as you hear the reboot tone. Then follow these steps:


Use the mouse pointer or the arrow keys on your keyboard to select the disk called "Install macOS Sierra" in the drive list that appears on the screen.


Once the USB drive has booted, select "Disk Utility" from the Utilities window, choose your Mac's startup drive from the list, and click "Erase".


When your Mac's startup disk is formatted, return to the Utilities window and select "Install macOS", choose your freshly erased startup drive when asked where to install the OS, and follow the onscreen prompts to complete the installation.
Post-Install Steps

Once the clean installation of macOS Sierra is up and running on your Mac, you can either restore your data from a Time Machine backup using Migration Assistant (found in Applications/Utilities), or begin restoring your apps, files, and settings manually to get your Mac set up just the way you like it.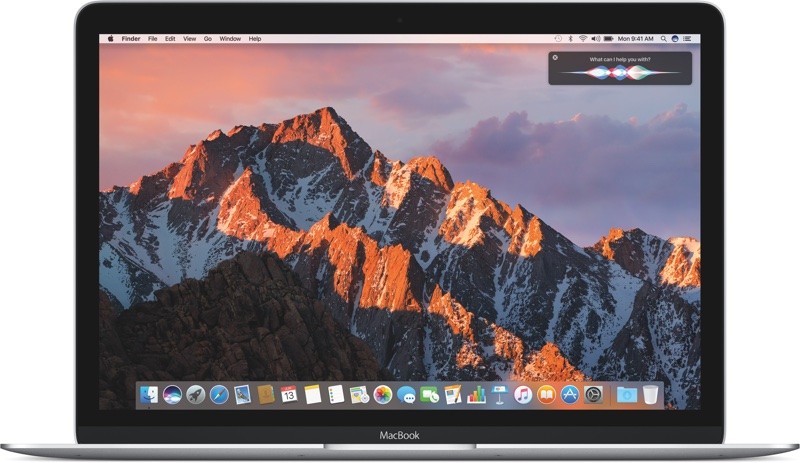 Discuss this article in our forums



Popular Weather App 'Dark Sky' Expands to the Web
Weather forecast app Dark Sky has expanded its services to the web, with a full-featured browser site that offers much of the main app's pinpoint-accurate weather predictions and data (via Wired). Dark Sky co-founder Adam Grossman said the reasoning behind introducing a desktop site for Dark Sky was for people who preferred not to take out their phone when sitting at their computer, but still wanted Dark Sky's accurate readings.

On DarkSky.net, the first pieces of data showcase the temperature, a brief incoming warning about potential bad weather ("Light rain starting in the evening," for example), along with a 24-hour forecast. Wind, Humidity, Dew Point, UV Index, Visibility, and Pressure are also all listed at the top of the website. A large local map takes up the center of the page, and can be customized to show visuals like Temperature, Precipitation, Wind Gusts, and more.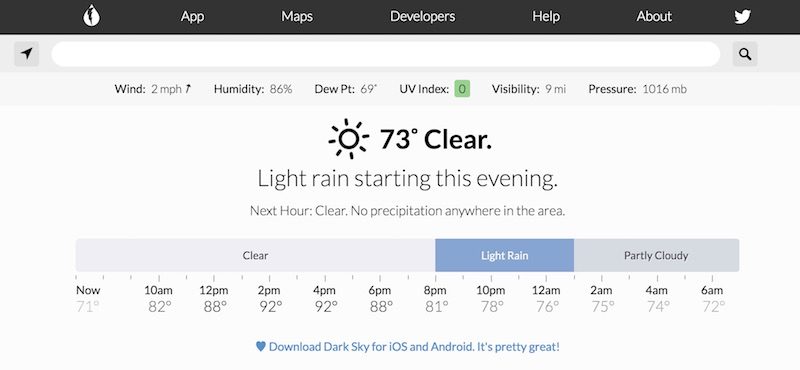 "We really needed that companion website to Dark Sky," says Dark Sky co-Founder Adam Grossman. "If you're on your desktop, maybe you don't want to pull the phone out of your pocket."
The bottom of the site houses the weekly forecast, where users can click on each upcoming day for a more in-depth breakdown of the coming week. There's even a "Time Machine" feature below the weekly forecast that lets users jump back or ahead to a specific day and check out all of the expected weather data that happened, or will happen, in its 24-hour span.

Grossman said it's easier to experiment with things on the web, so the company has thrown in a few new aspects of Dark Sky, like microclimates, which could potentially come to the iOS and Android apps one day. If users check out the Grand Canyon, for instance, they can zoom down and see how the temperature changes as they descend. The website does lack the mobile app's well-known notifications -- which give weather warnings ahead of time -- due to "less reliable" notification data and GPS location tracking that's "harder to pin down."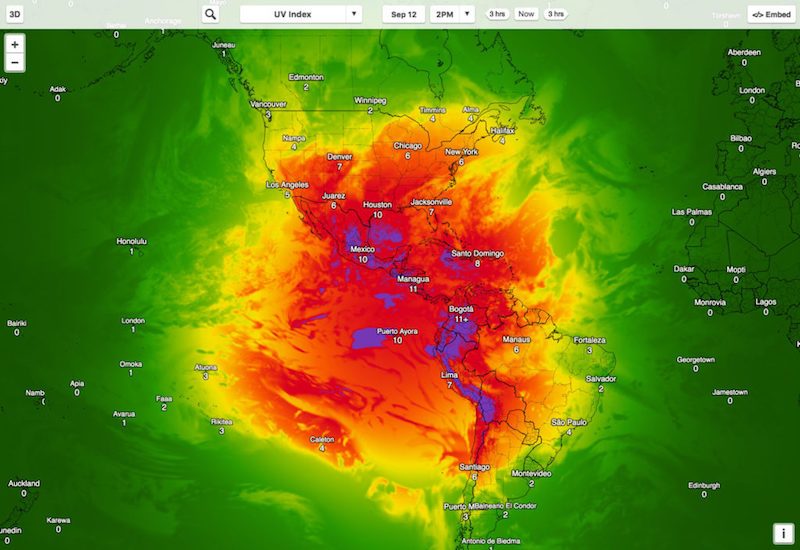 Image via Wired
Some additions that are downright clever. Whereas Forecast.io only showed a precipitation map, the Dark Sky site's maps are situationally aware. If you head there on a potentially snowy day, for instance, it will automatically know to serve you an accumulation map. Even the precipitation maps have gotten more refined. If it's going to rain soon, you'll get a detailed radar view. If there's rain nearby potentially heading your way, Dark Sky will load a bigger picture view.
The new site is said to be a bolstered version of the company's previous desktop site Forecast.io, although Grossman admits that they "made it as an experiment," and the new site is a better version. Also beneficial to users is Dark Sky's adherence to a no-advertisement policy, because Grossman and the team wanted to avoid pratfalls of other big weather websites that are "filled with ads top to bottom, and crusty links to other articles."

You can check out DarkSky.net now, and the mobile version of Dark Sky can be downloaded for $3.99 from the iOS App Store. [Direct Link]


Discuss this article in our forums



macOS Sierra Addresses Dropbox Security Concerns by Explicitly Asking for Accessibility User Permission
Following Dropbox-related security concerns that surfaced earlier this month, developer Phil Stokes has confirmed that macOS Sierra now explicitly requires apps to ask for user permission to access Accessibility (via Daring Fireball). Users can give access to an app, or click "not now" to deny the request.




Concerns were raised after it was demonstrated that Dropbox appears in System Preferences > Security & Privacy under Accessibility, despite the fact that users were never prompted to grant access to the features. More details can be found in our previous coverage and in a Dropbox support document.
Let's assume for the sake of argument that Dropbox never does any evil on your computer. It remains the fact that the Dropbox process has that ability. And that means, if Dropbox itself has a bug in it, it's possible an attacker could take control of your computer by hijacking flaws in Dropbox's code. Of course, that's entirely theoretical, but all security risks are until someone exploits them. The essence of good computer security and indeed the very reason why OSX has these kinds of safeguards in place to begin with is that apps should not have permissions greater than those that they need to do their job.
At the time, Dropbox said it was working with Apple to reduce its dependence on elevated access in macOS Sierra, and would respect when people disable the app's Accessibility permissions, but now a much-needed safeguard exists regardless.

In a new blog post, Dropbox still recommends that Mac users running macOS Sierra update their Accessibility permissions, if needed, to ensure smooth syncing and access to certain features of the cloud storage service.
Advanced Dropbox collaboration features, such as the badge, require Accessibility permissions. You'll be prompted to grant these permissions when you install the Dropbox desktop app on macOS Sierra. To do so, follow the instructions on screen. The same will apply for older versions of OS X in the coming weeks. For more information on Dropbox Mac permissions, visit our help center.
macOS Sierra was publicly released today as a free update on the Mac App Store.


Discuss this article in our forums



macOS Sierra: iCloud Drive Syncs Desktop Files and Documents Across Devices
With macOS Sierra, Apple is aiming to make it easier to access all of your content across multiple devices, expanding iCloud Drive to encompass the desktop and documents folder of every Mac.

This feature puts all of the files stored either on the desktop or in the documents folder in iCloud, making them available on iOS devices, Macs, and iCloud.com for easy access to your most recent files wherever you are.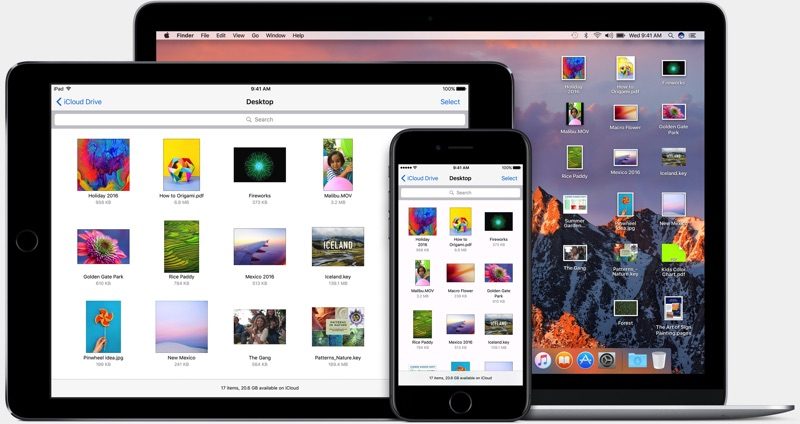 Turning on the new iCloud feature is done when setting up macOS Sierra. When you install the new operating system, Apple will ask if you want to enable iCloud storage for the desktop and documents folder and will let you know how much iCloud storage space it will take up.

If you have a lot of files on your desktop or in the documents folder, it can take up a significant amount of space, so you might need to do some file cleanup before enabling it.

If you want to enable the feature later or turn it off at some point, you can do so by going to System Preferences --> iCloud --> iCloud Drive --> Options ---> and checking or unchecking "Desktop & Documents Folders" in the list of apps allowed to upload data to iCloud Drive.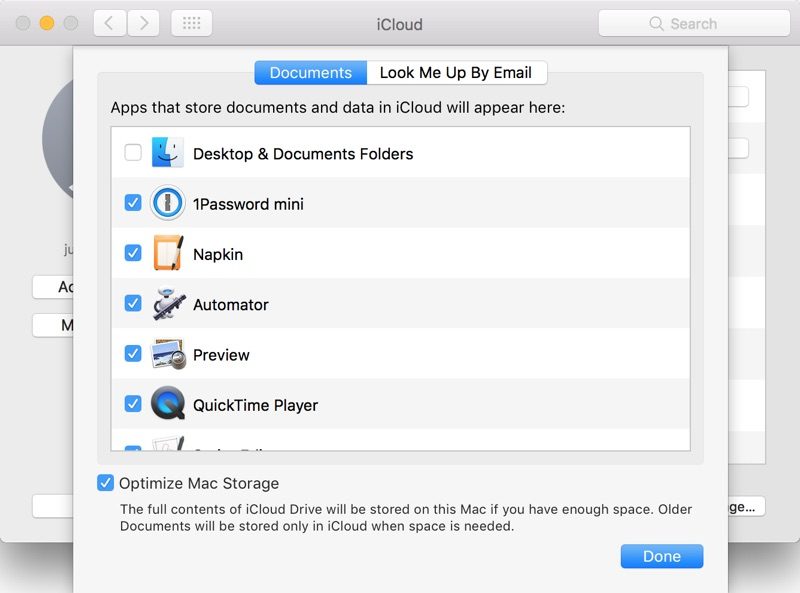 On Macs and iOS devices, the contents of the desktop and documents folder can be accessed through the iCloud Drive app. On iCloud.com, the files can be accessed through the iCloud Drive folder that's available once you're signed in. If you have a Windows machine, your Mac files will be able to be downloaded through the iCloud for Windows app.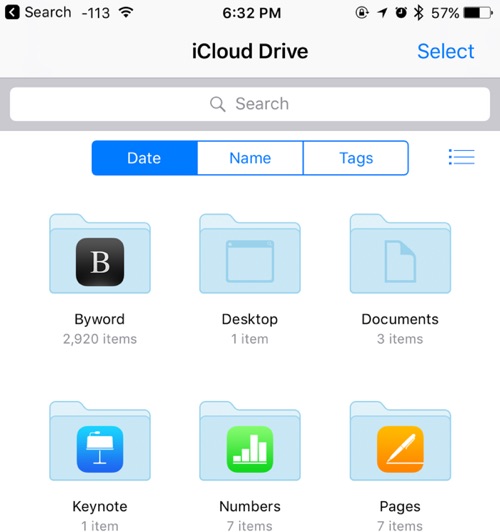 The new iCloud storage options in Sierra bring Macs more in line with iOS devices, which use iCloud Drive for all file storage purposes. macOS Sierra is available for free starting today.


Discuss this article in our forums



macOS Sierra: Apps Gain Safari-Style Tabs
One of the new features in macOS Sierra is tabbed windows throughout the operating system, bringing a feature that was once limited to Safari to all Mac apps, first and third party.

In apps like Pages, Keynote, and Numbers, when you work with multiple documents, there's now an option to organize them into separate tabs instead of separate windows. This feature is available in most first-party Apple apps, including Mail, Maps, TextEdit, and more.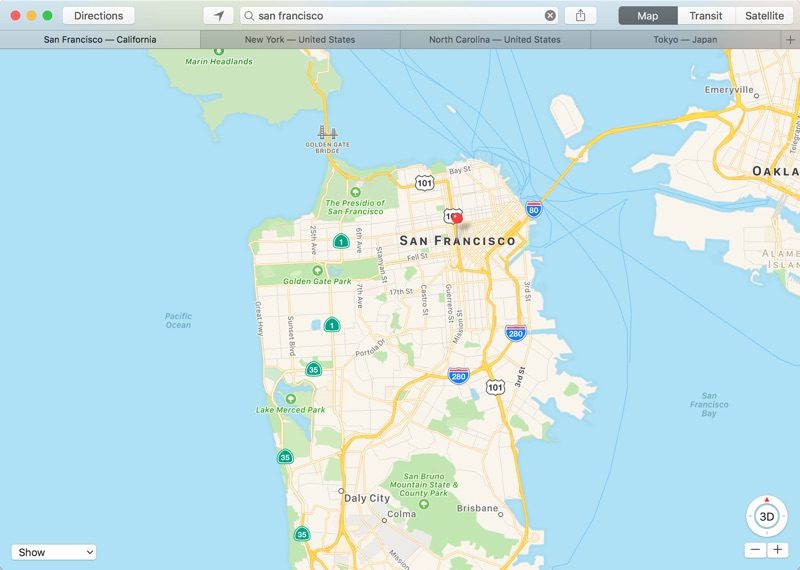 To use the new tab feature in an app that supports it, whenever two or more windows are open, choose the "Window" option from the menu bar and select "Merge All Windows." The individual windows will become a single window with tabs to switch between files.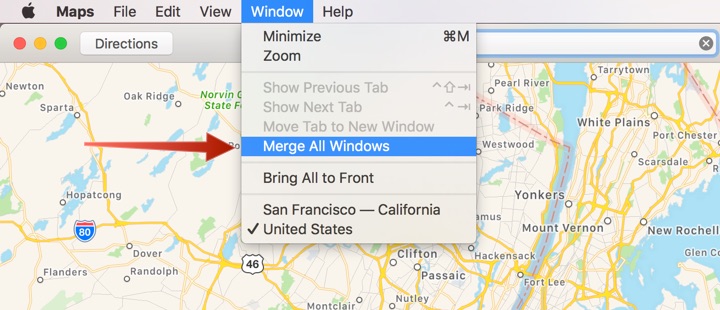 Tabs in apps work just like tabs in Safari. In Apple's apps, Command + T will open a new tab automatically, as will the "+" button, and tabs can be dragged out into their own separate windows.

In some cases, third-party apps will automatically support tabbed windows, but for other apps, developers may have to make some changes to enable it. Text editing app Byword, for example, now has an option to combine all open windows into a single window with tab, and other apps will soon follow now that macOS Sierra is available to the public.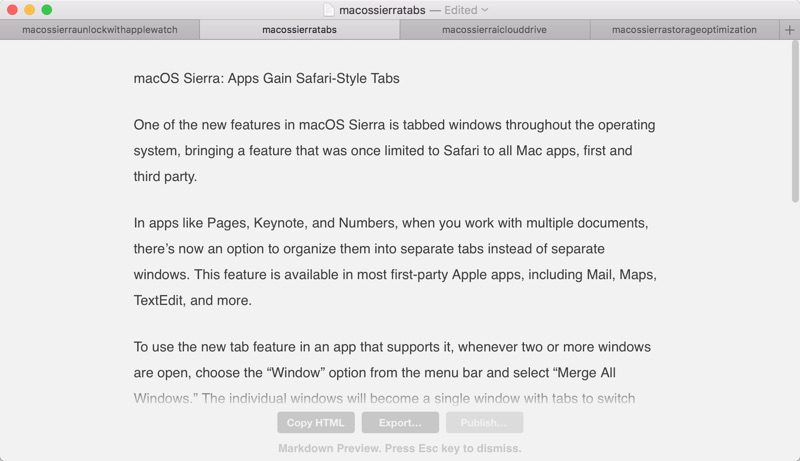 macOS Sierra is available as a free download from the Mac App Store starting today. For more information on the features included in the latest operating system update, make sure to check out our macOs Sierra roundup.


Discuss this article in our forums



macOS Sierra: How to Unlock Your Mac With Your Apple Watch
macOS Sierra makes it easier for Apple Watch owners to unlock their Macs with a new "Auto Unlock" feature that lets the Apple Watch be used for authentication purposes instead of a traditional password.

It's a feature that's limited to more recent Macs so it's not going to work on every machine that can run Sierra, but when it is available, Auto Unlock is a super useful feature that genuinely saves a bit of time. It isn't enabled by default, so there are a few steps to go through to turn Auto Unlock on. Here's how to use it.



Navigate to the Apple logo on the upper left hand of the screen and select "System Preferences."


Click on "Security & Privacy" from the first row of apps.


Auto Unlock is an option under the "General" section. Click the check box to turn it on.




Enter your password.




Once enabled, Auto Unlock works automatically whenever your authenticated Apple Watch is near your Mac (as in within a few feet). When waking a Mac from sleep and the password entry screen pops up, it will say "Unlocking with Apple Watch..." instead of bringing up the password text box.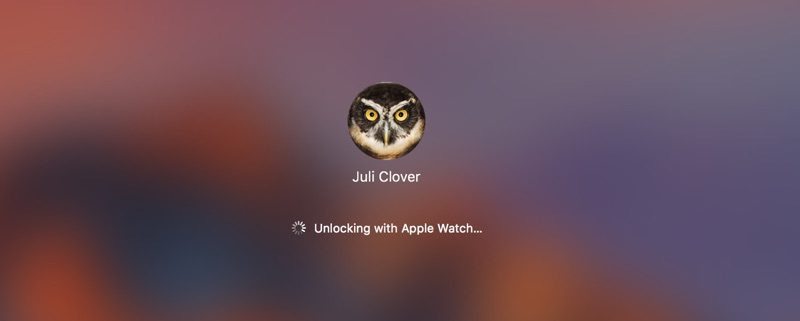 A few seconds later, the Mac will unlock and you will receive a notification on your Apple Watch letting you know the unlocking was successful. If Auto Unlock fails to authenticate for some reason, the password entry option will pop up after approximately 10 seconds and you will be required to enter your password to log in.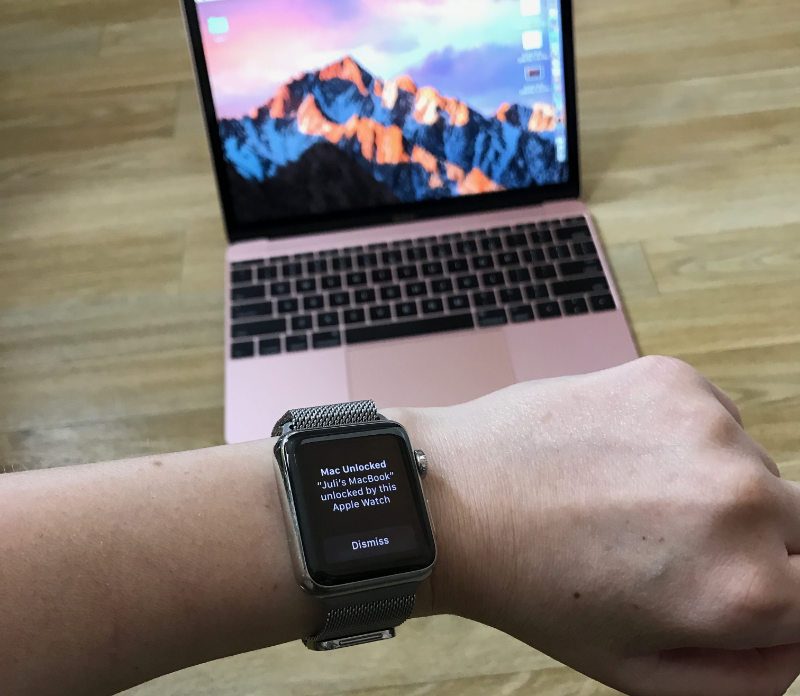 Auto Unlock is a Continuity feature, so it is limited to some of Apple's more recent machines. It is supported by all Mac models introduced in mid-2013 or later, and it requires an Apple Watch running watchOS 3 paired with an iPhone 5 or later. Handoff must be turned on in System Preferences (General --> Allow Handoff) and your iPhone, Apple Watch, and Mac must be signed into the same iCloud account.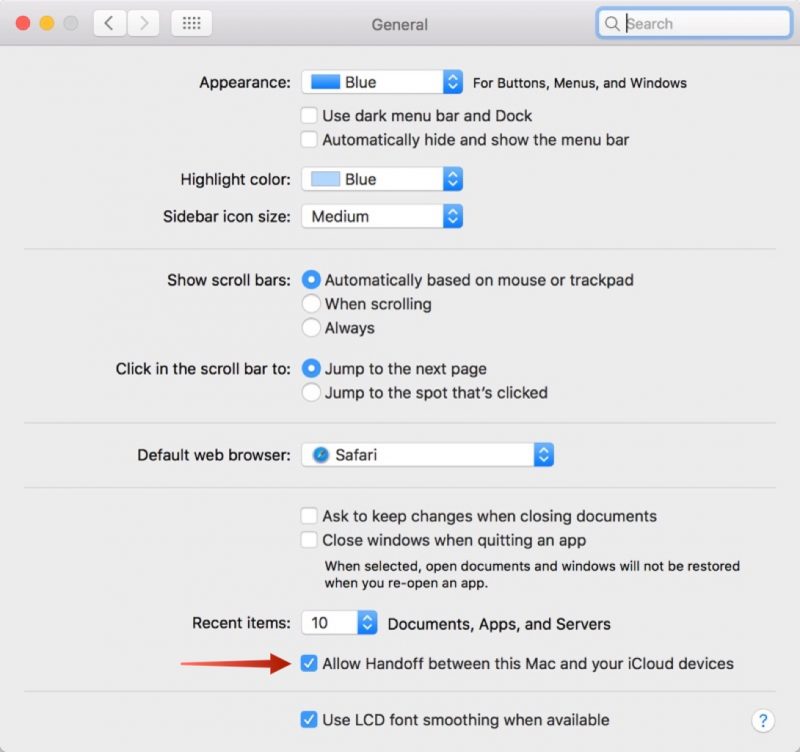 To enable Auto Unlock, you will also need to turn on Two-Factor Authentication if it isn't on already.

For those of you using the original Two-Step Verification instead of the Two-Factor Authentication feature introduced with iOS 10, you will need to disable Two-Step Verification on the Apple ID management site and then enable Two-Factor Authentication on an iOS device. A passcode also needs to be established on the Apple Watch.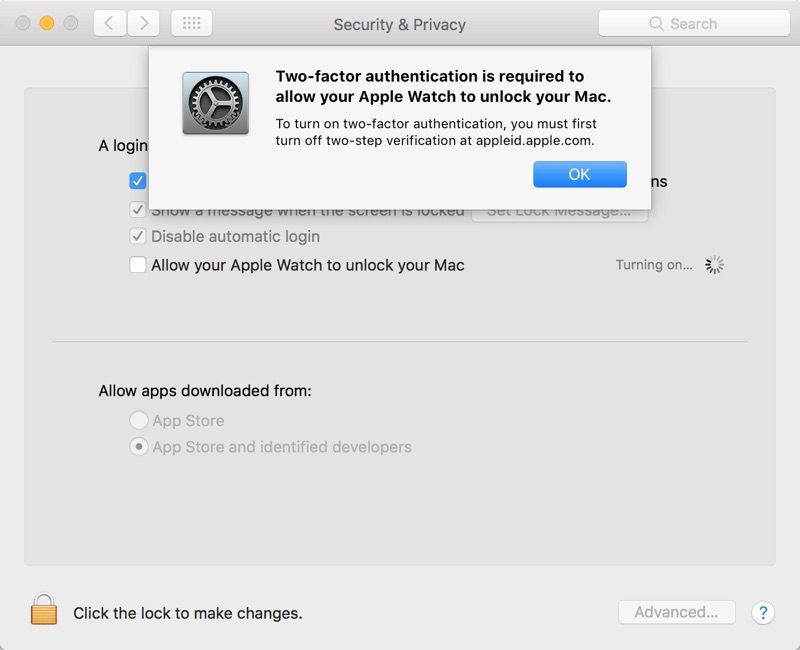 Apple doesn't offer troubleshooting tips if Auto Unlock isn't working, but signing out of iCloud and back in again and restarting your devices may help solve any issues.

There are still instances where you will need to log in with a password, like after rebooting your machine, but for the most part, Auto Unlock successfully replaces password entry on the Mac.


Discuss this article in our forums



macOS Sierra: Picture in Picture Mode for Safari and iTunes Videos
With macOS Sierra, users can can float a video window from Safari or iTunes over the desktop or an app thanks to a new picture-in-picture mode. The feature enables Mac users to play a video in any one of the four corners of the desktop and resize it to see more or less of the window behind it.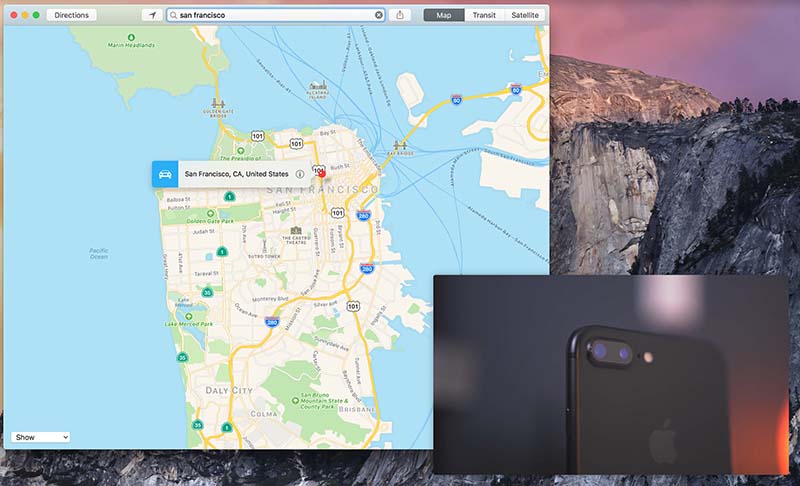 The video remains pinned above the desktop and apps, including in full-screen mode and split view, so long as the Safari tab or iTunes window where the video originates remains open. The picture-in-picture window has buttons to close or unpin the video, and play and pause controls, but no rewind, fast forward, or scrubbing options.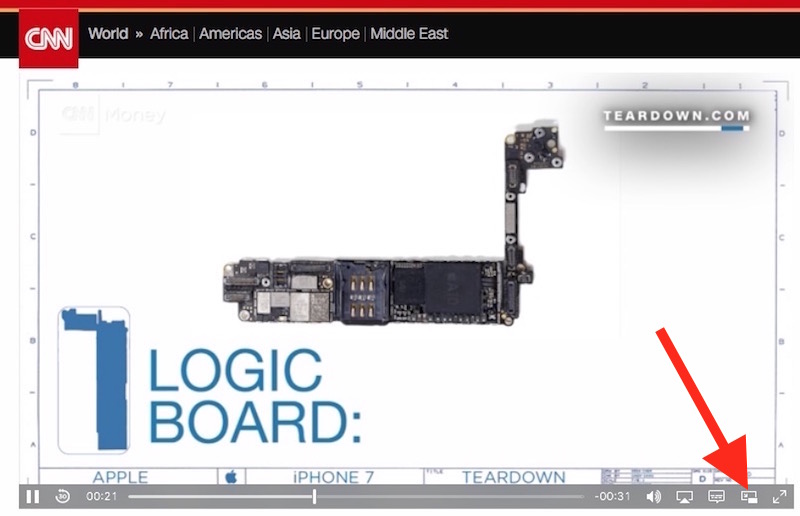 In Safari, picture-in-picture mode currently only works on certain websites, such as YouTube, CNN, and The Wall Street Journal, but the feature should become more widely available as other websites implement it. In the meantime, it does not work on websites like Netflix, Facebook, Twitter, AMC, or The New York Times.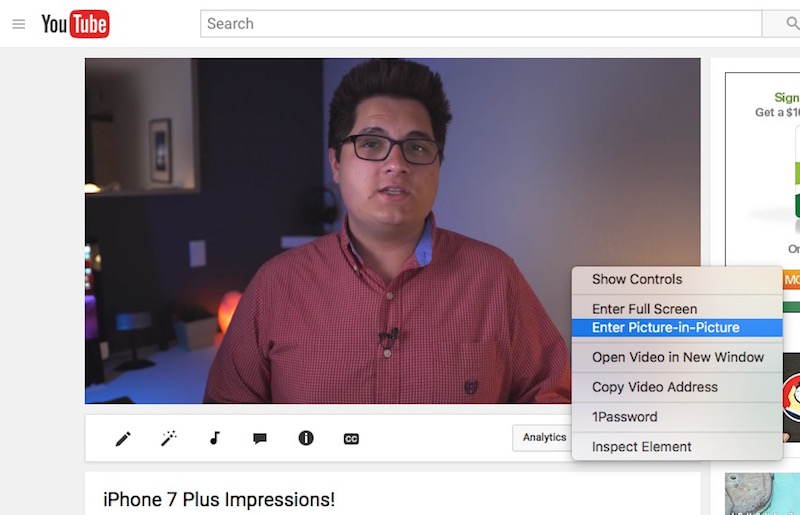 Even on YouTube, enabling picture-in-picture mode currently requires somewhat of a workaround. Since there is no picture-in-picture mode button in the video player itself, like in the CNN screenshot above, enabling the feature on YouTube requires right-clicking the video player twice until a contextual menu pops up with the option.

macOS Sierra was released today as a free download on the Mac App Store.


Discuss this article in our forums



macOS Sierra: Photos Gains 'Memories' and Messages Adds Rich Links, Tapback, and Large Emoji
One of the simpler updates arriving in macOS Sierra is an overhauled experience for both Photos and Messages, bringing each app closer to their newly-updated iOS 10 counterparts. For Messages, that means users will now be able to use the Mac version of the app to send and receive rich links and Tapback messages, along with larger emoji characters when three or fewer are sent in a message.

Otherwise, Messages for Mac doesn't have the other additions introduced in iOS 10, including Digital Touch messages and the Messages App Store with sticker functionality. Users will still have to open their iPhones to send these types of messages, although macOS Sierra will better accommodate the visual placement of stickers and Tapback notifications than previous versions of Apple's desktop software.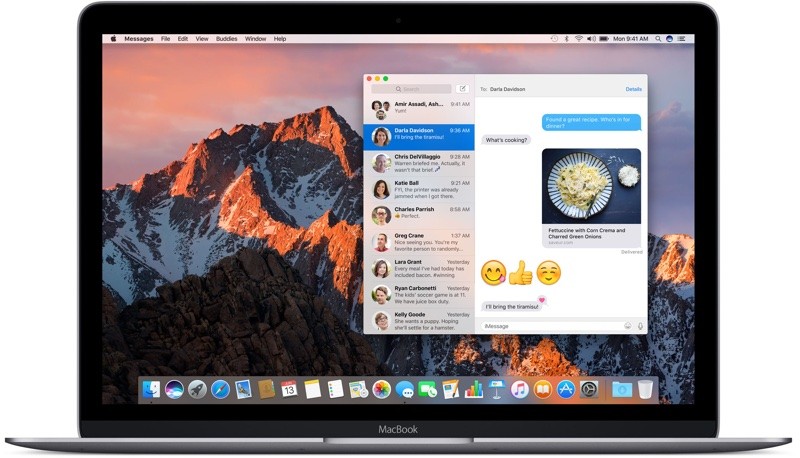 On the Photos side of things, the Mac version of the app will now have the "Memories" tab that was introduced in iOS 10. The feature intelligently curates photo collections based on location, date, and even the people within each image, and puts them all into new short videos for you to view. Although the feature is streamlined, users can choose to customize each Memory to their liking, similar to the Memories editing process in iOS 10.

Some of the memory categories Photos surfaces includes Recent events, Last Week, Last Weekend, Year summary, Trips, Birthdays, and more. Users who have already set up their People album in iOS 10 will have to re-scan their image library in Sierra since facial recognition settings don't carry over between devices. There will also be an new "Places" album to see the location of every image you've taken on a world map.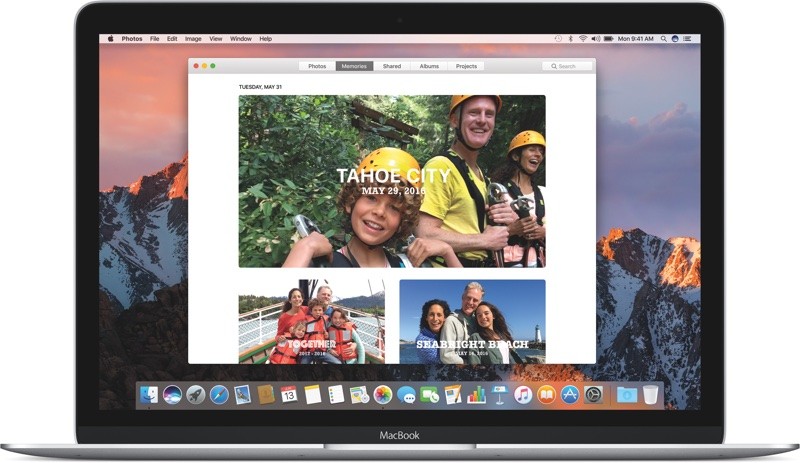 Other tidbit updates in Photos include a new "Brilliance" tool to improve photo detail through adding contrast and highlights, and Live Photo editing with filters and various other adjustment instruments. Third-party developers are also now able to use a Live Photo Editing API to create tools for editing Live Photos in Sierra.

macOS Sierra is available as a free download on the Mac App Store starting today. Check out the MacRumors Sierra roundup for more information on the new operating system, and keep a lookout for the rest of our macOS coverage.


Discuss this article in our forums



macOS Sierra and iOS 10: Universal Clipboard for Cross Device Copy/Paste
New in macOS Sierra and iOS 10 is a Universal Clipboard feature that makes it much easier to transfer links, text, photos, and more between different devices. With Universal Clipboard, you can copy something on your Mac and paste it on your iPhone, or vice versa.

It's already been possible to open up web pages across multiple devices, but now that functionality has been extended further. With macOS Sierra and iOS 10, when you copy a link on one device, it's uploaded to iCloud and available on all other devices where you're signed in with your Apple ID. You can do things like look up a recipe on your Mac, copy the text, and paste it on your iPhone, or copy a photo from an iPhone to an iPad.

Using the feature is as simple as copying something on one device, switching over to another device, and hitting "Paste." It can sometime takes a second or two for the copy to register, but it works seamlessly. There are no visual indicators for Universal Clipboard -- it's all behind the scenes.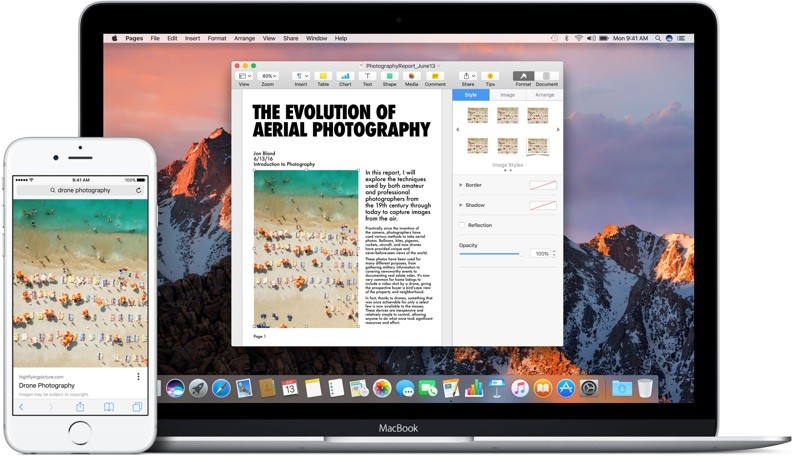 Apple has implemented an expiration for Universal Clipboard, so you only have a few minutes to paste something to another device once it's been copied. After that expiration time, which appears to be about two minutes, cross-device paste stops working and will need to be reactivated with another copy.

There are limitations on what can be copied where. Text can be copied almost anywhere on a Mac or iOS device, but images are somewhat more limited and will need to be copied into an app, like Pages, so it isn't a solid alternative to AirDrop for photo file transfers.

Universal Clipboard is a Continuity feature, so to get it to work, you will need to be signed into the same Apple ID across all devices. Bluetooth will also need to be turned on for the feature to work, and Bluetooth LE is required. The following Macs work with Universal Clipboard:

- MacBook (Early 2015 or newer)
- MacBook Pro (2012 or newer)
- MacBook Air (2012 or newer)
- Mac mini (2012 or newer)
- iMac (2012 or newer)
- Mac Pro (Late 2013)

Continuity features are sometimes unreliable, and there have been reports about spotty performance with Universal Clipboard during the beta testing period. Sometimes it helps to sign in and out of iCloud to restore functionality, and you'll need to make sure Handoff is activated on your iOS device (Settings --> General --> Handoff).

Aside from a Bluetooth connection and the same Apple ID, there are no other requirements. Wi-Fi is not necessary, as Universal Clipboard will work with cellular data.

Previously introduced Continuity features allow users to do things like make and answer phone calls on their Macs, get SMS messages on the Mac, and transfer tasks from one device to another with Handoff. Other new Continuity features in macOS Sierra include Apple Pay on the web and Auto Unlock with Apple Watch.

macOS Sierra is available as of today and can be downloaded from the Mac App Store.


Discuss this article in our forums



macOS Server Updated for Sierra With New Setup Assistant Options and More
Apple today updated its macOS Server Mac app with a collection of new features in Version 5.2 that bring integration with Apple School Manager, various streamlining updates to the Setup Assistant of some apps, and security restrictions for new macOS features like auto-unlock with Apple Watch.

Specifically, macOS Server users can now choose to skip the new Siri Setup Assistant in Sierra, as well as the setup panes in iOS 10 for iMessage and FaceTime.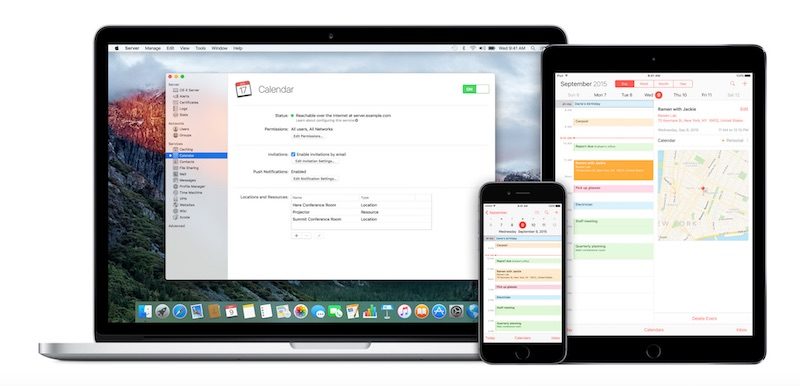 Previously dubbed "OS X Server," the app introduces "even more power to your business, home office, or school," by turning any Mac into a powerful server. macOS Server can make it easier to share files, synchronize contacts, host a website, configure iOS devices, remotely access your home network, and more.

What's New in Version 5.2
Profile Manager
• Integration with Apple School Manager to get Managed Apple ID and class information
• Skip the iMessage & FaceTime Setup Assistant pane in iOS 10
• Skip the Siri Setup Assistant pane in macOS Sierra version 10.12
• Choose default app for audio calls for Contacts, Exchange, and Google accounts
• Set Bluetooth Modification restriction on supervised devices
• Set Apple Music; iCloud Keychain Sync; and Sharing to Notes, Reminders, or LinkedIn restrictions for macOS Sierra version 10.12
• Set new IKEv2 authentication method option or specify IPSec disconnect on idle timeout for VPN
• Restrict Cisco fast lane Quality of Service marking or disable captive network detection for Wi-Fi networks
• Restrict unlocking a Mac using Apple Watch
• Configure IP firewall

Caching Server
• Enhanced control over peer replication

SMB
• To improve security, SMB connections now require signing by default.

NFS
• AES is now a supported encryption type for Kerberized NFS

Xsan 5
• macOS Sierra and Server 5.2 include support for the Xsan 5 file system. Xsan 5 is compatible with the Quantum StorNext 5.3 file system.
• See Xsan Compatibility information before upgrading to Xsan 5.
Anyone interested can download macOS Server from the Mac App Store for $19.99. [Direct Link]


Discuss this article in our forums