Mac Rumors powered by MacRumors_p2


Resource id #62Twelve South Launches Horizontal BookArc Stand for Mac Pro
Twelve South today announced a new horizontal stand designed specifically for the new model of Mac Pro. Unlike most of Twelve South's product line, the BookArc for Mac Pro is made of a shinier chrome plate that offsets the deep black colors of the Mac Pro itself. The specially designed stand allows Mac Pros to be placed horizontally, saving vertical space in cabinets and on shelves. Earlier in the year Apple confirmed horizontal placement of the Mac Pro unit was safe and operable, under certain guidelines.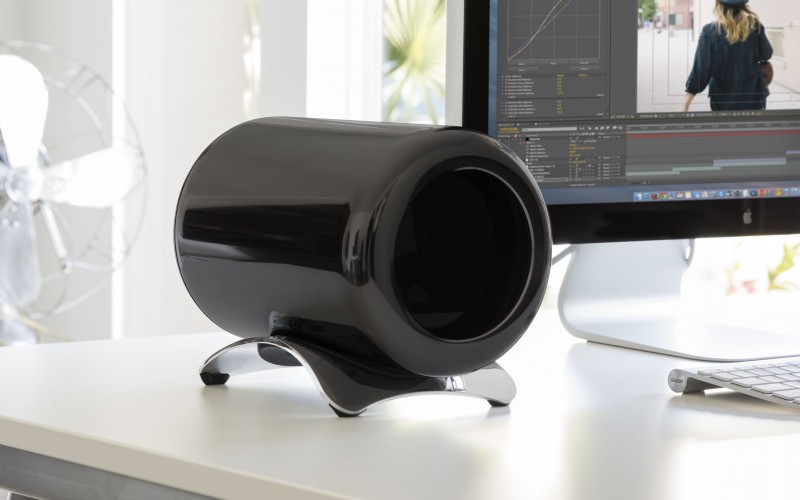 The beautiful, arc-shaped stand holds a Mac Pro horizontally, cutting the vertical height requirement in half. A lower height increases the number of places you can park the most powerful Mac available, including inside professional gear racks and studio shelves.

Is it safe to use a Mac Pro horizontally? Absolutely. It will perform exactly the same on its side as it will upright. In fact, the Apple Tech Note that refers to using a Mac Pro on its side was the inspiration for designing this curved metal stand. Historically, most stand-alone Macs were able to be used on their side or vertically. Twelve South now brings this flexible option to the newest Mac Pro with the BookArc for Mac Pro.
According to Twelve South, if placed inside a racked studio cabinet the Mac Pro on BookArc takes up only seven spaces against the fifteen it would occupy if placed vertically. Twelve South also sells BookArc for a wide variety of Apple products, including ones for MacBook Pro, MacBook Air, and nearly all lines of iPad, including the new iPad Air 2.

The BookArc for Mac Pro can be purchased today for $59.99 from Twelve South's official website.

Buyer's Guide: Discounts on Original iPad Air, iPad Mini 2, MacBook Air, and Apple Accessories
Now that Apple's iPad Air 2 and iPad mini 3 are available, retailers have been offering discounts on the original iPad Air and the iPad mini 2.

There are quite a few deals on previous-generation higher capacity cellular and Wi-Fi iPads, and this week also sees some discounts on remaining 2013 Retina MacBook Pro inventory and deals on some Apple accessories.


MacBook Air

Best Buy is offering the current 13.3-inch 1.4GHz/4GB/128GB MacBook Air for $849 ($150 off), which is the lowest price that we've seen on that particular machine.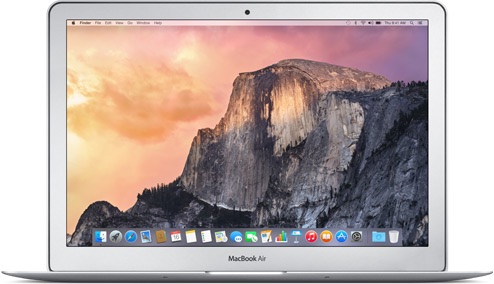 iPad Air (last year's model)

The iPad Air has seen improvements in the iPad Air 2, so the original model is now on sale.

The Wi-Fi only 64GB iPad Air in Space Gray can be purchased for $499 ($100 off) from Best Buy, as can the 64GB Silver Wi-Fi model. The Wi-Fi only 128GB iPad Air in Silver can be purchased from Best Buy for $699 ($200 off). Best Buy also has the 128GB iPad Air in Space Gray for $699 ($100 off).

Several sites are also offering deals on the higher-capacity Wi-Fi + Cellular iPad Air models. The 64GB Cellular iPad Air in Silver from AT&T is available for $599 from Adorama. The 64GB Cellular iPad Air in Space Gray from AT&T is also available for $599, from B&H Photo.




Verizon models are slightly more expensive, with both the 64GB Silver Cellular iPad and 64GB Space Gray iPad available for $629 ($200 off)
from Best Buy.

The 128GB Cellular iPad Air in Silver from AT&T is available for $829.99 ($100 off) from Best Buy and the 128GB Space Gray AT&T Cellular iPad is also available for $829.99 ($100 off) from Best Buy.

128GB models from Verizon are priced similarly, with the 128GB Silver version available from Best Buy for $829.99 ($100 off) and the Space Gray version available for $729 ($200 off) from B&H Photo.


iPad mini 2 (last year's model)

Higher-capacity iPad mini 2 models are also available at steep discounts, and these iPads are a particularly good deal as the only difference between the mini 2 and the mini 3 is Touch ID and a gold color option.

The 64GB Wi-Fi only iPad mini 2 in Silver is available for $399 ($200 off) from Best Buy. The Space Gray Wi-Fi only iPad mini 2 is also available for $399 ($200 off) from Best Buy.

The 128GB Wi-Fi only iPad mini 2 in Silver is available for $499 ($200 off) from Best Buy, while the Space Gray version is available for $499 ($200 off) from Best Buy.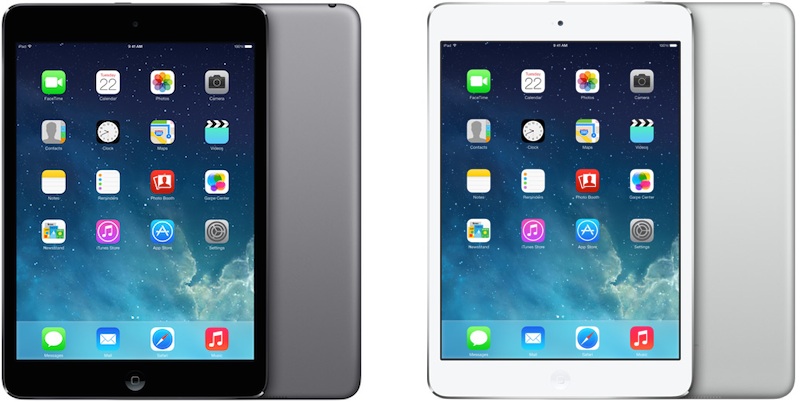 The 64GB AT&T Cellular iPad mini 2 in Silver is available for $529.99 ($200 off) from Best Buy as is the Space Gray model.

64GB Verizon Cellular iPad mini 2 models in Silver are available for $529.99 ($200 off) from Best Buy and the Space Gray model is available from Best Buy for the same price.

The 128GB Cellular AT&T iPad mini 2 in Silver is available for $629 ($200 off)from Amazon and Adorama. The AT&T Space Gray model in 128GB is also available for $629 ($200 off) from Amazon and Adorama.

The 128GB Cellular Verizon iPad mini 2 in Space Gray is available for $629 ($200 off) from Best Buy and Adorama.


Retina MacBook Pro

There are a few deals 2014 Retina MacBook Pro this week. The 2.6GHz/8GB/128GB 13-inch Retina MacBook Pro is available for $1,199.99 ($100 off) from Adorama and B&H Photo. The 13-inch 2.6GHz/8GB/256GB model is available for $1,399 ($100 off) from Adorama and B&H Photo. The high-end 2.6GHz/8GB/512GB 13-inch Retina MacBook Pro is on sale for $1,699.99 ($100 off) from Adorama and B&H Photo.

There are some deals on remaining 2013 Retina MacBook Pros. The 2.4GHz/4GB/128GB 13-inch Retina MacBook Pro is available for $1,099 ($200 off) from Adorama and B&H Photo. The 2.4GHz/8GB/256 13-inch model is available for $1,279 ($220 off) from B&H Photo. The 2.6GHz/8GB/512GB 13-inch model is available for $1,549 ($250 off) from Adorama and B&H Photo.




The 2.0GHz/8GB/256GB 15-inch model is available for $1,599 ($400 off) Amazon, Adorama, and B&H Photo. The 2.0GHz/16GB/512GB 15-inch model is available for $2,199 ($400 off) from Amazon, Adorama, and B&H Photo.

The non-Retina 13-inch MacBook Pro is also on sale for $949.99 ($250 off) from Best Buy.


Apple Accessories

The Sony Portable Bluetooth Speaker with Lightning Dock is available for $169 ($80 off) from Groupon, down from its original price of $249. LivingSocial has a deal on the Jawbone Jambox speaker, offering it for $89 ($110 off).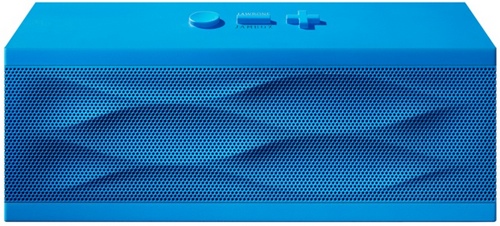 StackSocial is offering the "Mac to the Future" bundle for $29.99, which includes $961 worth of Mac software programs like Fantastical and Ember.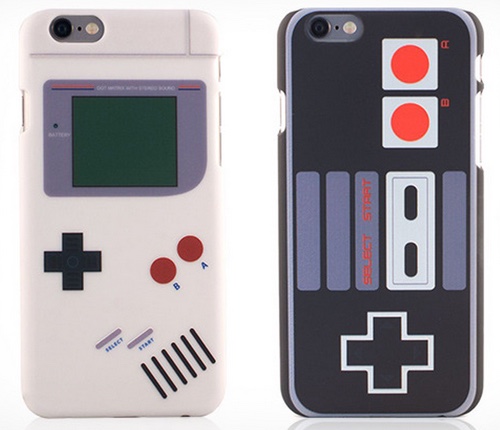 The Jarv Run BT Bluetooth Smart Heart Rate Monitor is available for $28.95 ($61 off) from Amazon. Groupon is selling the Kensington PowerBolt Apple Car Charger for $9.99 and StackSocial has Nintendo iPhone 6 and 6 Plus cases for $14.




The Kensington Portafolio Soft Folio Case for Apple iPad mini is available for $14.99 ($15 off) from Groupon, and the Logitech iPad mini Folio is available for $20 off at Best Buy.

MacRumors is an affiliate partner with some of these vendors.

Discarded Power Mac G5s 'Upcycled' Into Modern Office Furniture
Apple's Power Mac G5 has a distinctive aluminum design that was disruptive when it launched in 2003. Inspired by this milestone in design, designer Klaus Geiger has "upcycled" this aging Apple hardware into furniture because the machines are "simply too good to be disposed of." (via DesignBoom)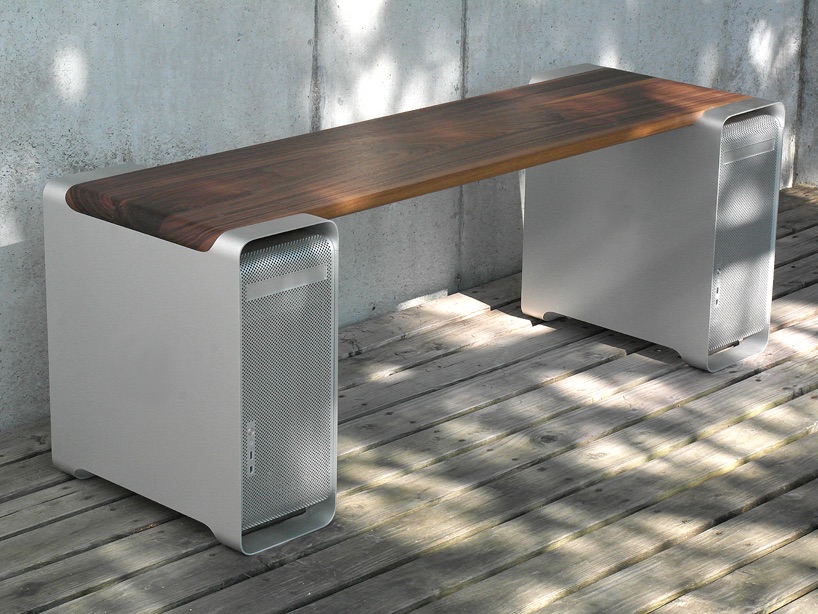 As part of a project aptly titled "Benchmarc", Geiger has carefully created a sitting bench using a carved wooden plank that forms a bridge between two Power Mac G5 units. The machining on the wood is aligns the curve perfectly with the shape of the Power Mac chassis.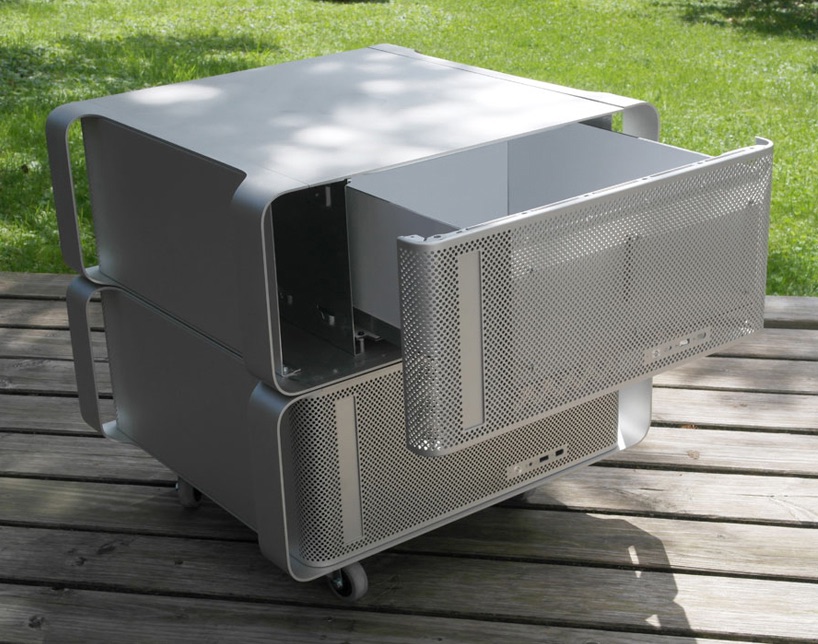 Beyond benches, Geiger also has crafted a movable conference table, file cabinets and more using discarded Power Mac machines. Additional concept renderings include an entire office full of furniture designed around old Power Mac G5 units.

Though interesting as a one-off furniture design project, this isn't the first time Apple hardware has been recycled. Both the iMac and the Mac Pro have been converted into fish aquariums, while a Power Mac G3 became an unusual roadside mailbox.

Apple to Open 25 New Stores in China Over Next Two Years, Says CEO Tim Cook
Apple will open 25 new Apple Stores in China over the next two years, according to CEO Tim Cook who spoke to Chinese news outlet Sina (via Reuters). The news comes as Cook was reported yesterday to be meeting with China's Vice Minister Ma Kai to discuss the security of user data. The CEO also tweeted a picture of himself in Zhengzhou, where he visited a Foxconn assembly factory.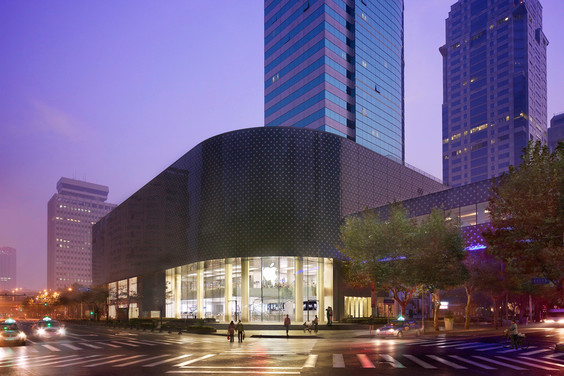 The Apple Store at the Hong Kong Plaza in Shanghai


Apple opened its first location in China in 2008 with a store in Beijing, and has since built a number of other stores in other major areas like Shanghai, Shenzhen, and Chongqing. The company has also greatly expanded its presence in the region throughout the past few years, striking a deal with the country's biggest carrier China Mobile and meeting with government officials to discuss market growth.

Later this week, Cook will reportedly attend meetings at Beijing's Tsinghua University, where he is a part of the advisory board to the university's School of Economics and Management. The CEO is said also to be meeting with Chinese firms Baidu and Alibaba over the next week to discuss collaboration.

Working Apple 1 Computer Sells for Record $905,000 at Auction
A rare working Apple 1 computer has sold for a record $905,000 at a Bonhams auction in New York, reports Reuters. Estimates suggested the motherboard might fetch between $300,000 and $500,000, but it ended up selling for far more.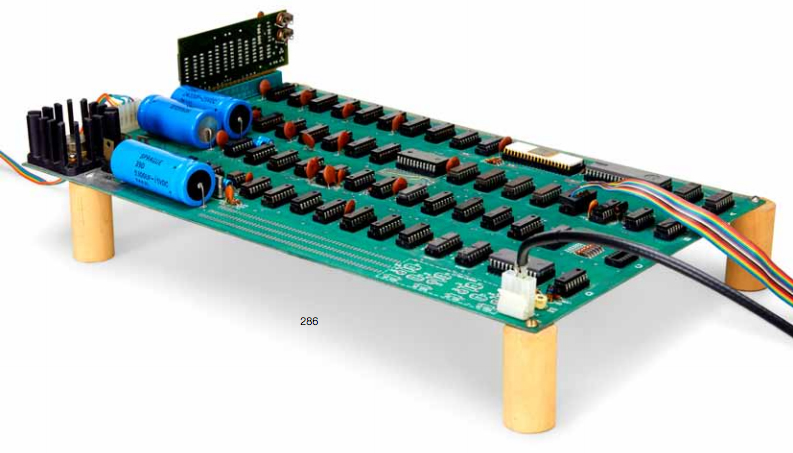 The motherboard is believed to be one of approximately 50 Apple 1 computers that were originally constructed by Apple co-founder Steve Wozniak in Steve Jobs' garage for sale in The Byte Shop. The motherboard is numbered "01-0070."




Few Apple 1 computers survive today, and the one sold at the New York auction has fetched the highest price seen yet. The buyer of the computer remains unknown. Each Apple 1 originally sold for $666.66, and approximately 200 total units were produced.

Last year, two working Apple 1 computers complete with their original cardboard box were sold by German auction house Breker. One of the machines sold for $330,000, while a second fully functional Apple 1 computer sold for $671,400 as it included a letter from Steve Jobs intended for its original owner.

Update: Reuters has updated its article to note that the winning bidder was the Henry Ford Museum.

Apple Opening Second Retail Store in Turkey This Saturday, October 25
Apple today confirmed on its website that it will be opening its second retail store in Turkey this Saturday, October 25. The store will be located in Istanbul's Akasya Shopping Mall, and follows the opening of the Zorlu Center Apple Store earlier this year which saw an appearance by Apple's manager of retail stores Steve Cano.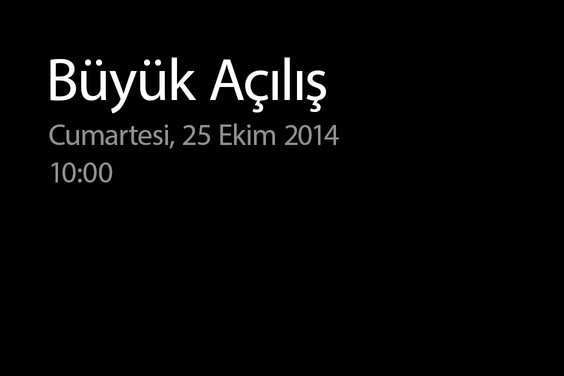 Photos of the new location shared by Apple Toolbox earlier this month revealed that the store will be on one of the mall's middle floors. Apple's Zorlu Center store was noted for carrying a unique design when it opened this past April, as the company touted its cubic design with a glass ceiling and glass sides. The Zorlu Center store also uses more glass than any previous Apple Store and contains special glass materials that allow the sunlight in the open area of the mall to shine through.

Apple's new store in Istanbul's Akasya Shopping Mall opens at 10:00 AM local time on October 25. Apple revealed during its Q4 2014 conference call yesterday that it will open 25 new stores in 2015, with the majority of those stores being opened outside of the U.S.

Apple Sells Record-Breaking 5.5 Million Macs in Q4 2014
Apple today announced during its earnings call that it sold 5.5 million Macs in the fourth fiscal quarter of 2014, which is the highest quarter ever for Mac sales. The 5.5 million Macs sold is up almost 1 million year-over-year and represents a 21% growth from 2013, creating $6.6 billion in sales. The company also noted that it sold a total of 19 million Macs for all of fiscal 2014, saying that sales were particularly strong for the MacBook Pro and the MacBook Air.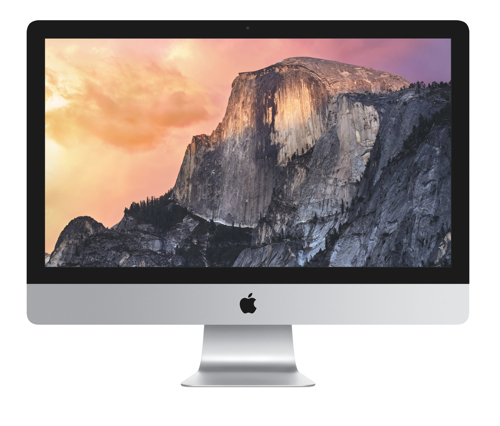 Apple launched updated models for nearly all of its Macs in 2014, aside from the redesigned Mac Pro which was released last year. The MacBook Air was updated in April and brought a price reduction along with slightly faster Haswell processors, while the MacBook Pro saw a minor update in July which also brought Haswell and Crystal Well processors that improved battery life. Last week, Apple launched a new 27-inch iMac with a high-resolution "Retina 5K" display, and updated the Mac mini for the first time in three years with Haswell processors and new Intel HD Graphics.

The company is also rumored to be working on a new 12-inch MacBook, which will feature a new ultra slim design and a high-resolution Retina display. Reports have suggested that the new MacBook will come in the iPhone color variants of Silver, Gold, and Space Gray, and will integrate fan-less internals with a Broadwell-Y low-power Core M processor along with the possible adoption of USB Type C. The 12-inch MacBook is said to be launching in mid-2015.

OWC Announces RAM Upgrade Kits for New Retina iMac, Up to 32GB for $399
Following yesterday's launch of the new iMac with Retina 5K display, Other World Computing has announced RAM upgrade kits for the machines. These kits were previously available for the 2013 iMac, but they are also compatible with the 2014 machines.

OWC is offering three separate 1600MHz DDR3L kits to upgrade the Retina iMac's memory to up to 32GB at prices lower than Apple offers. The 8GB kit, priced at $101.99, will increase the RAM of a base Retina iMac configuration from 8GB to 16GB.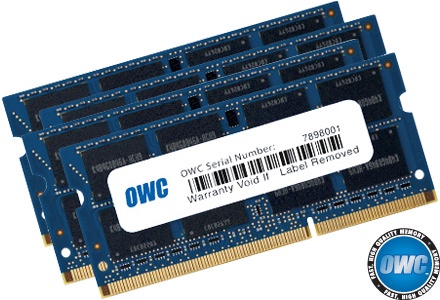 The 16GB kit, priced at $197.99, will increase the RAM of a base Retina iMac configuration from 8GB to 24GB, and the 32GB kit, priced at $395 kit will allow users to replace all memory for a total of 32GB of RAM.

When purchased from Apple, upgrading to 16GB of RAM total costs $200, while upgrading to 32GB of RAM costs $600. OWC's 32GB kit is $200 less than Apple's price, and while the 16GB OWC kit is priced the same at $200, it ultimately lets users install 24GB of RAM rather than 16GB of RAM.

OWC is also offering a trade-in rebate for original factory memory, giving customers a credit towards the purchase of a memory kit. OWC's memory kits come with a limited lifetime warranty along with a lifetime advanced replacement program.

Released yesterday, Apple's iMac with 5K Retina display can be purchased from the Apple Store for $2,499. Current orders ship out in three to five business days.

Apple Updates iLife Apps and Aperture for Yosemite
After releasing OS X Yosemite and updating its iWork suite of apps for the new operating system, Apple has now begun updating its iLife suite of apps alongside Aperture and Apple Configurator for Yosemite, as well as other new features.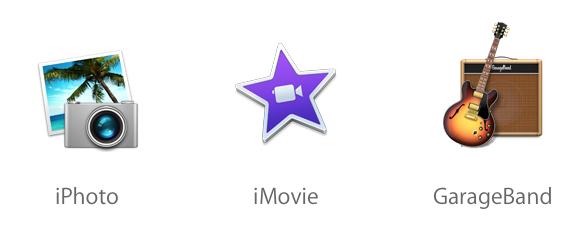 While iPhoto and Aperture only received compatibility updates for Yosemite, Garageband, Configurator and iMovie received numerous new features. Garageband now allows users to build their own bass rigs and includes a new Voice Template for fast and easy vocal recordings. iMovie received a brand new design inspired by the look of OS X Yosemite and other features like Custom H.264 file export options. Configurator now includes the ability to allow Handoff, support for new configuration payloads in iOS 8 and more.

Similar to the iWork suite, the iLife suite is free to users who have recently purchased a new Mac or iOS device. Otherwise, iMovie is $14.99 while Garageband includes a $4.99 one-time in-app purchase to unlock additional instruments and sounds for each platform. Aperture is available for $79.99 while Configurator is available for free.

Garageband - [Direct Link]
iPhoto - [Direct Link]
iMovie - [Direct Link]
Aperture - [Direct Link]
Apple Configurator - [Direct Link]

Adobe Releases Plugin to Help Aperture Users Transition to Lightroom
Earlier this year, Apple announced that it was ending development on Aperture in order to work on an upcoming Photos app for OS X that will replace both Aperture and iPhoto.

At the time, Adobe, the company behind popular photo editing software Lightroom, promised to make a tool to allow Aperture users to import their photos into Lightroom 5, and today Adobe released its Aperture Import Plugin for Lightroom 5.

The free plugin, which can be downloaded from Adobe's site, will make it simple for Aperture users to migrate their libraries into Lightroom, a task that takes quite a bit of time to do manually. It is available only for Mac users and requires Lightroom 5.6 or later.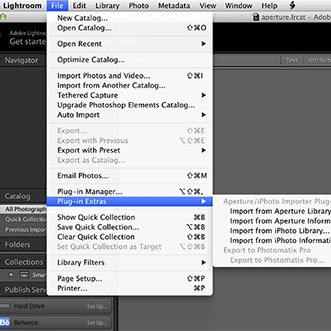 Using the plugin, Aperture users can import the following data into Lightroom: Flags, Star Ratings, Keywords, GPS Data, Rejects, Hidden Files, Color Labels, Stacks, and Face Tags.

Color Labels, Stacks, and Face Tags are imported as Lightroom keywords, and because adjustments to photos made in Aperture can't be read into Lightroom, the tool will import both original images and copies of images with adjustments applied.

Former Aperture users who sign up for Adobe's Creative Cloud Photography Plan (priced at $9.99 per month) will receive a free three-month membership to photography site KelbyOne, which offers a number of tutorials on transitioning from Aperture to Lightroom and several Lightroom training videos.

The now-discontinued Aperture has long lagged behind competing software like Lightroom for Adobe, and as its last major version update came in October of 2013, it is no surprise that Apple has opted to abandon the software. Apple has offered a final update to Aperture to allow it to run on OS X Yosemite, but plans to stop development after that.

Though Aperture is no longer being updated, early screenshots of the OS X Photos app and information from Apple representatives suggests that some of Aperture's professional-grade features might make it into the upcoming Photos app.

Apple Stops Selling Mac Mini With OS X Server, No Longer Offers 2TB Storage Option
Apple today updated the Mac mini, introducing significant upgrades including Haswell processors, Intel HD 5000/Iris graphics, 802.11ac Wi-Fi, and PCIe-based flash storage options for the higher-end models.

Though Apple continues to offer three separate Mac mini options priced at $499, $699, and $999, it does not offer an OS X Server option as it has done in the past. Previously, the high-end Mac mini came with OS X Server and offered two 1TB hard drives for a total of 2TB of storage space.

Apple's new Mac minis max out at 1TB of storage space, with the high end model coming equipped with a 1TB Fusion Drive or up to 1TB of PCIe-based flash storage.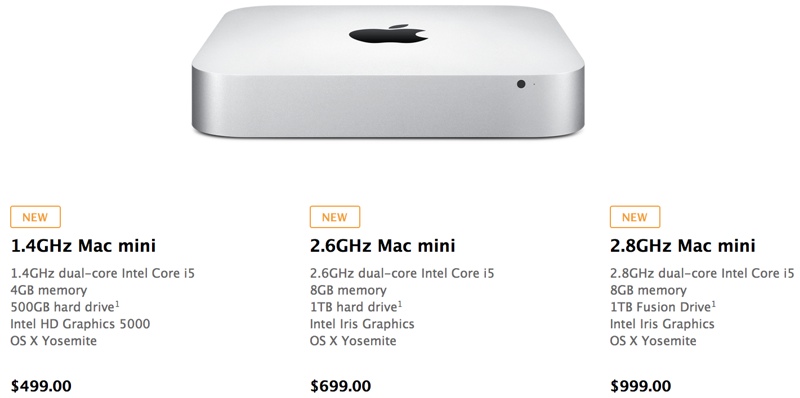 The Mac mini with Server configuration initially shipped with an OS X Server version of OS X, but later models came with the standard version of OS X and a separate OS X Server package. Later, Apple went on to release OS X Server in the App Store, essentially making the Mac mini with OS X Server obsolete.

While the new Mac minis can't be expanded to 2TB of storage space, they have two Thunderbolt two ports and four USB 3.0 ports, allowing for plenty of external storage options.

Apple's new Mac minis are available today from the company's online store, with prices starting at $499.

Apple Releases iTunes 12.0.1 Alongside OS X Yosemite
Alongside OS X Yosemite, Apple today released iTunes 12.0.1, a revamped version of iTunes that's been designed with OS X Yosemite in mind. iTunes 12.0.1 can be downloaded from the Mac App Store and is available for both Mavericks and OS X Yosemite.

iTunes 12 offers an elegant new design that incorporates translucency to improve depth. It also has a streamlined toolbar that aims to give users more room to experience content, and it melds the iTunes Store with the Library, making it easier to navigate between personal collections and what's available in the store.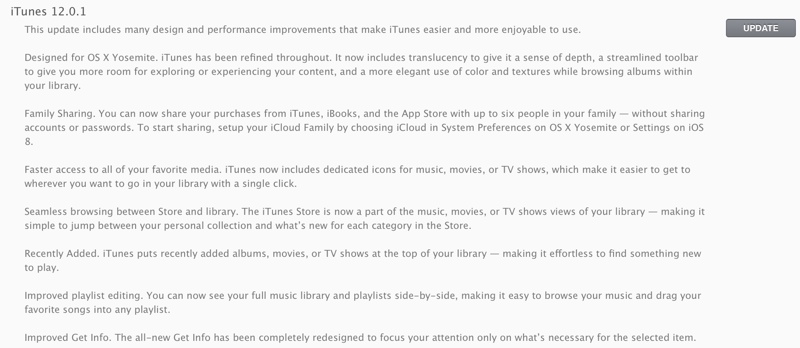 There are dedicated icons for music, movies, and TV shows, and Recently Added albums, movies, and TV shows are displayed at the top of the library for easy access.

iTunes 12 also includes support for several iOS 8/Yosemite features, including Family Sharing, and it brings improved playlist editing as well.

Apple has also released Security Update 2014-005 for OS X Mavericks.

Apple October 2014 Media Event: Spoiler-Free Video Stream [Video Posted]
With Apple's October 2014 media event kicking off in just a short while, some users are interested in avoiding all of the announcements and waiting until Apple posts the recorded video of the event so as to experience it without already knowing the outcome.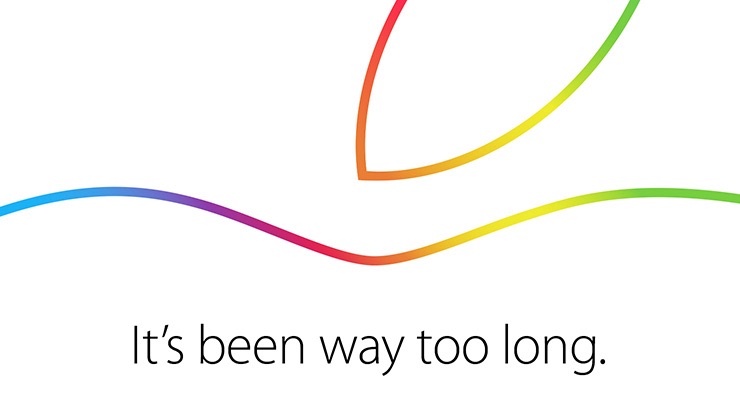 For those individuals, we've posted this news story, which will be updated with the link to the presentation once it becomes available from Apple. No other news stories or announcements will be displayed alongside this story.

Users waiting for the video to be posted are welcome to gather in the thread associated with this news story, and we ask that those who follow the events refrain from making any posts in the thread about today's announcements.

Video Posted: The video is now available for on-demand streaming. There are no spoilers visible on the page at this time.

'Borderlands: The Pre-Sequel' Launches Simultaneously on Mac, PC, and Consoles
Borderlands: The Pre-Sequel, launching today for Mac, PC, and consoles, is the third game in the popular Borderlands series. Set at a time in between the first and second Borderland titles, The Pre-Sequel, like its predecessors, is a first person shooter that incorporates RPG elements.

In Borderlands: The Pre-Sequel, players can play as one of four characters, each with unique abilities: Nisha the Lawbringer, Athena the Gladiator, Wilhelm the Enforcer, and Claptrap the Fragtrap. The storyline will see gamers fighting alongside Handsome Jack in an attempt to save Pandora's moon.


Discover the story behind Borderlands 2 villain, Handsome Jack, and his rise to power. Taking place between the original Borderlands and Borderlands 2, the Pre-Sequel gives you a whole lotta new gameplay featuring the genre blending fusion of shooter and RPG mechanics that players have come to love.

Float through the air with each low gravity jump while taking enemies down from above using new ice and laser weapons. Catch-a-ride and explore the lunar landscape with new vehicles allowing for more levels of destructive mayhem.
Borderlands: The Pre-Sequel is launching simultaneously on the Mac, PC, and consoles (PS3 and Xbox 360), which is a bit unusual as major games typically launch on PC and consoles before a Mac version becomes available.

The Mac version of Borderlands: The Pre-Sequel, published by Aspyr, can be downloaded from Aspyr's GameAgent.com, the Mac App Store [Direct Link], and Steam for $59.99. The game is available in North America today, with access coming to Australia and Europe on October 17.

Autodesk Launches AutoCAD and AutoCAD LT for Mac 2015
Autodesk today announced the launch of the latest versions of its popular AutoCAD computer-aided design software packages for Mac, adding a number of new features that put the release nearly equal to its Windows counterpart for the first time.




MacRumors spoke with Autodesk product manager Micah Dickerson about the new version, with Dickerson noting an emphasis on cross-platform compatibility for mixed Windows and Mac environments and highlighting a "big four" set of features added in the 2015 version based on customer feedback:

- Dynamic Blocks: Mac users now have the ability to create and edit Dynamic Blocks with a new streamlined yet powerful tool. With Dynamic Blocks, users can build a single block that can be used repeatedly (such as for windows or doors) and simply adjusted in size or shape dynamically rather than creating a static block for each feature.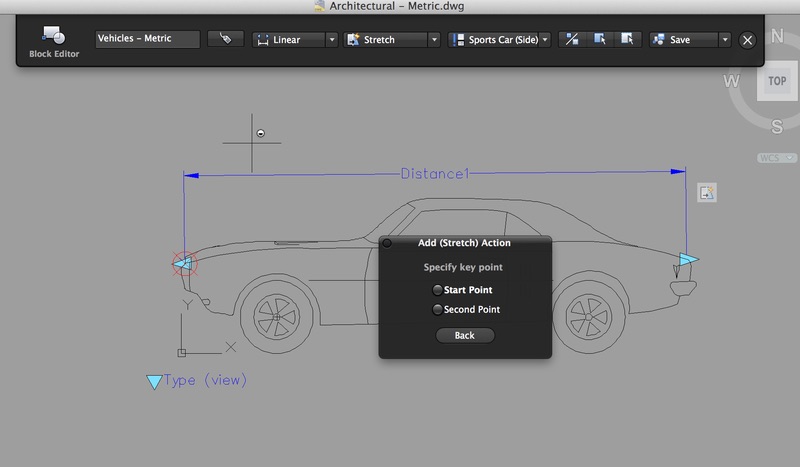 Dynamic Blocks


- Layer States: Addressing one of the major barriers to cross-platform usage between Windows and Mac versions of AutoCAD, Mac users can now save layer information such as color, linetype and frozen/locked/off status.

- Quick Select: This feature allows users to easily select objects based on queries, including multiple selection criteria. The feature also includes a new preview function to allow the user to see what objects match the criteria before committing.

- Data Links: Users wishing to associate Excel spreadsheets with their drawings can now do so through Data Links. Changes to the spreadsheet will automatically the corresponding table in AutoCAD, making it easy to keep track of scheduling and costs on various projects.

Dickerson points out that, based on testing so far, AutoCAD for Mac 2015 appears to be the most stable and fastest version so far, while adding a number of new features and taking care of several bugs and other issues.

AutoCAD for Mac 2015 launches today, and is available not only in the usual perpetual license program, but also Autodesk's subscription plans designed to lower the barrier to entry for those looking to take their first steps into the company's CAD software.

Standard pricing remains the same for 2015, with AutoCAD coming in at $4195 and the more basic AutoCAD LT priced at $1200, with cheaper upgrade options also available for current users. The subscription plan will see AutoCAD priced at $210 per month or $1680 per year, while AutoCAD LT will be priced at $45 per month or $360 per year.

Email App 'Mailbox' for Mac Enters Open Beta, Available to All Users
Development on email management app Mailbox for Mac began earlier this year, with the app entering a limited public beta test back in August. As of today, the app has entered an open beta testing phase, making it available to all users.

Mailbox for Mac is similar in design to Mailbox for iOS, offering a simple, clean interface that aims to help users reach "inbox zero." It includes all of the features of the iOS version, like easy controls to archive and delete emails, snooze functionality, and lists for organizational purposes.

The app also offers swipe gestures and several hotkeys to control specific email management tasks.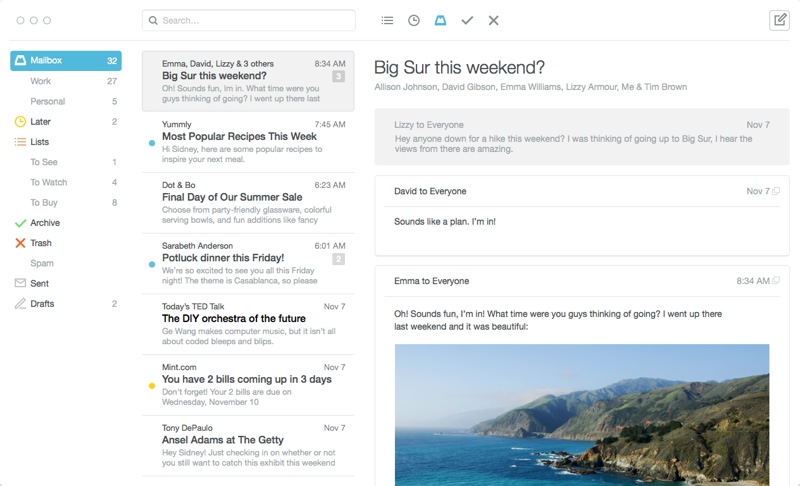 First introduced as an iOS app in 2013, Mailbox proved to be very popular, requiring a reservation system restricting access to a limited number of users for several weeks. Shortly after its release, Mailbox was acquired by file-sharing and storage service Dropbox, and the iOS version has seen several major updates since then.

Along with offering an open beta of the Mailbox app for Mac, Dropbox has also updated the Mailbox app for iOS to version 2.3.1, adding support for the iPhone 6 and the 6 Plus along with customizable swipes and push notification fixes.

The Mailbox for Mac beta can be downloaded for free from the Mailbox website. Mailbox for iOS can be downloaded from the App Store for free. [Direct Link]

Apple Opening New Retail Stores in Florida and New Hampshire This Week
Apple is opening two new retail locations in Sarasota, Florida and Manchester, New Hampshire this week, with the Florida location opening on Thursday, October 16 and the New Hampshire location opening on Saturday, October 18.

Apple's new Sarasota location, at the brand new $315 million University Town Center mall, will open on a Thursday rather than a Saturday as that day marks the grand opening of the shopping center. The University Town Center mall is an indoor facility that features an array of retail stores and restaurants.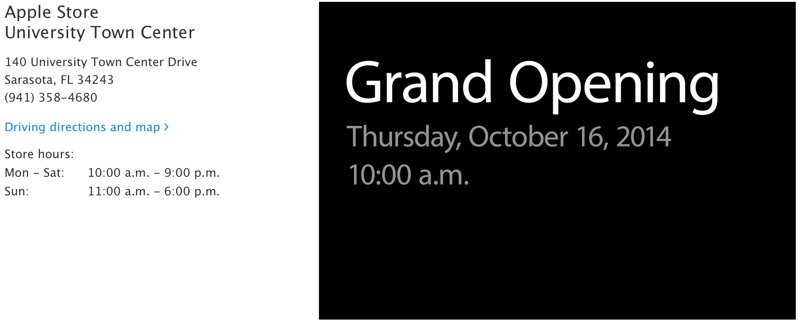 The upcoming Sarasota Apple Store will be Apple's 17th store in Florida, and its Thursday debut date falls on the same day as Apple's media event where it is expected to introduce both new iPads and Retina iMacs.

Apple's new store in Manchester, New Hampshire is located at the Mall of New Hampshire, a multi-story indoor shopping center that is home to 125 retail stores and restaurants. Occupying a space that spans about 6,800 square feet, the Apple store joins two other retail locations in New Hampshire, in Nashua and Salem.

Both stores will open at 10:00 a.m. local time and as is common with new store openings, employees will likely hand out T-shirts to the first customers to visit each new location. The Manchester store and the Sarasota store have both begun accepting reservations for workshops and Genius Bar appointments.

Buyer's Guide: Deals on the iPad Air, MacBooks, Apple Accessories, and More
There are several deals on various Apple products this week, including the iPad Air and several MacBooks. Target, for example, is offering a $100 gift card with the purchase of any iPad Air model, which is perfect for users who are looking for a good deal on an iPad Air and don't need to wait for an upgraded model with Touch ID.

Best Buy is also offering $50 to $125 offseveral Apple MacBooks, including multiple 2014 MacBook Air and Retina MacBook Pro models. This can be combined with Best Buy's EDU deals, which offer $50 off all MacBooks and $50 off iMacs.

Retina MacBook Pro

There are several other deals on the Retina MacBook Pro, letting prospective customers get $100 to $150 off from select sites. The 2.6Ghz/8GB/128GB 13-inch Retina MacBook Pro is available for $1,199.99 from AmazonB&H Photo, and Adorama. The 2.6Ghz/8GB/256GB 13-inch Retina MacBook Pro is available for $1,399 from Adorama, B&H Photo, and MacMall. The 2.8Ghz/8GB/512GB 13-inch Retina MacBook Pro is available for $1,699.99 from Amazon, Adorama, B&H Photo, and MacMall.




The 15-inch 2.2Ghz/16GB/256GB Retina MacBook Pro is available for $1,899 from Adorama and the standard non-retina MacBook Pro is available for $999 from Adorama and B&H Photo.

There are also some deals on remaining stock of the 2013 Retina MacBook Pros. The 2.4Ghz/4GB/128GB 13-inch Retina MacBook Pro is available for $1,099 from Adorama and B&H Photo. The 2.6Ghz/8GB/512GB 13-inch model is available for $1,549 from Adorama and B&H Photo. The 2.0Ghz/8GB/256GB 15-inch model is available for $1,599 from Adorama, and B&H Photo. The 2.0Ghz/16GB/512GB 15-inch model is available for $2,199 from Amazon, and Adorama.

MacBook Air

B&H Photo is still offering low prices on some of its remaining 2013 MacBook Air inventory. The 1.3Ghz/4GB/128GB 11-inch MacBook Air is available for $819, while the 1.3Ghz/4GB/256GB 11-inch MacBook Air is available for $889.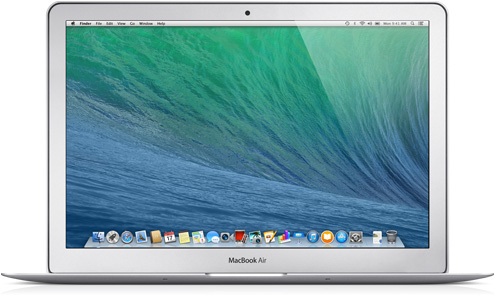 B&H and Adorama, as always, are a good choice for buyers who live outside of New York and New Jersey, as the sites only charge sales tax in those states.

Mac Pro

Stock configurations of Apple's Mac Pro desktop computer are available at slightly discounted prices from several retailers this week. The 6-core 3.5Ghz/16GB/256GB machine can be purchased for $3,739.99 from Best Buy, Adorama, and B&H Photo, while the 4-core 3.7Ghz/12GB/256GB machine for $2,839.99 from Best Buy, Adorama, and B&H Photo.

Apple Accessories

Sabrent's stylish aluminum 4-port USB Hub for the Mac is available for $17.99, a discount of $7 off the regular price from Groupon. Sony's Portable Bluetooth Speaker with Lightning Dock is available for $169.99 from Groupon, a 32% discount.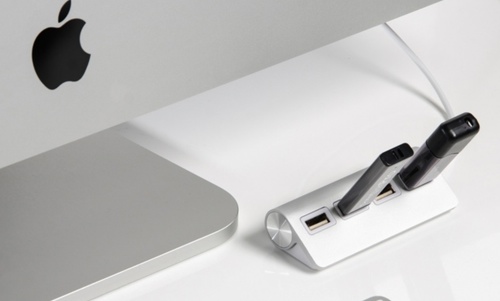 Any customers purchasing products via Groupon this week can get an additional 10% off one purchase with the coupon code GOODS10, which will work through 10/13.

The popular Automatic Smart Driving Assistant can be purchased for $79.99 from Amazon, a discount of $19. Stacksocial is offering the Rain Design iRest iPad Stand for $35.99, down from its regular price of $50.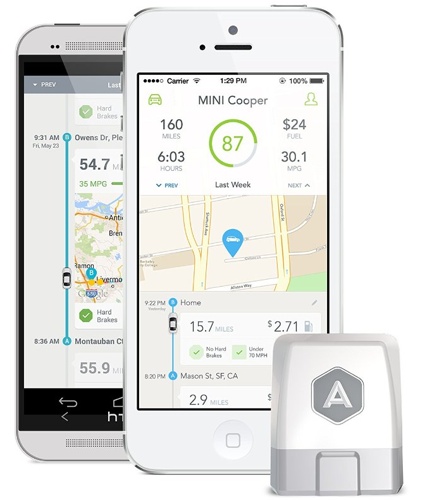 The myCharge Portable Power Bank 6000 with built-in Lightning and Micro USB is available for $49.99 from Best Buy, down from $99.99.

MacRumors is an affiliate partner with some of these vendors.

Skype for Mac Gains New Mobile-Style Redesign for Improved Chat Experience
Skype for Mac was today updated to version 7.0, with a significant redesign that brings mobile design elements to the desktop app. The app's flatter look incorporates new icons and a new blue layout that aims to create a richer chat experience.

Skype's new mobile-style layout will help it fit right in with OS X Yosemite, expected to be released to the public later this month. OS X Yosemite also incorporates several design elements taken directly from iOS 7 and 8, the basis of the Skype mobile design.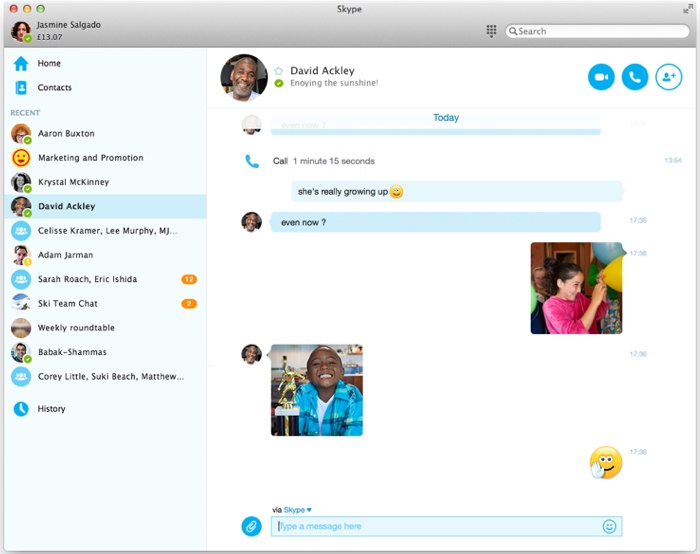 Today we're excited to announce Skype for Mac 7.0 as well as the preview for the new Skype for Windows -- both of which have been redesigned to make it easier to chat and share. If you're already using Skype on mobile, you'll recognize some of these changes. We've made the Skype experience consistent whether you are using your mobile device or your desktop PC. Now, you'll see thumbnail pictures of your contacts, a new bubble-style chat design, and consistent icons for chat, video calls and audio calls.
A chat sidebar allows users to chat and share images while on a video call with a single click, with images shown instantly once they download. Sharing of other types of files, like PDFs, has also been improved.

There's a also new bubble-style chat design drawn directly from the mobile app, and Skype says that its free group video calling has been improved in the new app.

Skype for Mac can be downloaded for free from the Skype website and existing users can update from within their Skype apps.

Apple Opening Second Turkish Retail Store in Istanbul's Akasya Shopping Mall
Following the high-profile launch of its first retail store in Istanbul earlier this year, Apple is preparing to open its second retail outlet in the Turkish city, reports Apple Toolbox. Apple Turkey made the new store announcement today, confirming its location in the Akasya Shopping Center.



Apple's second Istanbul store will be more traditional in design due to its indoor mall location on one of the mall's middle floors. In contrast, Apple's first Istanbul store opened earlier this year in the upscale Zorlu Center where it resides in a subterranean location underneath a mall plaza that allows for a unique design. The eye-catching store features a cubic skylight rising out of the plaza with a glass ceiling and sides that take advantage of the store's sunlit location.

In recent weeks, Apple has announced plans for upcoming expansions of its retail footprint by opening stores in Venice, Italy, Edinburgh, Scotland, and in various US locations, including Massachusetts, Georgia, and Connecticut. This is typically the busiest time of year for Apple retail store openings as the company heads into the lucrative holiday shopping season, although high-profile expansions are expected to continue into 2015, with Apple possibly opening its first store in the United Arab Emirates early next year, according to retail job listings.