Mac Rumors powered by MacRumors


Apple Seeds Sixth macOS Sierra 10.12.2 Beta to Developers and Public Beta Testers
Apple today seeded the sixth beta of an upcoming macOS Sierra 10.12.2 update to developers and public beta testers, a few days after releasing the fifth 10.12.2 beta and over a month after the public release of macOS 10.12.1.

macOS Sierra 10.12.2 beta 6 is available for download through the Apple Developer Center or through the software update mechanism in the Mac App Store.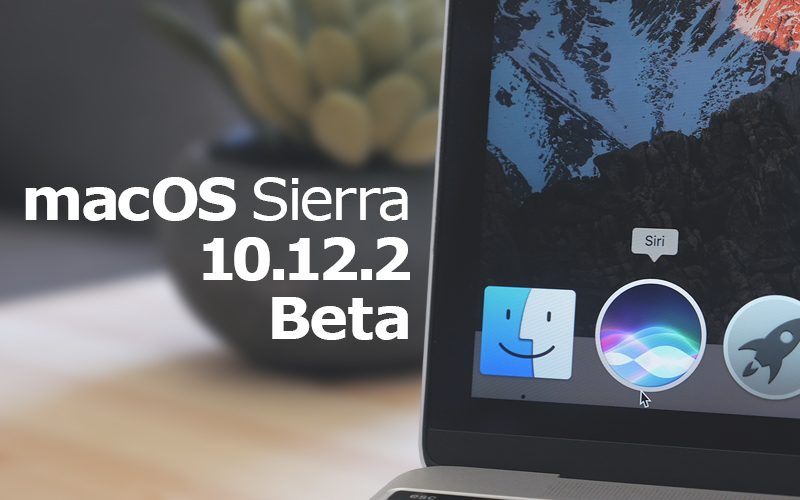 macOS Sierra 10.12.2 includes new emoji, introducing Unicode 9 characters like clown face, selfie, face palm, fox face, owl, shark, butterfly, avocado, bacon, and more, plus many profession emoji are available in both male and female genders.

Apple has also updated the artwork on many existing emoji characters, adding detail to make them look less cartoonish and more realistic. New wallpapers are also included in macOS Sierra 10.12.2, introducing the color explosion options that were previously used in iPhone marketing materials.

There are few other outward-facing changes aside from the addition of new emoji and wallpapers, but the 10.12.2 update also includes some important bug fixes. A serious graphics issue that has been affecting some new MacBook Pro owners has been solved, and a Time Machine crashing issue, also impacting the new MacBook Pro, has been fixed.

Available since September, macOS Sierra is the latest Mac operating system. It includes Siri support, Apple Pay for the web, Universal Clipboard, Apple Watch auto unlocking, improved iCloud Drive integration, Picture-in-Picture multitasking, and dozens of smaller features that can be found in our macOS Sierra roundup.


Discuss this article in our forums


Apple CEO Tim Cook to Deliver 2017 MIT Commencement Address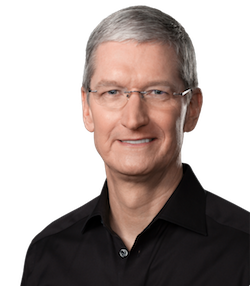 Apple CEO Tim Cook will deliver the 2017 Commencement address at the Massachusetts Institute of Technology, the university announced today.
"Mr. Cook's brilliance as a business leader, his genuineness as a human being, and his passion for issues that matter to our community make his voice one that I know will resonate deeply with our graduates," MIT President L. Rafael Reif says. "I am delighted that he will join us for Commencement and eagerly await his charge to the Class of 2017."
In a statement, Cook said he was looking forward to speaking to MIT's graduating class in 2017. The Commencement will take place on Friday, June 9.
"Apple stands at the intersection of liberal arts and technology, and we're proud to have many outstanding MIT graduates on our team," Cook says. "We believe deeply that technology can be a powerful force for good, and I'm looking forward to speaking to the Class of 2017 as they look ahead to making their own mark on the world."
Cook has previously given Commencement speeches at George Washington University and Auburn University, his alma mater.


Discuss this article in our forums




New Photos Offer an Inside Look at Apple Campus 2
Apple shared some updated photos and information on its spaceship-shaped second campus with employees, which French site MacGeneration managed to get a hold of. The photos give a detailed view of the exterior building, and give us one of our first glimpses at its interior.

Apple Campus 2 has been in development for more than two years, and is nearing its completion date. We've seen a series of monthly drone videos cataloguing progress at the site, and as of December, much of the main ring-shaped building is finished, with Apple now working on landscaping.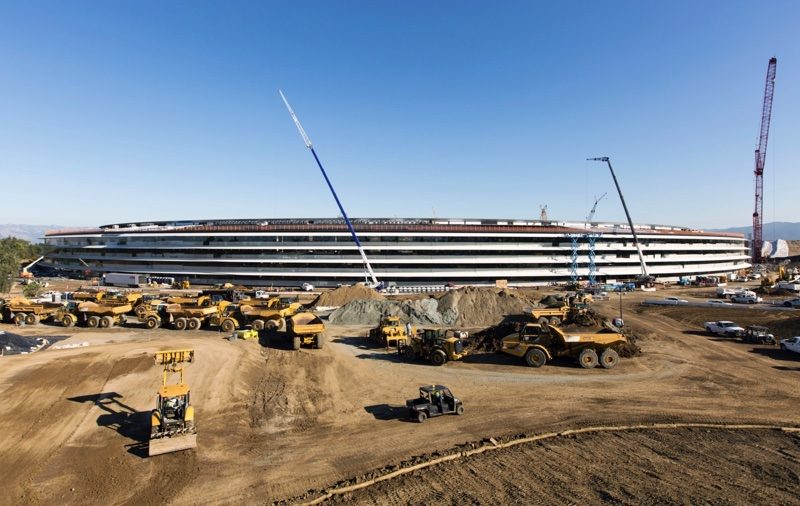 Just recently, Apple installed the glass panels for the atrium of the main building, which will be used as a cafeteria for employees. Along with the cafeteria, there will be vast outdoor eating spaces covered with greenery native to California.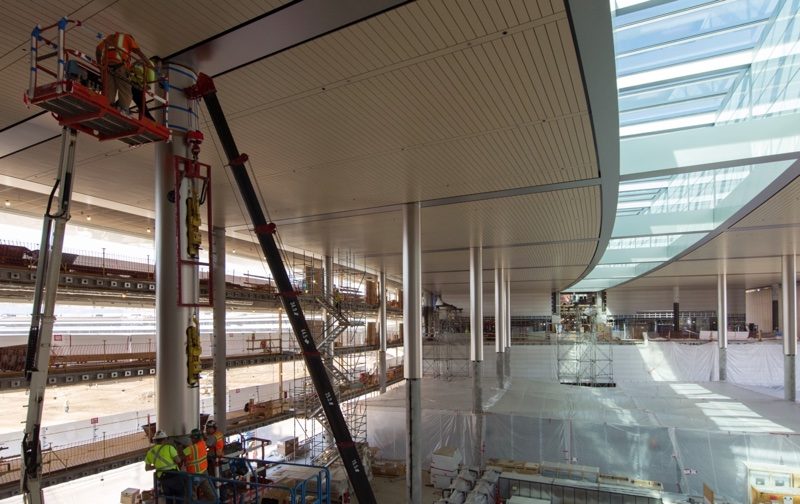 The floor-to-ceiling doors of the atrium are each made from 10 glass pieces and are similar to the giant glass doors that were introduced in Apple's San Francisco Apple Store. The doors open an entire side of the building to let in light and air for an outdoor feel.

To install the doors, Apple has used cranes outfitted with suction cups to hold the glass in place while it's secured into the building.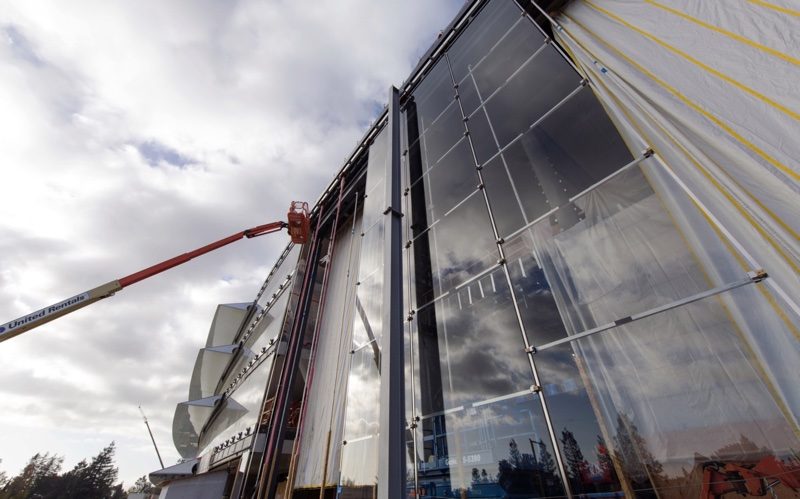 The ceiling of the ring-shaped building is equipped with a series of skylights that will let in natural light, while cutouts in marble walls will house speakers in some areas. Close attention has been paid to the smallest of details, and Apple says in just one access tunnel, it's taken 60 workers five months to lay small tiles on the curved walls. Ledges extending out over windows block light, as do built-in window shades.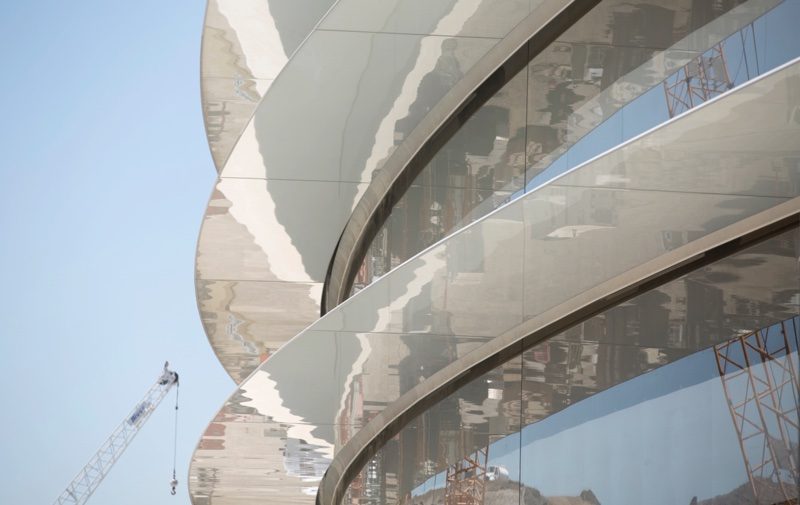 Outside, full-sized trees and other plants are being installed. Ahead of being added to the campus, many of the trees were grown at a local nursery. Apple has said more than 3,000 species of trees will be on the campus, including many fruit trees.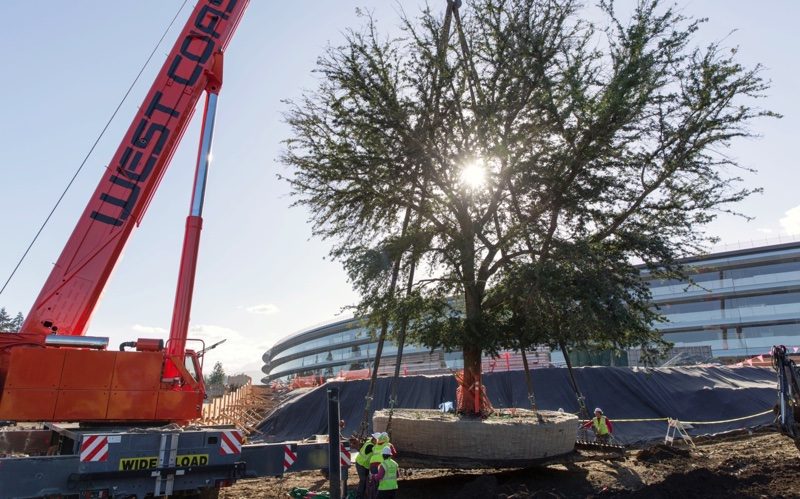 Apple plans to finish construction on the campus in the first quarter of 2017, though landscaping work will extend into the second quarter of the year. Apple CEO Tim Cook has said employees will begin working at the campus in early 2017.


Discuss this article in our forums




European Union Moves Forward With Plans to Eliminate Roaming Charges Next Year
European Commission members met on Wednesday to discuss draft rules intended to eliminate roaming charges in the European Union as of June 15, 2017.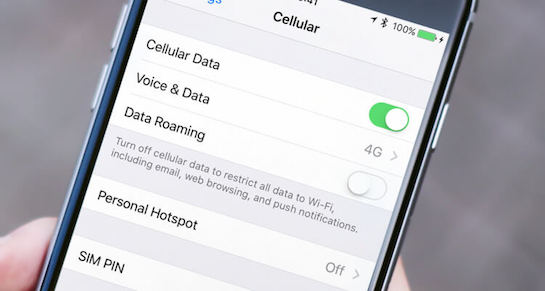 (Image: TapSmart)


The Commission said it is determined to put an end to roaming charges commonly billed by carriers when a customer calls, sends messages, or uses data on their mobile device while abroad in the European Union, outside of their primary country of residence, subject to proportionate checks for abusive usage.

European regulators have proposed a "Roam like at Home" solution that would allow travelers to call, text, and browse the web on their mobile devices when abroad in the European Union for no extra charge than the price they pay at home. It is not intended to be used for permanent roaming.

"Roam like at Home" is aimed at people who travel in the European Union for work or leisure. "They spend more time at home than they do abroad, and they make most of their calls, texts and use data in their home country," the Commission explained.
Example: with his €70 per month contract, Tim living in Netherlands gets unlimited calls, texts and data for his smartphone. When he travels abroad on holidays, he will have unlimited calls and text. For data, he will get twice the equivalent of €70 worth of data at the wholesale roaming data price cap, i.e. 0.85 cent/MB according to the Commission wholesale proposal, meaning more than 16 GB in this case. While roaming, he will get twice the volume he has paid for.
The latest draft further clarifies consumer rights, such as ensuring that customers abusing a carrier's roaming policy are not subject to over-intrusive background checks and establishing a minimum alert period of 14 days before roaming charges can be imposed on customers who exceed fair usage.

The revised rules also introduce safeguards to ensure carriers remain competitive. Customers can be asked to prove they live or have "stable links" to a specific country before "Roam like at Home" is included in their contract, while those roaming excessively can be sent a warning message and/or small roaming charge.
If, over a 4-month period, billing data suggests that a consumer has been more abroad than at home, but also consumed more data while travelling in the European Union, the operator can send a warning message. This message will warn the consumers that they have two weeks to inform their operator about their travel situation, or to change their travel or use patterns. Only a very small roaming charge […] can then be applied.
The proposed surcharges for customers who exceed fair usage are €0.04/minute per call, €0.01 per SMS, and €0.0085 per MB of data usage.

The draft legislation has now been sent to representatives for each European Union member state, who will meet on December 12 to vote on the text. Afterwards, the European Commission will be able to adopt the rules.

EU member states include Austria, Belgium, Bulgaria, Croatia, Cyprus, Czech Republic, Denmark, Estonia, Finland, France, Germany, Greece, Hungary, Ireland, Italy, Latvia, Lithuania, Luxembourg, Malta, the Netherlands, Poland, Portugal, Romania, Slovakia, Slovenia, Spain, Sweden, and the United Kingdom.

In September, the Commission said the European government agreed to its proposal to end roaming charges in Europe. This week, the Commission said it will be steadfast to ensure an agreement is reached as soon as possible.


Discuss this article in our forums




Samsung Matches Jet Black iPhone With New Glossy 'Black Pearl' Galaxy S7 Edge
Samsung as rumored last month has announced the Galaxy S7 edge will be available in a new "Black Pearl" color in select markets starting tomorrow. The glossy finish, exclusive to 128GB versions of the smartphone, will inevitably draw comparisons to the Jet Black iPhone 7 and iPhone 7 Plus.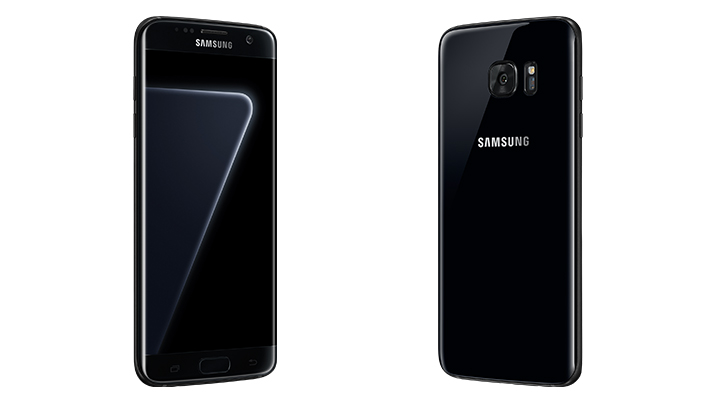 Samsung already offered the Galaxy S7 edge and ill-fated Galaxy Note7 in a somewhat glossy Black Onyx finish, so we will have to wait for actual photos of the new Black Pearl color to see the difference between the two colorways. Samsung said the all-black finish "radiates quality and luxury."
Black Pearl was designed to be modern and striking. The sleek black finish blankets the entire device – edges and all – and adds depth to its glass design. The result is a stylish all-black aesthetic that captures the essence of the color in its purest form.
The new color arrives nearly two months after Samsung permanently discontinued the Galaxy Note7 following battery-related safety risks.

Samsung following in the footsteps of iPhone colors is not unprecedented. Earlier this year, it released the Galaxy S7 in Pink Gold after Apple launched the iPhone 6s in Rose Gold last year. However, in Samsung's defense, it has offered some variation of a pink smartphone in select markets since at least 2012.

The new color follows reports Samsung's next-generation Galaxy S8 will not include a headphone jack, following in the footsteps of the Moto Z in June and iPhone 7 in September. The Galaxy S8 is also said to have a bezel-free display and virtual home button, two features rumored for Apple's next iPhones.


Discuss this article in our forums




Samsung's Galaxy S8 to Beat Next iPhone to Bezel-Free Display and Virtual Home Button
Samsung will beat Apple to the punch in next year's smartphone wars by including features in its Galaxy S8 handset that have long been rumored for the 2017 "iPhone 8", such as a bezel-free wraparound OLED screen with a virtual home button embedded in the display.

Bloomberg on Thursday referred in its favored manner to "people with direct knowledge of the matter" who said that Samsung is targeting a March release for the redesigned S8, but that launch could be delayed by about a month as the company adopts tougher testing procedures in the wake of the Note 7 debacle. Apple's smartphone launch cycle usually runs on a yearly September release.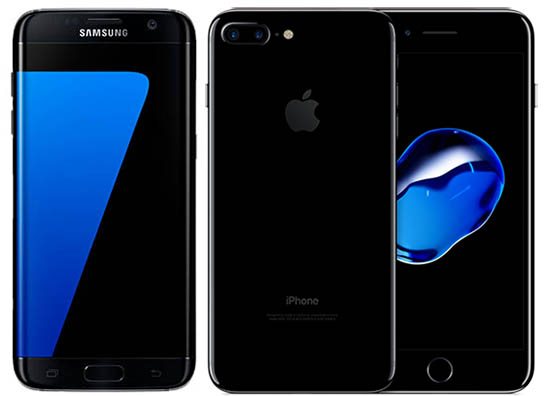 Samsung is understandably wary of the dangers of rushing its smartphone development after quality control reportedly suffered in the company's race to release the feature-rich, but ultimately fire-prone, Note 7.

"Since the phones have a record of burning up, it needs time for these phones to be verified as safe. How safe the phones turn out to be is more important than any hardware innovation," said Greg Roh, an analyst at HMC Investment Securities Co. "It will take about a month or two for people to actually start opening their pockets," he said.
The bezel-less devices will come in sizes similar to Samsung's 5.1-inch and 5.5-inch S7 Edge models. Samsung is also said to be introducing a "significantly differentiated" voice-activated personal AI assistant in the handsets that will be able to send text messages, make phone calls and manage calendar schedules. The AI technology will come courtesy of Viv Labs, which was founded by the developers of Apple's Siri and acquired by Samsung in October. Samsung is considering scrapping dual-cameras on the S8 due to high manufacturing costs, Bloomberg sources said. According to a separate report, the models will also drop the headphone jack.

Chinese phone maker Xiaomi made a splash back in October by debuting an almost bezel-less display with the Mi Mix "concept phone", boasting a screen that covers 91 percent of the front of the handset. While Xiaomi's limited-availability phone was more a proof of concept than a device ready for the mass market, both Samsung and Apple will be relying on the mainstream appeal of similarly standout features to boost unit sales in a stagnant market short on innovation.

In the near term, Samsung is desperate to bounce back from the impact of this year's Note 7 recall and discontinuation, which could end up costing the company more than $6 billion. The Korean-based firm reported a 17 percent drop in net income in the three months ending September, and has advised investors to expect a multibillion dollar slump in earnings in the December and March quarters as its market share struggles to recover.

As well as a bezel-free OLED display and virtual home button, Apple is said to be readying an all-glass casing and wireless charging for its 10th anniversary iPhone, with the possibility of a new 5-inch premium model and two lower tier aluminum models also in the offing.


Discuss this article in our forums




Bluetooth 5 With 4x Longer Range and 2x Faster Speed is Officially Approved
The Bluetooth Special Interest Group today announced that the Bluetooth 5 standard has been officially adopted, which means manufacturers are now able to build it into their devices.

The next-generation Bluetooth standard offers longer range, faster speed, a larger broadcast message capacity, and better interoperability with other wireless technologies.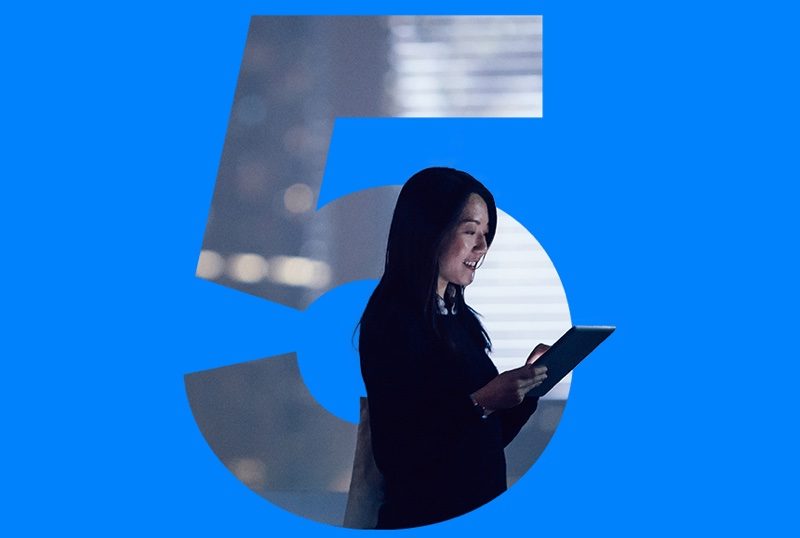 Compared to existing Bluetooth 4.2 protocol, Bluetooth 5 offers four times the range, two times the speed, and eight times the broadcast message capacity, bringing whole home coverage and more reliable connections between connected devices.

"This means whole-home and building coverage, as well as new use cases for outdoor, industrial, and commercial applications will be a reality. With the launch of Bluetooth 5, we continue to evolve to meet the needs of IoT developers and consumers while staying true to what Bluetooth is at its core: the global wireless standard for simple, secure, connectivity."
With the debut of Bluetooth 5, SIG's Bluetooth naming convention will drop all references to version and point number going forward, simplifying marketing.

Devices that adopt Bluetooth 5 will be available within two to six months, meaning the next-generation products Apple plans to debut in 2017, including the iPhone 8, may offer Bluetooth 5 support.


Discuss this article in our forums




macOS 10.12.2 Fixes Time Machine Backup Crashing Issue on New MacBook Pro
Apple in the latest macOS Sierra beta appears to have fixed a common issue where transferring files to an external hard drive or SSD connected to a Thunderbolt 3 port caused the new MacBook Pro to crash for some users.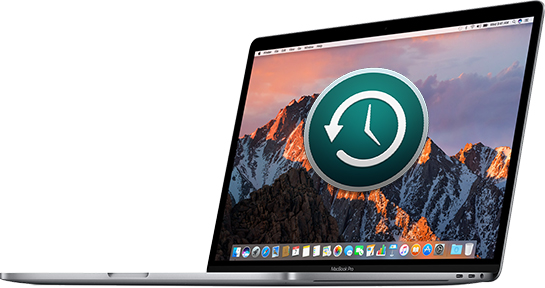 MacRumors forum member Dave Miles claims he received an email response from Apple's software engineering chief Craig Federighi, who apologized for the inconvenience and confirmed the issue has been fixed in the fifth macOS 10.12.2 beta seeded to developers and public testers on Monday.

While we have not been able to verify the authenticity of the email beyond a reasonable doubt, the issue does appear to be fixed regardless.

At least a half-dozen users claim the fifth beta of macOS 10.12.2 addresses the crashing issues, which most often affected users backing up their new MacBook Pro to an external drive with Time Machine using a wired connection. Some users also reported crashing issues when transferring files between two external drives.

MacRumors forum member TreadEverSoLightly succinctly described the dilemma that a number of other users faced:
I'm already on my 2nd MacBook Pro. Picked up last Wednesday and swapped it for another model 2 days later after experiencing crashing while my laptop backs up via Time Machine to an external HD. Computer freezes up during data transfer and refuses to acknowledge my inputs. Then crashes and restarts itself.
It is unclear what the underlying problem was, with some users speculating it could have been related to USB driver, firmware, or software issues. Others believe large file transfers contributed to the problem. Ultimately, what matters the most is the issue now appears to be resolved.

MacRumors forum member saba01 is one of several users who delivered the good news today following weeks of complaints:
I had the same issue. My MacBook Pro crashed when transferring large files (over 4TB). I installed macOS 10.12.2 and the problem is solved! Yesterday I did a 40TB backup with no problems at all!
macOS Sierra 10.2.2 will likely be publicly released as a free software update later this month following completion of beta testing.


Discuss this article in our forums




Apple Negotiating to Offer Rentals for Movies Still in Theaters, but at a Price
Apple wants to bring new movies to iTunes more quickly, and is in talks with several film studios over rights that would allow it earlier access to content, reports Bloomberg.

Warner Bros, Universal Pictures, and 21st Century Fox are all seeking deals to offer higher-priced rentals of new movies as soon as two weeks after they debut in theaters, and the studios are said to be considering an offer from Apple.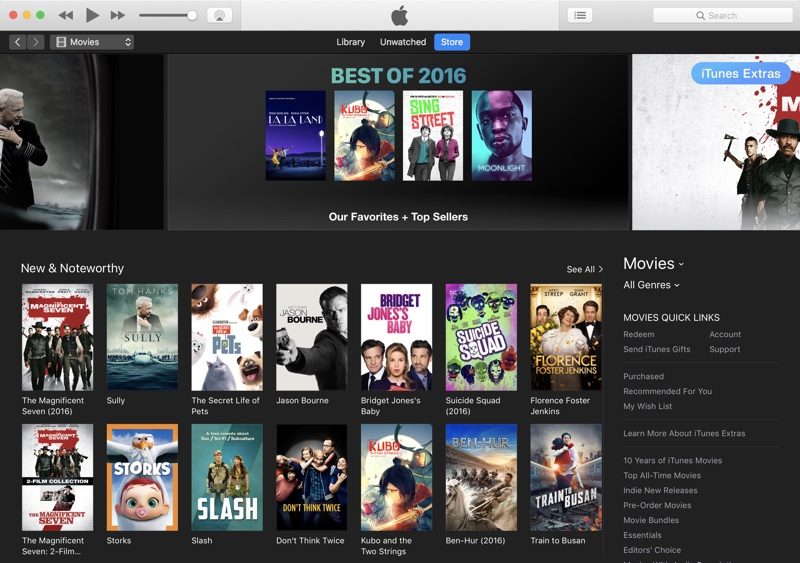 Like Apple Music exclusives, access to earlier releases could draw more people to Apple's platform, but encryption is said to be a concern. Studios aren't sure whether iTunes will be a secure platform for showing movies that are still in theaters, because content can be recorded and leaked online.
The most recent talks are part of longer-running efforts by Cupertino, California-based Apple to get new movies sooner, two of the people said. Such an arrangement could help iTunes stand out in a crowded online market for movies, TV shows and music. While the iTunes store helped Apple build a dominant role in music retailing, the company hasn't carved out a similar role in music and video streaming.
Most major movies that debut in theaters are not available on iTunes and other streaming platforms for a period of 90 days, but film companies are said to be looking to expand beyond theaters to find new revenue streams.

At least one option studios are considering involves a $25 to $50 fee for a new rental, which is potentially more affordable than a movie theater ticket depending on how many people are watching a film.

No deal has been established as of yet, and it's possible the film studios could decide to offer the rights to a competing company.


Discuss this article in our forums




Apple's AI Team Working on LiDAR, Smaller Neural Networks, Image Processing and More
At an exclusive invitation-only lunch at an AI conference in Barcelona, Spain that took place on December 6, Apple head of machine learning Russ Salakhutdinov and other Apple employees talked about their work on artificial intelligence.

Quartz has obtained some of the slides that Salakhutdinov used during the presentation, giving us a glimpse at the advancements Apple is making in AI and machine learning.

Based on one of the slides, topics at the lunch were wide-ranging, including health and vital signs, volumetric detection of LiDAR, prediction with structured outputs, image processing and colorization, intelligent assistant and language modeling, and activity recognition.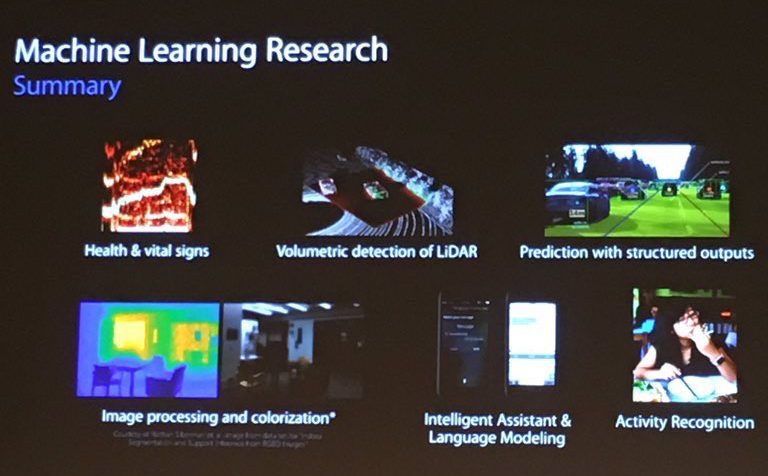 One of the slides, related to Apple's LiDAR work, featured a picture of two cars, but Apple engineers did not mention cars or any automotive research, such as self-driving vehicles. Another slide focused on Apple's image recognition algorithms, which are able to process 3,000 images per second, twice as fast as Google's capabilities. Apple's work on smaller neural networks that can run directly on devices was also covered.

Another slide focused on Apple's ability to build neural networks that are 4.5 times smaller than the originals with no loss in accuracy, and twice the speed. The technique, not unknown in AI research, uses a larger, more robust neural network to teach another network the decisions it would make in a variety of situations. The "student" network then has a streamlined version of the "teacher" network's knowledge. In essence, it predicts the larger network's predictions about a given photo or audio sample.
The discussion also covered some of Apple's research focus areas:

- Deep generative models
- Model compression
- Holistic scene understanding
- Model reliability
- Deep reinforcement learning
- Unsupervised learning, transfer learning, one-shot learning
- Reasoning, attention & memory
- Efficient training on distributed computing

Going forward, Apple plans to allow its AI and machine learning researchers to start publishing papers, marking its willingness to contribute to the research community. Apple has always been notoriously secretive, but allowing researchers to publish could attract top talent that would not otherwise want to join the company.

A full rundown of the slides from Apple's presentation can be seen over at Quartz.
Discuss this article in our forums




T-Mobile's New 'Digits' Service Lets Customers Use Multiple Numbers Across All Their Devices
T-Mobile is famous for uncoupling device costs from mobile service plans through its "Uncarrier" initiatives, a move that changed the entire smartphone industry, and now the company is aiming to do the same thing with phone numbers.

T-Mobile's newly announced "Digits" service lets customers use their phone number across multiple devices, including smartphones, tablets, wearables, and PCs, while also allowing multiple phone numbers to be used on a single device.

Many people have separate phone numbers for work and personal use, and the Digits service, which is a souped-up blend of AT&T's NumberSync and Google Voice, puts both numbers on one smartphone. And then those numbers can be used on any device a customer owns, even if it's not on the T-Mobile network.


"Simply put, DIGITS is breakthrough technology that won't be replicated any time soon," said Mike Sievert, Chief Operating Officer of T-Mobile. "This isn't the first time you can add extra numbers to a device, but this IS the first time you can do it all -- multiple numbers on one device and one number on multiple devices - and do it with carrier-grade quality. DIGITS is your real T-Mobile number with every bit of the reliability, call prioritization, services and mobility you expect."
While Digits is built directly into newer Samsung smartphones like the Note 5 and Galaxy S6 and later (purchased on the T-Mobile network), on iOS devices, Digits will be available through an iOS app. On the Mac, Digits will work through the browser.

When Digits is used on a device without cellular service, voice calls and texts will be received over a Wi-Fi connection, delivering "crystal clear HD voice quality."

Simple Choice and T-Mobile ONE customers can sign up to test a beta version of the Digits service. iOS 9 and newer, Android 5.0 and newer, and Firefox or Google Chrome are required.

During the beta testing phase, Digits is free, but it will require customers to pay an additional fee when it launches next year. Pricing has not yet been announced.


Discuss this article in our forums




Apple Seeds Seventh Beta of iOS 10.2 to Developers and Public Beta Testers
Apple today seeded the seventh beta of an upcoming iOS 10.2 update to developers and public beta testers, two days after seeding the sixth beta of iOS 10.2 and more than a month after releasing iOS 10.1, the first major update to iOS 10.

Registered developers can download the seventh beta of iOS 10.2 from the Apple Developer Center or over-the-air with the proper configuration profile installed.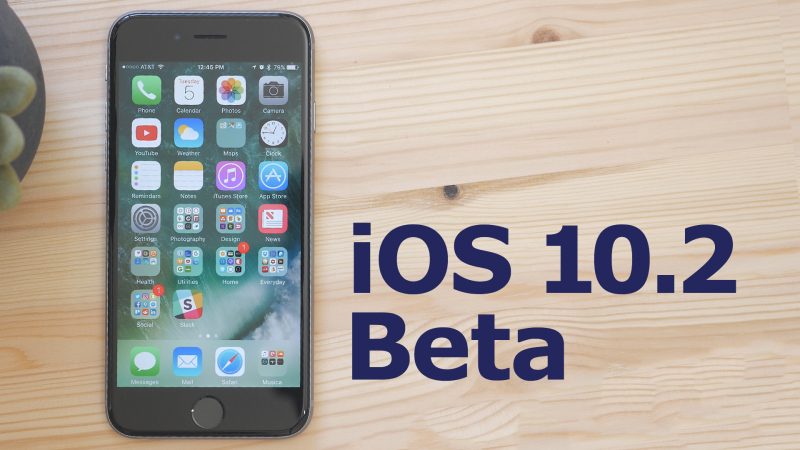 iOS 10.2 introduces new emoji, such as clown face, drooling face, selfie, face palm, fox face, owl, shark, butterfly, avocado, pancakes, croissant, and more.

There are dozens of new Unicode 9 emoji, plus several profession emoji available in both male and female genders, such as firefighter, mechanic, lawyer, doctor, scientist, and more. Apple has also redesigned many existing emoji, adding more detail to make them look more realistic.

Along with new emoji, iOS 10.2 includes new wallpaper, new Music sorting options and buttons for Repeat and Shuffle, new "Celebrate" and "Send with Love" Screen Effects, an option for preserving camera settings, Single-Sign On support for watching live TV via apps, and the official "TV" app that was first introduced at Apple's October 27 event.

The TV app serves as an Apple-designed TV guide that aims to simplify the television watching experience and allow users to discover new TV shows and movies to watch.

The TV app is available on both iOS devices and the Apple TV (in the tvOS 10.1 beta), and in iOS 10.2, the "Videos" app has been replaced entirely with the new "TV" app, which will now serve as the iOS TV and movie hub.

Apple has called iOS 10 its "biggest release ever" for iOS users, with a revamped lock screen, a Siri SDK for developers, an overhauled Messages app, a dedicated "Home" app for HomeKit users, new facial and object recognition capabilities in Photos, and redesigned Maps and Apple Music apps.


Discuss this article in our forums




Apple Believes MacBook Pro Graphics Issues May Be Fixed in Latest macOS 10.12.2 Beta
Last week, we reported an increasing number of early adopters experiencing concerning graphics issues on the new MacBook Pro.

All late 2016 MacBook Pro models appear to be affected, including standard 13-inch and 15-inch configurations with AMD Radeon Pro 450 or AMD Radeon Pro 455 graphics, but the issues appear to be most prevalent on the high-end 15-inch model with built-to-order AMD Radeon Pro 460 graphics.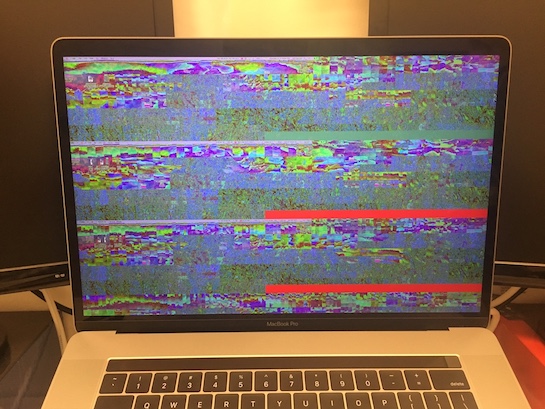 15-inch MacBook Pro with Touch Bar exhibiting graphics issues (jscooper22)


User complaints have continued to surface over the past five days, with new videos emerging showing the usual symptoms, ranging from brightly colored flickering and full-screen checkerboard patterns to screen tearing and visual artifacts. Affected systems sometimes become unresponsive or crash due to a kernel panic, requiring some new MacBook Pro users to perform a hard restart.

Separately, a number of users continue to report brief glitches during the boot up process on new MacBook Pro models, particularly along the bottom of the screen. It appears this issue is related to FileVault 2 startup disk encryption, as the glitches go away for many of these users once the feature is disabled.




Apple has yet to publicly acknowledge or comment on the graphics issues, but in a supposed email response to a MacRumors forum member, Apple software engineering chief Craig Federighi allegedly said he believes the problems have been resolved in the latest macOS Sierra 10.12.2 beta released on Monday. As a point of emphasis, this email response has not been verified.
Hi,

Thanks for your note! We believe we have addressed all of these graphics issues in the latest beta of Sierra 10.12.2 (available at beta.apple.com).

I hope that you enjoy your new MacBook Pro — it's a fantastic machine!

- craig
While we have yet to verify the authenticity of the email beyond a reasonable doubt, there is some unscientific evidence to suggest it could be real:


• Although it could easily be faked, the response appears to resemble previous email responses sent by Federighi
• The user who shared the email response is a longtime MacRumors forum member who registered his account in June 2007
• Apple executives appear to be increasingly using email as a vehicle to subtly address customer questions and concerns
• MacRumors viewed a lengthy follow-up email the user received from Apple's Executive Relations team, which appears to be legitimate

Reports from affected users running the latest macOS Sierra beta are slim at this point, but at least one forum member claims to still be experiencing graphics issues on the fifth and latest macOS Sierra beta.




macOS Sierra 10.12.2 should be publicly released later this month, so additional user reports should soon prove if the graphics issues have truly been fixed.


Discuss this article in our forums


'iPhone 7s' and 'iPhone 7s Plus' Said to Come in All-New Red Color, Lack New Design and Wireless Charging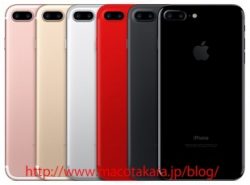 Apple will release updated versions of the iPhone 7 and iPhone 7 Plus next year, aptly called the "iPhone 7s" and "iPhone 7s Plus," according to Japanese blog Mac Otakara.

The report claims the smartphones will retain the same aluminum design as the iPhone 7 and iPhone 7 Plus, with only internal changes, including the addition of a faster A11 chip.

The report added it is highly probable the iPhone 7s and iPhone 7s Plus will come in an all-new red color alongside current Black, Jet Black, Gold, Rose Gold, and Silver options.

Multiple rumors suggest Apple plans to release three new iPhone models next year, including updated 4.7-inch and 5.5-inch models with traditional LCD displays and a larger premium model with an OLED display and glass casing, but reports have been conflicting about which features will be included on each model.

If this report is accurate, it could signify Apple's plans to release a completely overhauled glass-backed iPhone with a curved, bezel-free OLED display and wireless charging at the high end of its 2017 smartphone lineup, while making only incremental upgrades to its traditional 4.7-inch and 5.5-inch iPhones with LCD displays.

An earlier report from Japanese website Nikkei Asian Review said Apple plans to release three glass-backed iPhones next year, while it was said the 4.7-inch iPhone would get wireless charging, so there remains a lack of consensus among rumors—perhaps unsurprising given new iPhones are likely over nine months away.

Mac Otakara was first to report about Apple's plans to remove the headphone jack and add a new Jet Black color for the iPhone 7 lineup, but its track record is not perfect. Its rumor from November about Apple adding a "Jet White" color for iPhone 7 and iPhone 7 Plus has also yet to materialize.


Discuss this article in our forums




HP Launches 4K ENVY Display With USB-C for New MacBook Pro
HP today launched its 27-inch ENVY display with 4K Ultra HD resolution and a built-in USB-C port for charging the new MacBook Pro, 12-inch MacBook, or most other USB-C devices at up to 60 watts over a single cable.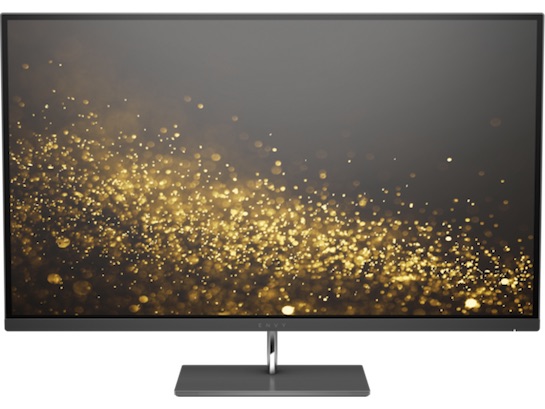 The IPS LED-backlit display features a clean design with a micro-edge bezel, matte black rear panel, and a thin aluminum stand. The base can be detached for VESA wall or arm mounting, but a bracket is not included.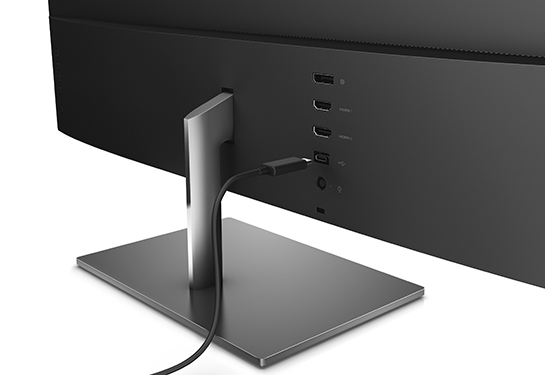 The display has a 60Hz refresh rate and supports AMD FreeSync, designed to eliminate stuttering and tearing in games and videos by locking the refresh rate to the framerate of the graphics card.

Tech specs:

• 27-inch IPS LED display with ultra-wide 178° angle viewing
• 4K Ultra HD resolution (3,840×2,160 pixels)
• 16:9 aspect ratio with 142 PPI
• 60Hz refresh rate
• 99% sRGB color gamut
• Typical brightness of 350 cd/m2
• Built-in ports: 1 USB-C, 1 DisplayPort 1.2, 1 HDMI 2.0, 1 HDMI 1.4
• USB-C Power Delivery up to 60 watts
• AMD FreeSync
• VESA mounting


Included in the box:

• A/C power cable
• USB-C cable
• DisplayPort cable
• HDMI cable


HP's new ENVY 27 Display is available on HP.com and at select retailers in the United States for $499 starting today. The price point is about $200 cheaper than some competing USB-C displays, such as the LG 27UD88 and Lenovo ThinkVision X1, but features and connectivity vary.

One display that may be a better buy in the near term is LG's and Apple's new UltraFine 4K display. While it has a smaller 21.5-inch screen, the UltraFine has "Cinema" 4K resolution (4,096×2,304), built-in speakers, 3 additional USB-C ports, higher 500 cd/m2 brightness, and a wider DCI-P3 color gamut.

LG's UltraFine 4K display is $524—only $25 extra—until December 31. Afterwards, its price returns to $699.95, which will make it a less attractive option compared to HP's ENVY 27 display, although still worth consideration.


Discuss this article in our forums




iPhone Assembler Foxconn in Early Talks to Expand U.S. Operations
Apple manufacturing partner Foxconn is in preliminary stages to build a collection of assembly plants within the United States (via Reuters), potentially fulfilling President-elect Donald Trump's wish that Apple would move the majority of its manufacturing to the U.S. instead of overseas.

Foxconn decided to make a statement about its U.S. expansion after details of the move were picked up and shared by CNBC yesterday. The news alleged that Foxconn would be investing $7 billion into its U.S. expansion and aiming for the creation of 50,000 jobs within the country, all in the next four years. Foxconn simply stated that more details will come after its talks with "the relevant U.S. officials" are over.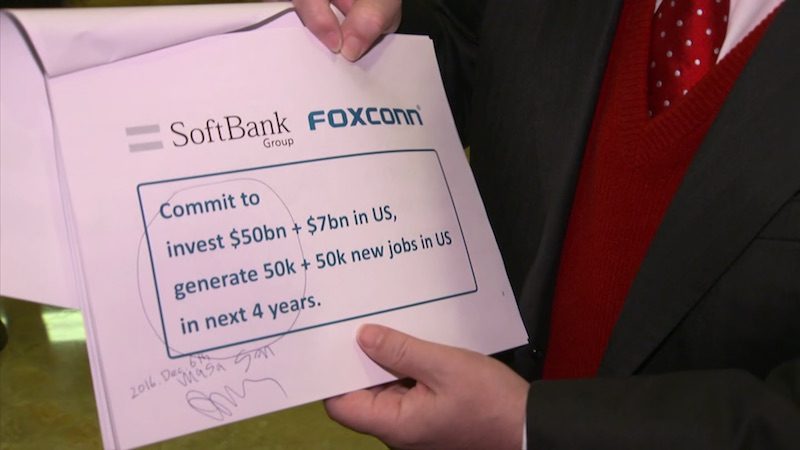 Image via CNBC
"While the scope of the potential investment has not been determined, we will announce the details of any plans following the completion of direct discussions between our leadership and the relevant US officials," the Foxconn statement said.
In the meetings with Donald Trump, Japan's SoftBank also looked towards U.S. expansion and pledged $50 billion in its investment stateside, along with 50,000 new jobs of its own, "a move the U.S. President-elect claimed was a direct result of his election win." In a call made to Trump by Apple CEO Tim Cook, Trump mentioned to the CEO that one of his goals and future achievements would be to "get Apple to build a big plant in the United States," by offering the company incentives and "a very large tax cut" to do so.

Cook was said to have remained neutral on the subject by saying "I understand that" in response to Trump, while Foxconn chairman Terry Gou is said to be less enthusiastic about the idea due to inevitably higher production costs compared to China. Cook explained one of the major reasons Apple's manufacturing is so heavily centered in China is due to the country's large number of individuals with the required "vocational kind of skills."

China put an enormous focus on manufacturing. In what we would call, you and I would call vocational kind of skills. The U.S., over time, began to stop having as many vocational kind of skills. I mean, you can take every tool and die maker in the United States and probably put them in a room that we're currently sitting in. In China, you would have to have multiple football fields.
Foxconn does have manufacturing facilities on a very small scale in the U.S., in Virginia and Indiana, along with logistic locations in California and Texas. Apple has a comparably limited facility in Austin, Texas which manufactures the company's Mac Pro.

Note: Due to the political nature of the discussion regarding this topic, the discussion thread is located in our Politics, Religion, Social Issues forum. All forum members and site visitors are welcome to read and follow the thread, but posting is limited to forum members with at least 100 posts.


Discuss this article in our forums




Fitbit Buyout Will See Pebble's Time 2 and Core Wearables Canceled, Refunds Issued
Late last month we reported that Fitbit was closing in on a deal to acquire smartwatch maker Pebble "for a small amount". Bloomberg has now revealed that the buyout will cost "less than $40 million" and exclusively concerns Pebble's software assets, which are being sought by Fitbit "in a bid to better compete with Apple", according to people familiar with the matter.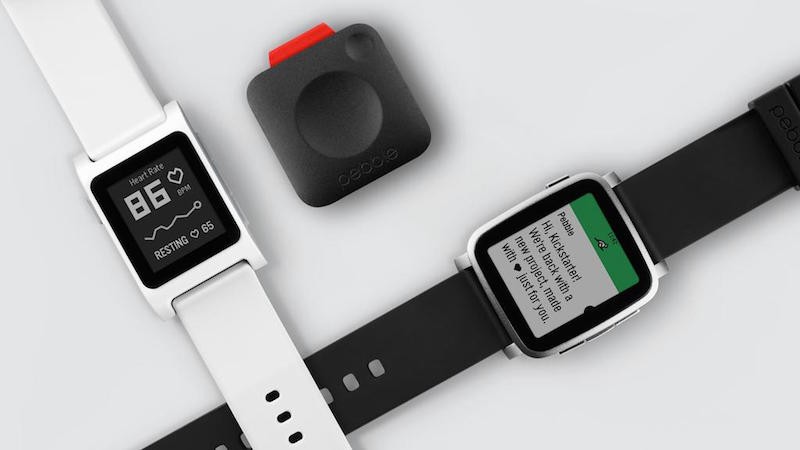 Yesterday's update on the details of the acquisition comes at a time when the wearables market as a whole appears to be facing increased uncertainty and significant profit hurdles. Earlier this week, in response to IDC market research claiming that Apple Watch's share of the wearables market had fallen to 5 percent, Apple CEO Tim Cook said Apple Watch's sell-through rate had hit a new high. Cook was responding to data which suggested fitness trackers "reigned supreme" in the market, yet Fitbit has seen its own struggles, with the company's shares tumbling 30 percent after announcing mixed third-quarter results and weak guidance for its fourth quarter.

To improve its standing in the market, Fitbit reportedly wants to hire Pebble's software engineers and testers, and get hold of intellectual property including the Pebble OS, watch apps, and cloud services. The $40 million buyout sum does not include Pebble's debt and other obligations, product inventory or server equipment, all of which will be sold off separately, said the people, who asked to remain anonymous.

The news all but confirms the end of the road is in sight for Pebble's entire product line-up, including its most recent smartwatch announcements, the Pebble 2, Time 2, and the Pebble Core. The Pebble 2 has already started shipping to people who funded the startup through crowd-funding site Kickstarter, but the Time 2 and Pebble Core will be canceled and refunds will be issued to Kickstarter backers, said the sources.

Following the buyout, Pebble's offices will be closed and former engineers will relocate to Fitbit offices in San Francisco. There's no word yet as to whether Fitbit will decide to use the Pebble brand in future.

The deal will make Pebble stock held by employees "worthless", said sources, with the money earned on the acquisition going to debt holders, vendors, some equity investors, and Kickstarter refunds for the Time 2 and Pebble Core orders.


Discuss this article in our forums




Apple Says 35% of U.S. Merchants Accept Apple Pay
While speaking at the Code Conference today in San Francisco, Apple Pay vice president Jennifer Bailey announced that 35% of U.S. merchants now accept Apple Pay, reportsThe Verge. She said that only 4% of merchants accepted the payment option two years ago when it debuted.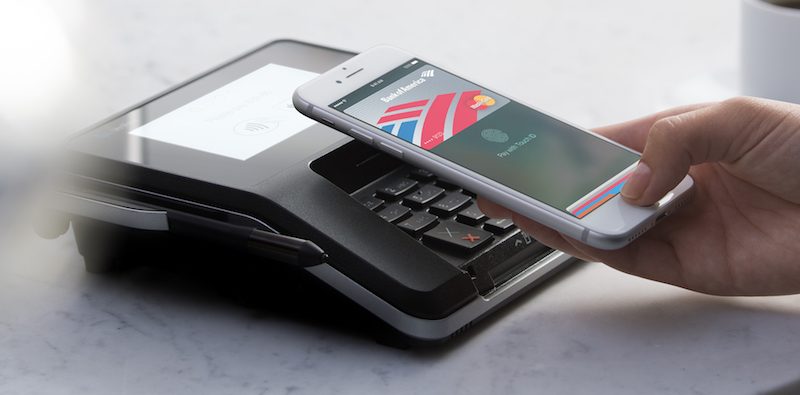 Bailey says the new EMV chip cards are annoying customers and have helped drive adoption. "Once you figure out you have to chip, you wait a while, you wait awhile," she said before imitating the "BEEP" sound the chip reader makes when you can remove your card.

Apple won't be marketing Apple Pay to take advantage of the annoyance toward EMV chips, Bailey said, instead focusing on creating new partnerships with banks and merchants. "Knocking EMV is not necessarily the way to go," she said. "I think it's to increase acceptance and work with great partners."

The Cupertino company is also focusing on offering deals with retailers and banks. In November, Apple debuted exclusive holiday offers for those who use Apple Pay on the web. Promotions included one- or two-day free shipping with Adidas and 50% off a one-year subscription to The New York Times. Bailey notes that Apple has to work with partners for special offers because Apple doesn't collect transaction data, eliminating its ability to offer promotions by itself.

Bailey says that Apple is excited by the speed of the transition to contactless payments. However, Bailey says that the challenge for Apple is that they have to match the speed of the transition to EMV chip readers. Apple has to get retailers and merchants to adopt Apple Pay at the same time they adopt EMV chip readers so that consumers can more easily see the benefit of Apple Pay.

Bailey also teased what was next for Apple Pay, saying that the company is thinking about "everything in your wallet."


Discuss this article in our forums




Apple's Best of the App Store in 2016:' Prisma' and 'Clash Royale' Win Top Honors
Apple today published its annual Best of 2016 charts for the App Store, iTunes Store, and iBooks Store, naming photo editing app "Prisma" as the iPhone App of the Year and "Clash Royale" as the iPhone game of the year.

Released in June of 2016, Prisma is designed to turn photographs into works of art using a range of different filters. Prisma garnered a lot of interest in 2016 and continually introduced new art filters.

Clash Royale, named Apple's best game, first came out in March of 2016. A card based game, Clash Royale encourages players to collect dozens of cards from the Clash of Clans universe and duel other players.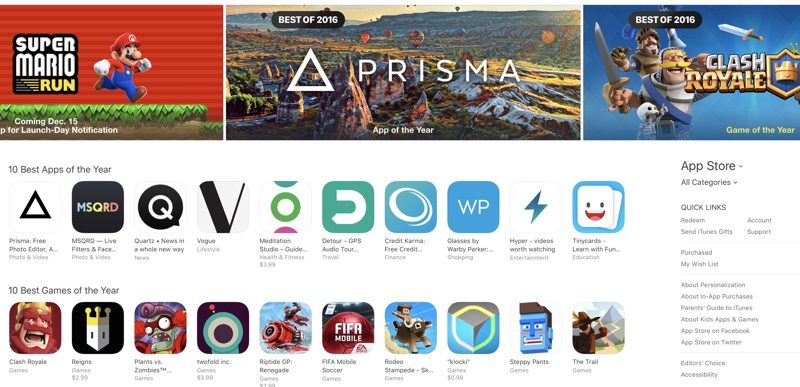 Apple also chose top apps and games for the iPad, Apple TV, and Apple Watch, with all of the top picks listed below:

iPhone App of the Year:Prisma
iPhone Game of the Year:Clash Royale

iPad App of the Year:Sketchbook Motion
iPad Game of the Year:Severed

Apple TV App of the Year:Twitter
Apple TV Game of the Year:Riptide GP: Renegade

Apple Watch App of the Year:MySwimPro - Personal Swim Trainer
Apple Watch Game of the Year:Field Day

Mac App of the Year:Bear
Mac Game of the Year:Life is Strange

Apple has named face-shifting app "MSQRD" as the runner up for best iPhone app, and swipe-based game "Reigns" as the runner up for best iPhone game, both of which are showcased alongside the winners in the main banner in the App Store.

Two new App Store sections, "10 Best Apps of the Year" and "10 Best Games of the Year" further break down the best apps chosen by Apple's editors, highlighting apps like Quartz, Vogue, Hyper, Plants vs. Zombies, Rodeo Stampede, and more. There are separate sections for both iPhone and iPad apps and games, each with different picks.

There are also a selection of apps in categories that include games playable on one hand, card-based games, celebrity games, video making apps, tap-based games, productivity apps, shopping apps, indie games, coding apps, and more.

In the Mac App Store, Apple has also published a full list of its picks for best Mac apps, with selections that include Spark, Polarr Photo Editor, Mini Metro, Doo, XCOM 2, Darkest Dungeon, Day One, Layers of Fear, and OmniGraffle 7.

Finally, Apple has announced the top apps based on overall App Store charts throughout the year, with Snapchat winning Top Free iPhone App and Heads Up! winning Top Paid iPhone App. For the iPad, YouTube was the top free app and Minecraft: Pocket Edition was the top paid app, while Netflix was the top free Apple TV app and Earthlapse TV was the top paid Apple TV app.

All of Apple's best app picks can be found in the App Store, with similar lists available naming the best music, TV shows, movies, and books in the iTunes and iBooks Stores.


Discuss this article in our forums


Apple Shares Tips for Taking 'Pro' Photos Using iPhone 7 Plus Portrait Mode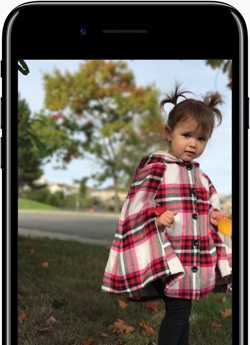 Apple today shared some tips to "Shoot like a Pro" with depth-of-field "Portrait" effect in the iPhone 7 Plus, highlighting a range of suggestions collected from professional photographers on its news site.

Tips include getting up close to a subject to bring out details, minimizing the background, putting the sun behind a subject, slightly underexposing, and using soft, diffused lighting.

The suggestions are sourced from fashion photographer JerSean Golatt, celebrity photographer Jeremy Cowart, travel photographer Pei Ketron, and wedding photographer Benj Haisch, and are accompanied by photos shot on the iPhone 7 Plus.

For many years running, the iPhone has been the most popular camera on Flickr, which has encouraged Apple to make continual improvements to the camera equipment in its smartphones.

Along with dual cameras and the Portrait mode in the iPhone 7 Plus, both the iPhone 7 and the iPhone 7 Plus feature lens, sensor, stabilization, and image signal processor improvements that offer much improved performance compared to previous-generation devices, especially in low-light conditions.


Discuss this article in our forums