Mac Rumors powered by MacRumors


Resource id #62Apple Increases iPhone SE Orders Amid Growing Sales Pressures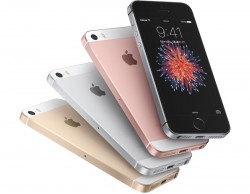 In line with Apple CEO Tim Cook's recent comments about "very strong" iPhone SE demand exceeding supply, the company has reportedly increased orders for the low-priced 4-inch smartphone in the second quarter of 2016.

DigiTimes claims that the second-quarter outlook for iPhone SE-related chip orders has been revised to more than 5 million units, up from 3.5-4 million, and the upward trend is expected to continue through the third quarter.

In a related report, the Taiwanese website notes that Apple has conversely lowered orders for the iPhone 6s and iPhone 6s Plus due to declining sales of the flagship handsets. Last week, Apple announced its first-ever year-over-year decline in iPhone sales, which dropped to 51.2 million from 61.2 million in the year-ago quarter, and provided third quarter guidance that suggests the decline will continue.

While the lower-priced iPhone SE could help Apple combat its overall decline in smartphone sales, Apple analyst Neil Cybart of Above Avalon notes that the device has a lower average selling price (ASP) and smaller profit margins. Those pressures, alongside other warning signs, leads him to believe that Apple "has a significant iPhone growth problem on its hands" right now.
When looking at all of these iPhone warning signs, it is becoming clear that Apple has a significant iPhone growth problem on its hands. The combination of a slowing iPhone upgrade rate and declining number of growth catalysts for expanding the iPhone's addressable market will make it very difficult for management to report unit sales growth going forward given its current strategy. In addition, the iPhone SE highlights how any strategy to fix some of these issues will likely end up jeopardizing iPhone ASP and margin trends.
One of Cybart's warning signs is that "India is not the next China," despite being positioned as one of the next big growth markets for iPhone. India has reportedly rejected Apple's request to import and sell refurbished iPhones in the country, following a similar proposal rejected in 2015, and its regular-priced iPhones are too expensive to attract significant market share in the region.

Nevertheless, the analyst ensures that the iPhone business is "not imploding," citing industry-leading customer satisfaction rates and loyalty trends. He believes that Apple can pull through this declining iPhone environment with a strategy that involves ditching the "S" model nomenclature, focusing on features that customers truly want, and recognizing the iPhone SE's effect on its broader smartphone lineup.


Discuss this article in our forums




Possible iPhone 7 Headphone Jack Depicted in New Image
Amid rumors suggesting Apple is set to ditch the headphone jack in the iPhone 7, an image depicting a spare part that could be used in the device has surfaced – headphone jack included.

This morning, French site Nowhereelse.fr shared an image of a Lightning cable assembly, apparently destined for the iPhone 7, which differs in design from the same part found in the current iPhone 6s.

The assembly part is host to a number of components, including cellular antenna cables and the obligatory Lightning port, but the new design clearly shows a separate white headphone jack on the far left-hand side.



Left: purported iPhone 7 part (Image: Weibo); Right: iPhone 6s part (Image: iFixit)


The image was submitted anonymously via a Weibo account, therefore its validity cannot be confirmed. As Nowhereelse.fr notes, it could just as easily depict a part destined for a Chinese counterfeit manufacturer, rather than coming from Apple's official supply chain. Nevertheless, the part should provide some relief for those hoping that Apple's next generation of iPhone does not adopt a one-size-fits-all Lightning solution, which would also make it the sole means of connecting headphones and other audio accessories.

Recent rumors have suggested Apple's upcoming iPhone 7 will feature a thinner body with no headphone jack, with Apple instead planning to rely on the Lightning port and Bluetooth as ways to connect headphones to the device. Apple is also rumored to be working on Lightning-equipped EarPods to sell alongside the iPhone 7, while a more contentious rumor claims Apple may be planning to replace the headphone jack on the iPhone 7 with a second speaker for stereo audio.

Indeed, it remains to be seen if a Lightning-based audio solution would be restricted to Apple's larger iPhone 7 Plus handset, which could mean the leaked image is genuine without necessarily vouchsafing the inclusion of a headphone jack across Apple's upcoming line-up of iPhone devices.


Discuss this article in our forums




Apple CEO Tim Cook Teases 'Great Innovation' in Product Pipeline on CNBC's Mad Money
Apple CEO Tim Cook today sat down with CNBC Mad Money host Jim Cramer, where he discussed his thoughts on innovation, the future of the iPhone and the Apple Watch, the growth of Apple services, Apple's performance in China, and more.

Last week, Apple reported its first year-over-year revenue decline since 2003, announcing $10.5 billion in profit on $50.6 billion in revenue. Apple also saw its first ever decline in year-over-year iPhone sales, leading one Wall Street analyst to claim Apple's best days are behind it.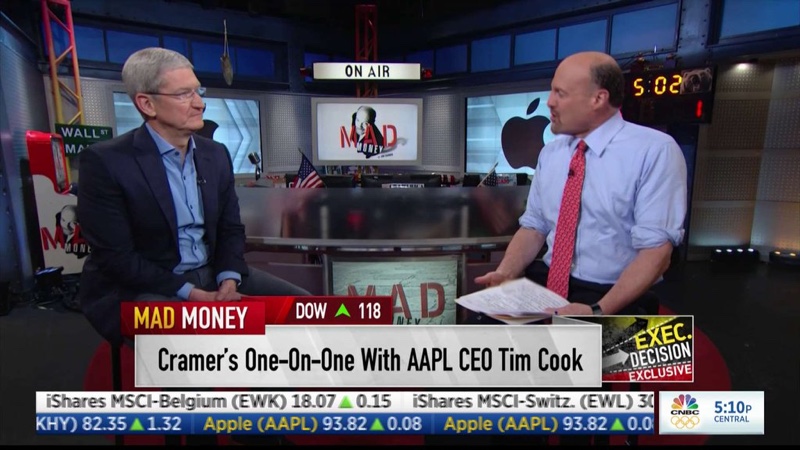 "I couldn't disagree more," said Cook when asked about the comment, attributing the perceived sales dip to an abnormally high upgrade rate in late 2014 and 2015 as people upgraded to the iPhone 6 and pointing towards growth opportunities in China and India. Cook went on to tease future advances in iPhone technology that will inspire people to buy new devices.
We've got great innovation in the pipeline. New iPhones that will incentivize you and other people that have iPhones today to upgrade to new iPhones.

We are going to give you things you can't live without that you just don't know you need today. That has always been the objective of Apple. To do things that really enrich people's lives. That you look back on and you wonder how did I live without this.
He reiterated Apple's future plans later in the interview when questioned on whether Apple is still innovating. "We're fairly secretive," he said, "but I would tell you we're incredibly excited about things we're working on."

Cook also commented on Apple acquisitions. "We've acquired a lot of companies. We generally acquire a company every three to four weeks on average," he said. "We're always looking," he added on the topic of potential major acquisitions.

On the Apple Watch, Cook didn't give many hints about what's coming in the future, but he said he believes it will be seen differently in retrospect, much like the iPod. "You'll see the Apple Watch getting better and better," he told Cramer. "We're still in learning mode."
If you look at iPod, iPod wasn't viewed as a success, but today it's viewed as an overnight success. [...]

And so I think that in a few years we will look back and people will say, "How could I have ever thought about not wearing this watch?" Because it's doing so much for you. And then it will all of a sudden be an overnight success.

Cook also addressed concerns about China, which led billionaire Carl Icahn to sell his full stake in Apple earlier this year. Apple's sales fell 26 percent in Greater China in the second quarter of 2016, and recently, Apple was forced to take down the iTunes Movies and iBooks stores in China on concerns from Chinese officials that believe Apple is "too deeply established" in core industries in the country.

"I could not be more optimistic about China," he said. According to Cook, the Android-to-iPhone switch rate has been "huge" in China, up 40 percent in the first half of 2016 compared to the first half of 2015. He says Apple is working with Chinese regulatory authorities to get its iTunes Movies and iBooks services back online in the country. "We're pretty confident and optimistic that we'll be back online and offering those to our Chinese customers soon."

Cook also spoke at length on the dip in Apple stock, the company's quarterly performance and predictions for next quarter, smartphone penetration in China and India, and Apple's customer loyalty and potential for growth in services.




Cook's segment aired on Mad Money on CNBC at 6:00 p.m. Eastern Time. Part one and part two of the full episode are now available on the CNBC website and are embedded above.


Discuss this article in our forums




Apple CEO Tim Cook to Speak With Jim Cramer on CNBC's 'Mad Money' Tonight
Apple CEO Tim Cook will appear on CNBC's Mad Money this evening, where he will speak with host Jim Cramer. On the show, Cook is expected to discuss Apple's future in China, his outlook on innovation, what's next for the iPhone, Apple Watch, and Apple services, and whether Apple is pursuing any potential acquisitions.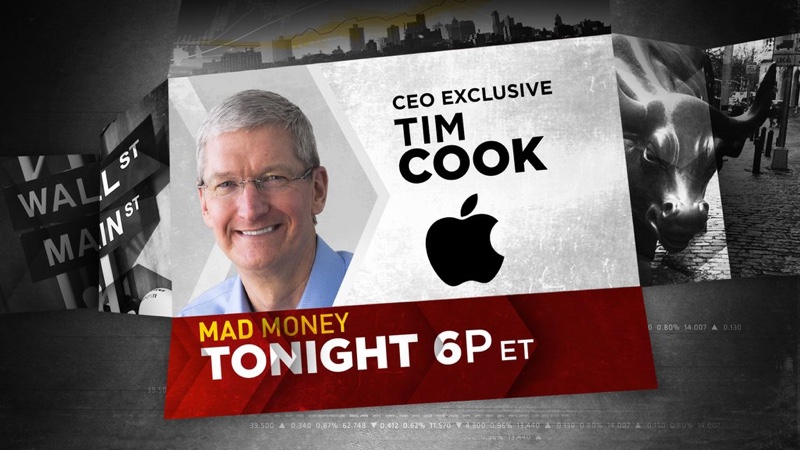 Cook last spoke with Cramer in March of 2015, where he discussed topics like ResearchKit, health, and the "next frontiers" of development.

Mad Money will air at 6 p.m. Eastern Time.


Discuss this article in our forums




Apple Campus 2 Drone Video Shows Major Progress on Fitness Center, More Solar Panels
With much of the ring-shaped main building completed at Apple's second campus and auxiliary buildings taking shape, construction progress from month-to-month is ramping up. Drone pilot Duncan Sinfield has captured new aerial video of Apple Campus 2, allowing us to get a look at changes that have been made to the campus since April.

Significant work has been done on the 100,000 square foot fitness center, where Apple employees will be able to work out and stay healthy. A stone facade is now in place and the building looks to be nearing completion.




There are new cranes in the area, which are being used to finish up some of the main structure. Additional solar panels have been lifted into place on the roof of the building, more windows have gone up, and more window canopies have been installed. Parking structures are also set to be completed in the next few months, and some work has been done on the Tantau research buildings.

According to Sinfield, the sizable green fence surrounding the entire campus is being taken down and replaced with a shorter fabric-covered chain-link fence. A thick white foam is being laid on the top of ground structures like the tunnels and the auditorium, presumably kicking off the landscaping process. Trees and other greenery may be put into place soon, with Apple planning to cover the campus with 80 percent green space.

Apple plans to finish construction on Apple Campus 2 at the end of 2016, with employees set to begin occupying the buildings at the beginning of 2017.


Discuss this article in our forums


Judge Grants Search Warrant Forcing Woman to Unlock iPhone With Touch ID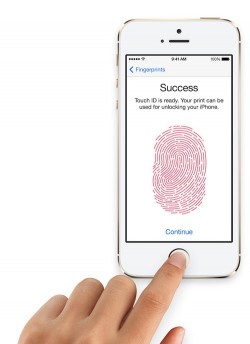 For the first time in a federal case, authorities in a Los Angeles courtroom have issued a search warrant forcing a woman to bypass her iPhone's biometric security using Apple's Touch ID system (via LA Times). The woman in question -- Paytsar Bkhchadzhyan -- was arrested due to charges of identity theft and had previous strings of various criminal convictions.

According to jail records, U.S. Magistrate Judge Alicia Rosenberg signed the Touch ID-related search warrant about 45 minutes after Bkhchadzhyan was taken into custody on February 25. By the afternoon of her arrest, the suspect pleaded no contest to the charges of identity theft and gave the court her fingerprint to unlock the iPhone.

Police recovered Bkhchadzhyan's smartphone at the residence of her boyfriend, Sevak Mesrobian, known to be the member of a local gang, so it's unclear whether the contents of the device were sought after due to Bkhchadzhyan's crimes or her proximity to Mesrobian's gang.

The court's decision in the case follows the thin rules regarding a person's Fifth Amendment's protection against self-incrimination, which relates that numeric passcodes are protected individual privacies, but fingerprints are not. For this reason, some believe new modern laws need to be enacted specifically detailing fingerprint-related security features.

"It isn't about fingerprints and the biometric readers," said Susan Brenner, a law professor at the University of Dayton who studies the nexus of digital technology and criminal law, but rather, "the contents of that phone, much of which will be about her, and a lot of that could be incriminating."

Even with the limited outlines of the inquiry, Brenner said the act of compelling a person in custody to press her finger against a phone breached the Fifth Amendment's protection against self-incrimination. It forced Bkchadzhyan to testify — without uttering a word — because by moving her finger and unlocking the phone, she authenticated its contents.

Still, others believe the biometric nature of Touch ID might largely follow in line with the 5th Amendment's prohibition of self-incrimination. "Unlike disclosing passcodes, you are not compelled to speak or say what's 'in your mind' to law enforcement," Albert Gidari, the director of privacy at Stanford Law School's Center for Internet and Society, said. "'Put your finger here' is not testimonial or self-incriminating."

This line of thinking flows directly from a 2014 case in Virginia, wherein a judge ruled that a man could not be ordered to present his passcode to the court, because that "entailed revealing knowledge and therefore testifying." Using Touch ID on his iPhone was ruled legal, however, and compared to providing the court with a key, instead of divulging information known only to him.

Although unrelated, the Los Angeles case follows a couple of months of heated debate between Apple and the FBI, as the government agency attempted to compel Apple into helping it hack into the iPhone of San Bernardino shooter Syed Farook. Eventually the FBI withdrew its lawsuit after finding its own way into the iPhone 5c, which reportedly cost the agency less than $1 million.

Note: Due to the political nature of the discussion regarding this topic, the discussion thread is located in our Politics, Religion, Social Issues forum. All forum members and site visitors are welcome to read and follow the thread, but posting is limited to forum members with at least 100 posts.


Discuss this article in our forums


Hulu Planning Live Cable TV Service With Partners Including Disney and Fox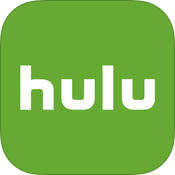 Streaming service Hulu is said to be working on a new subscription model that would provide customers with cable-style access to popular broadcast television networks.

In a report by The Wall Street Journal, sources close to the plan said the company's move would directly introduce Hulu as "a competitor to traditional pay-TV providers," in addition to streaming-only services like Netflix and Amazon Prime.

Hulu's current launch estimate for the cable-like service is sometime early in 2017, and a few partners are already mentioning interest in the program. Disney and Fox are said to be close to signing agreements to provide "many of their channels" to Hulu and its subscribers on the live platform. Some of their networks include ABC, ESPN, Disney Channel, Fox's basic broadcast channels, Fox News, and FX.

The company's ultimate goal with the new service may disappoint cord-cutters looking for a complete replacement for their cable box, as those close to Hulu's plans mentioned it "isn't looking to offer all the hundreds of channels found in the traditional cable bundle." Still, Hulu is seeking other partners in addition to Disney and Fox, who are both co-owners of Hulu.

Hulu sees an opportunity to pitch its planned service to the more than 10 million people who already subscribe to its on-demand service. Consumers don't need to be an existing Hulu subscriber to sign up for the new service, which has yet to be named.
In addition to live TV, the unnamed service is rumored to provide users with a cloud-based DVR, letting them record shows and set scheduled tapings similar to current offerings by cable providers. Due to all of these prime features, the current estimated cost of Hulu's live TV plan would be $40 per month, according to Sanford C. Bernstein media analyst Todd Juenger. That price was said to be "in the ballpark" by a Hulu executive.

Netflix can be relatively quick in getting up full seasons of recently-aired shows after their finales launch, but it largely depends on the cable network and even then it can be a few weeks to months until they're available on the streaming platform. Hulu has always been ahead of its rivals in providing users access to recently aired TV episodes, launching them one at a time a day after they air, but its new plan would go one step further and let subscribers watch specific TV channels live.

As more customers leave behind cable companies, streaming services are becoming increasingly interested in standalone TV packages such as the one Hulu is looking into launching. Premium channels like Showtime and HBO already have their own specific services, and Apple was even attempting to get a similar $30-$40 web-based TV package launched last year, but failed deals with networks caused the company to put its plans on hold.


Discuss this article in our forums




Apple Debuts New 'Shot On iPhone' Ad Celebrating Mother's Day
A week ahead of Mother's Day, Apple has launched a new commercial centering around a collection of images and video of mothers interacting with their children. The spot continues Apple's "Shot on iPhone" advertising campaign, with each piece captioned by the amateur iPhone user who captured the moment.




Apple began its "Shot on iPhone" campaign early in 2015, showcasing images collected from both professional and amateur photographers around the world. More recently, Apple's iPhone campaign has focused on portraying the features of the device, like Touch ID and Siri.


Discuss this article in our forums




MacRumors 2016 Blood Drive
MacRumors is pleased to announce the Seventh Annual MacRumors Blood Drive, throughout the month of May 2016. Our goal every year is to save lives by increasing the number of life-saving blood and platelet donations. While most blood drives are specific to a geographic location, our blood drive is online and worldwide. To date we have recorded donations of over 300 units of blood and platelets.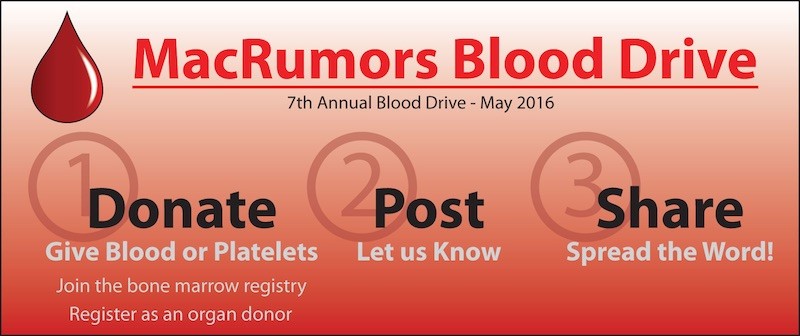 Led by CEO Tim Cook, Apple supports health, relief, and charity efforts, including the recent Apps for Earth promotion. The MacRumors Blood Drive is run by the staff and volunteers of MacRumors.

We ask that you:

1. Donate blood or platelets at any donation center near you, join the bone marrow registry in your country, and sign up for the organ donor registry in your state, province, or country.

2. Post in the MacRumors 2016 Blood Drive! thread to tell us about it and to accept our thanks.

3. Share our message with other people you know.

For details see the MacRumors 2016 Blood Drive! thread and our traditional Honor Roll of donors.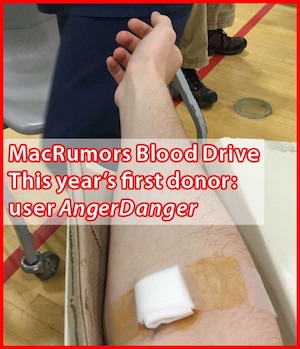 There are many reasons that you should participate in the MacRumors Blood Drive. Consider what some of our forum members have said:

User A.Goldberg:
I was diagnosed and treated for leukemia at age 4. When I got my first blood transfusion, the nurse told me that a stranger had donated it. Decades later, I am healthy thanks in part to some truly altruistic people out there. If you're considering donating, do it for me since I'm not eligible myself. Thanks!!!
User TheBean75:
Thank you for everyone who donates. I cannot (due to the mad cow thing) but my daughter was a micro-preemie born at 24 weeks and had 5 transfusions before her first month in the NICU. I know without the selfless act of donating by others she never would have made it.
User I14:
Thank you to everybody who is donating or has signed up for the bone marrow registry. After donating 42 units over the past years, last year I became a recipient with many units of blood and platelets and finally a bone marrow transplant as I battled leukemia. One of you may have saved my life. You will probably never meet the recipient of your donation, but they will be very thankful for your time, effort and your donation.
How to participate

1. If you are eligible, schedule a blood or platelet donation (see FAQ), in May if possible. Register for the bone marrow registry and/or register as an organ donor (see FAQ).

2. If you aren't eligible to donate blood for reasons of health, age, height/weight, recent donation, or the temporary deferral for gay men that applies in many countries, please encourage someone else to make a donation, and let us know. The U.S. FDA has revised the rules since last year; see our Blood donor eligibility forum thread.

3. Help our drive by thanking donors and convincing friends and relatives to donate as well.


Discuss this article in our forums




Apple Debuts 'Reimagined and Redesigned' Support Site
Apple today updated its support site with a brand new look and new ways for users to interact with it. The new site is broken into several different blocks, with most of the attention going to three different ways users can get help.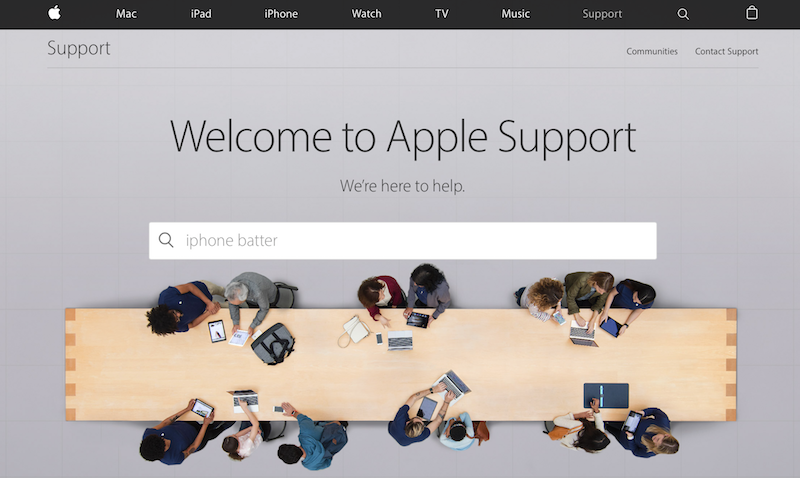 The first block is dedicated to a search bar that provides Quick Links, which allow users to get the answers they're looking for while they're searching rather than having to wait for a results page. The second block allows users to find support by choosing the device they need help with and the third block features "Popular Topics," like how to manage an Apple ID or photos.

The next set of blocks let users know they can seek help from other Apple users at the Apple Support Communities, check warranty and repair status and how to contact Apple Support. The final two blocks are dedicated to promoting Apple Workshops in retail stores and list out recall and replacement programs. The site's new design is also compatible with mobile browsers.




In recent months, Apple has worked to make it easier for its customers to seek help from the company about its products. Last month, Apple launched the Apple Support Twitter account, which quickly gained momentum after its genesis and was responding to nearly 100 tweets per hour.


Discuss this article in our forums




Coach Planning to Debut Designer Bands for Apple Watch Later This Year
Well-known designer brand Coach is reportedly working on a line of high-quality Apple Watch bands, which could debut as soon as June. According to Haute Écriture's David Boglin de Bautista, a sales associate at a Coach boutique informed him of the upcoming release after seeing his Apple Watch and showed him pictures of the bands.

Coach is said to be debuting around eight watch bands, in colors that include white, red, black, and brown. Some bands are decorated with charms, while others have patterns like flowers stitched into them, with each band set to retail for approximately $150.




The bands are designed to match Coach handbags from its Spring/Summer 2016 Collection, and according to de Bautista, one band was stitched with flowers to match Coach's Tea Rose Appliqué bag.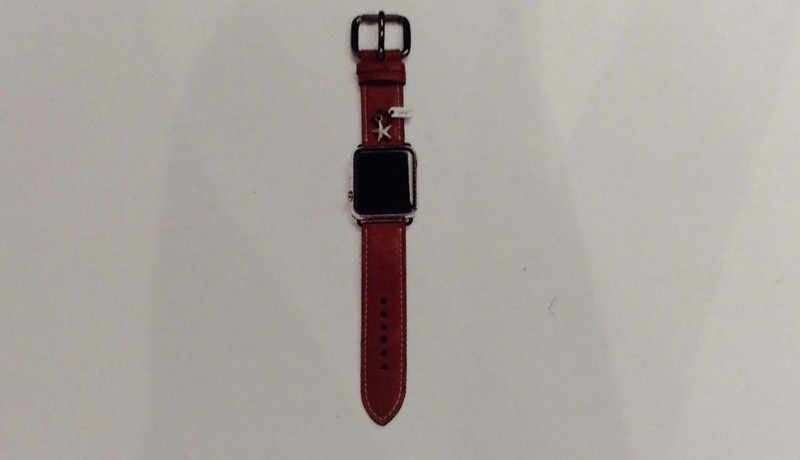 It is not clear if Coach is teaming up with Apple or releasing the bands independently. Apple has partnered with Hermès to launch a line of Apple Watch models with Hermès bands and a unique watch face, but Coach may be working independently.

A few other designers, including Rebecca Minkoff and Colette have released Apple Watch bands without Apple's assistance, Minkoff in partnership with Case-Mate and Colette in partnership with Casetify.


Discuss this article in our forums




Apple Marketing Chief Phil Schiller: 'One Need Never Pluralize Apple Product Names'
Apple executive Phil Schiller gave Apple users a grammar lesson on Twitter yesterday afternoon, explaining that it isn't necessary to pluralize Apple product names.

Schiller's instructions came after a discussion on pluralizing "iPad Pro" between Andreessen Horowitz partner Benedict Evans and iMore analyst Michael Gartenberg. Evans referred to more than one iPad Pro as "iPads Pro," while Gartenberg said "iPad Pros."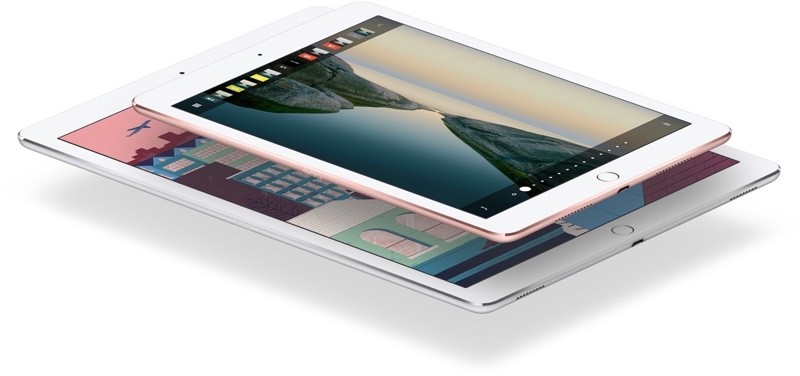 Schiller clarified that neither approach was correct. The proper way to refer to more than one iPad Pro is to call them "iPad Pro devices."



He went on to further state that it would be correct to say "I have 3 Macintosh," or "I have 4 Macintosh computers" when referring to more than one Mac. "Words can be both singular and plural, such as deer and clothes," he explained. By that logic, more than one iPhone would need to be referred to as iPhone devices or iPhone models rather than "iPhones."

As Business Insider points out, Apple sometimes breaks its own naming rules. In press releases, the company has made mention of "iPhones" in the plural form.


Discuss this article in our forums




Fiat Chrysler Adds Siri Eyes Free to Equipped 2013-2015 Vehicles
Fiat Chrysler Automobiles (FCA) has released a free software update that enables owners of properly equipped 2013-2015 Chrysler, Dodge, Jeep, and Ram vehicles to add Siri Eyes Free capability to the Uconnect 8.4 system.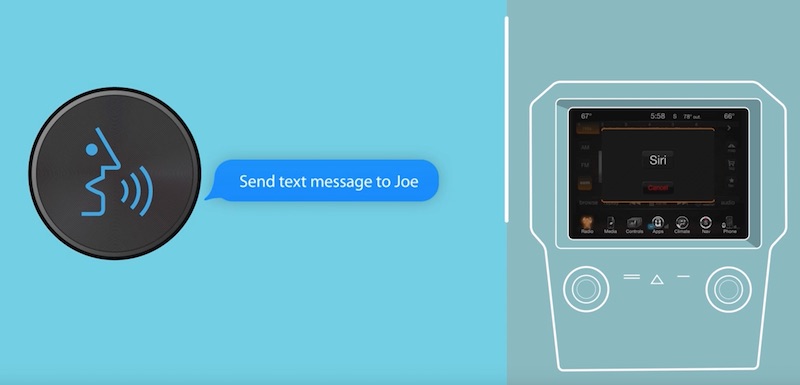 The new software update is available in nearly 2 million vehicles equipped with a Uconnect 8.4 touchscreen system:

- 2013-2015 Ram 1500, 2500, 3500
- 2013-2015 Dodge Viper
- 2014-2015 Dodge Durango
- 2015 Dodge Challenger and Charger
- 2014-2015 Jeep Cherokee and Grand Cherokee
- 2015 Jeep Renegade
- 2015 Chrysler 200 and 300

Siri Eyes Free is also supported on 2016 Chrysler, Dodge, Jeep, Ram, and Fiat vehicles with properly equipped Uconnect 8.4 or 6.5 systems. FCA previously announced that Uconnect will support CarPlay in compatible 2016 vehicles later this year.

After entering a 17-digit Vehicle Identification Number (VIN) on the Uconnect website, owners of the eligible vehicles can download the update to a USB drive and then install it on their Uconnect system, a process that takes about 30-45 minutes.

Siri Eyes Free, compatible with iPhone 4s or later, is designed to help minimize driver distraction by using Siri voice recognition and spoken responses to allow drivers to interact with an iPhone without needing to look at the in-dash screen.




Drivers can activate Siri Eyes Free by pushing and holding the voice recognition button on the steering wheel to, for example, place phone calls, send text messages, play music, set reminders, set calendar entries, access turn-by-turn directions, and more, while keeping their eyes on the road ahead.

Ford also equipped nearly five million 2011 and newer vehicles with Siri Eyes Free with a SYNC software update in December 2015.


Discuss this article in our forums


Investor Carl Icahn Dumps Apple Shares Over China Concerns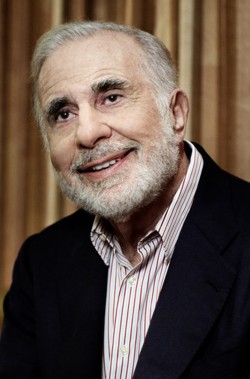 Billionaire Carl Icahn, who has been buying large amounts of Apple stock over the past three years, today told CBNC that he sold his stake in the company.
"We no longer have a position in Apple," Icahn told CNBC's "Power Lunch" on Thursday, noting Apple is a "great company" and CEO Tim Cook is "doing a great job."
Icahn, who sold his shares earlier this year, said that he did so based on worries over China's attitude towards Apple. Earlier this month, the Chinese State Administration of Press, Publication, Radio, Film and Television forced Apple to take down the iTunes Movies and iBooks stores, and Chinese officials believe that Apple is "too deeply established" in core industries in the country.

Apple sales also fell 26 percent in greater China in the second quarter of 2016.
"You worry a little bit -- and maybe more than a little -- about China's attitude," Icahn said, later adding that China's government could "come in and make it very difficult for Apple to sell there... you can do pretty much what you want there."

He added, though, that if China "was basically steadied," he would buy back into Apple.
Prior to exiting his position, Icahn held 0.8 percent of outstanding shares. He told CNBC that he made approximately $2 billion on Apple and that he continues to view the stock as "cheap."

Apple shares have been on the decline since Tuesday's earnings call, where the company announced its first ever drop in iPhone sales and its first year-over-year revenue drop in 13 years. Apple stock is down approximately 2 percent today.


Discuss this article in our forums




Apple Promotes New Apple Music API Introduced in iOS 9.3
With the launch of iOS 9.3, Apple introduced a new Apple Music API, which is today being promoted through Apple's Affiliate Program Newsletter. The Apple Music API gives developers the resources to expand Apple Music functionality in their apps, through the following features:

- Developers can see if a user is currently a member
- Developers can see which country the users account is based
- Developers can queue up the next song or songs based on a song ID for playback
- Developers can inspect playlists already in My Music or create a new playlists with a title and description (see App Store Review Guidelines for limitation)

The iOS 9.3 Apple Music API has already been built into several music-related apps, such as Shazam. The API is what enables Shazam and other music apps to do things like add songs to Apple Music playlists from directly within the Shazam app.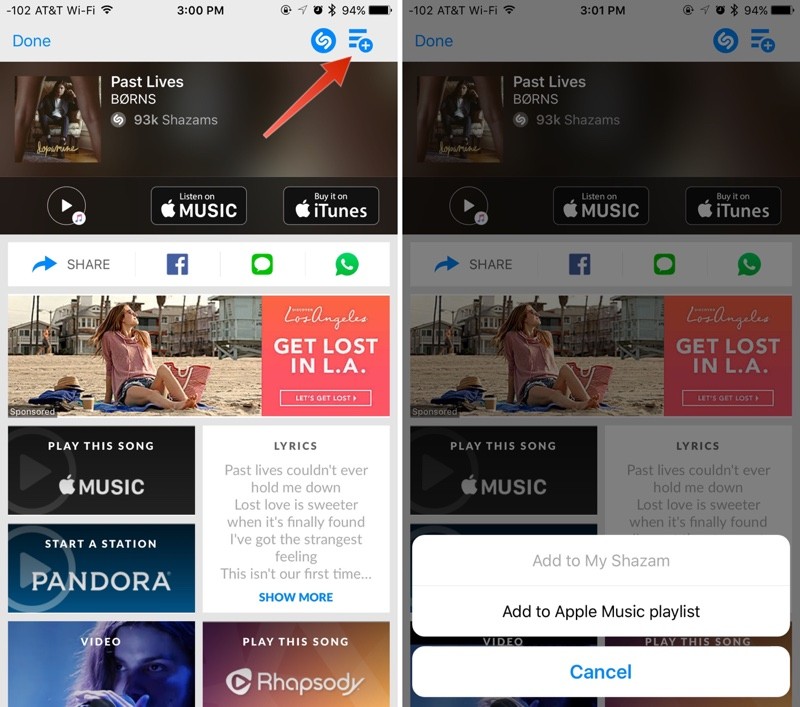 As noted by MacStories, Apple has also launched a new Apple Music Best Practices webpage for app developers and expanded App Store Review Guidelines for Apple Music. According to Apple's guidelines, apps using the Apple Music API are subject to the following restrictions:

- Apps using the Apple Music API that trigger playback without explicit user action will be rejected
- Apps using the Apple Music API must expose and respect standard media controls such as "play," pause," and "skip"
- Apps using the Apple Music API may not require payment or otherwise monetize access to the Apple Music service (e.g. in-app purchase, advertising, requesting user info)

Apple's developer page on Apple Music also includes technical documentation on using the new Apple Music APIs, a link to the Apple Music Toolbox for finding embeddable widgets, and guidelines on how to refer to Apple Music and portray the Apple Music service within apps.


Discuss this article in our forums


Fiat Chrysler Open to Working With Apple as VW Seeks Other Partners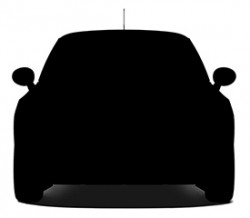 Fiat Chrysler Automobiles is in the late stage of talks with Google parent company Alphabet Inc. about an industry partnership involving self-driving car technology, according to automotive blog Autoextremist and The Wall Street Journal.

Moreover, Fiat Chrysler CEO Sergio Marchionne has reportedly indicated that he is open to working with a tech giant, including Alphabet or Apple, in order to build more scale and help offset automotive-related production and development costs.

On the contrary, Volkswagen CEO Matthias Mueller said that its ongoing discussions with potential partners to start new digital mobility businesses do not involve Apple or Alphabet, as reported by Reuters.

The negotiations follow multiple reports that claim Apple is actively researching and developing an electric vehicle that could enter mass production by 2019 at the earliest. The so-called "Apple Car" team, known as "Project Titan" internally, is believed to include hundreds of employees that previously worked at Ford, General Motors, Land Rover, Tesla Motors, Texas Instruments, and elsewhere.

Apple also reportedly failed to reach manufacturing partnerships with Daimler and BMW.


Discuss this article in our forums


Apple Watch Loses Market Share as Android Wear Grows in Popularity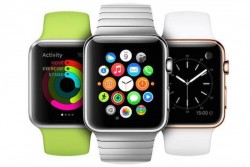 The latest data from research firm Strategy Analytics reveals that Apple Watch sales totaled an estimated 2.2 million in the first quarter.

Apple Watch remains the most popular smartwatch, but its market share declined to 52.4-percent compared to 63-percent in the previous quarter.

Strategy Analytics cites increasing competition from Android Wear rivals such as LG and Motorola as one reason for the Apple Watch ceding market share:
"We estimate Apple Watch shipped 2.2 million units and captured 52 percent smartwatch marketshare worldwide in Q1 2016, dipping from 63 percent share in Q4 2015," said Neil Mawston, Executive Director at Strategy Analytics. "Samsung shipped 0.6 million smartwatches, capturing 14 percent marketshare worldwide for second position. Apple Watch and Samsung Gear models are expanding fast across dozens of countries, but competition from LG, Motorola and others is ramping up fast."
Nevertheless, Apple still maintains a comfortable lead in the smartwatch market, with its wrist-worn sales outpacing all other competitors combined. Samsung trailed in second place with only 600,000 shipments, for instance, while all other vendors shipped a combined 1.4 million units in the quarter.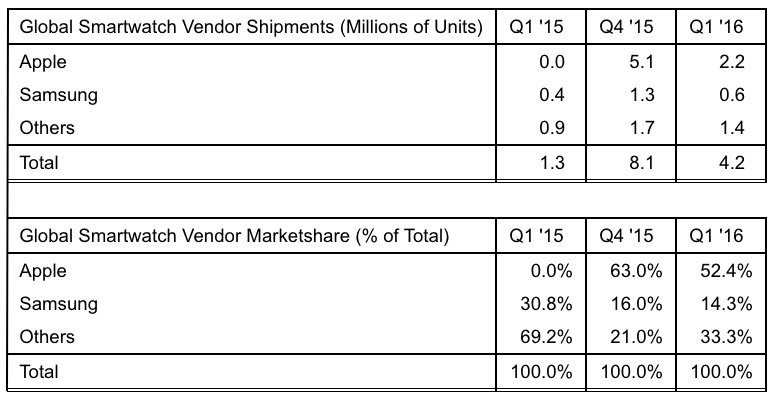 Global smartwatch shipments grew 223-percent annually to reach 4.2 million units in the first quarter of 2016, up from 1.3 million in the year-ago quarter, according to Strategy Analytics. Growth was driven by demand for Apple, Android Wear, and Tizen models across North America, Western Europe, and Asia.

Apple does not disclose Watch sales in its quarterly earning results, instead grouping the device under its Other Products category alongside iPods, Apple TVs, Beats Electronics, and accessories. Strategy Analytics estimates, however, place total Apple Watch sales at nearly 16 million since its April 2015 launch.

Strategy Analytics estimated that Apple Watch sales totaled 4 million during its launch quarter, allowing it to capture an impressive 75.5-percent market share, followed by estimated sales of 4.5 million in the third quarter. By the fourth quarter, encompassing the busy holiday shopping season, the firm said Apple Watch market share had dropped to 63-percent based on 5.1 million sales.

On April 24, the Apple Watch celebrated its one-year anniversary in the U.S. and other first wave launch countries. Many consumers are now anxiously anticipating the Apple Watch 2, which is expected to debut in the secondhalf of 2016 and could feature a FaceTime camera, expanded Wi-Fi abilities, and cellular connectivity. New bands, finishes, and models are always a possibility as well.


Discuss this article in our forums




Apple Launches CareKit Platform With Support for Four Health Apps
Apple's new CareKit iOS framework goes live today, allowing app developers to create integrated software that helps patients and doctors to better track and manage medical conditions.

The open source platform was announced last month and aims to make it easer for developers to build health apps by offering a number of integrations, such as monitoring of medical symptoms, sending images of an injury, and keeping tabs on medication schedules. CareKit also offers two-way benefits, since it not only helps doctors monitor patients but also allows patients to observe their progress over time.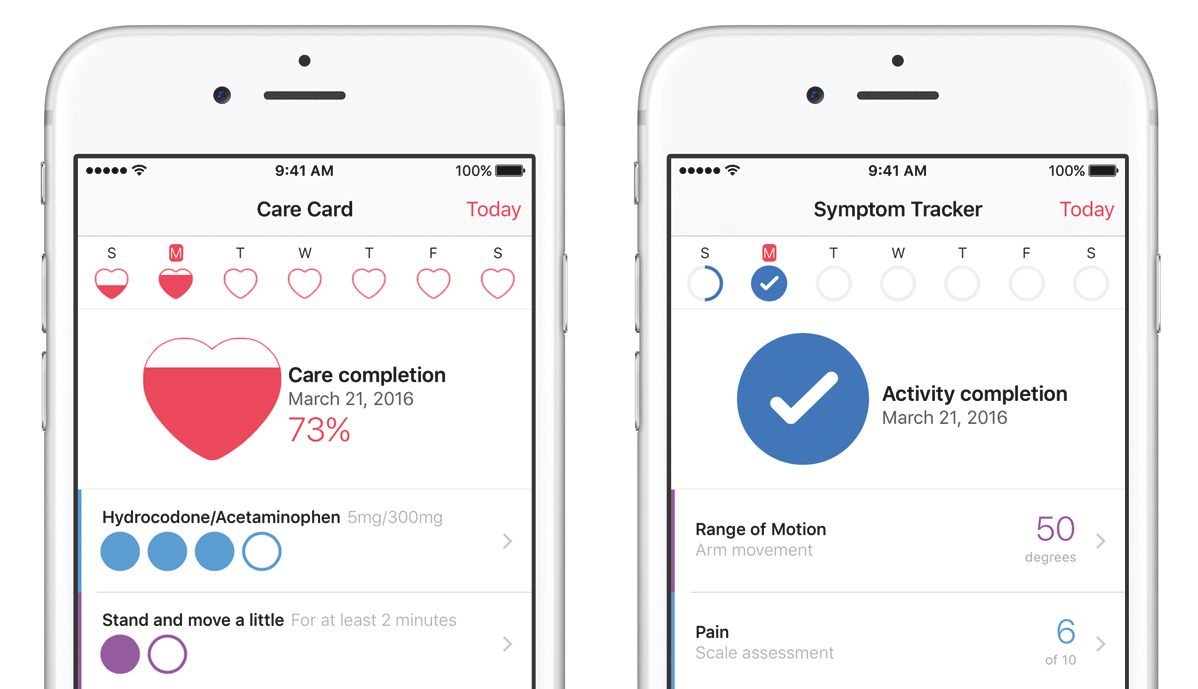 CareKit is made up of series of interactive modules. The Care Card can be configured to manage wellness tasks such as medication scheduling and exercise, while the Progress Card includes a Symptom and Measurement tracker for logging physical metrics like weight and heart-rate (with the potential for Apple Watch integration). The Connect module meanwhile lets users share their health data with medical professionals and family members, and can be viewed in tandem with Progress Card data in the Insight Dashboard module.

TechCrunch reports that the launch is limited to support for four iPhone apps at present: Glow Nurture fertility tracker, Glow Baby maternity app, diabetes monitor One Drop, and depression medication tracker Start. CareKit is compatible with existing healthcare record systems such as Epic and should be available on GitHub later today.

Apple's other open source framework ResearchKit was made available to developers in April 2015, enabling them to create their own iPhone apps for medical research purposes. The framework has led to some significant gains in epilepsy and asthma research since its adoption among medical professionals and contributing patients.


Discuss this article in our forums




Apple Pay Expands Beyond American Express in Australia with ANZ Support
Apple today updated its Apple Pay website in Australia to note that Apple Paynow supports credit and debit cards from the Australia and New Zealand Banking Group (aka ANZ).

The ANZ website has also been updated with a new Apple Pay webpage and a report from Reuters confirms the partnership. ANZ card holders in Australia are able to add their cards to Apple Pay, which has been confirmed by a MacRumors reader.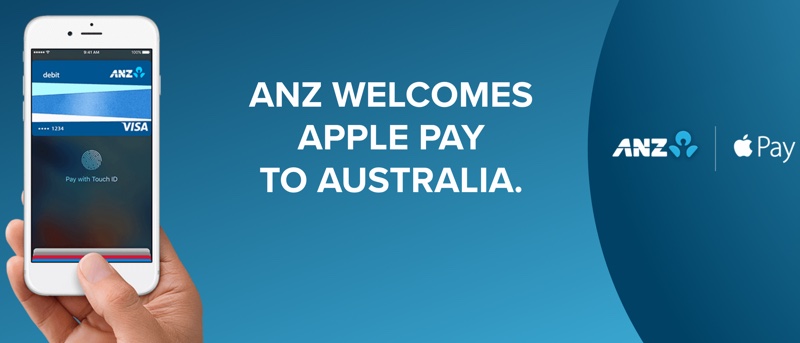 According to the ANZ website, many Visa and American Express cards are supported, including the ANZ Rewards Platinum Card, the ANZ Access Advantage with Visa Debit, and the ANZ Business Advantage wth Visa Debit, but MasterCard, ANZ Access, and ANZ Corporate cards are not supported.

Prior to today, Apple Pay was only available in Australia through a partnership with American Express, limiting it to American Express cardholders. Apple Pay has been slow to roll out in the country as rumors have suggested Apple has had trouble negotiating fees with banks. Apple Pay also has to compete with the New Payments Platform being pushed by the Reserve Bank of Australia, the country's central banking authority.

ANZ is one of the four major banks in Australia alongside Commonwealth Bank (CBA), Westpac (WBC), and National Australia Bank (NAB). According to Apple Pay vice president Jennifer Bailey, Apple is still in talks with the remaining three banks about further expansion of Apple Pay in the country.

Apple Pay is available in the United States, the UK, China, Australia, Canada, and Singapore, with Apple Pay support being limited to American Express users in the latter two countries. Apple Pay will soon be expanding to Hong Kong and Spain under the American Express partnership, and in the near future, Apple will be introducing Apple Pay support for additional banks and credit cards in Singapore.

During yesterday's Q2 2016 earnings call, Apple CEO Tim Cook said Apple Pay is growing at a "tremendous rate" with transaction volume up 5X compared to a year ago. Apple Pay is gaining one million new users per week and is available at more than 10 million locations worldwide.

(Thanks, David!)


Discuss this article in our forums




iPhone 7 Plus Design Drawings Depict Dimensions Identical to iPhone 6s Plus
Schematics featuring the dual-camera 5.5-inch iPhone 7 Plus or "Pro" that's set to launch in the fall of 2016 have been published in the June issue of Japanese magazine MacFan, reiterating many of the design details that have been previously rumored for the device.

Japanese site Mac Otakara has shared images taken from MacFan, which seemingly confirm rumors that the iPhone 7 and iPhone 7 Plus will use largely the same design as the iPhone 6s and 6s Plus.

The schematic focuses solely on the 5.5-inch model, which MacFan says will measure in at 158.22mm x 77.94mm x 7.3mm, identical to the dimensions of the iPhone 6s Plus.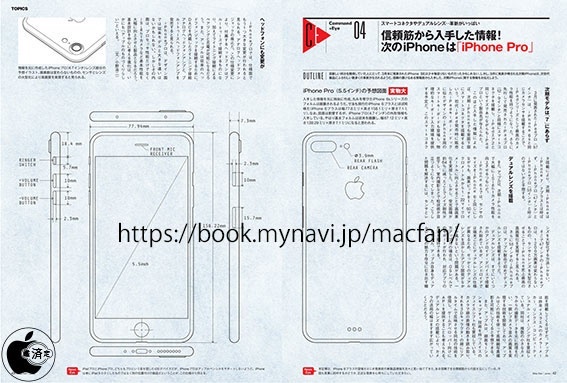 While this agrees with a previous Mac Otakara rumor suggesting the iPhone 7 and 7 Plus will not be significantly thinner, it does disagree with other rumors (including one from Ming-Chi Kuo) that have pointed towards a thinner chassis that approaches the thinness of the 6.1mm iPod touch. While it is not yet clear which design rumor will prevail, the most recent rumors are converging around a thicker body.

Also depicted in the schematic is the dual camera setup that's rumored for the 5.5-inch iPhone 7 Plus, a Smart Connector, and the absence of a headphone jack. Apple is planning to remove the headphone jack in its 2016 devices, with headphones instead connecting via Lightning or Bluetooth. Though some rumors have suggested the iPhone 7 will include stereo speakers, the design drawing features a single speaker. No other significant details are included in the MacFan drawing.

In the past, MacFan has offered up accurate information about Apple's devices, sharing design details of the iPhone 6/6 Plus and 12.9-inch iPad Pro ahead of launch. While largely accurate because its schematics often focus on previously available rumors, MacFan does not always provide a reliable picture of exact dimensions, predicting a 12.2-inch size for the iPad Pro and a 6.7mm thickness for the iPhone 6 Plus, so some of the detail on thickness could be inaccurate.

Apple is expected to debut the iPhone 7 and iPhone 7 Plus in the fall of 2016.


Discuss this article in our forums