Mac News powered by Hardmac


Test of the new Crucial M500


Our NDA has ended, we can now reveal you our article about the new Crucial M500 SSD that we tested in a Mac.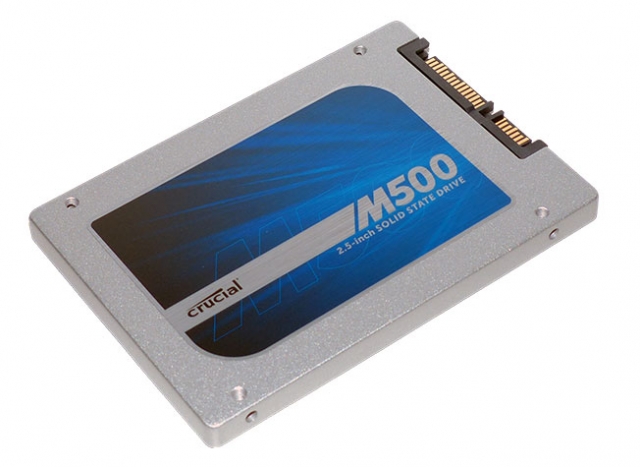 http://www.hardmac.com/articles/484/page1
New Hardmac editing strategy, and new article online later today!
First of all, we would like to thank all of you who have been following us for years.
As you have seen, we had to put HardMac on hold for a while.
The website will continue to exist but with a slightly different editing strategy.
For years, we have been trying to bring you both the latest news and publish interesting articles about improvements and modifications we could make in our Mac or other Apple device. However, it turned out to be too time consuming for us as our resective careers evolve, since we are not professionals, we edit this website and its bigger brother Macbidouille.com on our spare time.
That said, and considering that our spare time is shrinking, we have decided to shift to a new strategy. There will be less news posted everyday, and we will concentrate on the more "geeky" ones that we find more interesting, and that have made us successful.
On top of that, in the near future we will publish more articles that will focus on the two components of our name: Hardware and the Mac.
Later today we will publish an article featuring a test of Crucial's new M500 SSD, so stay tuned to read all about the heir of the C300 and the M4!
The HardMac Team
HardMac on hold but stay tuned!
As you have seen, HardMac is on hold since end of last year, due to a lack of resources on our side to maintain the site and the forum.
We are busy working with the MacBidouille team to see how we can start again the activity on the English side of MacBidouille.
We thank all of our readers for their interest in what we have offered so far and we are looking forward to welcoming you again in a near future.
Stay tuned!
The HardMac Team
Video showing Fusion Drive performances
Officially, Fusion Drive will launch with the new iMac but it is already possible to activate it if you have a Mac with an HDD and an SSD. The whole process is described on this page:
http://jollyjinx.tumblr.com/post/34638496292/fusion-drive-on-older-macs-yes-since-apple-has
As a reminder, Fusion Drive allows to create one logical storage volume comprising the SSD and the HDD. Data is first written on the SSD and once it is full, some data will be transferred to the HDD. Wile doing so, Mac OS will keep 4GB of free space on the SSD to be used as cache before transfer to the HDD.
This solution has the advantage of taking reserving only 4 GB of the total storage space for cache. There are however some drawbacks as the acceleration provided by the cache is limited to these 4 GB, and in case one of the drives fails, the data of the entire volume, including on the data stored on the other drive, is lost. (The only solution has always been and will always remain frequent backups)
In addition, this solution is not as fast as a single large SSD, which is not much more expensive since the price per GB of Apple's SSDs is 3 to 4 times higher than on the rest of the market.
ZDNet published a video showing the new Fusion Drive on a Mac mini with an SSD and an HDD.
As you can see, it is a lot faster than on a Mac with the HDD alone.
A Retina display on the way for the iPad mini 2
According to Chinese sources, AU Optronics, one of the current manufacturers of the iPad mini would be actively working on producing soon a new display of the same size but with a resolution of 324 DPI, a Retina display for the iPad mini. With a total resolution of 2048 x 1536, it will use IGZO technology allowing the iPad mini to sport this display without getting thicker because of the need of a bigger battery.
This new rumor is not surprising since the Retina high resolution has become a big marketing argument at Apple. There are already Retina displays in the iPod touch, iPhone, iPad and some models of MacBook Pro. We are sure that it will find its way in the iMac as soon as it becomes possible as well as in the Apple display that hasn't been upgraded lately and still has only USB 2.0.
To get back to the iPad mini, we will see that device in about a year. Before that, Apple will have to find a way to make an A6X chip that needs even less power than the current one in order to bring a higher resolution without hurting battery life.
LCD display with 651 ppi resolution
Japan Display recently announced that it was able to produce a new LCD display with a total resolution of 651 ppi, twice as much as on the iPad Retina, showing that we will probably one day have a Super Retina display.
Japan Display has not defined any practical application for this display, which was manufactured mostly to prove the company's know-how. There are applications, but all of them involve the use of a lens to make the picture bigger.
Samsung wants to change its image
In just a few years, Samsung is one of the tech companies that changed the most, together with Apple. Apple was able to turn itself around and start being successful again, develop iOS but it was not the only one doing so and the two company are now the two biggest players on the smartphone market.
Samsung has decided to change its image and the first step is usually in that case the presentation of a new logo.
This new logo will be unveiled during the 2013 CES in Las Vegas, and it will aim at giving a cooler and worldwide brand to the company.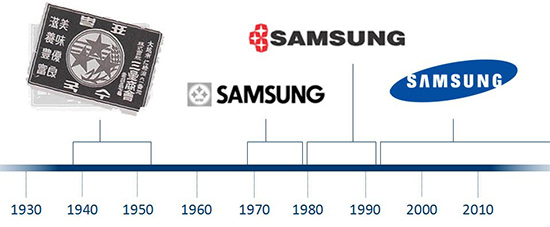 Now we are left to wonder what this logo might look like...
Update for MacBook Air and MacBook Pro introduced in June 2012
Apple released an update for all models of MacBook Air and MacBook Pro introduced in June 2012..
This update includes graphics performance and reliability enhancements and improves compatibility with some USB devices. This last point is important as there have been issues with the support of USB 3.0 on these computers.
Apple started testing OS X 10.9
Many websites reported finding something strange in their visit logs, a Mac running Mac OS X 10.9. We did the same and aso found 10.9 in our logs.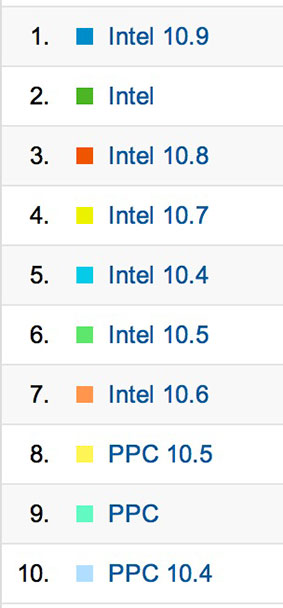 It is hard to say whether it is an Apple prototype or somebody who modified the indentification of a Mac to make it appear to be running a different OS. We however think that it is a prototype because all we have seen are exceptional visits.
Apple would be ready to help Sharp
Sharp is now officially in an extreme situation and could simply collapse if nobody invests enough money in the company. It has already called Microsoft, Google and Apple for help and it is becoming increasingly possible that Apple could be the one helping.
From a financial point of view, Apple has more than enough to help Sharp and could easily invest a few millions or even billions without shrinking in any visible manner its enormous reserve of cash.
It could even turn out to be a good move. Sharp has a real know-how in displays and IGZO and also holds many patents related to that technology. Having a priority or even exclusive access to these new displays could prove decisive in future years since OLED is still behind on large displays. If Apple really wants to launch a TV set, it would be a way to make Utra HD displays more easily.
According to Apple Insider, Apple would be ready to spend 2.3 billion dollars more than originally planned during this fiscal year, maybe (probably) to help Sharp. With that big of an investment, Apple will be able to take control of Sharp, or at least its LCD department.
Apple sold 3 million iPads in 3 days
Apple announced via a press release that it sold 3 million iPads (Retina and mini) in 3 days. It should probably reassure investors that might worry about Apple as we were saying earlier today.
On our side, we are still waiting for an iPad mini that should have been delivered on Friday through UPS. It left the UPS warehouse on time Friday but was never delivered. UPS doesn't know what happened and we are now in the middle of a complicated procedure between the Apple Store and UPS.
Sharp is on the verge of collapse
Sharp announced that if nothing radical happens in the near future, it would most certainly collapse.
The company doesn't think it can make it while keeping its current structure. It is however betting a lot on its new IGZO technology to compete on the market and drive its recovery.
It is widely believed that Apple wanted to use IGZO displays in the new iPad but because Sharp couldn't mass produce them, Apple went for the traditional LCD technology that consumes a lot more power because of the high resolution.
IGZO is the name of a new material that can be used to make transparent transistors. That way, it is possible to have a bright display while using a less powerful backlighting system than when traditional transistors are used.
Foxconn had started negotiations with Sharp in order to cover part of the production of the displays. The agreement was never finalized as Foxconn tried to get too good of a deal from an already weakened Sharp. More recently, Sharp sent distress calls to Apple, Google and Microsoft, asking them to invest money in return for preferred access to new high technologies, that still need to be fully developed./p>

The iPad mini already jailbroken

MuscleNerd announced on Twitter that he has already jailbroken the iPad mini, and he proves it with this screenshot.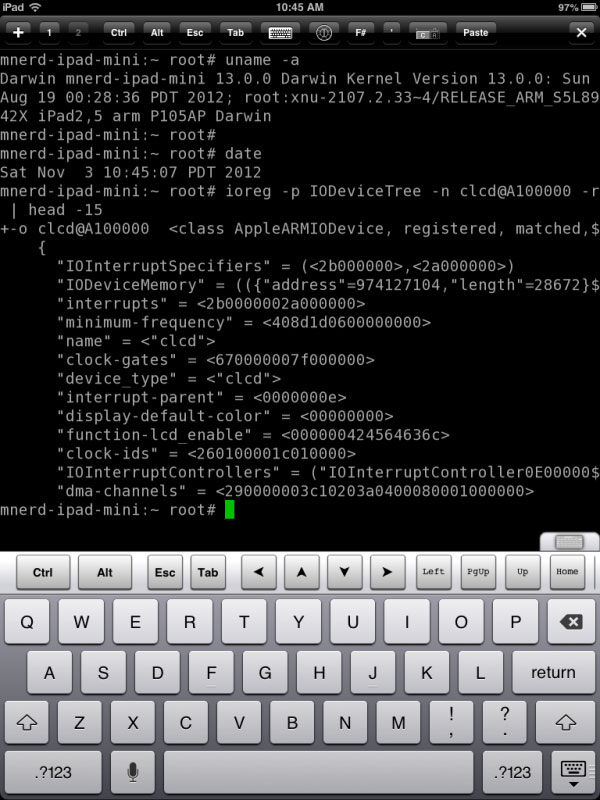 He used what he calls a failbreak, a breach that he found but doesn't want to reveal as Apple would immediately and easily patch it. This kind of breach is very useful to discover others, which is exactly what he will try to do now.
Apple shares in decline?
In the last few years and especially since the beginning of the economic crisis, Apple shares had become very safe investments like gold.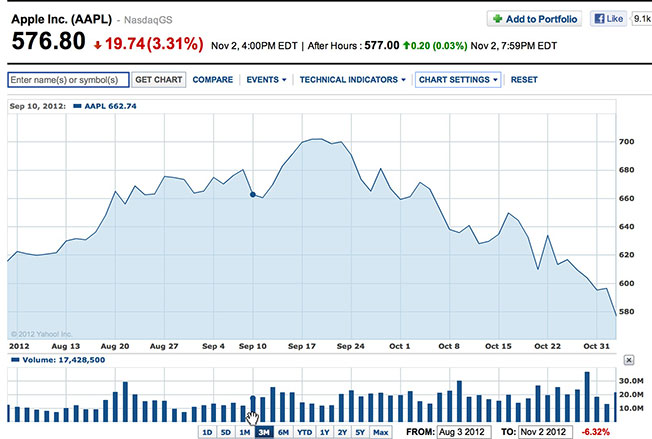 Since mid-september, progression has changed direction and after peaking at $700 per share, the price has dropped consistently, now by $120.
Many things can explain this decrease, investors have been disappointed by some of the last announcements that were made, even when they were very good ones. It seems now that Apple has lost its halo of invincibility that allowed the company to turn any product into gold.
Of course, this doesn't change the quality of the products nor the pleasure we have when we use them, but we fear that Tim Cook and his team could react to stop that decrease by announcing some new products or services too early, departing from the considerations that Steve Jobs had, as his priority always appeared to be making the best products.
After the tablet, Microsoft is preparing a smartphone
It was never really a secret, Microsoft is now trying to embrace the strategy that made Apple successful by controlling both the hardware and the software and recently launched its own tablet, Surface. It remains to be seen whether that device will be successful, but it was obvious that Microsoft would also try to do the same with smartphones and now it has been (almost) confirmed by its subcontractors that say they are working with Microsoft on a smartphone with a display between 4" and 5" in size.
This is especially bad news for Nokia. The company decided to focus exclusively on Windows phone after it received a big check from Microsoft, which will now be in direct competition with its partner. Of course competition is good because it stimulates innovations, but for now Nokia needs to stabilize itself otherwise it will start going down again.
A micro-SD adapter designed specifically for Mac
With the proprietary SSDs that Apple puts in ever more models of Mac, it is becoming increasingly hard and expensive to increase the storage capacity of a Mac. There is however a new solution to easily increase the total storage capacity of a few tens of GB for a reasonable price, without using an external drive or taking the laptop apart: the Nifty MiniDrive.
It is a very simple but quite smart accessory: it is a micro-SD adapter that fits the SD port of the Mac without having about 1/3 of the card sticking out like it is the case with normal cards (it comes with a little tool that allows to remove it whenever you need, but you can simply use a paper clip)
That way you will be able to add up to 64 GB of storage and probably more in the near future. All the models of Mac starting in 2010 support SD XC with a theoretical limit of 2 TB, while the the previous models support SD HC, limited to 32 GB. The big advantage is that you don't have to remove the card every time you have to take your Mac somewhere, while a regular SD card has to be removed in order not to be damaged as it sticks out.
The Nifty MiniDrive will be available in December, it will cost $35, which includes shipping to North America and Europe, and will come in red, grey or black in each of the three versions:
MiniDrive Air for the MacBook Air, Pro and iMac,
MiniDrive Pro for the MacBook Pro and iMac,
MiniDrive Retina for the MacBook Pro Retina, MacBook Pro and iMac.
Nifty recommends to choose the exact model for your computer. For example, the MiniDrive Retina will fit in a regular MacBook Pro but since it is 1 mm longer than the MiniDrive Pro, it will probably stick out a little bit once it is installed.
One more thing, while SD cards use flash memory like SSDs, the performances are much lower especially in the models of Mac in which the SD cad reader is connected on the USB bus, which limits the total speed to a few tens of MB/s, even if some cards offer better performances (on the 15" Retina MacBook Pro, it is connected on a PCIe bus, so it is faster than USB and it is also probably the case on other models, you can check that in the Apple menu, 'About this Mac').
More updates
As usual Apple released several updates together:
Safari 6.0.2 brings security updates,
Xcode 4.5.2 brings support for the new models if iPad,
iPhoto 9.4.2 fixes many bugs.
iOS 6.0.1 si available
Apple released a minor update of iOS 6, version 6.0.1.
This update contains improvements and bug fixes, including:
Fixes a bug that prevents iPhone 5 from installing software updates wirelessly over the air

Fixes a bug where horizontal lines may be displayed across the keyboard
Fixes an issue that could cause camera flash to not go off
Improves reliability of iPhone 5 and iPod touch (5th generation) when connected to encrypted WPA2 Wi-Fi networks
Resolves an issue that prevents iPhone from using the cellular network in some instances
Consolidated the Use Cellular Data switch for iTunes Match
Fixes a Passcode Lock bug which sometimes allowed access to Passbook pass details from lock screen

Fixes a bug affecting Exchange meetings.
Two SSDs in RAID 0 in a 2012 Mac mini
OWC decided to make a RAID 0 with 2 SSDs in a 2012 Mac mini, using its installation kit for a second hard drive.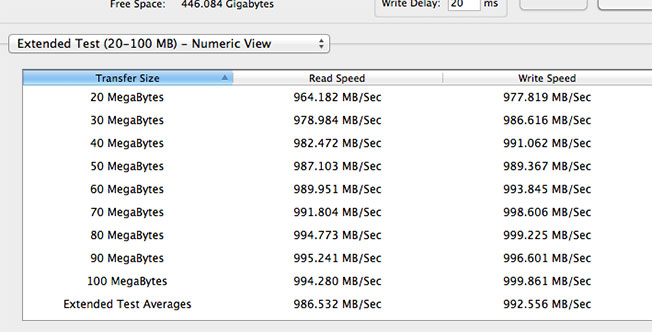 You can see the speeds just shy of 1 GB per second, something very impressive for such a small computer.
Scott Forstall to leave Apple
Usually big announcements regarding Apple are made on stage with a slick keynote presentation, next to a brand new amaing device. This time it's about Apple's management team. The company announced in a press release that Scott Forstall, who has been heading the iOS developing team since the beginning will be leaving Apple next year.
He will stop working on iOS and in the mean time will serve as an advisor to Tim Cook, more of an honorary position.
Some say that his leaving could be caused, at least partly, by the Maps application on iOS 6, which was launched too soon and while it still needed many improvements.
Also, John Browett who was in charge of the Apple Stores and who was hired less than a year ago is also leaving. The cause is probably in his case the unease he caused when he decided to make big changes in the way Apple Store employees are paid.
recall for the iMac with Seagate hard drives
After announcing the iMac 1TB Seagate Hard Drive Replacement Program, Apple decided to contact directly the owners who registered an iMac that can benefit from the program.
It is the first time that it happens at Apple and we only wish that it will become the norm. We are now wondering how much this whole recall will cost Seagate and its insurrances. You have to take into account the cost of the disk as well as the cost of the technical support intervention, which is quite high when you have to change the hard drive on an iMac (as a reminder you have to remove the display to access the inside).
Teardown of the 13" MacBook Pro Retina
iFixit published a Teardown of the 13"MacBook Pro Retina.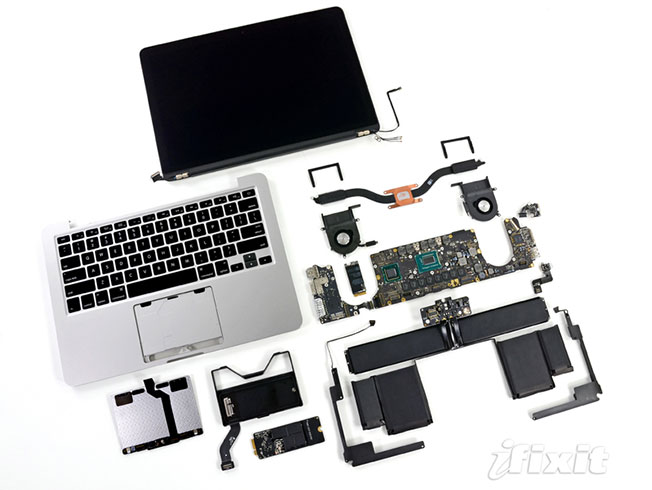 As usual the inside if very clean, Apple used every little available space to fit the 3 elements that compose the battery.
There is however something peculiar here, the SSD is strangely put in a sort of hard drive caddie.
There is just enough space to fit a 2.5" drive (although a 9.5 mm won't fit, a 7 mm or a 5 mm one probably will), as if Apple had decided to go with this SSD at the last minute, too late to change the rest of the design. We will see if in the future a manufacturer is able to make a compatible cable and a real caddie to hold the drive in place, it would allow to replace this SSD by a much more common 2.5" SSD, which would be great news for the potential evolution of this computer.
What's inside the A6X ?
It has become Apple's habit not to get into too much details about the chips that power different iDevices, and all we know about the chip of the 4th generation iPad is its name, A6X.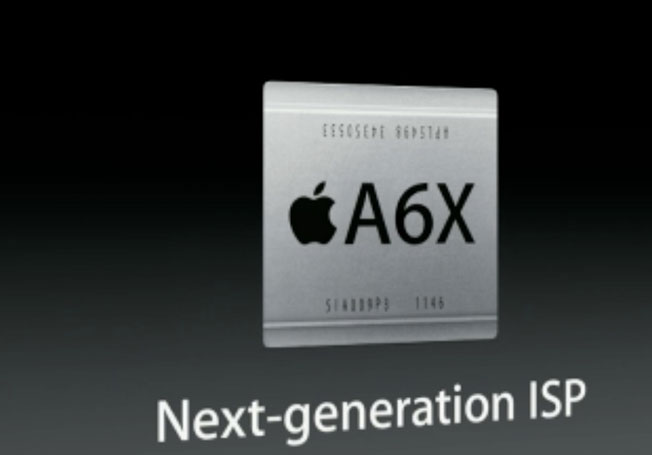 ArsTechnica is pretty good at guessing what is hidden underneath.
Just like the A5X was an improved version of the A5, this one is probably an improved version of the A6 with 4 graphics cores and 2 CPU cores. Thanks to the transition from 45 nm to 32 nm Apple was probably able to increase the frequency of the CPU cores to 1.5 GHz and 500 MHz for the GPU cores while keeping power consumption down. These improvements would be enough to provide the increase in performance between the A5X and the A6X.
In any case we are happy to see that Apple still refuses to put quad-core chips in the iPad. Having a quad-core CPU in a tablet is pure nonsense as it is too power hungry and doesn't provide much better performances as applications are rarely optimized for that. All it does is keeping-up with Moore's law, which doesn't do much good when it comes to user experience.
iMac: only the 27" model has upgradable RAM
This is unfortunately a piece of news that was expected. While looking at the specifications of the new iMac you can read the following:
'The 21.5-inch iMac comes with 8GB of memory and can be configured online with 16GB. On the 27-inch iMac, 8GB of memory comes standard, and you can upgrade to 16GB or 32GB. Configure and buy your iMac at the Apple Online Store and it will arrive with the memory already installed. Or add more memory to the 27-inch model yourself by popping open the easy-to-access memory panel on the back.'
It seems clear that it is impossible to upgrade the RAM on the 21.5" model.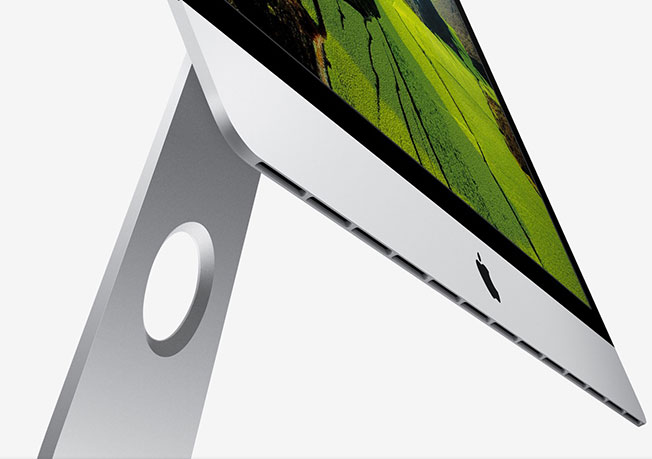 As you can see the access panel has been removed from the bottom and is not visible for now on any picture published on the Apple website. We will see if it is still as easy as it was on the previous models.
For the 21.5" model, we will see wether the RAM is soldered to the motherboard or in DIMM slots that are accessible by disassembling the display. 
Already the 4th generation iPad!
Apple surprized many by already releasing the 4th generation iPad.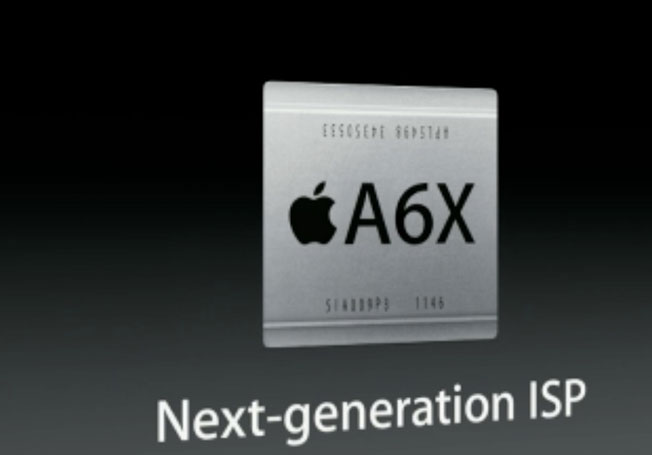 It features a few improvements compared to the previous model:
New, faster A6X chip,
Increased battery-life,
Improved 4G compatible with most frequences,
Lightning...
It comes with the usual 9,7" display but also now with a 7.9" display, the long awaited iPad mini.
The thinnest iMac ever!
Here is what we consider the big star of this keynote at least on the Mac side, the new iMac.
It is thinner than all the previous models thanks to several improvements including a new display with laminated glass.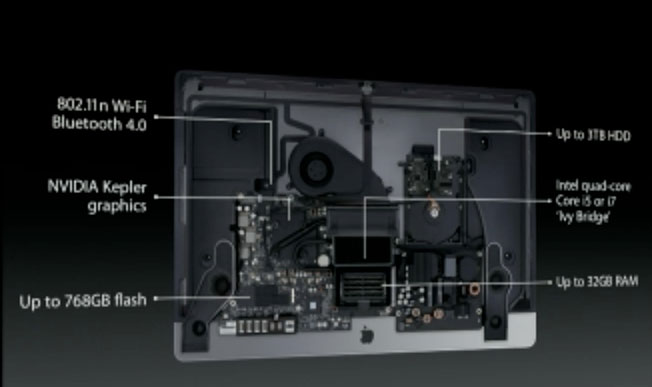 It features an SSD in a RAM form factor in addition to a regular hard drive with 1 to 3 TB of storage. One new feature, FusionDrive, is worth noting. OSX uses both drives seemlessly to improve performances by keeping the OS, applications and files that are used most often on the SSD and the rest on the regular hard drive. While that feature has been supported by the last generations of Intel's chipsets, it is the first time it is supported on the Mac.
And here comes the new Mac mini
Apple finally released the new Mac mini with Ivy-Bridge and USB 3.0.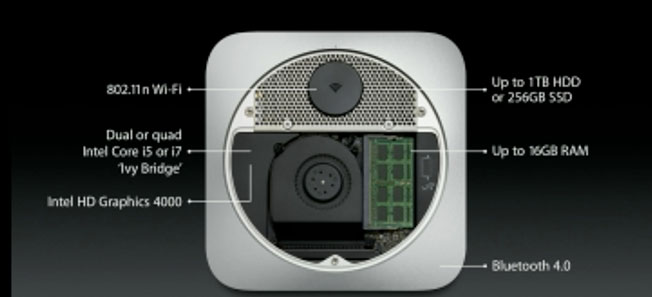 It will sell for $599 for the first model featuring a Core i5 2.5 GHz, 4 GB and 500 GB, $799 for the model with a quad-core i7 2.3 GHz 4 GB and 1 TB and $999 for the server model featuring the same i7, two 1 TB disks and 8 GB of RAM.
Here comes the 13" MacBook Pro Retina
Today Apple unveiled the 13" MacBook Pro with Retina display.
This new model has the same features that made the 15" model popular, the Retina display with a 2560 x 1600 resolution, two Thunderbolt ports, etc. It even supports SSDs with up to 768 GB of storage.
As you can see on this screenshot, Apple went into a lot of trouble to fill every empty space with battery cells in order to provide 7 hours of battery life. Interestingly, for the first time, a 13" model gets 2 fans and as exepcted, there is no dedicated graphics solution so the HD 4000 will have a lot to do with that new display.
The two models feature a Core i5 clocked at 2.5 GHz with the option to configure it with the i7 clocked at 2.9 GHz. The model with 128 GB of storage sells for $1,699 and the 256 GB for $1,999, with always the option to increase the storage to up to 768 GB.
Be careful when ordering your model, the storage is built-in and is not upgradable. Also, you don't have the option to increase the RAM to 16 GB like on the 15". It is probably the least upgrade-friendly Mac we've ever seen!
Java Update
In order to close some of the major breaches that have been discovered in Java, Apple released new versions of the software for Snow Leopard, Lion and Mountain Lion through the software update menu.
Apple hasn't provided much details yet about which specific breches it closed, but in any case we advise you to update as fast as possible if in the mean time you haven't decided to get rid of Java altogether.
Invitation for October 23
Apple has started sending invitations for the event that will take place on October 23.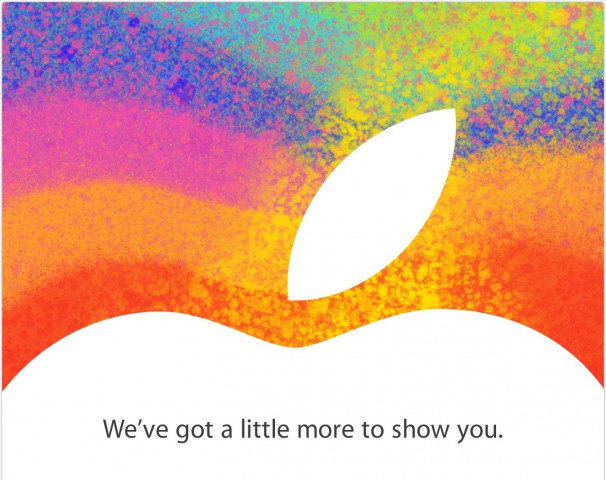 'We've got a little more to show you' sounds just like 'iPad mini' :-)